Revere Pewter is a classic Benjamin Moore paint color that has been popular for years.
It is part of Benjamin Moore's Historical Colors, which means that it has been inspired by historic landmarks from around the country.
This post may contain affiliate links. If you have any questions, please see my disclaimer page.
Details of Revere Pewter
People often wonder if Revere Pewter is a gray or a beige paint color. Well the answer is, it is both!
Revere Pewter is a greige paint color. This means that it is a mix of gray and beige.
Some greige paint colors lean more heavily towards gray with beige undertones, and some lean more heavily towards beige with gray undertones. Both shades exist within the color, but one will typically be more prominent.
So overall, I would say that Revere Pewter is a beige paint color with gray undertones.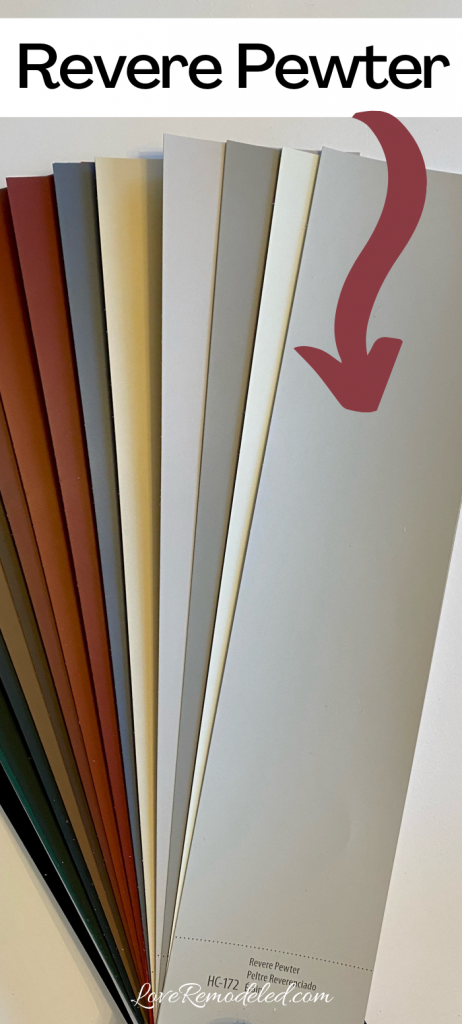 Undertones of Revere Pewter
In addition to the beige and gray that makes up Revere Pewter, it also has green undertones.
I also think that Revere Pewter has just a hint of purple undertones in it.
While the hint of purple warms the paint shade up nicely, the green undertones give Revere Pewter an earthy, grounded sort of look.
To sum it up, I would say that Revere Pewter is a beige paint color with strong gray undertones, with a good bit of green in it and just a hint of purple.
LRV of Benjamin Moore Revere Pewter
Revere Pewter has an LRV (light reflectance value) of 55. This is just about middle of the pack on the LRV scale, as it goes from 0 (which is completely black) to 100 (which is completely white).
This means that Revere Pewter will absorb and reflect back about the same amount of light. It won't brighten a dark room, but it also won't darken a bright room too much.
I consider Revere Pewter to be close to a mid-depth color. It isn't going to be light an airy on your walls, as colors with higher LRVs can look, but it also won't feel too heavy. It is a good, balanced shade.
Because of its depth (and mid-level LRV), Revere Pewter is going to look best in a room with decent lighting. It doesn't have to be the brightest room, but it can make a dim room, such as a poorly lit hallway or basement, look a little dingy.
In a southern facing room, Revere Pewter will look more golden and beige. In a northern facing room, it will take on a bit more of the gray in it.
Revere Pewter's Color Code
Benjamin Moore has assigned Revere Pewter the number HC-172. The HC means that it is part of the Historical Colors Collection.
Is Revere Pewter Still Popular?
Revere Pewter was THE go-to color for many years. Along with other greige paint colors, it was huge in the 2010's, peaking around 2017.
And even though it is not in its heyday anymore, Revere Pewter is still very popular.
This is, in part, because it is a versatile neutral that can go in a lot of different rooms, and with a lot of different styles. It is approachable and grounded.
In addition, Revere Pewter is a pretty classic shade. Gray and beige paint colors are always going to be used in homes. So, while Revere Pewter is not the hot color right now, it isn't necessarily a dated color either. It is a classic!
Revere Pewter is popular because it is classic, versatile and neutral – all things that make a paint color stand the test of time.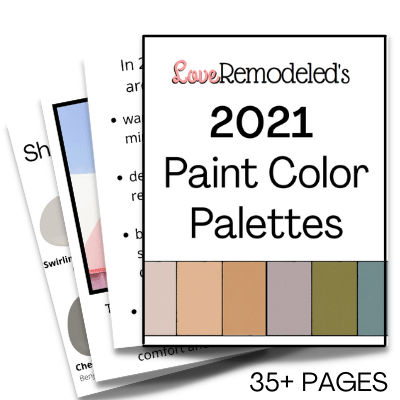 You know the feeling you get when you walk into someone's home and the paint colors are just perfect?
Introducing Love Remodeled's 2021 Paint Color Palettes!
No more having to guess which paint colors are in style, and what paint colors go together well, this colllection of paint palettes does all the work for you!
Check out these gorgeous color palettes from Benjamin Moore, Sherwin Williams, and PPG with all the hottest colors for 2021.
PLUS, I'll show you the best white and gray paint colors to make your home look amazing this year!
Revere Pewter vs. Other Popular Greige Paint Colors
When looking at a paint color, it is helpful to compare that paint color to other popular shades.
First, it helps us to see what the paint color really looks like.
Second, if you're considering one greige paint color, you're probably also considering a few others.
So let's look at Revere Pewter and compare it to a few other popular greige paint colors to see if it is the right greige for you.
Revere Pewter vs. Agreeable Gray
One of the other most popular greige paint colors is Agreeable Gray, by Sherwin Williams.
Agreeable Gray is a gray paint color with beige undertones. It is has an LRV of 60, so it will reflect just slightly more light than Revere Pewter.
In addition, Revere Pewter is just a teeny tiny bit darker than Agreeable Gray, but not much.
Agreeable Gray comes off as a little more airy, and Revere Pewter comes off as a little more earthy.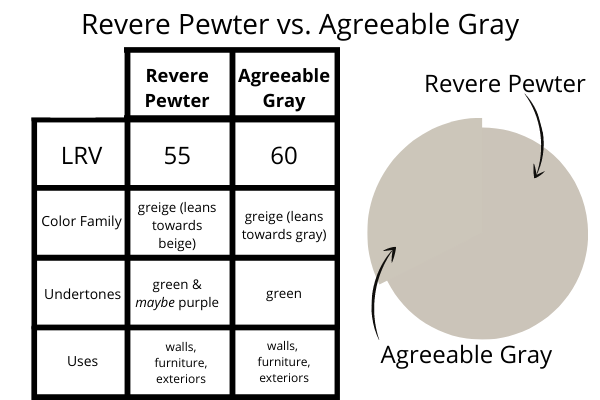 If you want to know more about Agreeable Gray, check out this post!
Revere Pewter vs. Edgecomb Gray
One of my favorite Benjamin Moore neutral paint colors is Edgecomb Gray.
It is frequently thought of as almost a sister color to Revere Pewter, or a shade lighter version of it.
While Edgecomb Gray is not actually an exact shade lighter of Revere Pewter, it is a great greige paint color that coordinates nicely with it. The undertones are similar, but I find Edgecomb Gray to be a bit more neutral than Revere Pewter.
Edgecomb Gray is also a lighter color than Revere Pewter, with a higher LRV. This makes it a bit more versatile in type of lighting that you can use it in.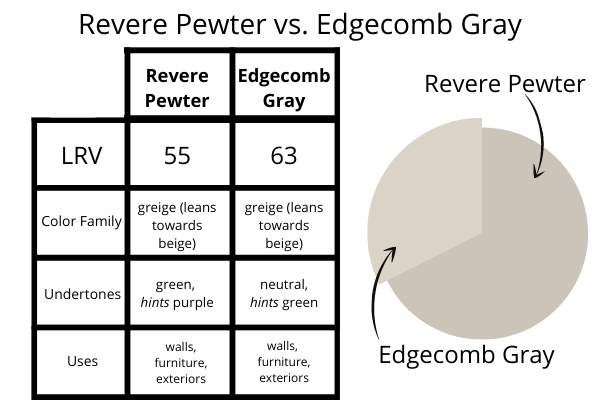 If you want to know more about Edgecomb Gray, check out this link!
Revere Pewter vs. Repose Gray
I include Repose Gray in this color comparison, not because it is very similar to Revere Pewter, but because it is a super popular greige paint color.
Repose Gray is a gorgeous Sherwin Williams gray paint color with beige undertones. Of all the really popular greiges, I find this one to have the most gray.
It is much cooler than Revere Pewter, but is right around the same depth.
If you want a greige paint color that is a mid-tone, and not too beige, Repose Gray is a good choice.
For more about Repose Gray, click this link!
Revere Pewter vs. Accessible Beige
If Agreeable Gray is the top gray with beige undertones by Sherwin Williams, Accessible Beige is the direct converse. It is the top beige with gray undertones by Sherwin Williams.
While it is also very popular, it is not quite as popular as Agreeable Gray or Revere Pewter because it is more of a truer beige. Yes, it has gray undertones, but when someone sees it, they are almost assuredly going to classify it as a beige.
Accessible Beige is lighter than Revere Pewter. It also has more beige in it, and has yellow undertones. While it is in the same color family as Revere Pewter, it is not a super similar shade.
Between the two, I find Revere Pewter to be much more usable, due to it leaning more heavily towards gray (which is more popular than beige).
Check out this post for all the details on Accessible Beige!
Revere Pewter vs. Worldly Gray
For our last color comparison, let's check out Revere Pewter and Worldly Gray.
As you know, I mentioned earlier that I find Worldly Gray to be the most simliar Sherwin William's color to Revere Pewter.
They have very similar undertones, LRVs and depths.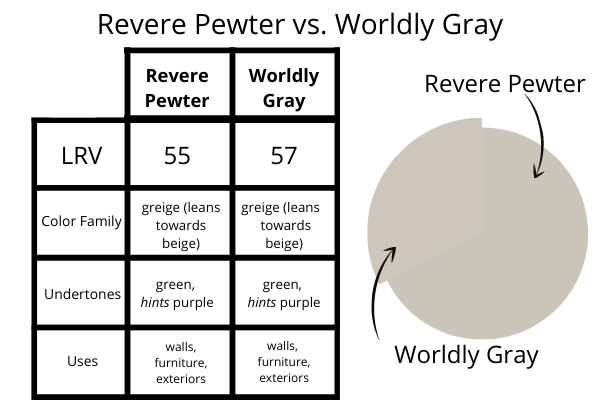 Between the two, Revere Pewter has risen to fame in the paint world, while Wordly Gray is popular, but not heralded quite the same. I tend to think that the masses aren't wrong.
Between the two, I would choose Revere Pewter over Worldly Gray.
Click here for more details on Worldly Gray.
Wondering How To Pick the Perfect Paint Color?
I have the best solution for you!
Samplize sells 9×14.75 stick-on paint sheets in almost every paint color.
These no-mess, peel and stick sheets are made from real paint, so they will show you exactly what the paint color will look like.
Simply place them on your walls next to your trim, furnishings or fixed elements, and easily see which paint color works best in your space and with your lighting.
Then, peel the sheet off your wall and reapply it somewhere else if you like. You can try several different paint colors with no mess, no fuss and no cleaning paint brushes.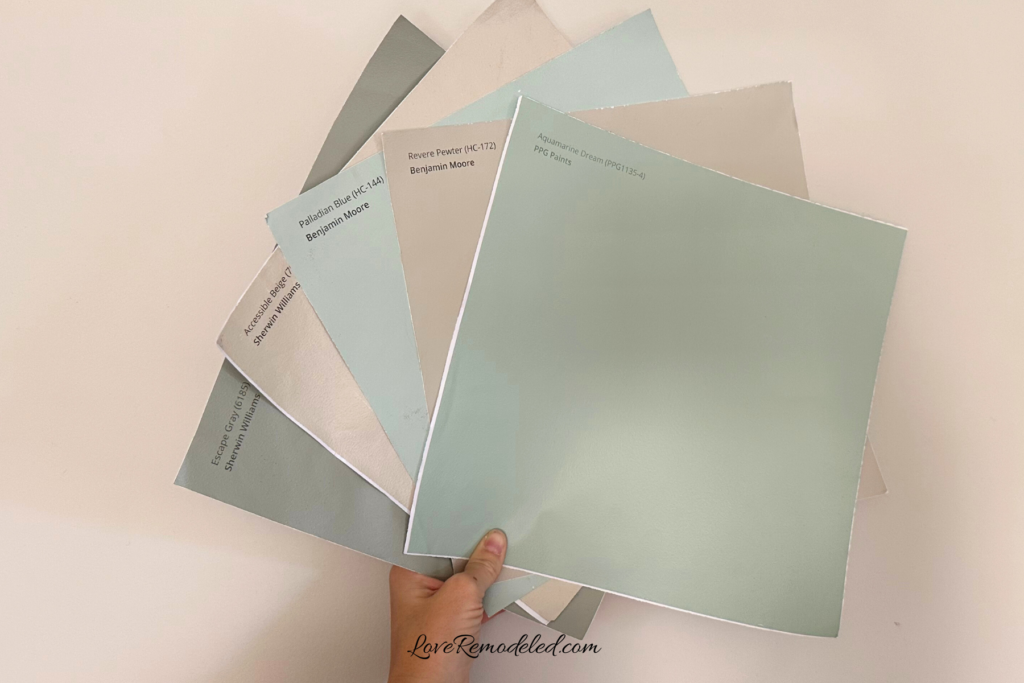 Oh, and you can have them in your home by tomorrow with OVERNIGHT shipping!
As a bonus, be sure to use the code LoveRemodeled10 at check out to get an extra 10% off! Samplize sheets are cheaper than a sample can of paint, and way less work.
They are the easiest (and fastest!) way to try a paint color in your home, with no hassle.
Where Can You Buy Revere Pewter?
The best place to get Revere Pewter paint is at your Benjamin Moore store. Benjamin Moore stores are all locally owned. This means that they are typically staffed with individuals who really know their paint and take pride in their business.
If you don't have a Benjamin Moore paint store near you, you can get other stores to color match Revere Pewter for you.
Paint colors are made from formulas. Any paint store can put the same formula into a can of paint to produce the "same color" if they have the formula. And since Revere Pewter is a very popular color, almost all paint stores have the formula.
So, yes, Home Depot can color match Revere Pewter, but that doesn't mean that you will end up with EXACTLY the same color as if you had gone to Benjamin Moore. This is because different paint products (the actual paint you put the color into) has different properties. Additionally, there is not a set standard for sheens. So a flat Revere Pewter from Home Depot may not be the exact same as a flat Revere Pewter from Benjamin Moore.
If you are painting the whole room, it will probably work out fine. But, if you're touching up a space that has existing Revere Pewter paint, you'll need to make sure you get the same paint product from the same general location as you had previously.
Sherwin Williams Equivalent
Sherwin Williams doesn't have a paint color that is exactly the same as Revere Pewter, though they carry a wide range of greige paint colors.
Of all of the greige paint colors at Sherwin Williams, I find the most similar color to Revere Pewter to be Wordly Gray.
While Wordly Gray has a touch more yellow in the undertones, the LRVs are very close (Wordly Gray's LRV – 57, Revere Pewter's LRV 55), and the depth of the paint colors is similar.
Are There Lighter and Darker Versions of Revere Pewter?
While all of the colors in Benjamin Moore's Color Preview collection have lighter and darker versions of themselves on the same color strip, Revere Pewter is not a part of this color collection.
Because of this, there are no lighter or darker colors that are formulated to be the same as Revere Pewter, but a little lighter or a little darker.
There are some colors that are close though.
If you want a paint color that is a little lighter than Revere Pewter, check out Edgecomb Gray.
If you want a paint color that is a little darker than Revere Pewter, take a look at Northern Cliffs.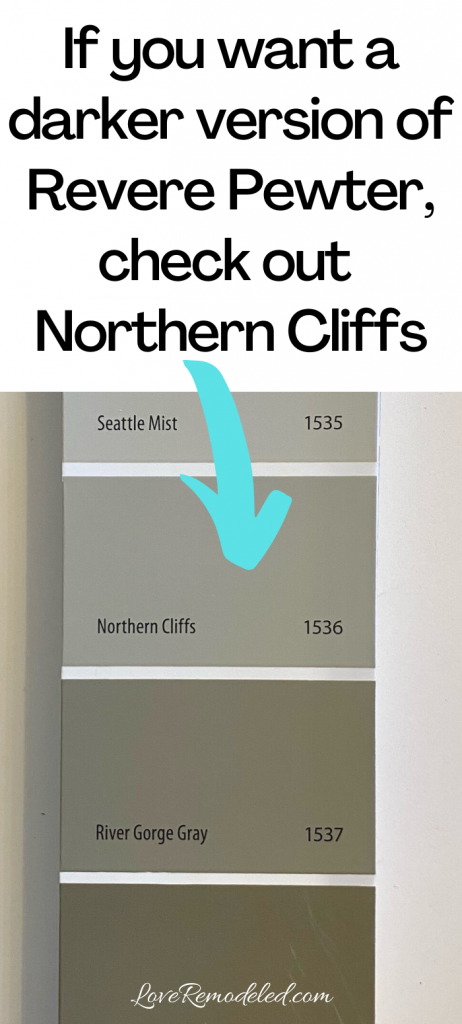 What is the Best White Paint Color for Revere Pewter?
Revere Pewter is a great neutral shade that leans warm. This means that it will go nicely with white paint colors that also lean warm.
I find that Revere Pewter looks great with a very clean white such as Chantilly Lace. If you want a very crisp white trim color to coordinate with your Revere Pewter walls, Chantilly Lace is a good choice.
Revere Pewter can also play nicely with a warmer white such as White Dove or Simply White. These white paint colors have a touch of yellow in them, but they look amazing with Revere Pewter's warm tones. Simply White will still give you a fairly crisp looking trim. White Dove has the most color of the three, and will give a slightly creamy look on trim.
I have full color reviews on all three of these colors if you want more information. Here is Chantilly Lace's color review. Here is Simply White's color review. And last, here is White Dove's color review.
So, if you want to pair Revere Pewter with a white trim, consider painting your trim Chantilly Lace, White Dove or Simply White.
Complementary Colors for Revere Pewter
Revere Pewter is so neutral that it can coordinate with a bunch of colors. It does best with colors with other warm undertones.
Here you can see how Benjamin Moore pairs Revere Pewter with Shadow Gray, a blue toned gray, and Amherst Gray, a dark gray with brown undertones. While all that colors have tones of gray in them, they work together to create a complimentary color scheme that is a bit cooler.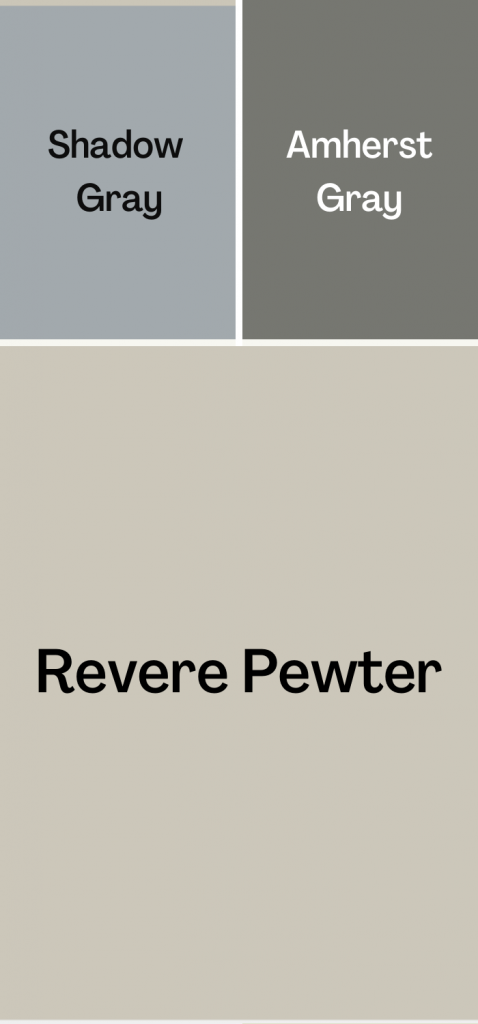 In this color scheme, Revere Pewter is paired with Copley Gray, a greenish brown, and Fog Mist, a light greige. This warm color scheme demonstrates how using a variety of neutrals in the same space can create a cohesive, muted look.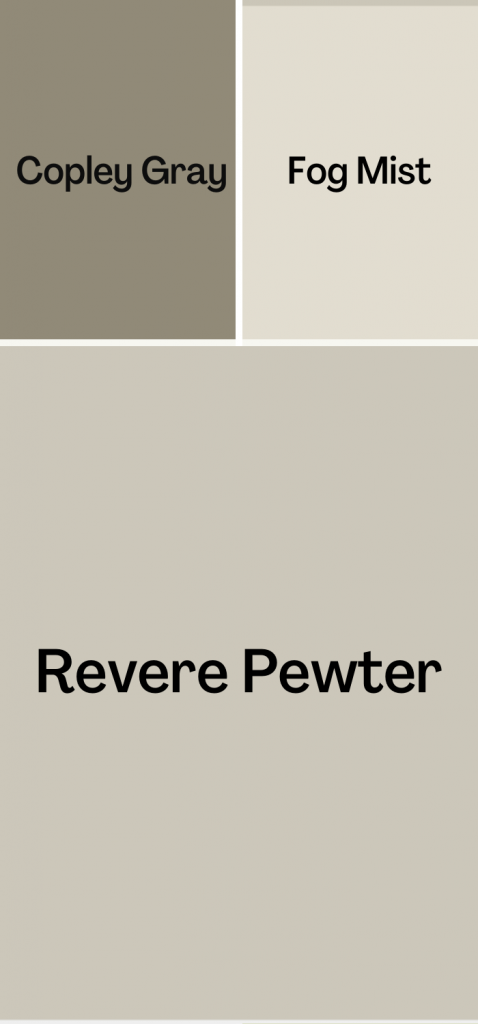 Revere Pewter goes with other warm neutral colors like Gray Owl, Balboa Mist, and Edgecomb Gray.
Revere Pewter is also a great paint color because it is so versatile. You can accent it with warm reds or yellows, or cool blues and greens.
Final Thoughts on Benjamin Moore Revere Pewter
Revere Pewter is a timeless paint color that is great in kitchens, living rooms, entryways and more. It works in many different home styles and with lots of different types of decor.
This paint color is nearly unrivaled in its popularity over time, and for good reason. It is classic and versatile.
Revere Pewter is a great paint color if you are considering a greige paint color, or you like beige paint colors but want something a little more neutral.
Want to see all your paint options in one convenient place? Click here to get everything you need to start painting, including Sherwin Williams and Benjamin Moore paint color decks!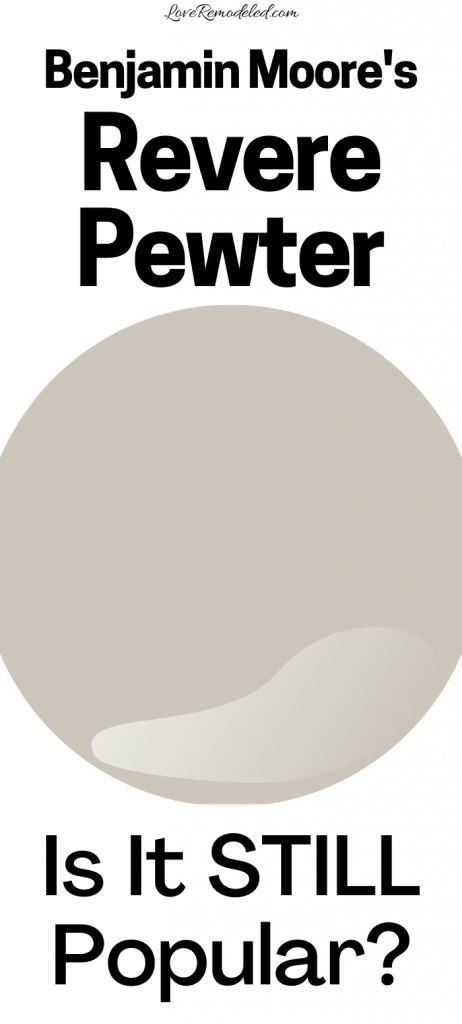 Have a question or want to show off your project? Join the discussion in Love Remodeled's Facebook group!