Edgecomb Gray, by Benjamin Moore, is one of the most popular colors on the paint market. It's wide popularity is due to its ability to coordinate with most any decor or design style.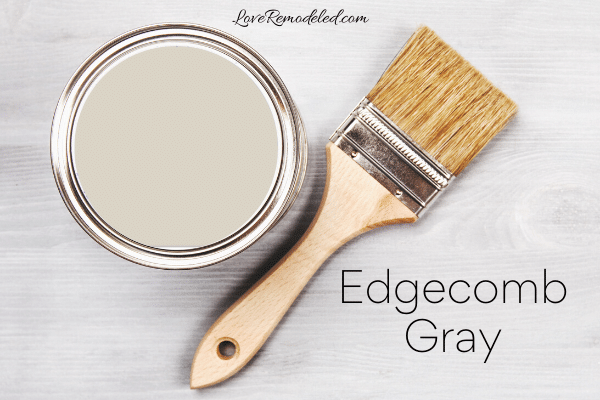 Edgecomb Gray is a soft, warm paint color. It looks creamy without looking yellow in a sunny room, but will take on a more gray hue in a darker room.
Edgecomb Gray – Is it beige or gray?
Edgecomb Gray is actually a greige. A greige is a color that has both beige and gray undertones. Edgecomb Gray leans more strongly towards a beige than a gray, but both shades are present.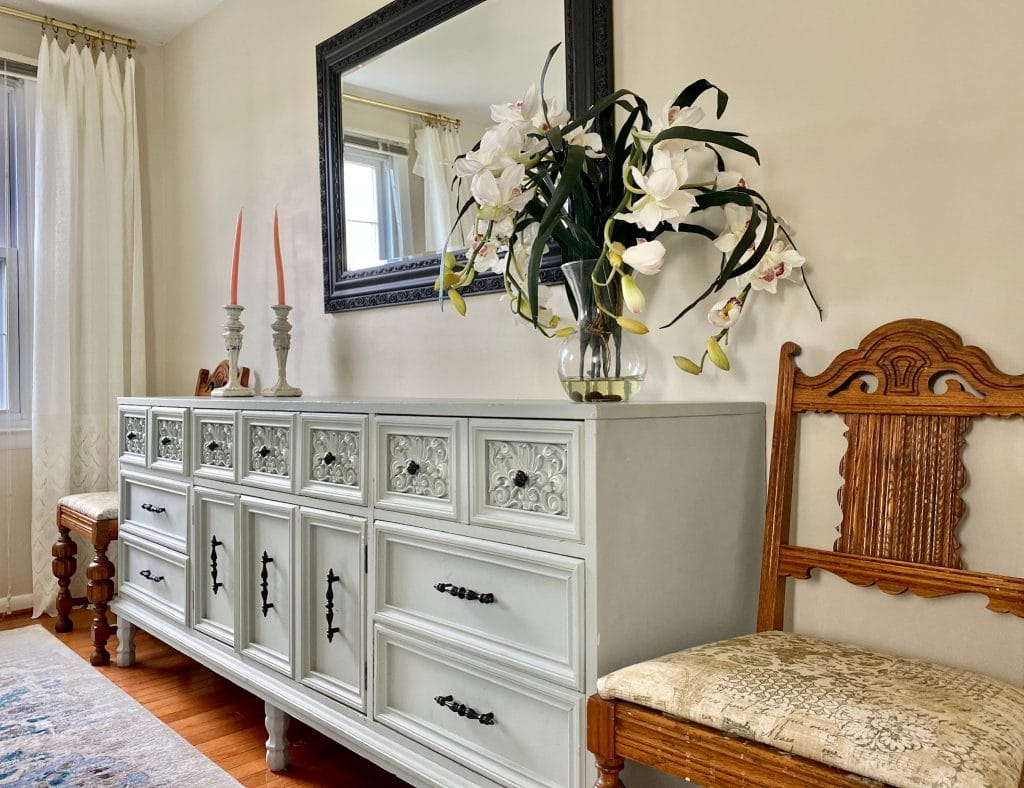 Edgecomb Gray is one of the few greige shades that does not have purple or green undertones to it. This means, it is going to show as a gray or a beige, depending on the light, but not as a purple or green tinged color.
For example, I painted my upstairs hallway Worldly Gray, which is a greige paint color by Sherwin Williams. My husband came upstairs and asked, "Did you paint the hall purple?" Edgecomb Gray will not do this in your home. Instead, it will just look neutral.
Greige paint colors are very in style right now, due to their versatility. In fact, all of the most popular Benjamin Moore paint colors right now fall into the neutral category – grays, beiges, whites, and earth tones.
This post may contain affiliate links. If you have any questions, please see my disclaimer page.
Edgecomb Gray Coordinating Colors
Edgecomb Gray is a perfect backdrop for many color schemes. It is a beautiful shade for a neutral color scheme, full of shades of white, cream, beige and tan, or can pair beautifully with bright pops of color.
Edgecomb Gray is a great shade to anchor a whole house color scheme as well. It can be paired with many other neutral paint colors for a cohesive, coordinated look in a home.
For brighter palette, Palladian Blue, Saybrook Sage, Hale Navy and Hawthorne Yellow, some of Benjamin Moore's other most popular colors, will all coordinate nicely with it.
If you're interested in learning how to choose coordinating colors for your home, check out this article on choosing paint colors for home interiors.
What Rooms Should I Paint Edgecomb Gray?
Edgecomb Gray can be painted in any room of your house.
If you like one color throughout the home, this is a great choice. In your bright rooms, such as a living room or dining room with lots of windows, it will appear as a light beige (but never a yellowy or orangy beige). In your darker rooms, such as hallways or bathrooms, it will look like a soft grayish beige.
With how adaptable Edgecomb Gray is, it can also easily go in bedrooms, basements, kitchens, or studies. See Edgecomb Gray discussed here in the best colors for a bedroom.
Edgecomb Gray Compared
Edgecomb Gray reigns in popularity with several other greige paint colors. Some of the other most commonly chosen greige paints are Sherwin Williams Agreeable Gray, Sherwin Williams Accessible Beige, Benjamin Moore Revere Pewter, Benjamin Moore Pale Oak, and Benjamin Moore Balboa Mist.
In order to help you choose which popular greige is the best shade for your house, let's look at Edgecomb Gray compares to all of these shades.
Edgecomb Gray vs. SW Agreeable Gray
While Edgecomb Gray is one of the most popular Benjamin Moore colors, Agreeable Gray is the most popular Sherwin Williams paint color.
In comparing them, Edgecomb Gray has more beige, while Agreeable Gray has more gray in it. Both are amazing greige options, but Edgecomb Gray will be lighter and more airy on your walls then Agreeable Gray will present.
Edgecomb Gray has an LRV (Light Reflectance Value) of 63, meaning it is a color that will reflect a lot of light. Agreeable Gray's LRV is 60, so it will present as just slightly darker on your walls.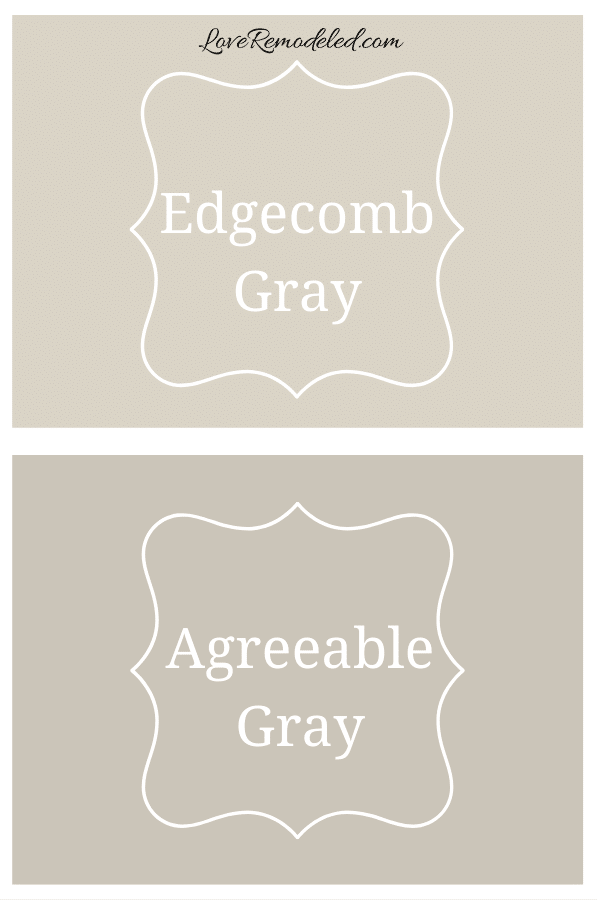 Edgecomb Gray vs. SW Accessible Beige
Accessible Beige, by Sherwin Williams, is another highly popular paint color choice. As you can see, it is more earthy than Edgecomb Gray. Accessible Beige carries more brown and beige tones, and slightly less gray than Edgecomb Gray.
While Edgecomb Gray's LRV is 63, Accessible Beige has an LRV of 58. Accessible Beige is still considered a light color, but is on the darker end of the "light" choices.
Check out this post for all the details on Accessible Beige!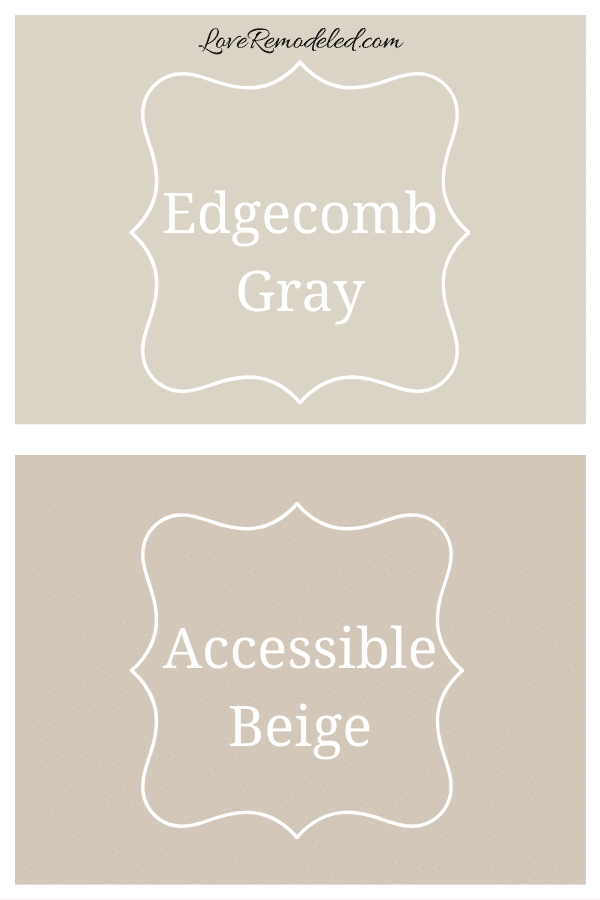 Edgecomb Gray vs. Revere Pewter
Revere Pewter may be the most popular Benjamin Moore color chosen by homeowners and designers. It is included on almost all lists of the most popular gray paint choices (even though it is a greige).
Edgecomb Gray and Revere Pewter are similar shades, though Revere Pewter has more gray. With an LRV of 55, Revere Pewter is also a slightly darker shade than Edgecomb Gray.
In addition, while Edgecomb Gray can take on an almost creamy look, Revere Pewter will not.
Check out a full color review of Revere Pewter here!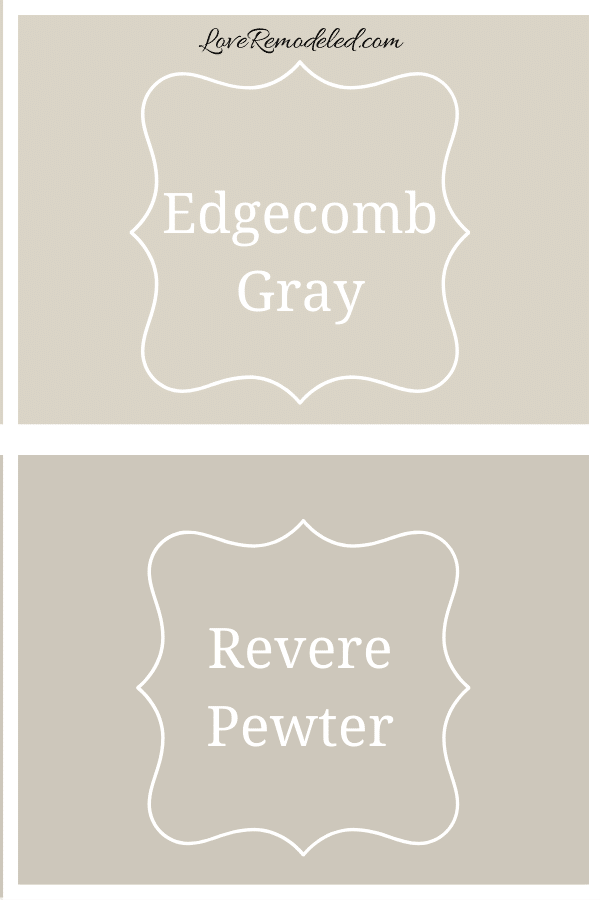 Edgecomb Gray vs. Pale Oak
Pale Oak is another gorgeous, soft shade by Benjamin Moore. When I was choosing a color for my dining room, I went back and forth between the two before finally deciding on Edgecomb Gray.
As you can see from the color comparison, Pale Oak is slightly lighter than Edgecomb Gray, with an LRV of 70. Because I was painting a very bright room with lots of windows, I chose Edgecomb Gray for a little more distinction. If I had been painting a less well lit room, I probably would have chosen Pale Oak.
Historically, Pale Oak has not been as popular as Edgecomb Gray. It has a little bit less gray in it, and gray has ruled the paint charts for years. With a recent shift towards warmer grays, we may be seeing Pale Oak becoming more popular.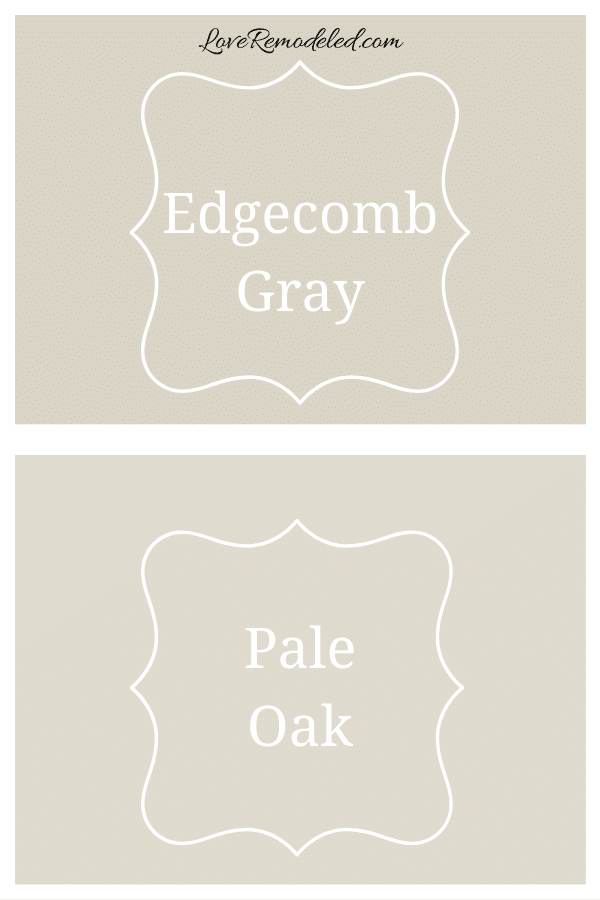 Edgecomb Gray vs. Balboa Mist
For our last comparison, let's look at Edgecomb Gray and Balboa Mist.
Balboa Mist has an LRV of 67. With Edgecomb Gray having an LRV of 63, they are among the closest in light reflectance value of all the shades discussed.
As evident in the color comparison, Edgecomb Gray has a bit more beige, and Balboa Mist has a bit more gray. Other than that, they are very similar.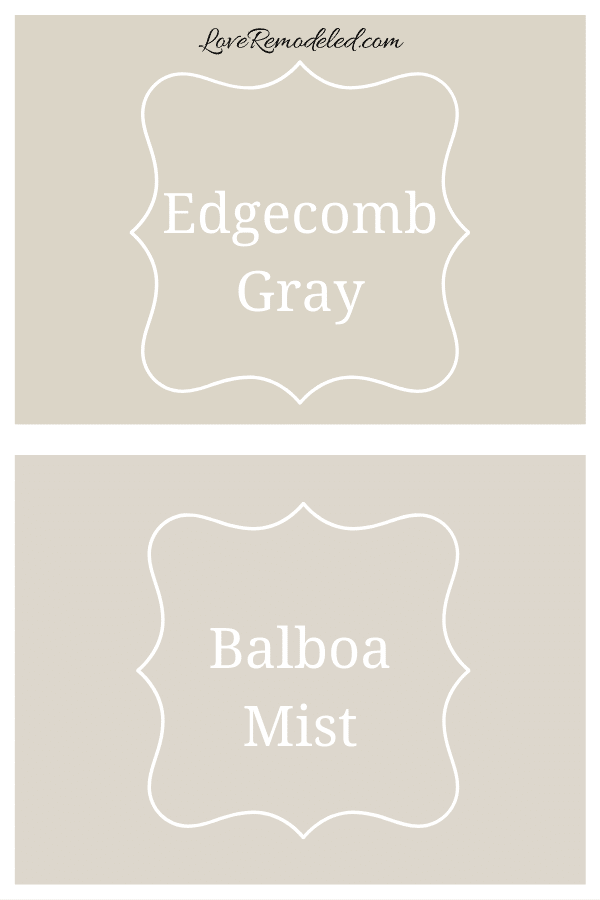 Which Shade Is Lighter Than Edgecomb Gray?
Of all the shades compared here, Edgecomb Gray is probably closest to Pale Oak in undertones. While they are not exactly the same color, if you want a color that is just a bit lighter than Edgecomb Gray, Pale Oak would be a good choice.
Alternatively, you can also ask Benjamin Moore to make you a can of Edgecomb Gray at 75%, 50%, or 25%. This means that they will use the same formula of Edgecomb Gray but with a specific percentage less of the pigments.
So, if you want Edgecomb Gray but just slightly lighter, get a can of Edgecomb Gray at 50%. At 75%, you won't see much of a difference.
Wondering How To Pick the Perfect Paint Color?
I have the best solution for you!
Samplize sells 9×14.75 stick-on paint sheets in almost every paint color.
These no-mess, peel and stick sheets are made from real paint, so they will show you exactly what the paint color will look like.
Simply place them on your walls next to your trim, furnishings or fixed elements, and easily see which paint color works best in your space and with your lighting.
Then, peel the sheet off your wall and reapply it somewhere else if you like. You can try several different paint colors with no mess, no fuss and no cleaning paint brushes.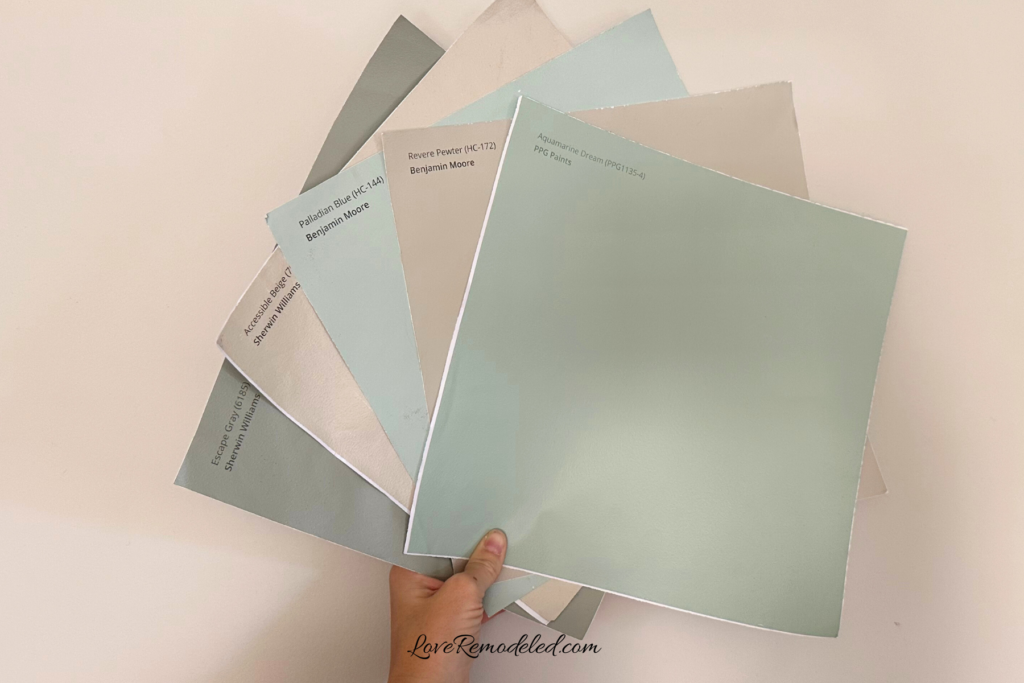 Oh, and you can have them in your home by tomorrow with OVERNIGHT shipping!
As a bonus, be sure to use the code LoveRemodeled10 at check out to get an extra 10% off! Samplize sheets are cheaper than a sample can of paint, and way less work.
They are the easiest (and fastest!) way to try a paint color in your home, with no hassle.
Final Thoughts on Edgecomb Gray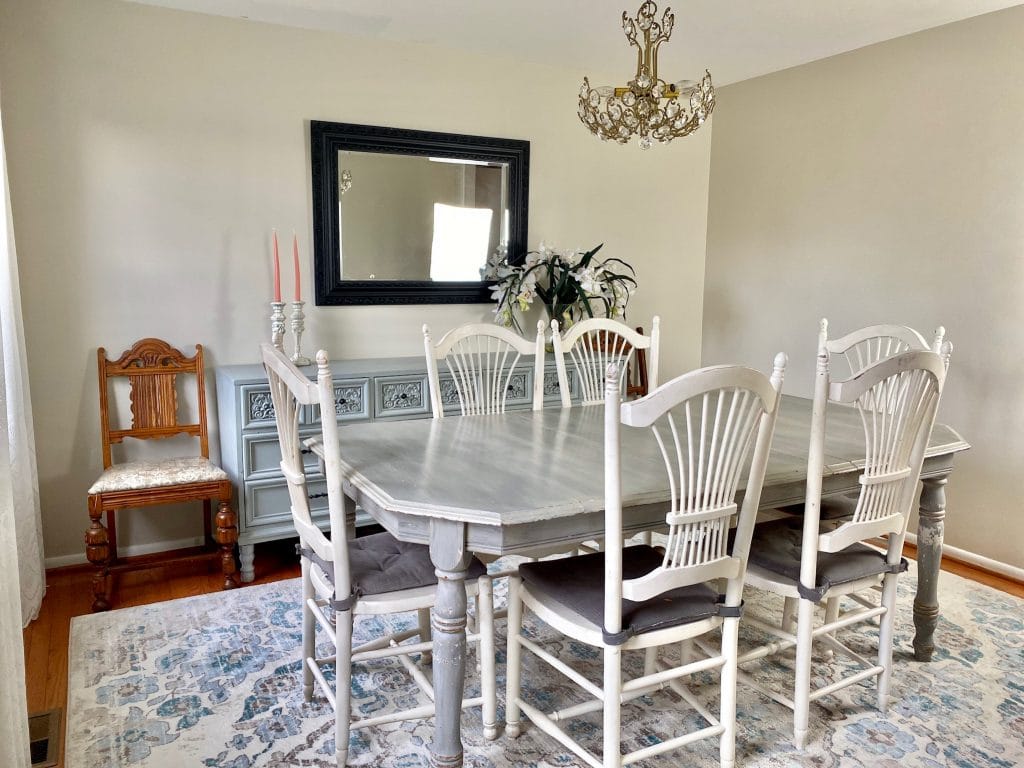 Edgecomb Gray is a beautiful Benjamin Moore paint color to use in your home. It will coordinate with many other paint and accent colors, can be used in any room of the house, and perfectly skirts the worlds of beige and gray paints.
I hope this color spotlight on Edgecomb Gray is helpful for you in choosing the best paint choice for your home!
If you want to check out other greige paint colors, click on the link!
Painting Your Home
If you are interested in painting your home on your own, check out this post on how to paint a room.
Want to see all your paint options in one convenient place? Click here to get everything you need to start painting, including Sherwin Williams and Benjamin Moore paint color decks!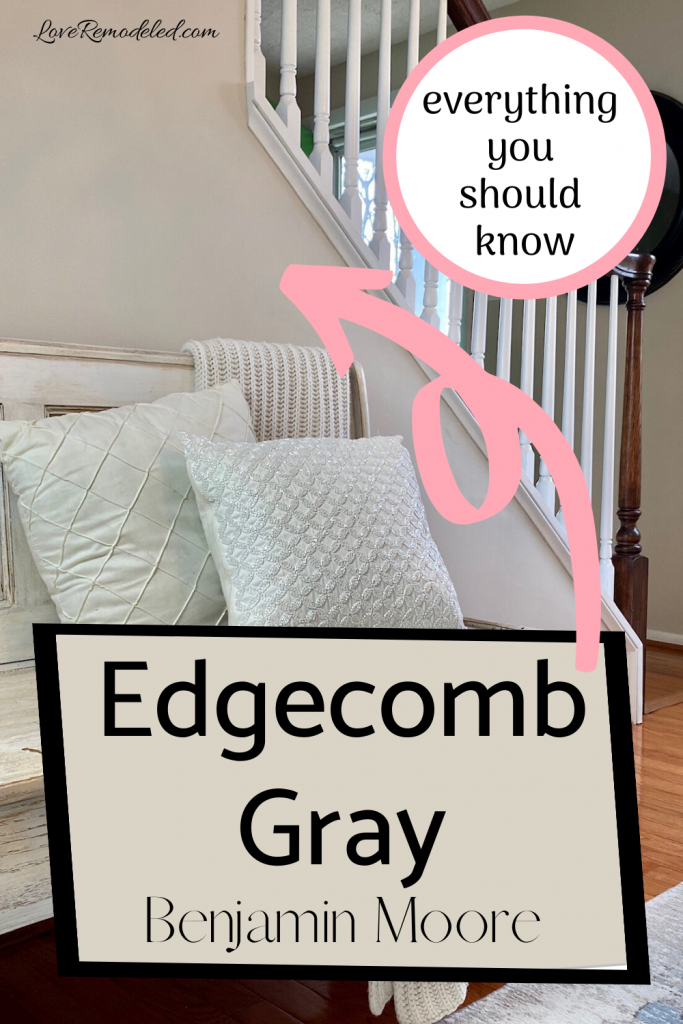 Have a question or want to show off your project? Join the discussion in Love Remodeled's Facebook group!