Choosing a paint color for a home interior can be a daunting task. There are so many beautiful shades of paint, and many appear to be extremely similar.
But since painting is a modest investment in both time and money, it is important to get the right shade on the first try.
How can you choose the perfect shade for your home?
Start with a shade that you love.
The best place for finding a paint color for your walls is with you!
Think about the colors you are drawn to, the pictures of home interiors that you love, and the shades you frequently choose in home decor.
These colors are great starting points for choosing a paint shade for your home, because you are going to love the color every time you see it.
But just loving the color isn't the only consideration you should take.
Paint colors are an interesting thing. They can the look of the space, the ambiance of the room, and even your mood.
Blues, greens and neutrals are typically calming colors. They can help you wind down after a long day. Reds, oranges and yellows are oftentimes stimulating colors. They may help get ideas flowing for you. So, it is important to choose a color that will give the room the vibe you want it to have.
With this in mind, a word of caution. The vast majority of people love a neutral on the wall.
For example, I love pinks and teals and choose them for decor items frequently. For my walls though, these would be way too bright. My eye loves a touch of them… the bedspread, a candle, or a pillow. I do not, though, want a large pink room in my home.
So instead of choosing a pink or teal wall color, I use those those colors as a starting point, and select a color for the wall that coordinates with them.
Use a pattern or picture to select a shade.
In the last example, I talked about finding a coordinating color for a color that you love. A great way to do this is by finding a pattern or a picture that you adore and pulling a shade from it.
Take a look at this picture.
At first glance, you may think that you need to choose a bright purple or bright green paint color based on the shades in it.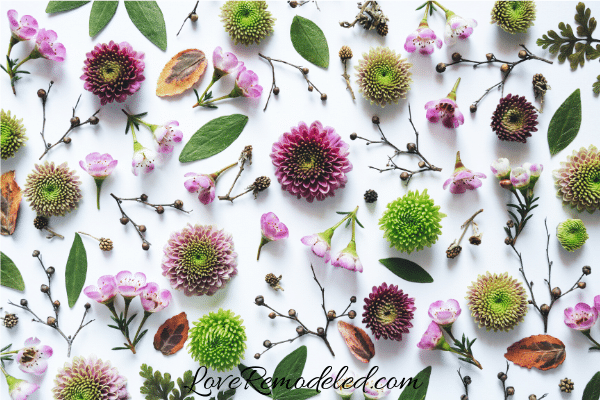 But take a look at some of the different colors you can pull from it.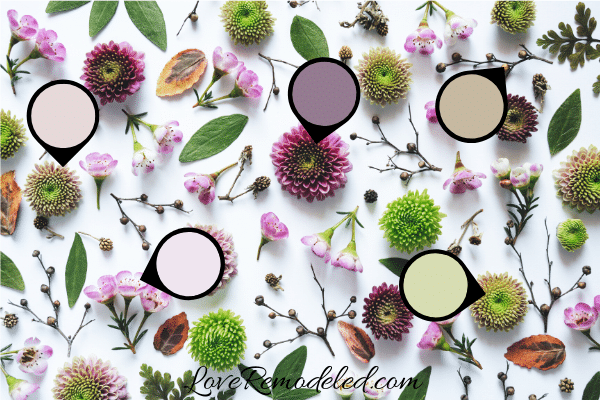 Many of them are neutral, or toned down versions of the bright colors that draw your eye. This makes them perfect wall colors for room where this is your inspiration picture. The accents in the room can be the bright colors you see, but the walls don't have to be.
Get inspired on Pinterest.
Pinterest is a great place to find a paint shade. Not only are there millions of pictures of home interiors, there are also pins showing exact color names.
Begin searching for shades by looking at whole rooms.
If you're trying to find a color to go with a tan couch, wood floors and green accents, type in, "Living room tan couch wood floor green," and you'll get tons of pictures of living rooms with tan couches, wooden floors and some green in them. From those pictures, take a look at the wall colors that people are using.
Now that you have some inspiration, do another Pinterest search. If the wall color that you like best with those specifications is a gray, type in, "Best gray paint colors."
Again, you will find pin after pin with specific paint color names, or pictures of paint colors that you can choose from.
Pay close attention to the pictures of homes you linger on.
Recently, I was looking through Pinterest and found an inspiration picture of an accent wall color that I really liked. It wasn't a color that I would usually use in decorating my own home, but it was fun and different and I knew that it would coordinate with the palette in my house.
So I went for it. I chose a shade that was daring, just as an accent wall. Here is the bold color that I chose.
And I am already ready to paint it again.
It is not that I don't like how it looks… I do.
It is just that the color doesn't speak to me. I chose a color that I liked, instead of a color that I LOVE in home decor.
So pay careful attention to the pictures of rooms that you absolutely drool over. These are the ones that are going to give you a shade that you're happy with for the long haul.
Should I paint my whole house the same color?
You certainly can! But most people tend to want a little more visual interest in their home.
The important thing to do when painting different colors in a home is to work within a cohesive palette.
You do not want want to have a room with green paint right next to a room with pink paint, unless the particular shades of those colors coordinate well with each other.
If you choose colors that coordinate well, you will end up with a home that feels choppy and broken up, instead of a home with a cohesive and expansive feeling.
For example, take a look at these color palettes.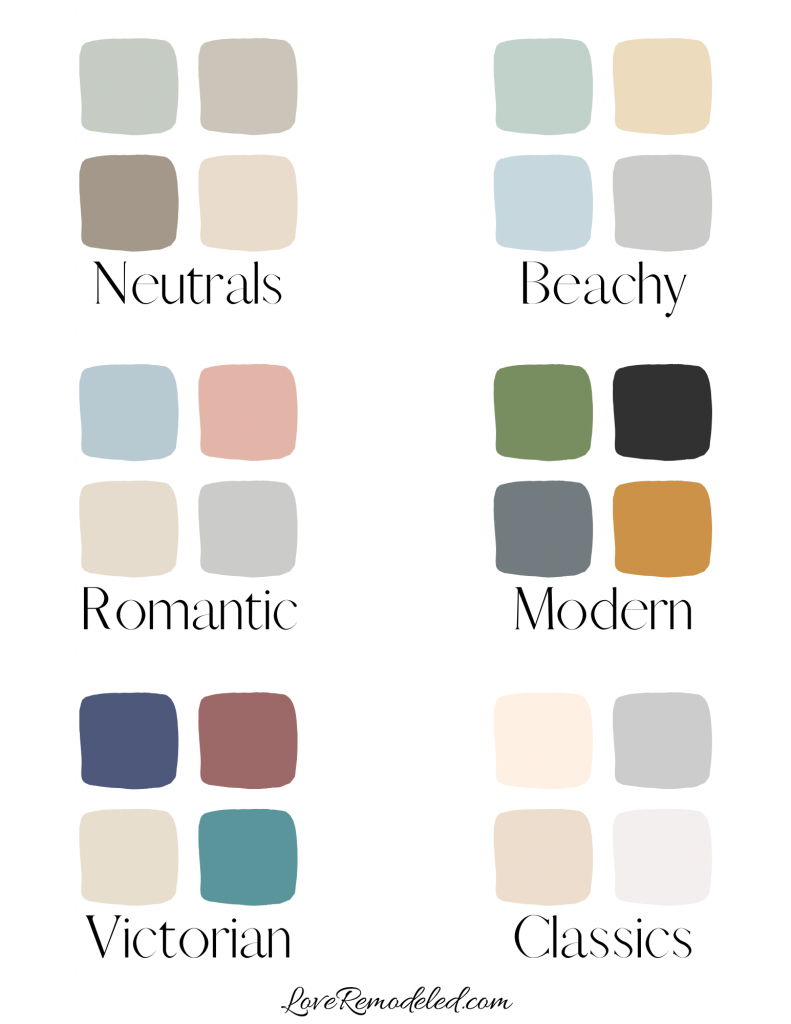 While the colors are very different, they all fall within a specific scheme. This means that each color within the set of four shades can be used together.
This post may contain affiliate links. If you have any questions, please see my disclaimer page.
How many paint colors should I choose for my home?
There is no hard and fast rule for how many colors to use within a home, but I like to stick to one main color and several coordinating colors.
For example, I have a whole house color scheme featuring Agreeable Gray that I have used in several houses. The rooms flow together and look gorgeous, without being too similar. This color scheme has four main colors in it.
Most frequently, it works well to select a neutral shade for the main living areas of the home, like the living room, family room, and the hallways. Then, if you are desiring a bit of contrast in other rooms, select coordinating colors for bedrooms, bathrooms, the entryway and even the kitchen or dining room.
What are the most popular colors for home interiors?
The most popular colors in homes right now are neutrals – grays, beiges and greiges. Whites are making a comeback, but grays are still the top choice for homes.
Sherwin Williams ranks their top 50 paint colors for homes, based on their yearly sales. Check them out here!
If you are looking for the best selling paint color picks, check out these top 3 shades: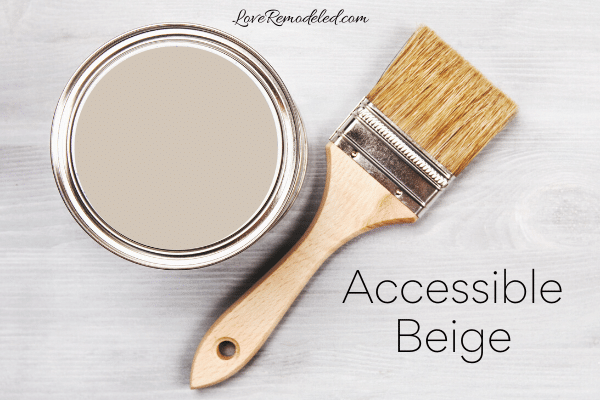 You may be thinking that they're a little blah…
But they are the top shades for a reason! They are all technically greiges, meaning they have both beige and gray undertones. This makes them incredibly versatile and gives them a wide appeal.
What paint colors are best for bedrooms?
There are two schools of thought for bedrooms.
The first, and by far the best established, is that bedrooms should be a relaxing space. A paint color in a bedroom should exude tranquility, to promote good sleep. Typically, relaxing colors are cool colors – blues, greens and purples.
Here is a post on 10 gorgeous blue paint colors.
Of course, neutrals are great picks for bedrooms too. Whites, beiges, grays and greiges are all beautiful choices.
As always, there are some naysayers in the bunch though. These people would argue that you should paint your bedroom a warm color to make it a place of excitement. Warm colors, such as reds, oranges and yellows would be good options if you want a stimulating bedroom.
What paint colors make a room look bigger?
If you want to make a room appear bigger, stick with a cool color.
For example, light blues, such as Glimmer, give the impression that a room is bigger than it is, reminiscent of the sky.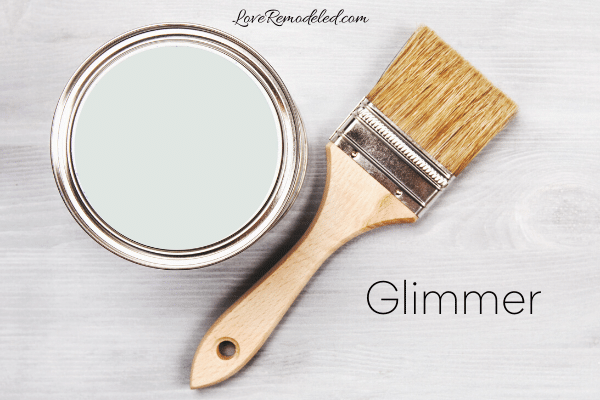 Whites, creams and greens will also make your room look bigger.
How can I use a dark paint color?
Dark paint colors are just as amazing as light ones, but a little bit less versatile.
Dark walls are best in a room with a lot of light, one with wainscoting or lots of white trim, and in rooms where you want the paint to make a big impact.
In a small space, a dark paint color can really make the room pop.
Naval is Sherwin Williams' 2020 Color of the Year, and a great example of a dark paint color that will look gorgeous on your walls.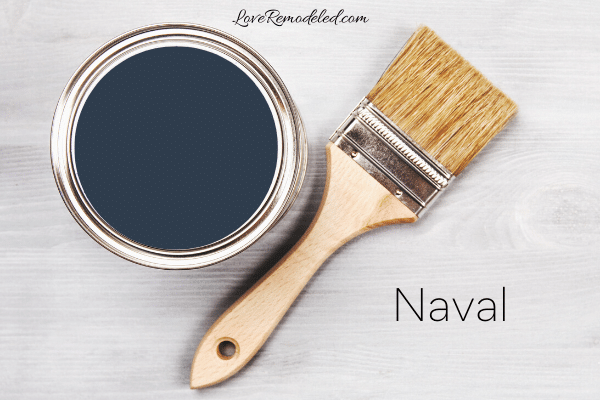 Should I paint an accent wall?
Accent walls go in and out of fashion. The were super popular back in the early 2000s, but then went out of vogue for a few years.
Currently, we are seeing a resurgence in their popularity. Designers are using accent walls a lot more in homes, and through a variety of different mediums.
Wood walls, shiplap walls, and even painted walls all are ways to put an accent wall in your home.
Painting an accent wall is a great way to add visual interest to a room without spending much money.
In painting an accent wall though, remember to stick within a cohesive color palette. You probably shouldn't paint a bright red accent wall in a blue painted room. The colors would be competing. Instead, choose a more muted neutral for the walls and let the accent wall be truly that – an accent.
Overall, an accent wall can be any color you want, but be sure to pick one that goes well with the other walls. You want the wall to be engaging, but not surprising.
Here is a post about how to paint an accent wall.
Should an accent wall be lighter or darker than the other walls?
Accent walls are typically darker than the other walls in the room. This doesn't mean that they have to be though.
Shiplap walls are a type of accent wall that is usually painted white – a lighter color.
The point of an accent wall is to bring your attention to something. So, if you have an amazing fireplace, painting the walls around it in an accent color will draw your eye to it.
The most important consideration in choosing a paint color…
Is you! Your preferences and your style.
Choosing a paint shade can be overwhelming, but using these tips can make the process much easier.
And, if you need a little more help…
Wondering How To Pick the Perfect Paint Color?
I have the best solution for you!
Samplize sells 9×14.75 stick-on paint sheets in almost every paint color.
These no-mess, peel and stick sheets are made from real paint, so they will show you exactly what the paint color will look like.
Simply place them on your walls next to your trim, furnishings or fixed elements, and easily see which paint color works best in your space and with your lighting.
Then, peel the sheet off your wall and reapply it somewhere else if you like. You can try several different paint colors with no mess, no fuss and no cleaning paint brushes.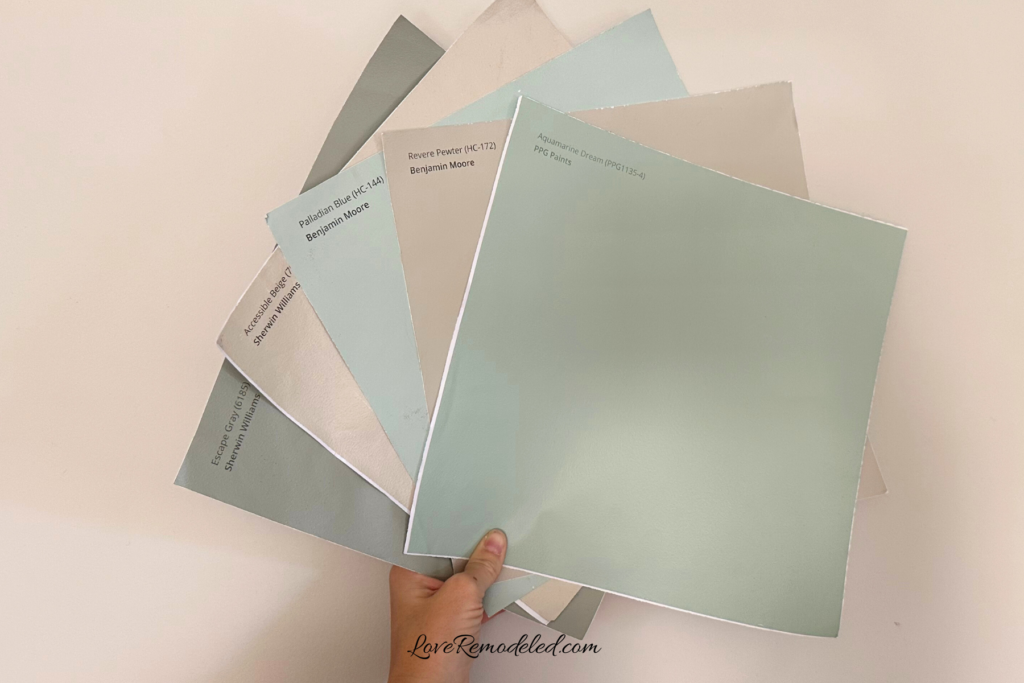 Oh, and you can have them in your home by tomorrow with OVERNIGHT shipping!
As a bonus, be sure to use the code LoveRemodeled10 at check out to get an extra 10% off! Samplize sheets are cheaper than a sample can of paint, and way less work.
They are the easiest (and fastest!) way to try a paint color in your home, with no hassle.
Good luck choosing a paint color for your home!
If you need some suggestions, I have lots of resources on different colors:
A Neutral Whole House Color Scheme
Paint Colors for Honey Oak Cabinets
Also, here are some easy to follow tutorials:
Want to see all your paint options in one convenient place? Click here to get everything you need to start painting, including Sherwin Williams and Benjamin Moore paint color decks!