Boho style rooms have caught my eye recently, and I wanted to try out the trend in a room in my home. After seeing several inspiration picture on Pinterest, I decided to give my first floor powder room a boho look.
After several days of work, my boho bathroom is finally complete!
Here is what the bathroom looked like before.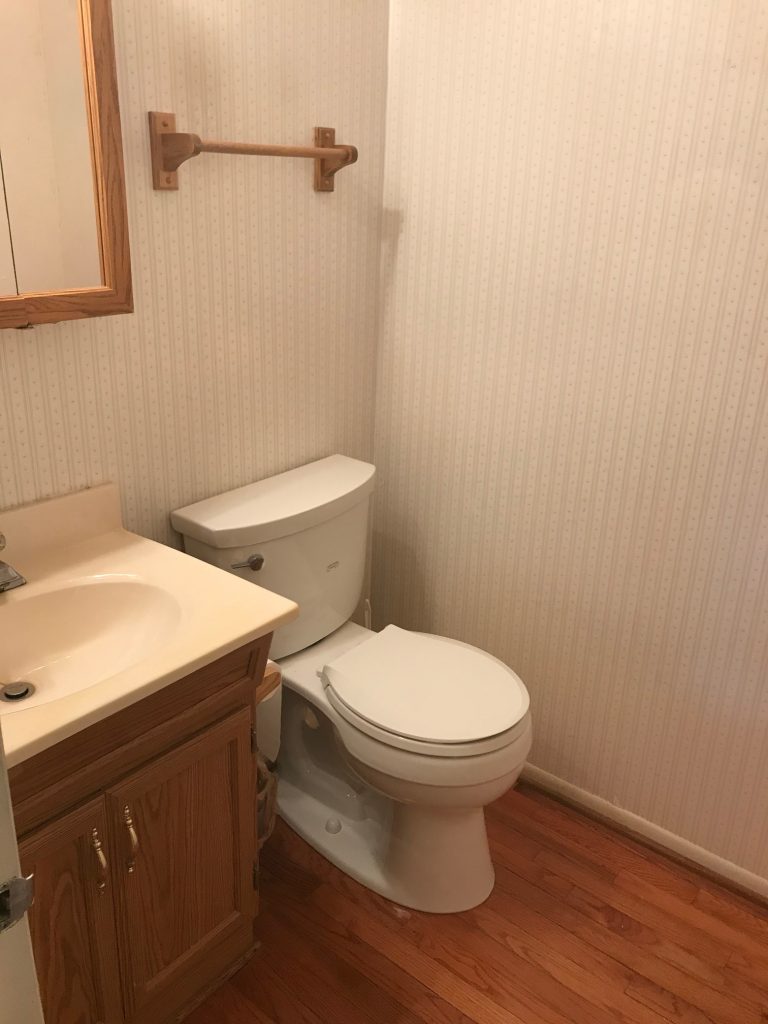 It had wallpaper from the 1970's, a honey oak cabinet with a matching medicine cabinet mirror (you bet it had hollywood lights!) and an accompanying towel rack.
This post may contain affiliate links. If you have any questions, please see my disclaimer page.
The floor had been updated at some point to a wood floor, which I love, so I knew I didn't want to change that.
This room was majorly wallpapered. Even the light switch and outlet covers were covered.
Wallpaper Removal
So the first step of this powder room transformation was to remove all the wallpaper.
It wasn't nearly as hard as I thought it would be, though it is a tedious job. Here is how I removed all the wallpaper in a few hours, with just water!
Vanity Removal
Next, my husband and I removed the vanity.
Removing a vanity is not hard at all.
If you've watched Fixer Upper or any of those HGTV shows, you've seen someone hit the vanity top with a sledge hammer, cracking it in several places and then ripping the cabinet base off the wall.
Removing a vanity is not actually like that at all.
Instead, to remove a vanity, start by carefully running a utility knife along the edge of the vanity on the bead of caulk. This caulk adheres the vanity top to the wall. Make sure you cut it the whole way along the back and down any sides that touch a wall, because if you just rip it off the wall (if you're even able to – caulk adheres stronger than you'd think!), you'll mess the wall up and will have to patch it.
Now that the vanity top is detached, look inside the vanity base for a screw or several screws that hold the base to a wall. Unscrew them.
Then, detach the plumbing. I don't know too much about this part, since my husband does the plumbing work. As a word of caution though, make sure to turn the valve to turn the water off before detaching anything!
After everything is unattached, you can pull the vanity off. If you've done it carefully, you'll be able to pull it right out, though if its heavy, it might require two people to lift.
Removing the Medicine Cabinet and Light Fixture
The next step was to remove the medicine cabinet, with had a built in light fixture.
We turned the breaker for the powder room off, and got to work removing the medicine cabinet.
After unscrewing the cabinet from the wall, my husband held it up for me to separate the wires. I capped the wires so I didn't have any live wires hanging out of the wall, and left it alone until we were ready to put the lights back up.
Unfortunately, the builder had put a HUGE hole in the wall for the wires, since it was covered up by a medicine cabinet, so I had to patch the hole. I used a pumpkin patch method.
While we had the power off, we changed the light switches and electrical outlet to a modern white option. If you're not ready to get into electrical work, take a look at this amazing faceplate for your outlets! It'll make your outlets white without having to get into any wiring!
Painting
After that was done, I was ready to paint.
I started by painting the trim, because it was a dingy white from years of dust and dirt. Painting trim is pretty easy, if you know how to do it. Here is how I paint trim.
Then, I painted my white walls (SW Eider White), and my accent wall (SW Secret Garden). If you're interested in painting an accent wall and getting perfect lines, check out how I did it here.
Installing the New Vanity
My husband and I installed the new vanity by screwing the base into the wall, adhering the top of the vanity to the base with caulk, and adhering the vanity top to the wall with caulk.
We picked this one up at Lowes.
Once everything dried, he plumbed it with a new gold faucet, similar to this one.
Decorating
Light Fixture
We ordered a gold finish light from Amazon, and put that up as soon as the paint was dry.
Mirror
Then I began my search for a mirror.
I had such a difficult time finding a mirror for this spot! I originally wanted a round, simple framed mirror like this one.
They are super in style right now, but I couldn't find one that was a good size for this spot. They were either too big (and wouldn't have been centered about the vanity) or too small to make any sort of statement.
I also tried out this wood framed mirror.
Despite its questionable reviews, I really liked it. It is super 3D. and makes a great statement in a room. Unfortunately it was just too big for the space and touched both the faucet and the light when it was mounted.
I went to all the local HomeGoods, TJMaxx and Ross stores, and came up with nothing.
But after trying out many options, it was Amazon for the win!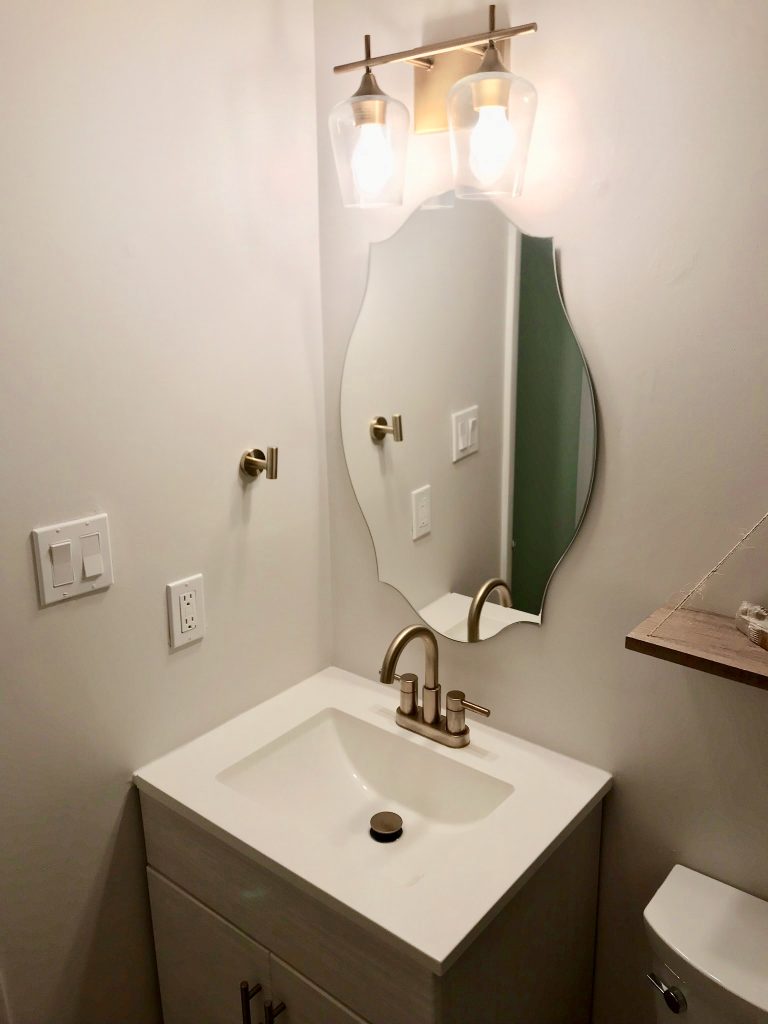 This arabesque, beveled edge mirror was perfect for this space. It is the perfect size and I love how the curved edges provide a contrast to a room with otherwise straight, modern lines.
Since Moroccan style decor totally fits in with the boho look, I was thrilled to end my search for a mirror.
Towel Hook
I also purchased a towel hook to match the gold finish of the hardware on my sink.
Since my 6 year old is always asking where different countries are, I picked up a print of the world for the accent wall.
Boho Shelf
And finally, I made a boho style shelf.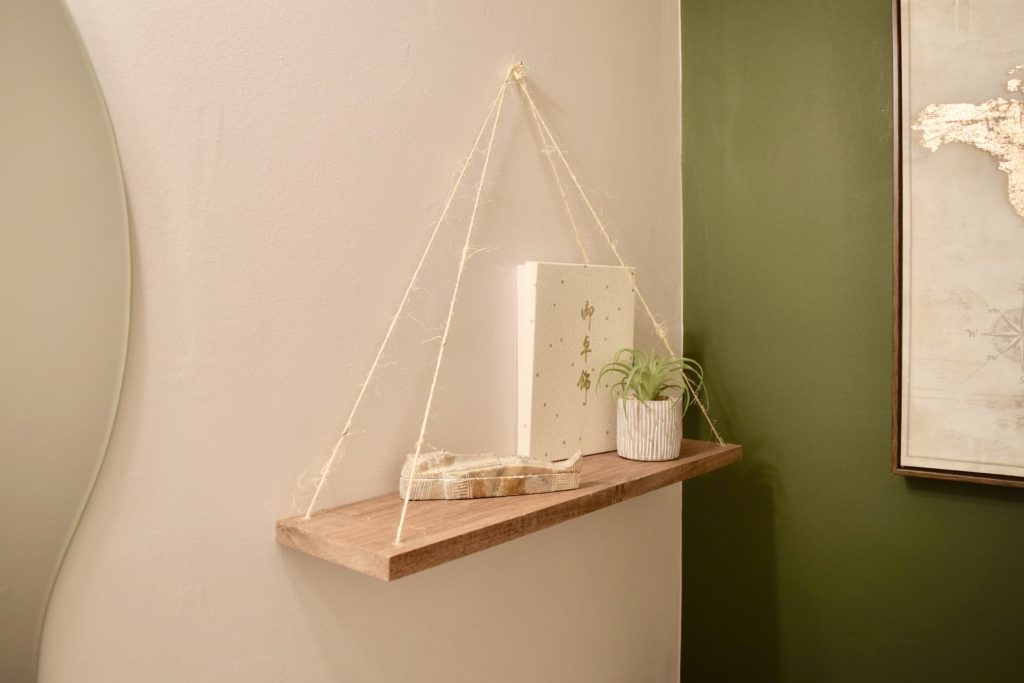 Jute Rug
I also picked up a jute rug to add a soft textile to the room.
I picked mine up at IKEA, but if you're not close to one, I love this multi-toned one from Amazon!
Before and After Bathroom Updates
I love how the modern powder room update on a budget went! Here is a before and after look.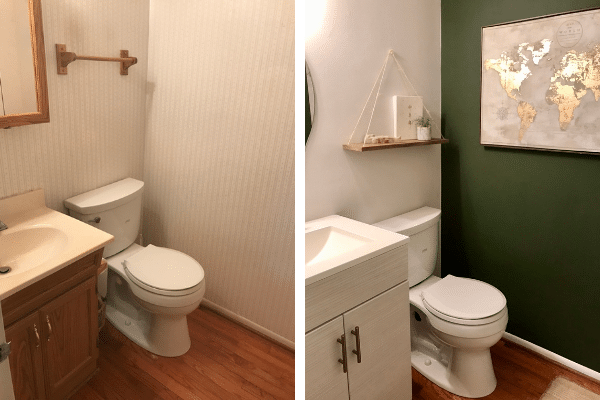 And a few more pictures, since its hard to capture everything in one shot since the powder room is pretty small…
Next up on my to do list is the upstairs full bath, where I plan to give it a fresh look on a shoestring budget! Stay tuned!