Modern Farmhouse Style
Modern farmhouse style has been on trend for years now. Made popular by the famed show Fixer Upper, modern farmhouse style has crept its way into homes across the nation.
More often than not, modern farmhouse style homes incorporate a variety of design elements. These include shiplap, barn doors, white decor, neutral accents, vintage decor, painted and distressed furniture and more.
While all of the design elements of modern farmhouse are still in style, the boho look has started to trend alongside of it.
Boho Style
Boho look is also called California Cool. Accordingly, I was first introduced to the look by my friend from California. Upon entering her house, I knew without a doubt that this look was the next big thing. It was clean and minimalistic, neutral, yet stylish.
The Boho look uses a lot of design elements that can be easily added into a room with a modern farmhouse look. Neutral spaces, leather furniture, baskets, and tons of white are the staples of both modern farmhouse and boho.
It is a style that feels like a throwback to the 1970's, with tribal and global touches.
This post may contain affiliate links. If you have any questions, please see my disclaimer page.
Here are some examples of boho style rooms, so you get an idea of what I'm talking about.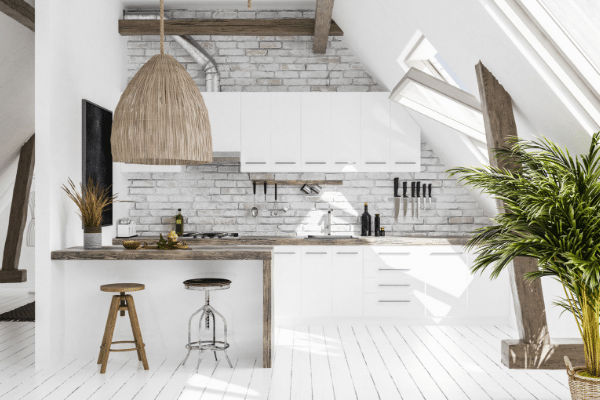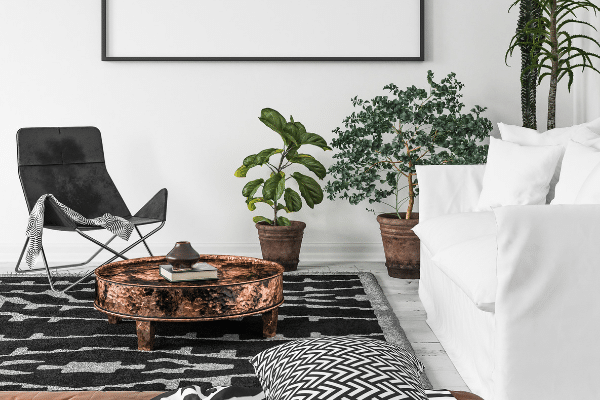 Why I'm Moving Towards Boho
In my house, I have had the modern farmhouse look since 2014. I love the look.
First of all, my kids can't hurt my painted and distressed furniture – instant win. Second, the overwhelming neutral look is instantly calming to me. Third, I love vintage finds.
But recently, I moved into a new home. It is a fresh slate for me to decorate, but the home comes with many 1970s touches.
So as I've started to make this house feel like home, I've been faced with a decision. Update the house to look completely modern farmhouse, or update selectively and work with what the house currently has.
I've chosen to do the second option, because it is easier, and it is time for a change.
For instance, the office room in my home has dark brown wood paneling as an accent wall. And my husband loves the wood paneling. Mind you, it isn't beautiful boxed wainscotting, its 1970's wood paneling.
But you know what? I actually don't hate it anymore! For so long, this wood paneling would have been instantly ripped out by me. But with the recent design trends shifting towards boho, which is a 1970's look, I think I might just be able to rock that 1970's wood paneling and give that room a stylish boho look.
And out of that wood paneled room, my transition from modern farmhouse to boho has begun.
My house will still have tons of modern farmhouse in it. I still love it, and I'm not rich enough to update all of my furniture and decor at once. And thankfully, modern farmhouse and boho blend seamlessly.
How to Incorporate Boho Style with Modern Farmhouse
To transition from modern farmhouse to boho, or to add a boho feel to your modern farmhouse style, you can begin to swap some of the decor in your home. For example, a vintage "Market" sign could be easily replaced by a macrame wall hanging, and pale Sea Salt accents could be swapped with navy blue decor.
So what pieces fit the Boho Style?
Let's examine the design elements that give a home the bohemian look.
Natural Wood
Natural wood furniture has begun to be showcased in both the modern farmhouse look and in the boho look. While modern farmhouse touted painted and distressed furniture for years, recently it has started to move towards natural looking wood. Here are some great pieces (click to see their affordable prices!).
Patterned Tiles
Patterned tiles are both boho and modern farmhouse. While modern farmhouse tiles can be any neutral color, if you want a strictly boho look, go with white, dark green or navy.
White Walls
White walls are back in style in a major way!
They don't have to be pure white though. I love Sherwin William's Eider White because it is close to white but has a touch of gray.
I also recently added a dark green accent wall in my boho style powder room.
Check out how to paint a room the easy way if you need help!
Greenery
Greenery adds a soft touch to your boho style room. It brings a bit of color in to contrast against the white walls, and adds interest.
Gold
Gold has been out of style for long… and all of the sudden is gorgeous again. While the bright shiny gold of the 70's is still out, brushed gold is a great addition to any room. Recently, I bought curtain rods in gold and I LOVE them. And since I loved them so much, I went ahead picked out a gold faucet for my boho style bathroom that I just finished (more details on that soon!).
Midcentury style furniture
Midcentury style furniture is back! Snag some great finds at your local antique store, or pick up one of these awesome options online!
Macrame
What is a boho style room without macrame? This accent piece is completely boho and not at all farmhouse, but definitely in style. I even saw a macrame wall hanging for sale in my local Aldi, so you know that it has hit the mainstream!
Global Accents
Global accents are a key staple of boho rooms. Decor pieces with Native American, Indian or Moroccan leanings are all popular within the style.
Patterned Rugs
Patterned rugs with a California cool style tend to have geometric shapes. Modern farmhouse style rugs can range from solid neutrals to oriental style rugs in soft colors. Here are some beautiful boho style rugs.
Add a little bit of this and that, and you have a boho style room!
The great thing about boho is that you don't have to change everything about your home to get the look.
Transitioning from modern farmhouse to boho can mean just updating the decor on the walls and changing the throw pillows! It is an easy, and inexpensive way to give your house a modern look.
I hope that this guide is helpful for you as you transition to boho style!
Let me know how its going!
Pin this post to save it for later!