There is nothing I love like a fresh coat of paint on the walls. It gives a tired room new life, can change the entire feel of a space, and makes the room look sparkling clean.
I have even been known to just put a fresh coat of paint on the wall, instead of washing the fingerprints off – that's how much I love fresh paint!
Recently, I updated my bathroom to give it a more modern feel. So I set out to Sherwin Williams to pick up a can of paint for the walls.
This post may contain affiliate links. If you have any questions, please see my disclaimer page.
Sherwin William's Paint Options
Sherwin Williams has several different paint options. For painting walls, there are at least 17 different products that Sherwin William's sells. Since different types of paints do different things, choosing the right one for your walls is important!
I've used several of their paint products, including SuperPaint, Duration, HGTV Ovation, Captivate, SnapDry, and ProClassic. Almost every paint that Sherwin William's puts out is a great product, though some are better than others.
All About SuperPaint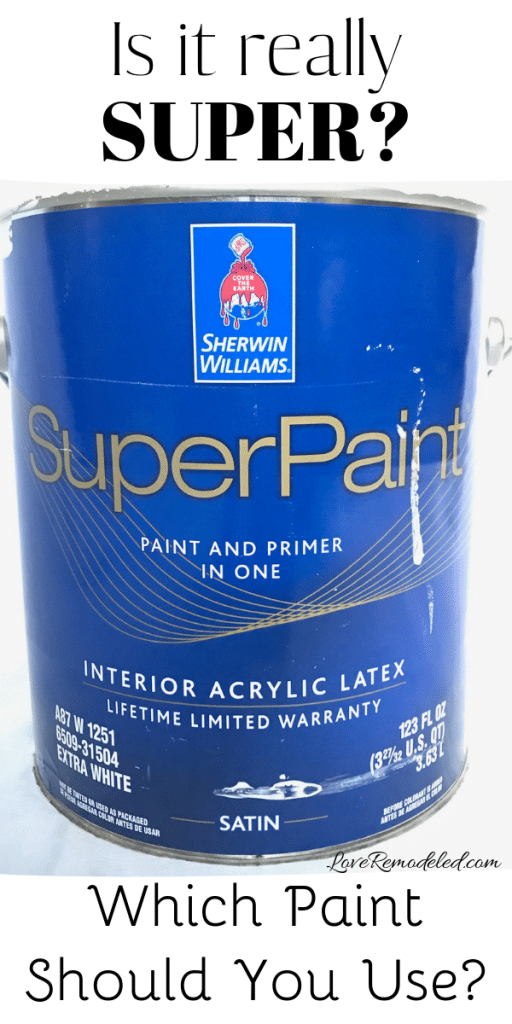 Cost
SuperPaint is a mid-priced paint from Sherwin Williams, costing around $60 per can when it isn't on sale. Thankfully, Sherwin Williams regularly runs 35% and 40% off sales, so I always purchase my paint at a discount.
Consistency
SuperPaint is perfect for painting walls. One of the things I love most about it is how easy it is to use. It is thick enough to stick well to your paintbrush or roller, but not so thick that it doesn't almost drip off like paint should if you get it too thick. It acts just how paint should.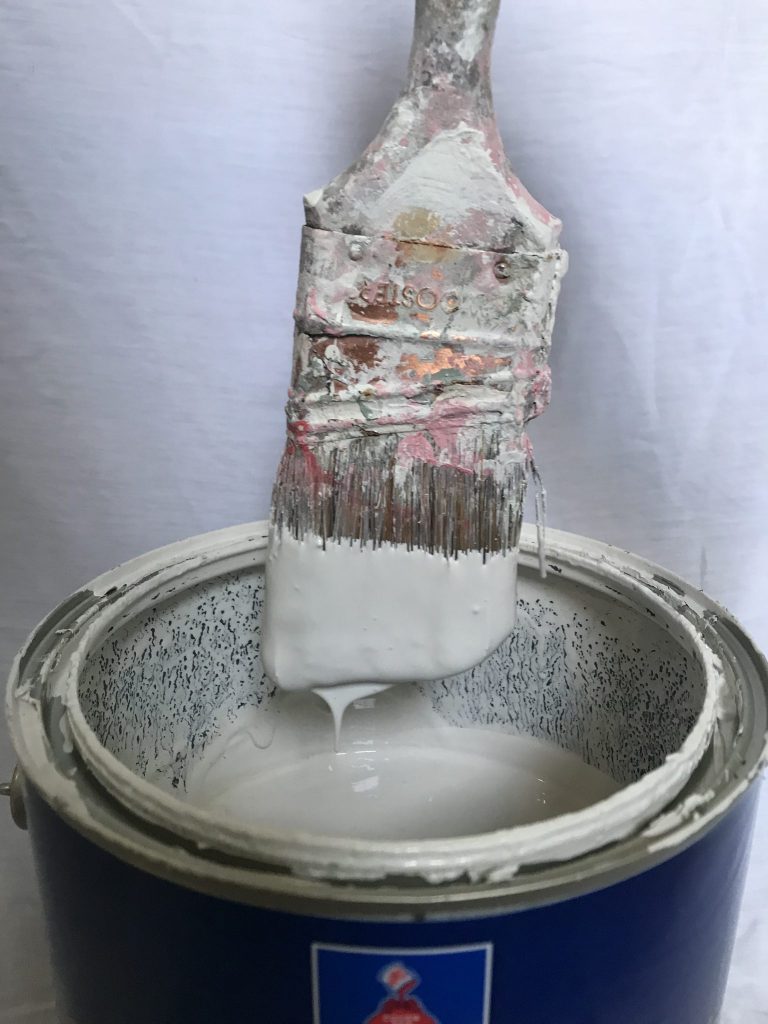 Now, those may sound like weird statements to make, but I have used paint in the past that didn't act like paint should. It was too thick, yet also didn't cover well.
But SuperPaint has the perfect degree of thickness, smoothness and flexability.
Paint and Primer
SuperPaint is a paint and primer, meaning that you don't have to worry about priming your walls before you paint with it. This is a huge bonus!
Durability
SuperPaint is a very durable paint. This is a really important aspect to have in paint for me, because my kids are constantly touching the walls with dirty hands. SuperPaint is able to be scrubbed clean without a trace of the dirt that was previous there!
Sheen Options
SuperPaint comes in four different sheens: flat, velvet, satin and semi-gloss. If you have questions about what sheen you should use, check out this handy guide on choosing a sheen.
Sherwin's William's Description of SuperPaint
According to Sherwin Williams, "SuperPaint next generation delivers a smoother appearance, excellent hide, and helps make color changes a snap. Paint and primer in one for fast and easy application."
SuperPaint Characteristics
Let's break that statement down a little bit:
Smoother Appearance
What this likely means is that this paint has some sort of slight leveling property to it. Instead of settling into every single teeny tiny nook and cranny on the wall, it may help to hid some of the natural dimpling in the wall from previous paint jobs.
This dimpling is normal, and not very noticeable, but a wall with previous paint jobs is bound to have it. It is caused by the rollers that put the paint on the wall.
Paint rollers with a higher nap (3/4 inch) are better for rough surfaces and will tend to leave slightly more dimpling.
Paint rollers with a lower nap (1/4 inch) are for smooth surfaces. These are great for painting cabinets or furniture since you want the finish to be as smooth as glass.
Generally, walls are rolled with a 3/8 inch roller, though if your walls are perfectly smooth, you may want to choose a 1/4 inch nap, as this will give you the smoothest paint job.
There are other paints, such as Sherwin William's Pro Classic, that is specifically formulated with self-leveling properties. Pro Classic, though, it pretty expensive, leaves a hard smooth finish, and is typically used on trim.
My Review of Sherwin William's "Smoother Appearance" Claim
I have to say, I agree with the claim that SuperPaint has a smoother appearance.
I recently painted my bathroom wall in Eider White in a Satin, and did an accent wall in Secret Garden in a matte. If you're wondering how to get perfect edges on an accent wall, check out this post.
I painted these walls after I removed the wallpaper, and the walls were in rough shape.
There were divots due to the wallpaper removal, holes from screw in the walls, and even a 5 by 9 inch hole behind the mirror that I had to patch. I was nervous to paint them, due to all the imperfections that I had attempted to fix.
But, after using SuperPaint, the walls looks really smooth!
Excellent Hide
The hide of a paint means how well it covers the surface under it.
Corrosionpedia has some really technical information about how a paint can have high hiding powers that you can read here if you want, but basically, it has to do with the ability of the paint to scatter light on the surface, making the surface underneath imperceptible to the viewer's eye.
SuperPaint is claimed to have excellent hide. Practically speaking, this means that you will need less coats of paint on the wall than you would if you were using a paint with less hiding power.
My Review of Sherwin William's "Excellent Hide" Claim
The SuperPaint covered the walls easily in two coats on rolled sections. This is not terribly hard for a good paint to do though. I expect pretty much all paints to cover the wall in two coats.
Where SuperPaint really excelled was on the edging parts. Typically, when I edge a room, I'll need to do at least three, and sometimes four coats of paint. I was able to get the edges perfectly covered with only two coats of SuperPaint.
So, again I agree with Sherwin William's claim that SuperPaint has an excellent hide.
Helps Make Color Changes A Snap
Going from a light color to a dark color, or a dark color to a light color, can be a little tedious at times. Many paints will require several coats to get the wall evenly coated and entirely covered.
My Review of Sherwin William's "Helps Make Color Changes A Snap" Claim
Absolutely!
SuperPaint made painting this bathroom a really quick and easy job. It was one that was riddled with potential pitfalls, between the questionable wall surface due to being wallpapered, and the dark color of the accent wall. But the SuperPaint was covered with such a rich, thick pigment that I would definitely say it made the color change a snap!
Clean Up
SuperPaint is an acrylic latex paint. This means that you can clean it up with soap and water, instead of having to use paint thinner or mineral spirits.
When i am done edging, I rinse my paintbrush in the sink and it comes clean in a minute or two. I typically throw the rollers away when the job is done, as it takes a bit longer to get all the paint out of a roller, but you can wash those as well if you like!
Want to see all your paint options in one convenient place? Click here to get everything you need to start painting, including Sherwin Williams and Benjamin Moore paint color decks!
Summary
SuperPaint is everything the name implies. It truly is a super paint, and will do an excellent job on your walls.
My favorite thing about using SuperPaint is that I can get away with only doing two coats on the edging. This is a huge time saver!
If you're looking for a paint that is easy to use, and will stand the test of time in regards to durability and scrubbability, SuperPaint is the paint for you.
If you need some inspiration on choosing a color, check out this whole house color scheme! It has all the best neutrals!
Or, if you like a more coastal look, find out what the most popular beach house colors are here!
And last, if you're looking for a cheaper paint option, check out my review of Captivate!