Painting a room in your house is the fastest and easiest way to change the look of your home. It makes the room feel clean and new again, and can be finished in a day!
If you want to paint your rooms, there are a few things that you need to pick up. These painting essentials will make the job fast and easy!
I'll explain all of the house painting tools and equipment that you need in detail below, but in case you just want a quick look at a supply list, check out this box of Painting Tools Online.
This post may contain affiliate links. If you have any questions, please see my disclaimer page.
Painting Tools Online
If you're looking for paint a room in your house, and want to pick up the tools without leaving your home, you're in the right place! All of these house painting tools and equipment can be sent to your house by the weekend! Add them to your cart today!
Here is your detailed painting equipment list.
High Quality Paintbrush
A high quality paintbrush is essential to a good paint job. It makes the cutting in (or edging) part much easier because all of the bristles stay exactly where you want them.
I love Purdy brushes, and this three pack is a fantastic price. One good paintbrush usually costs around $15, so this three pack is a steal! Plus, the different size options will allow you to choose the size that works best for you!
Roller Frame
This Wooster roller is a nice one because it rolls really smoothly. It has a screw on end for attaching to an extension pole on the handle part. Plus, it is easy to remove the roller covers from this particular roller frame.
Roller Covers
Roller covers are used to get a smooth finish on your walls. They come in various naps, depending on your needs. If you're unsure about what nap roller to get, check out this post, where I discuss a how to get a smoother appearance.
Oh, and a little tip. Before you put paint on your roller cover, make sure that you run your hand up and down it several times. Or vacuum the roller cover really well to get all the loose fibers off. This will make sure you don't end up with lots of loose fibers stuck in the paint once you roll it on your wall.
Drop Cloths
A drop cloth is a definite painting essential.
You can purchase plastic ones that can be thrown away, but if you have any plans to paint more than one room, I love the fabric ones. Here is why.
When you pull a plastic drop cloth around to a different section of the room, it tends to catch air or move in unexpected ways. Invariably, I end up hitting the wall that I just painted with it and smearing the paint. A fabric drop cloth lays on the floor like a blanket would. When you move it, it just drags across the floor easily, without hitting the walls.
Plus, if paint splatters on a fabric drop cloth, it absorbs it a little bit, making it dry faster. When paint hits a plastic drop cloth, it sits on top and takes much longer to dry. This means it is more likely that when you move the drop cloth, you will get paint on the floor if you don't get the drop cloth down just right.
Mixing and Pouring Lid
I'm going to be honest with you… a mixing and pouring lid is not essential. But it does make the job a lot easier!
This lid fits right over your paint can, making pouring the paint into the tray a much cleaner job. Instead of getting paint in the rim of the can and having it run down the side of the paint can, this lid makes it easy to pour the right amount of paint into the tray without any drips.
Plus, you can put the plastic cap over the spout to store the paint until you're done with the job!
Painting Tray
A painting tray is needed to hold the paint so you can get a good coating on the entire roller cover.
Paint trays have lines or raised circles on them to rub the excess paint off of the roller, helping to ensure you don't end up with drip lines in your coat.
I like this metal one because it won't bend like some plastic ones do – if a plastic tray bends, you may just end up with paint all over your floor!
Trim Pail
A trimming pail holds the paint you need for trimming the edges of the walls. It makes the cutting in job easier because you don't have to keep climbing up and down the ladder to get paint from the can.
Plus, pouring a little bit of paint into your pail instead of dipping the brush in and out of the gallon paint can means that you won't end up get little particles in the paint can.
Painters' Tape
Painters' tape is a great tool to have if you're not completely confident in your cutting in skills. You can use it to tape off the ceiling, baseboards, cabinets, counters, etc. Basically, anywhere that you don't want paint to get, put tape!
Paint
I almost always choose Sherwin Williams' paint for my house, because I love the colors and the paint works really well.
Here is a review of SuperPaint, one of their best sellers.
Wondering How To Pick the Perfect Paint Color?
I have the best solution for you!
Samplize sells 9×14.75 stick-on paint sheets in almost every paint color.
These no-mess, peel and stick sheets are made from real paint, so they will show you exactly what the paint color will look like.
Simply place them on your walls next to your trim, furnishings or fixed elements, and easily see which paint color works best in your space and with your lighting.
Then, peel the sheet off your wall and reapply it somewhere else if you like. You can try several different paint colors with no mess, no fuss and no cleaning paint brushes.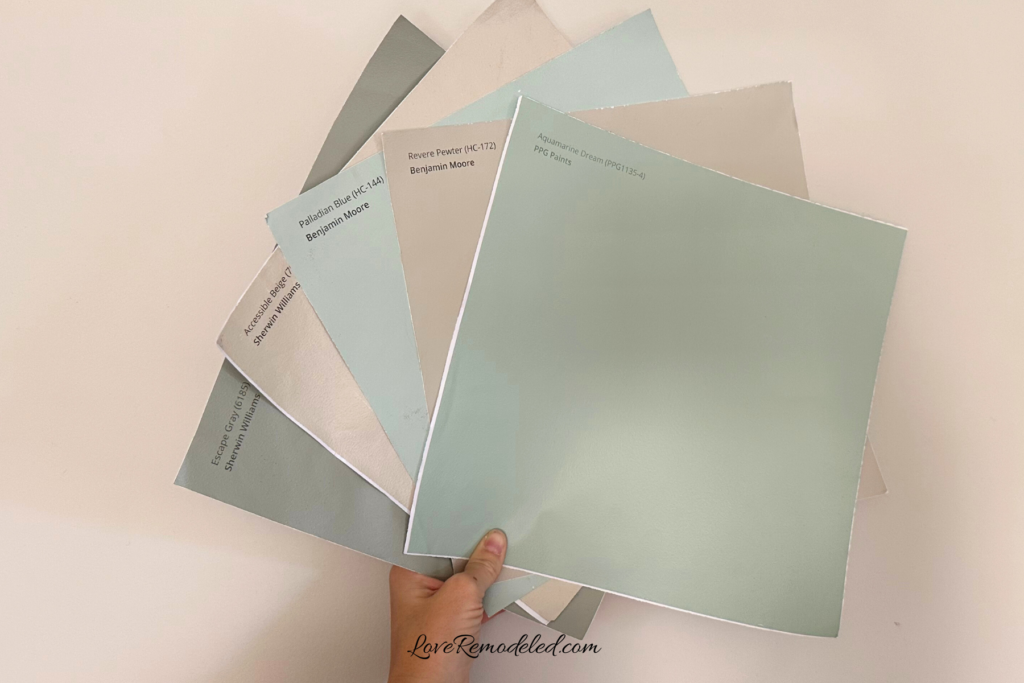 Oh, and you can have them in your home by tomorrow with OVERNIGHT shipping!
As a bonus, be sure to use the code LoveRemodeled10 at check out to get an extra 10% off! Samplize sheets are cheaper than a sample can of paint, and way less work.
They are the easiest (and fastest!) way to try a paint color in your home, with no hassle.
Painting Tools for Special Jobs
While that list covers the things you'll need for most paint jobs, there are a few special circumstances that may require a few other tools.
Painting tools for High Walls or Staircase Walls
Painting a high place doesn't have to be hard! You just need the right tools. Here are the only three extra tools you'll need to paint high places.
Pick up an extension pole to help you reach the really high parts.
Get an edging tool for the cutting in part.
Use a corner tool for getting paint right into the corners of the walls.
If you want some tips on how to paint using high walls or staircases, check out this post.
Good luck painting your house!
If you need some tips on how to paint your home quickly and easily, check out the following resources!
Oh, and if you haven't chosen a color yet, here are two whole house paint schemes that are gorgeous!
Neutral Whole House Color Scheme
House Painting Tools and Equipment