Accent walls are a great way to give your room a little bit of your personal style.
While the creamy soft whites, neutral grays and transitional greige colors are gorgeous and so in style, sometimes a room needs a little bit more to really pop.
Accent Wall Ideas
When I hear the word accent wall, I immediately think of my grad school buddy's white-walled apartment that had one bright shiny red wall. It was… bold and daring… and certainly made a statement.
(As an aside, that bright reddish wall might be coming back in style. Have you seen Benjamin Moore's 2023 Color of the Year?)
Because of this, I've been hesitant to paint an accent wall for years. After all, it was a 2000's trend that died in favor of a more monotone look.
Recently though, I've been drawn to accent walls more and more. I want the main colors on my walls to be light and neutral, but something about those rich-looking accent walls keeps calling to me.
In fact, In the past two years, I've added four different accent walls to my house.
In my living room, I painted an accent wall in Evergreen Fog. The lush green looked amazing and gave the room an earthy look.
My son wanted a lime green room, and I just couldn't do it. So, we settled on a navy blue accent wall. It brought a depth and mood to his room that felt just right.
Later, I made a shiplap accent wall in my laundry room. The shiplap was clean and crisp, and looked perfect next to the Repose Gray walls.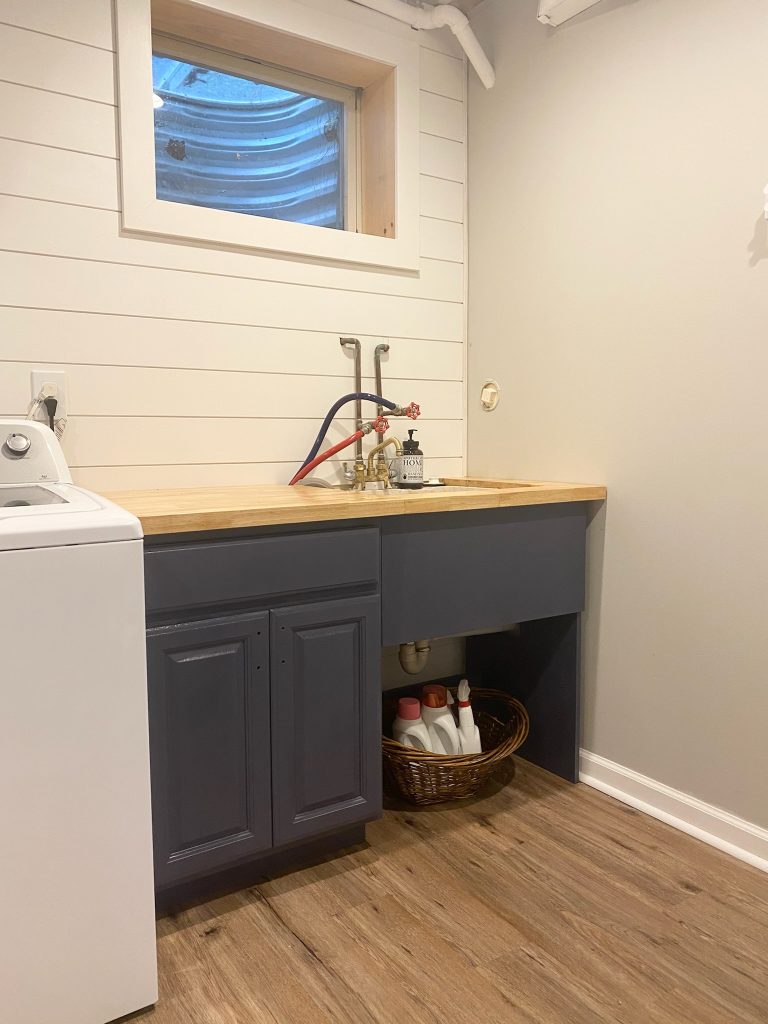 And lastly, I just wallpapered an accent wall in one of the bathrooms in my house. I love how it turned out.
The wallpaper is bold, so I decided that doing it just as an accent wall was better than wallpapering the whole bathroom.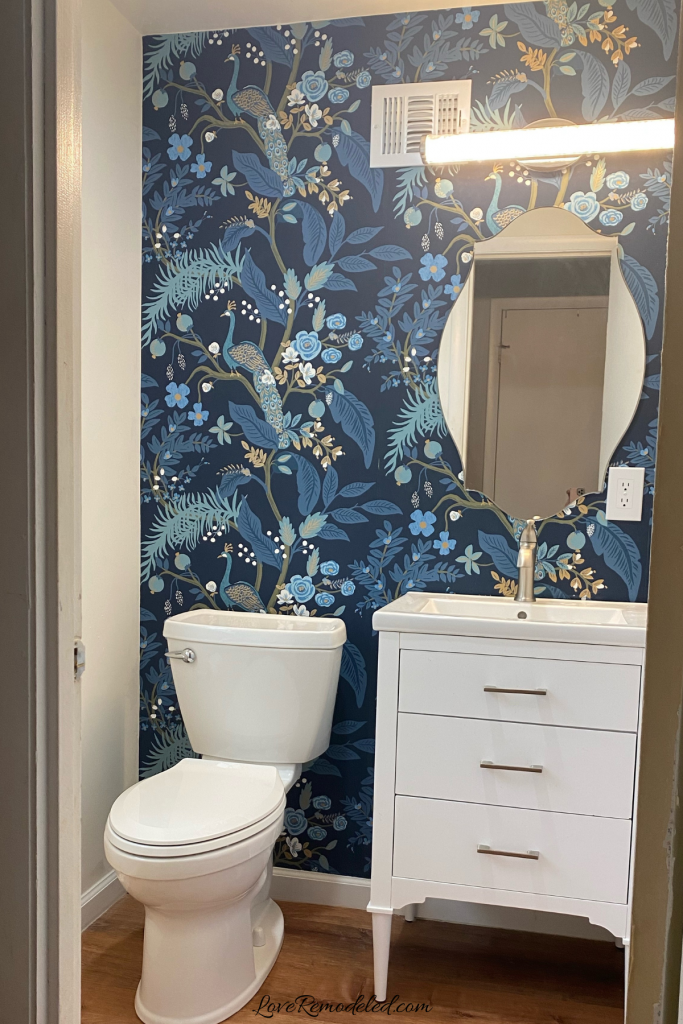 If you love a wallpapered accent wall, check out some gorgeous on-trend wallpapers here.
Are Accent Walls Outdated?
Actually, accent walls are totally back in style!
Back in the early 2000s, accent walls were typically one dark painted wall.
Now, they can range from a wall accented by shiplap, a wall of faux (or real!) brick, a wallpapered wall, a wall with a wood design, and of course, a painted wall.
If you need a little more inspiration to see what I mean…
This post may contain affiliate links. If you have any questions, please see my disclaimer page.
Check Out These Accent Walls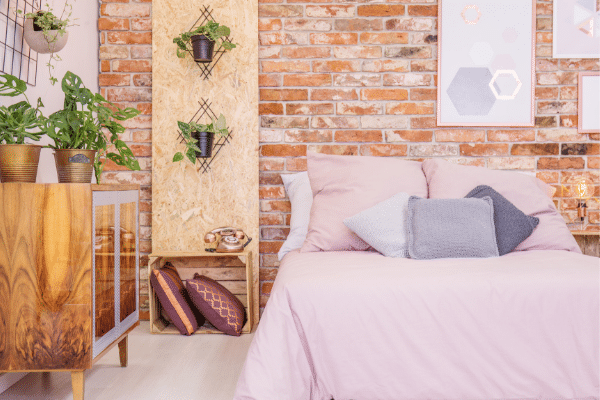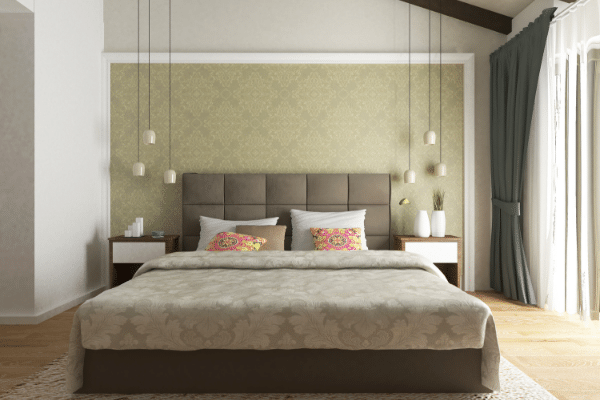 See why I'm totally crushing on an accent wall now?
They give a room a focal point for the eye to rest on. They tell you where to look in a room. They can create depth, or even give a space a purpose. Similar to how a rug defines a space, an accent wall defines the focus of the room.
Accent walls are also great for rental homes. You may not want to invest the time or money to paint an entire room. Adding a painted accent wall gives the room your own style for little effort and cost. Its easy to repaint just that one wall when it is time to move out.
Best Paint Colors for Accent Walls
Some of the most popular colors for accent walls are:
My First Painted Accent Wall
In my home, I recently removed the wallpaper in the first-floor powder room with the goal of doing a mini-remodel and giving it a boho look.
I found an inspirational picture on Pinterest, and got to work.
Painting the wall was easy. If you need tricks and tips on painting, you can find some here.
But once I got to the corner, I knew that I needed to go the extra measure to make sure my corner was crisp and clean.
If you're interested in painting an accent wall, you definitely want to make sure you get the corner to look flawless
. It will ensure that the project looks clean and professional.
Here's everything you need to know to get a perfect corner on your accent wall.
How To Paint A Corner Where Two Colors Meet
Painting an accent wall corner and making sure the edge is perfect is easier than you think.
It requires a roll of painter's tape, a good paint brush, and knowing the exact order to paint the corner in.
I'll explain the process so you know exactly how to get a crisp corner on your accent wall.
Making a Perfect Accent Wall Corner
Before you put any tape on the wall, paint the whole corner one color. Get paint on both sides of the corner, because you don't want to accidentally end up with any part of the wall not painted.
Then, tape the wall right along the edge of the color that you painted on both sides of the corner.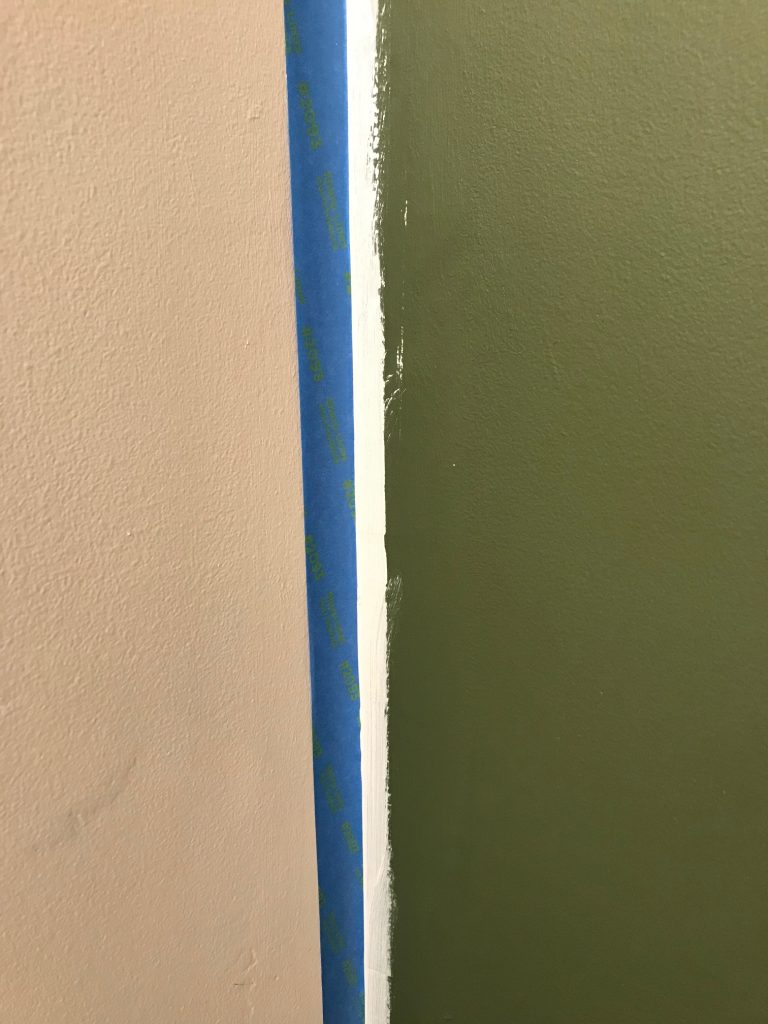 Once that is done, you can paint ANOTHER coat of the first color of paint. You're thinking that I made a mistake here, right? I didn't!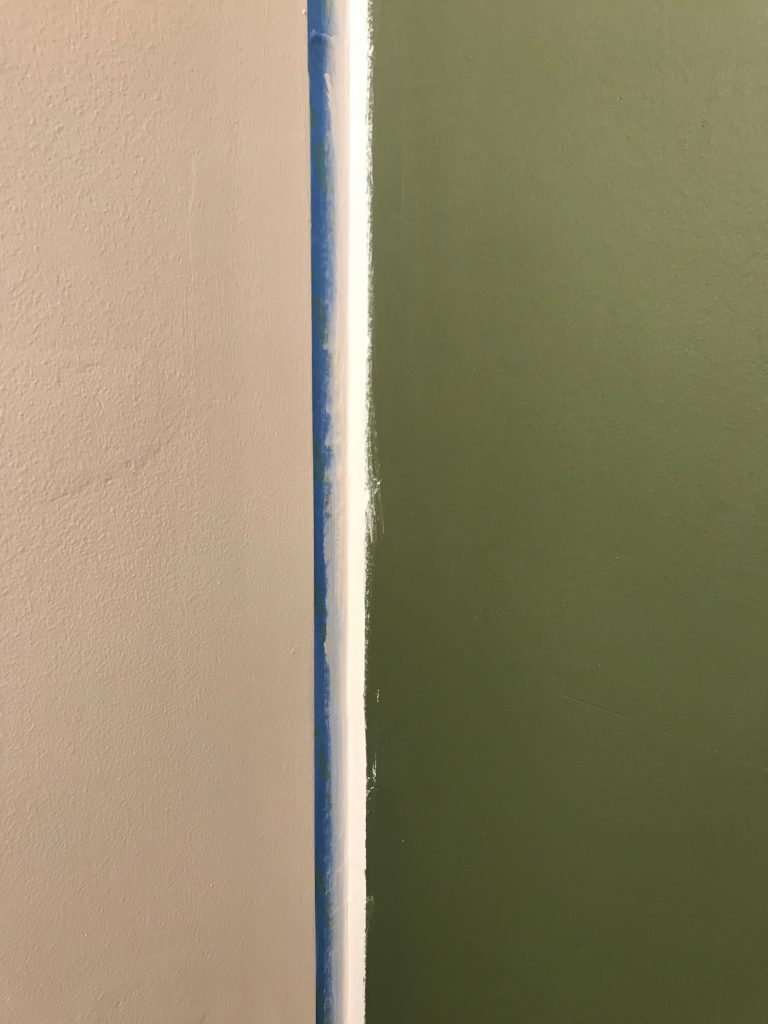 Painting the first color on the tape again is going to seal the edge. That means that if any of the paint bleeds through the tape, it will be the first color, which is what you want!
Once that paint dries, you can finally paint the second color of paint on the line (being careful to not go over the other side of the tape).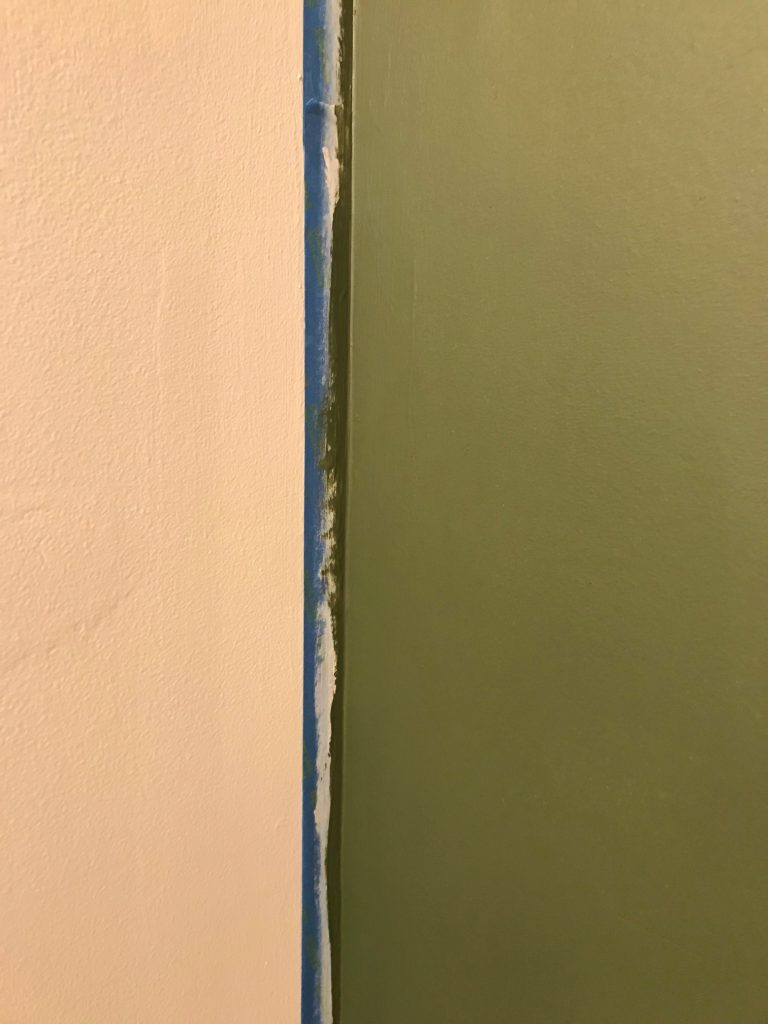 Before this coat of paint dries, go ahead and pull the tape off. This will ensure that you don't end up peeling a little bit of that final coat off the wall inadvertently.
And you should have a perfectly clean, crisp paint line right in the corner of your wall!
Doesn't that look perfect!
Trust me, even if you're an experienced edger, you won't get as clean of a line as this unless you use tape.
Now that your accent wall corners are completed, your accent wall is done!
If you want to see how the bathroom turned out, you can find the reveal here!
Final Thoughts on Painting an Accent Wall
Painting an accent wall is such an easy and inexpensive upgrade to your home. It completely changes the look of the room, provides a focal point, and can be changed with just an afternoon of work if you ever become tired of it.
I hope this tutorial is helpful for you! Drop me a note and let me know how it goes!