Raspberry Blush has been chosen as Benjamin Moore's 2023 Color of the Year. It is a bold, daring shade of coral that makes no apologies.
For years, Benjamin Moore has been selecting paint colors for their Color of the Year that are distinctive, but also have wide appeal. But this year, they seem to have thrown caution to the wind.
Raspberry Blush is a shade that will draw some and repel others. It is lively, and a bit shocking.
Let's dive into this vibrant paint color and learn all the details about Benjamin Moore Raspberry Blush.
This post may contain affiliate links. If you have any questions, please see my disclaimer page.
What Color is Benjamin Moore Raspberry Blush?
Raspberry Blush is a red orange paint color. It is also described as a coral paint color with pink.
It is very saturated, and fairly dark. Despite this, Raspberry Blush is also pretty bright shade. It doesn't have a lot of gray in it, which tends to make paint colors look a bit mature or sophisticated.
Instead, Raspberry Blush is striking. You would never walk into a room painted this shade and not notice it. It is a statement in any room, on any wall or piece of furniture.
In many ways, Raspberry Blush reminds me of the dark red dining room or accent wall that was popular in the early 2000's. It isn't quite as deep, and is a lot brighter, but it definitely brings about a bit of nostalgia for that trend.
Benjamin Moore Raspberry Blush Color Details
Let's talk a little bit more about the nuts and bolts of Raspberry Blush.
First, Raspberry Blush is a part of Benjamin Moore's Color Preview Collection.
This means that it is part of a set of colors that are all lighter or darker versions of each other. The lightest shade of Raspberry Blush is a soft pink called Touch of Pink. The darkest version of Raspberry Blush is Ravishing Red.
Raspberry Blush has the identifier 2008-30.
Raspberry Blush LRV
LRV is a scale that indicates how much light a paint color will reflect back into a room. The LRV scale goes from 0, which is completely black, to 100, which is completely white.
Basically, the LRV tends to be a good measure of how light or dark a paint color is.
Raspberry Blush has an LRV of 21. This means it is pretty low on the scale, but not quite low enough to be considered a dark paint color. Instead it is right on the tail end of the medium paint colors.
An LRV of 21 means Raspberry Blush is saturated and deep, but not so dark that it is heavy.
As with any paint color, Raspberry Blush needs adequate light to bring it to life. If you put Raspberry Blush in a dimly lit room, it's going to look even darker than it is. In a brightly lit room, Raspberry Blush will feel energetic.
Is Raspberry Blush Warm or Cool?
Since Raspberry Blush is a red orange paint color, it is a warm shade.
Warm paint colors are reds, oranges, and yellows. They tend to make a space feel warm, energized and positive.
Raspberry Blush does just this. It stimulates the senses and brings about a feeling of optimism.
Coordinating Colors for Benjamin Moore Raspberry Blush
Raspberry Blush is a paint color that can work with either soft neutrals or bold paint colors.
Here, you can see how Raspberry Blush goes well with Chantilly Lace and Ecru.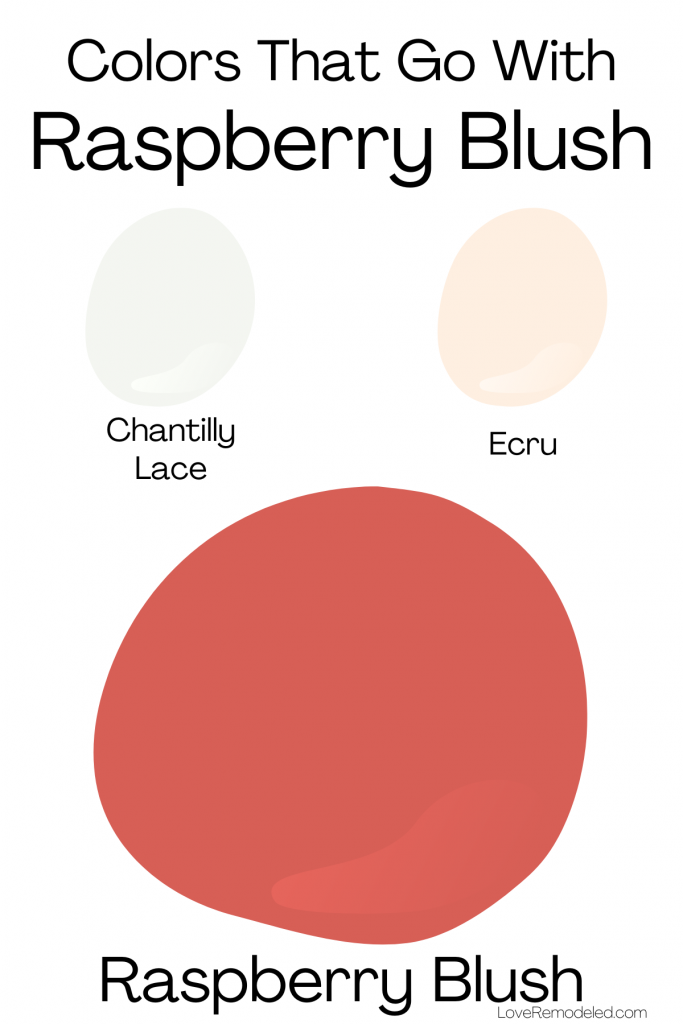 Chantilly Lace is Benjamin Moore's lightest and brightest white paint color, and it serves as a striking contrast to Raspberry Blush. Ecru is an off-white shade with pink and orange undertones. When used together, this palette feels bright and fun.
Raspberry Blush can always work with neutrals like Alabaster and Sail Cloth.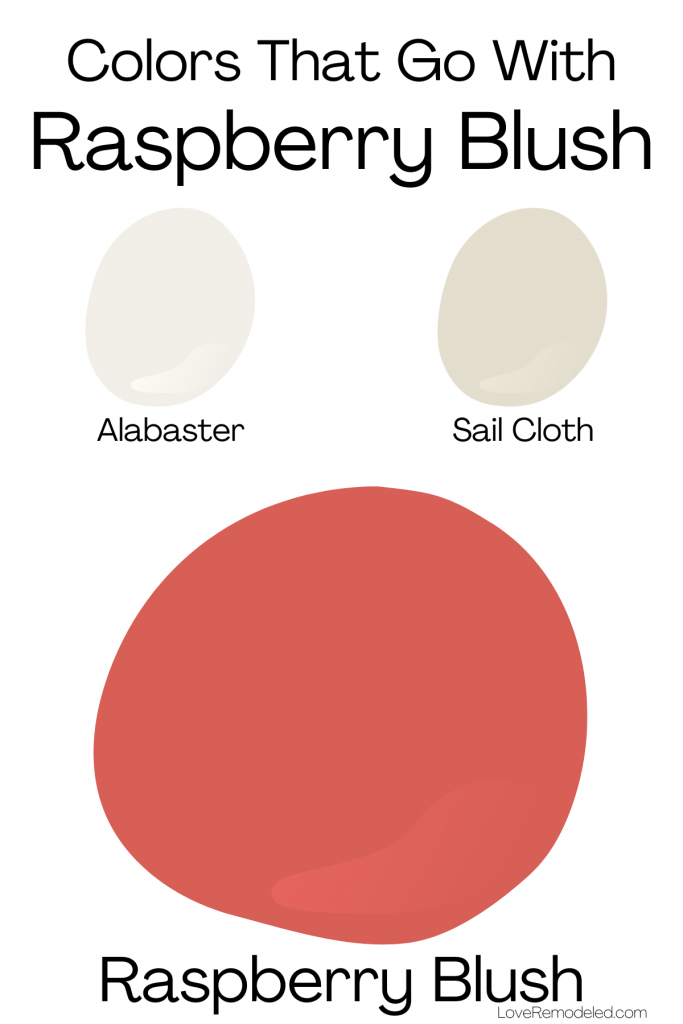 Benjamin Moore Alabaster is an off-white paint color with tan undertones, and Sail Cloth is a light tan paint color. This color palette demonstrates how Raspberry Blush can be a bold pop of color among warm neutrals.
For other neutrals that coordinate with Raspberry Blush, Benjamin Moore recommends White Heron, Gray Owl, Etiquette and Onyx.
Benjamin Moore 2023 Color Trends Palette
Benjamin Moore has put together a color palette specifically for Raspberry Blush as their 2023 Color of the Year. The colors they have chosen to coordinate with Raspberry Blush are:
Conch Shell (a light pink)
Cinnamon (a burnt orange)
Wenge (a dark brown)
Savannah Green (a yellowish green)
New Age (a soft lavender)
Starry Night Blue (a dark cobalt)
North Sea Green (a deep teal)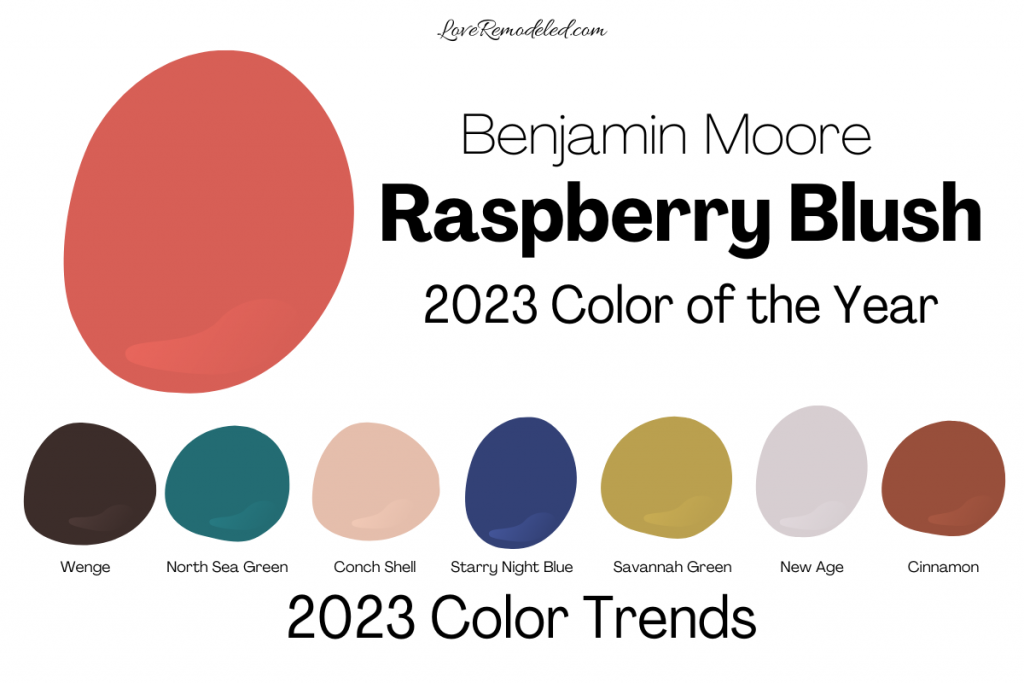 Like Raspberry Blush, this color palette pushes the envelope.
The paint colors can work together in the same room, or can be used in separate rooms for a varied yet coordinated look.
Wondering How To Pick the Perfect Paint Color?
I have the best solution for you!
Samplize sells 9×14.75 stick-on paint sheets in almost every paint color.
These no-mess, peel and stick sheets are made from real paint, so they will show you exactly what the paint color will look like.
Simply place them on your walls next to your trim, furnishings or fixed elements, and easily see which paint color works best in your space and with your lighting.
Then, peel the sheet off your wall and reapply it somewhere else if you like. You can try several different paint colors with no mess, no fuss and no cleaning paint brushes.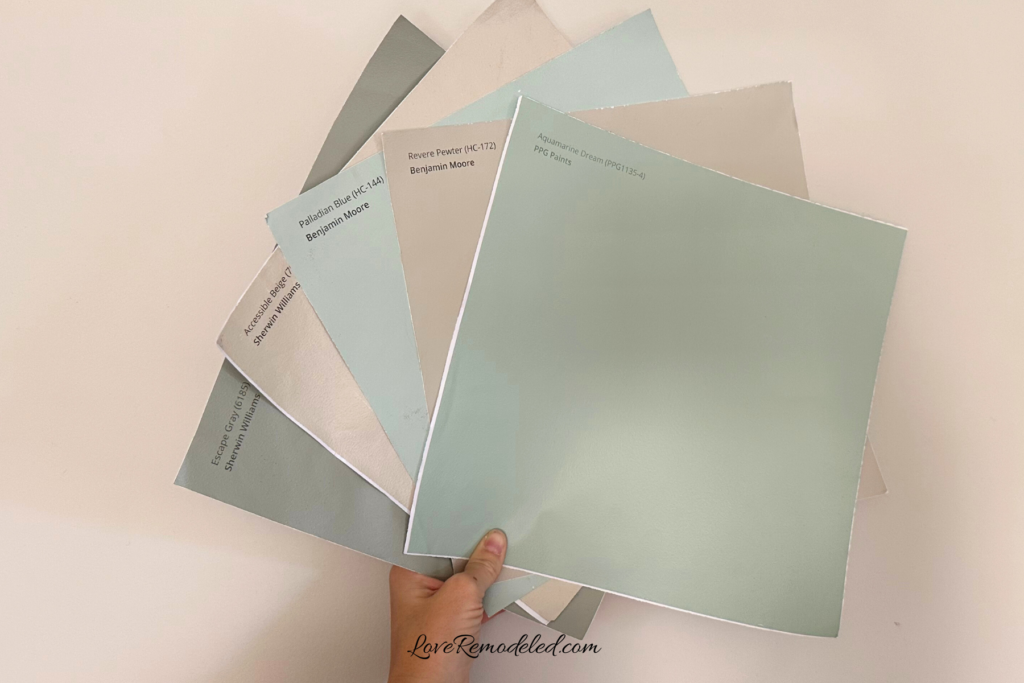 Oh, and you can have them in your home by tomorrow with OVERNIGHT shipping!
As a bonus, be sure to use the code LoveRemodeled10 at check out to get an extra 10% off! Samplize sheets are cheaper than a sample can of paint, and way less work.
They are the easiest (and fastest!) way to try a paint color in your home, with no hassle.
Where Can I Use Raspberry Blush?
Raspberry Blush is an audacious color to paint a whole room, though it can be done. Even Benjamin Moore suggests painting an accent wall or archway in Raspberry Blush to get used to it.
You can also use Raspberry Blush on furniture, or as a fun front door paint color.
Wherever you use it, Raspberry Blush will surprise and maybe even delight those who see it with its zestful approach.
Final Thoughts on Benjamin Moore Raspberry Blush
So now that you've learned everything there is to know about Benjamin Moore Raspberry Blush, I'm curious.
Do you love it? Do you why Benjamin Moore chose Raspberry Blush as their 2023 Color of the Year?
Let me know in the comments!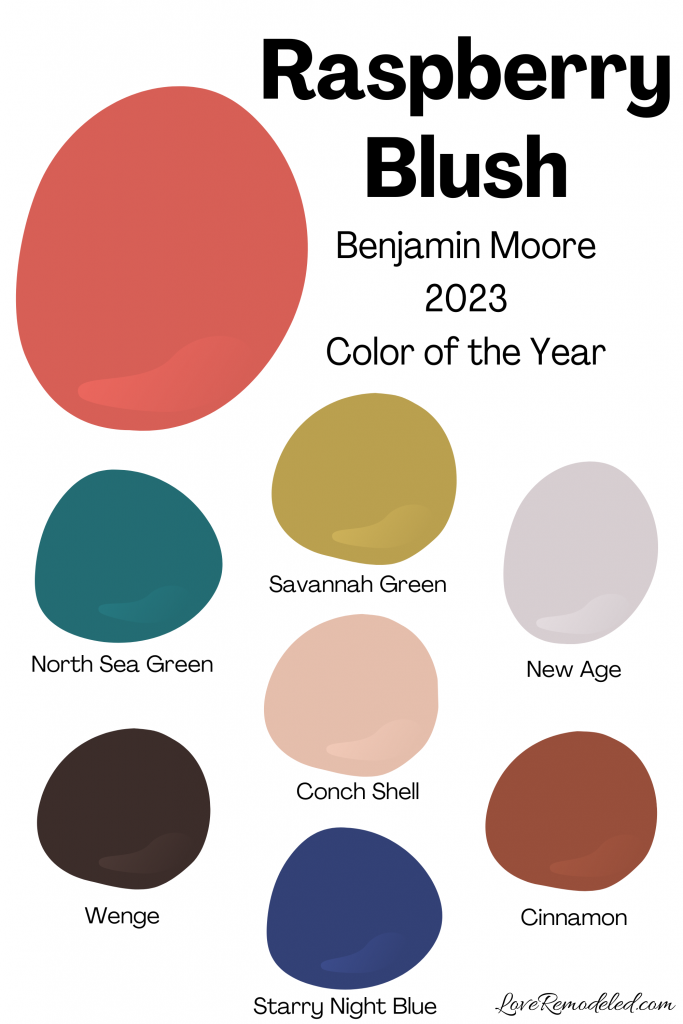 Want to see all your paint options in one convenient place? Click here to get everything you need to start painting, including Sherwin Williams and Benjamin Moore paint color decks!
Have a question or want to show off your project? Join the discussion in Love Remodeled's Facebook group!