White paint is super in style right now… no matter whether it is on your walls, cabinets or furniture.
But not all white paint is created equal. Some can feel flat and boring, and others can warm a room up making it feel inviting and clean.
So how do you choose the best white?
Well it depends on what you are painting.
This post may contain affiliate links. If you have any questions, please see my disclaimer page.
The Best White for Trim
House trim looks amazing in a crisp, clean white. I can't tell you what a difference it makes if you repaint yellowed, white paint with a brighter white.
My favorite white trim paint color from Sherwin Williams is Pure White. As the name implies, Pure White is a good, true white. It a very bright white with just a touch of warmth to it. It isn't yellowy and it isn't beige. But the hint of color in it makes sure it doesn't give off a cool blueish tone like many whites do.
Pure White has a LVR (Light Reflectance Value) of 84, meaning it is very white, with just a touch of color.
If you need help figuring out how to paint your trim without getting paint all over your floor, check out this post on DIY trim painting.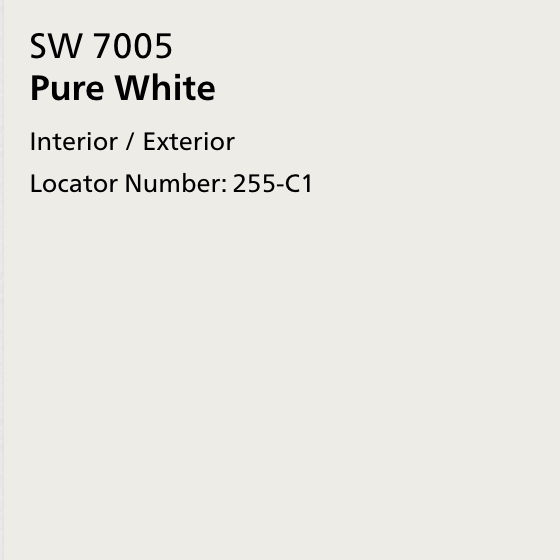 The Best White for Cabinets
If you are looking for a great white for your cabinets, you should check out Alabaster by Sherwin Williams.
Alabaster has an LVR of 82. It is a warm, bright white, with a hint of yellow in it.
This very slight hint of yellow it possesses echos the warm undertones of natural wood, making it a perfect complement to a kitchen with wood elements.
Alabaster is so popular, it was named Sherwin Williams' Color of the Year in 2016. Check out this post for more information about the color Alabaster.
Before you paint your cabinets, check out this post on how to paint your cabinets and hide the wood grain.
The Best Whites for Walls
If you're looking for a cool white for your walls, Eider White is a gorgeous choice. It has a touch of gray in it, which makes it stand out nicely against white trim.
Eider White has a LVR of 73, meaning it has the most color in it of all of the whites discussed. Put another way, it is the darkest white listed.
I recently painted the the walls in my powder room Eider White. Check out how it turned out with the reveal of my modern boho bathroom.
If you prefer a warm white for your walls, Westhighland White is a perfect choice.
It has a LVR of 86, meaning it is the bright.
Because it is a warm white, it'll go nicely with wood or white trim.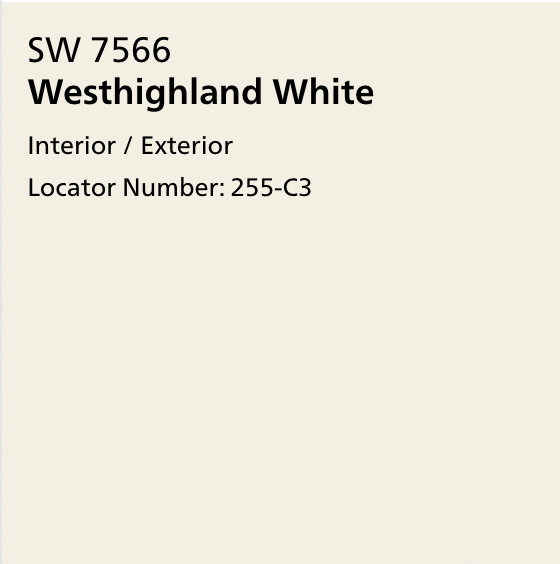 Whites Compared
When you look at all the different whites together, you can see their differences. Pure White is crisp and clean, not strongly leaning any way. Alabaster has greige (beige and gray undertones). Eider White has gray undertones. Westhighland White has yellow undertones.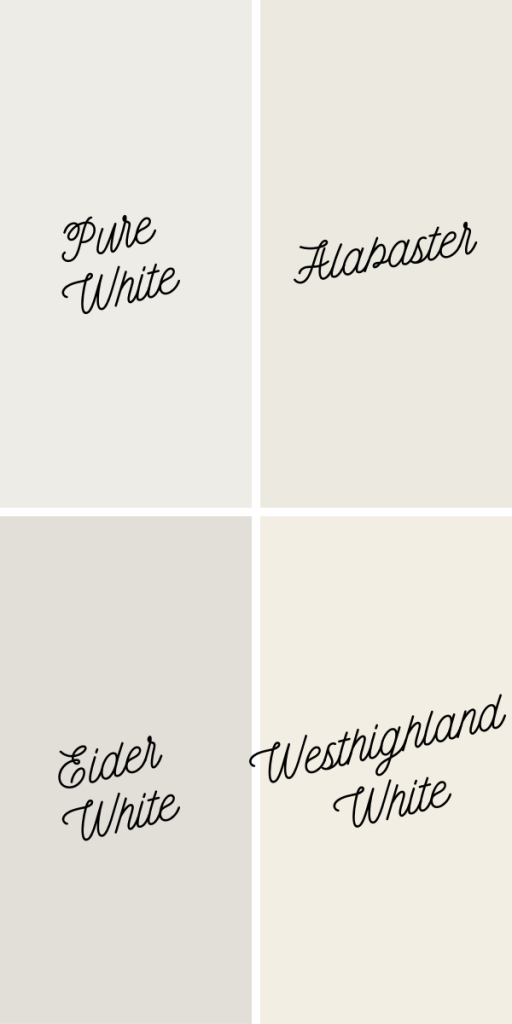 The Best White Spray Paint
I have one more bonus white for you, and is not a Sherwin Williams color.
If you're looking to spray paint decor or furniture white, pick up a can of Rustoleum Heirloom White. The spray can lid makes it look almost beige, but I assure that that it is the perfect white spray paint color.
Conclusion
I hope that this list is helpful for you as you try to choose a white for your home!
Before you pick out a white and paint the whole house, remember to try the colors in your own home. The amount of light a room gets, as well as the other colors in the room will really change how a white looks.
Be sure to pick up a few swatches from Sherwin Williams, or check out Samplize. At Samplize, you can order stick squares covered with real paint to see how the color will look in your home. These 12×12 squares will help you see if Alabaster will look boring, but Eider White will look amazing! Plus, get $5 off your first order!
Let me know how your paint choosing goes!
The Best Sherwin Williams Whites for Your Home