Choosing the perfect white paint color can be a really difficult task.
This is because white paint looks… well… white.
Unless you have it next to other whites. Then white paint begins to take on different colors.
When you compare white paints to other white paints, it can begin to look yellow (Spanish White), pink (Atrium White), purple (Eider White), cream (Westhighland White), blue (Ice Mist), or any other color you can think of.
This is because all paint colors are made up of different hues, called undertones. White paint is no exception.
This post may contain affiliate links. If you have any questions, please see my disclaimer page.
How I First Discovered the Challenges of White Paint
A few ago, I painted my bathroom Eider White. It was a popular white color at the time, without really looking at it or thinking about it much, I bought a can and put it on the walls.
Initially, I was pretty pleased. The walls were covered in 90s wallpaper prior to painting them Eider White, so it was a big upgrade.
But after a few days, I started to notice that my grayish white walls, ALSO had a strong purple undertone.
And before long, all I could see was that purple undertone on the walls. I would try to tell myself that it was just a grayish off-white, but there was no denying it.
Those walls looked purple.
So choosing a white paint is actually much harder than you think it would be.
To help you out, here is a list of the top white paint colors from Benjamin Moore.
It includes the most versatile, most popular and most usable white paint colors, so you don't have to spend hours at the paint store wondering whether a white paint will actually look white in your home.
The Best White Paint Colors from Benjamin Moore
Benjamin Moore is one of the top paint companies in the United States.
They have thousands of paint colors, and really gorgeous ones at that.
To make things a little easier, Benjamin Moore created a group that they call their Off-Whites Collection. This collection includes 152 white and off-white paint colors.
In order to make white paints make a little more sense to you, I am going to separate them by warm whites, cool whites and neutral whites.
This just refers to the types of undertones that are present in the white paint. So let's get started!
Warm White Paint Colors
Warm white paints have red, yellow, pink or orange undertones in them. You will also see warm white paint colors that have beige undertones.
Warm white paint colors tend to give a space a glowing, inviting look. The warmth in the paint feels comforting.
They can pair well with mostly any other color, but particularly with other warm colors.
Warm white paint colors work really well in northern facing rooms because they balance out the cool light coming in from the windows.
In a southern facing room, warm white paints will look even more warm – more yellow, more red or more orange.
Let's look at some specific paint colors now.
White Dove (OC-17)
White Dove is a popular white paint color by Benjamin Moore that has been favored for years.
It is a warm white, and carries a hint of a yellow undertone that gives it a glowing look. It also has some gray in it, and this keeps it from appearing too stark.
White Dove is a great white paint color when you want a white that is warm, glowing and bright, but not so creamy that it looks like an off-white.
I like to use White Dove on the walls in northern facing rooms.
It also is a good trim color if you want your trim to have a little less contrast from the wall.
In my opinion, White Dove is Benjamin Moore's best warm white paint for walls.
If you're considering this paint color, check out this post for all the details on White Dove.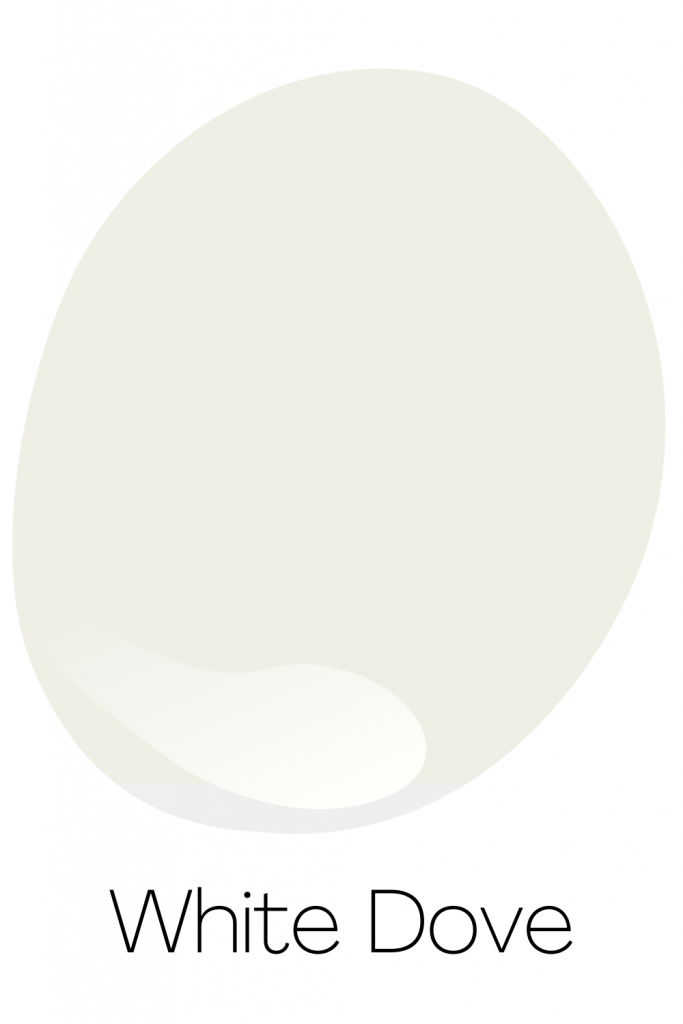 Simply White (OC-117)
Simply White is a great, crisp, clean white from Benjamin Moore.
It has very slight yellow undertones that give it a warm glow, but overall, it has much less color in it than White Dove.
Those yellow undertones are so slight though, that it won't really look yellow on your walls.
Simply White is a great paint color for trim because it pairs nicely with a lot of other colors.
You can use it in a room on the walls, but it could run the risk of looking a bit characterless.
Simply White is so popular that it was selected as Benjamin Moore's Color of the Year a few years back.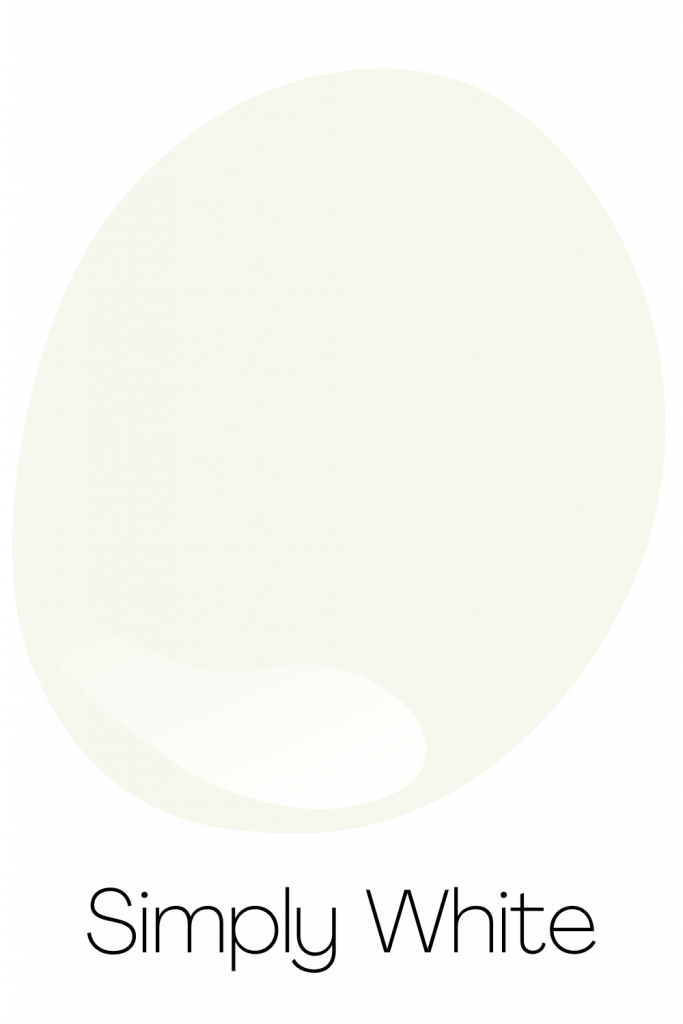 Navajo White (OC-95)
For a warm white paint with a little more color in it, let's take a look at Navajo White.
Navajo White is one of Benjamin Moore's most popular white paint colors.
It has strong orange and yellow undertones, and a hint of gray that keeps it from being too bright.
Navajo White will show up on your walls as a beige or cream paint color, and not at all like a true white.
It is a good color for a southwestern style home, and can also work in traditional or farmhouse style homes as well.
Navajo White is not a color that you would put on trim or built-ins if you want a bright white look to it, but could be a nice color for cabinets.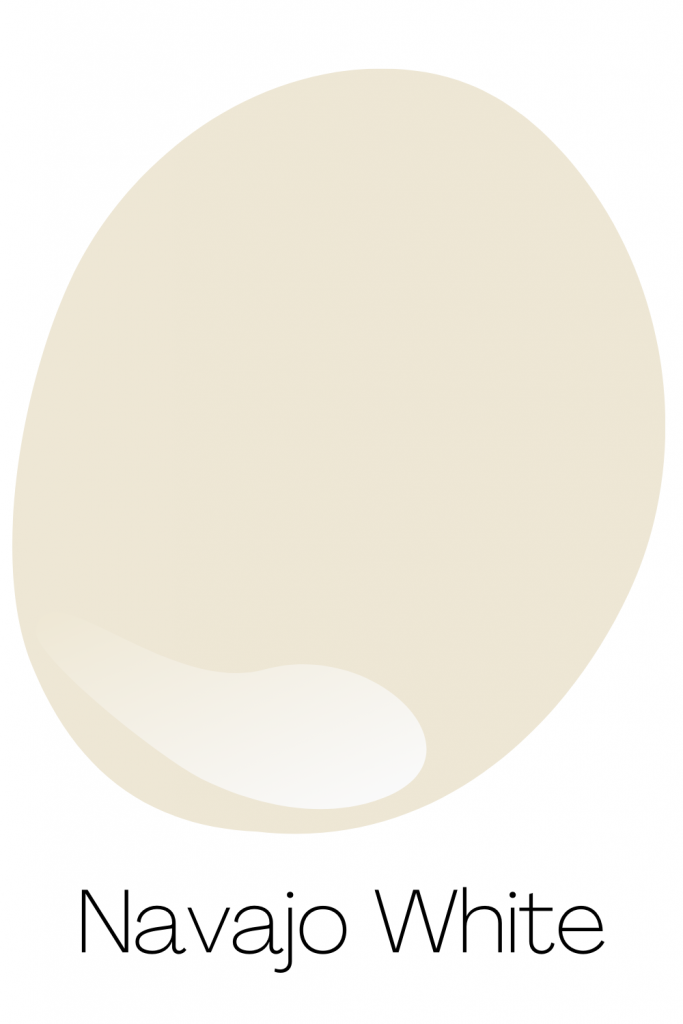 Cool White Paint Colors
Cool white paint colors have blue, green or purple undertones.
The coolness of the paint gives a crisp, fresh look to the space.
Cool white paint colors work really well in southern facing rooms because they provide balance to the warm light coming in from the outside.
In a northern facing room, the cool undertones of a cool white paint will look more pronounced – more blue, more purple or more green.
Cool white paint colors pair really nicely with blues, greens and cool grays.
White Heron (OC-57)
White Heron is a cool white paint color by Benjamin Moore. It has very slight blue undertones, and a hint of gray.
The blue in White Heron is not enough to give it an icy look, but are still enough to give it that crisp look that cool white paint has.
Frequently, people struggle with getting the right white paint color for a kitchen with marble or white subway tile. This is because white marble and white subway tiles typically have cool undertones.
White Heron is a great choice for a kitchen or back with marble or quartz countertops.
White Heron is also great on trim and cabinets, but is a little too stark for walls (for my taste, you may love it!).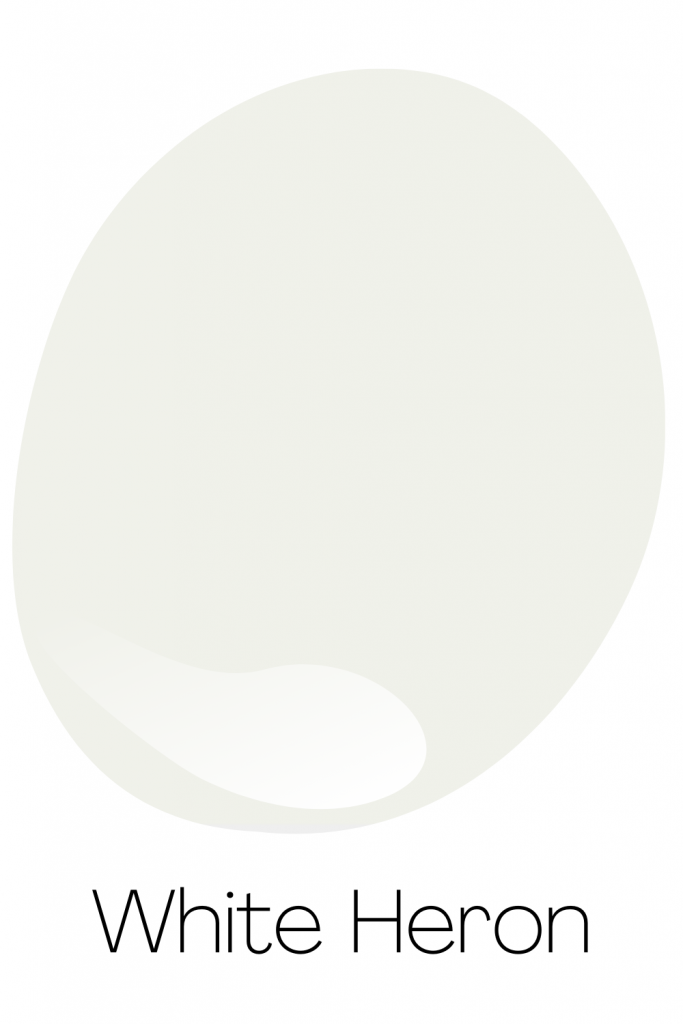 Decorator's White (OC-149)
Decorators White is another very popular cool white paint color by Benjamin Moore. In addition to including it in the Off-Whites Collection, Benjamin Moore also features it in their Designer Classics palette.
It has gray undertones with a hint of purple.
The purple is pretty understated though, so don't let this be a complete turn off for you.
Decorator's White is another good wall white paint. It can also be used on trim, but it can limit the shade of paint you will want to pair with it on the walls.
Overall, it is going to work really well with other cool tones in the room, such as blues or greens.
Click here for a full color review on Decorator's White.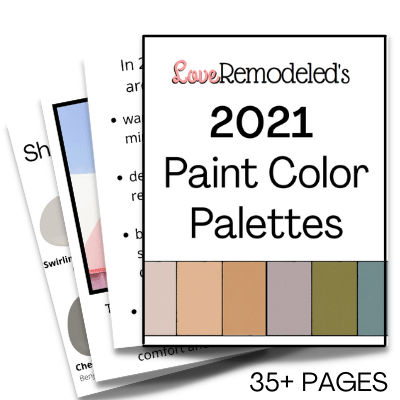 You know the feeling you get when you walk into someone's home and the paint colors are just perfect?
Introducing Love Remodeled's 2021 Paint Color Palettes!
No more having to guess which paint colors are in style, and what paint colors go together well, this colllection of paint palettes does all the work for you!
Check out these gorgeous color palettes from Benjamin Moore, Sherwin Williams, and PPG with all the hottest colors for 2021.
PLUS, I'll show you the best white and gray paint colors to make your home look amazing this year!
Gray Owl (OC-52)
I want to give you an off-white that has more color in it, but I have a hard time doing that because to me, this is a gray. But, Benjamin Moore includes it in their Off-Whites Collection, so I'll highlight it here for you.
Gray Owl is a really nice "white" with strong gray undertones.
It also has blue and green undertones, making it a nice, cool gray.
This gray isn't particularly chilly, but it is cool enough that it looks more like a true gray than a greige.
Gray Owl is a great wall color, and it can also be used on cabinets. Like White Heron, it is a good paint color to pair with marble or quartz, because the cool undertones mirror the coolness of the stone.
If you're considering this paint color, check out this full color review on Gray Owl.
Neutral White Paint Colors
Neutral paint colors are ones that have little to no undertones, or grayish undertones.
If a white paint has almost no gray in it, we call it a clean white. This type of white will look very bright.
If a white paint has some gray in it, it can still be a very neutral white paint color (because the gray may not lean warm or cool), but it will be more of a dull white.
A neutral white will be pretty neutral in any lighting.
While they won't work to your advantage like a warm white will in cool light or a cool white will in north light, they will perform just how you think they should.
Chantilly Lace (OC-65)
Chantilly Lace is highly regarded by designers and homeowners alike.
It is one of Benjamin Moore's most popular white paint colors, and also one of their brightest. It has an LRV of 92 – which means that it is just about their purest white.
Chantilly Lace doesn't have any strong undertones, so I classify it as a neutral white.
But, when you look at Chantilly Lace, it almost, just almost, looks warm.
It has a bit of a creamy look to it, even though it is not creamy at all.
I love Chantilly Lace most for trim, built ins and cabinets, because it gives that gorgeous bright white look without appearing chilly.
If you're considering this paint color, check out this post for all the details about Chantilly Lace.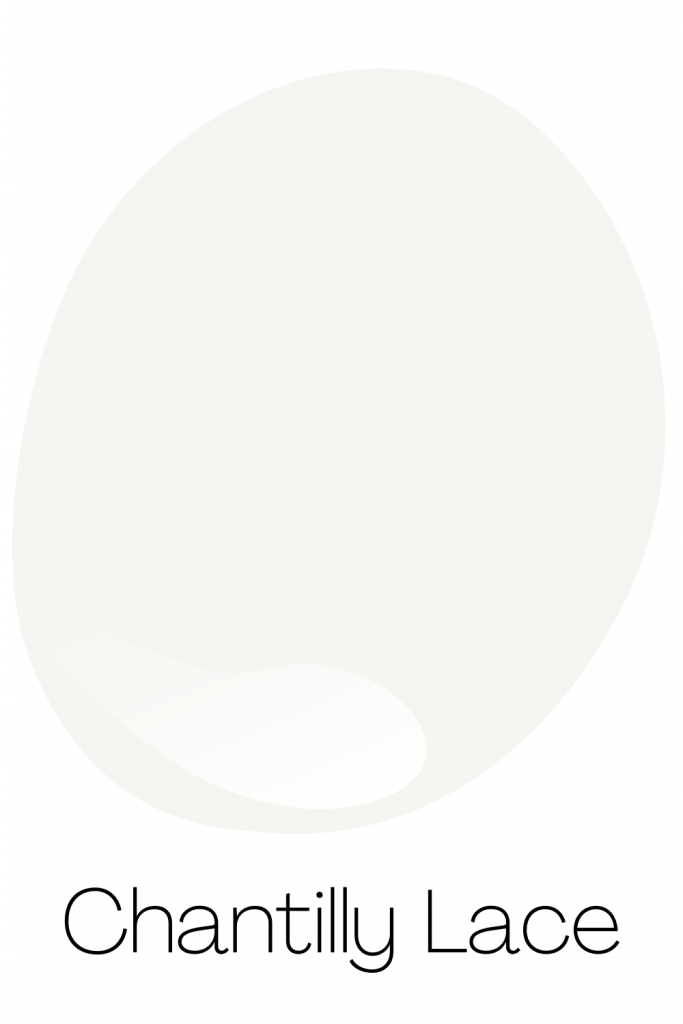 Super White (OC-152)
Super White is a striking white paint color that is neither cool or warm. It is crisp, clean and, as the name implies, super white.
Super White has no obvious undertones, and is Benjamin Moore's whitest white paint color.
It is great for cabinets, trim, doors, and can even be used on the walls of a room, if you want a purely white space.
Click here for a full paint color review on Super White.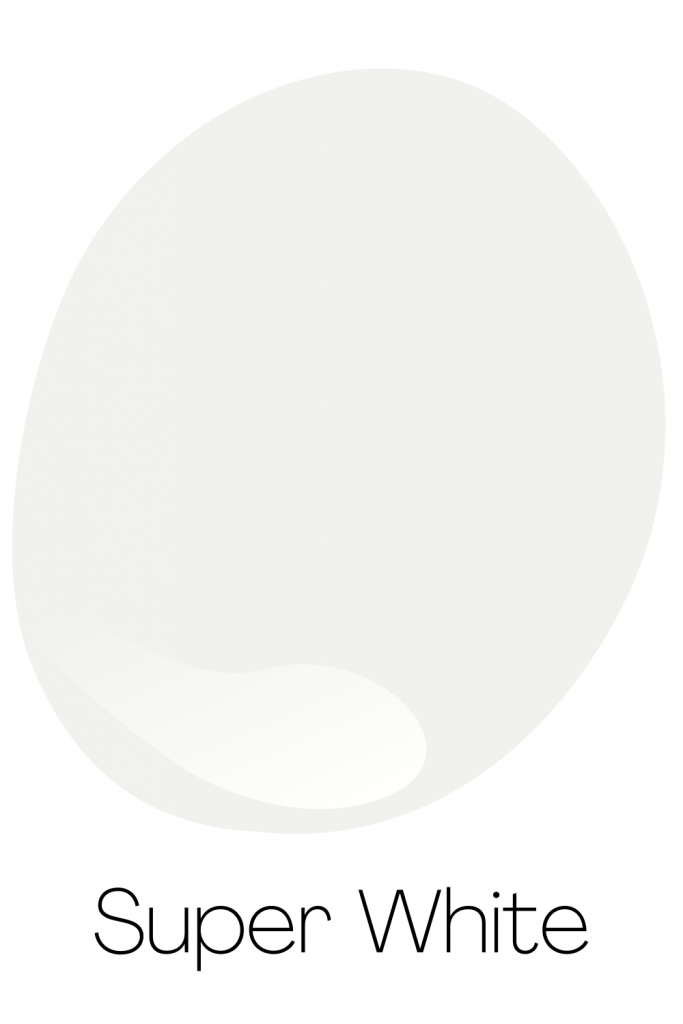 How Do You Pick the Perfect White Paint?
Choosing the perfect white paint for your home can be challenging, but this cheat sheet should help.
Consider whether the light coming into the space is north facing (cool) or south facing (warm). If it is cool, pick a warm white paint color. If it is warm, pick a cool white paint color.
Also consider the other tones in the room.
If most of the room is made up of cool tones, you may want to coordinate with this by selecting a neutral or cool white.
But most importantly, you need to test the white paint in your home, with your lighting and with your accents.
My favorite way to do this is with Samplize squares.
Wondering how to pick the perfect paint color?
I have the best solution for you!
Samplize sells 9×14.75 stick-on paint sheets in almost every paint color.
These no-mess, peel and stick sheets are made from real paint, so they will show you exactly what the paint color will look like.
Simply place them on your walls next to your trim, furnishings or fixed elements, and easily see whether the paint colors work in your space and with your lighting. Then, peel the sheet right off your wall and reapply it somewhere else if you like!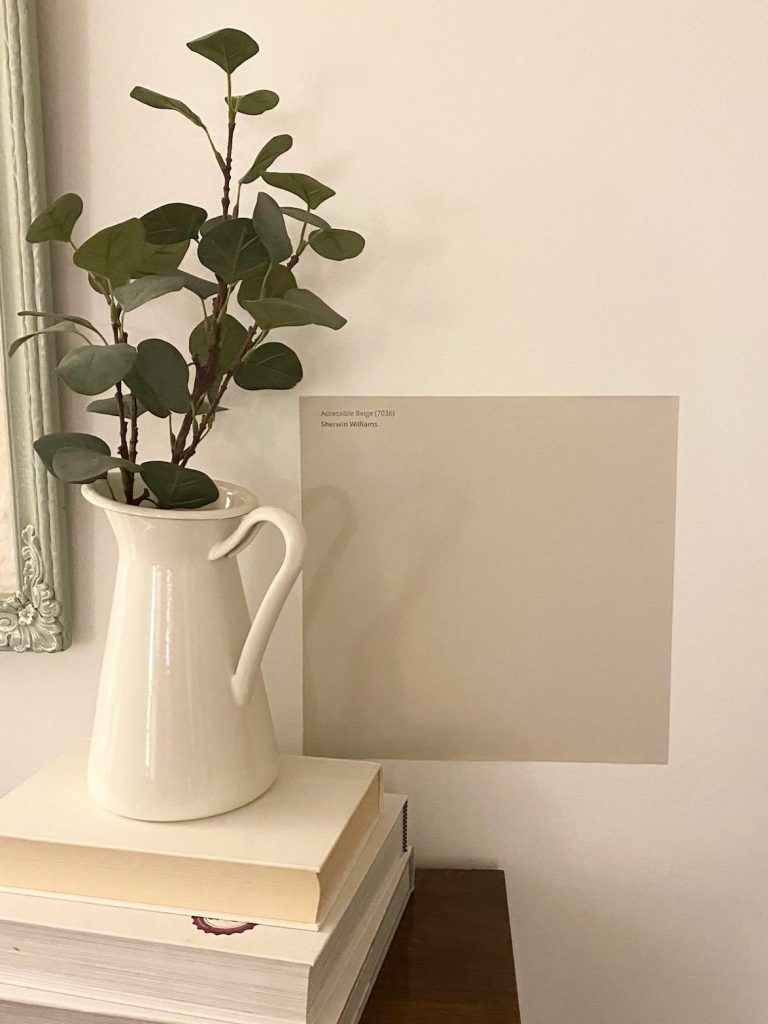 Oh, and you can have them in your home by tomorrow with OVERNIGHT shipping!
As a little tip, if you enter your email, you'll get $5 off your first order! Samplize sheets cheaper than a sample can of paint, and way less work!
Samplize sheets are truly the easiest (and fastest!) way to try a paint color in your home, with no mess.
Final Thoughts on Benjamin Moore White Paint Colors
I love Benjamin Moore white paint colors because there is a whole range of shades.
You can easily select a perfectly neutral white for your trim, like Super White, a warm white for your walls, like White Dove, or a cool white for your kitchen, like White Heron.
White paint is a beautiful, but confusing, thing. I hope that having the list narrowed down was helpful for you!
Check out this post if you want to see Sherwin William's top white paint colors!
Want to see all your paint options in one convenient place? Click here to get everything you need to start painting, including Sherwin Williams and Benjamin Moore paint color decks!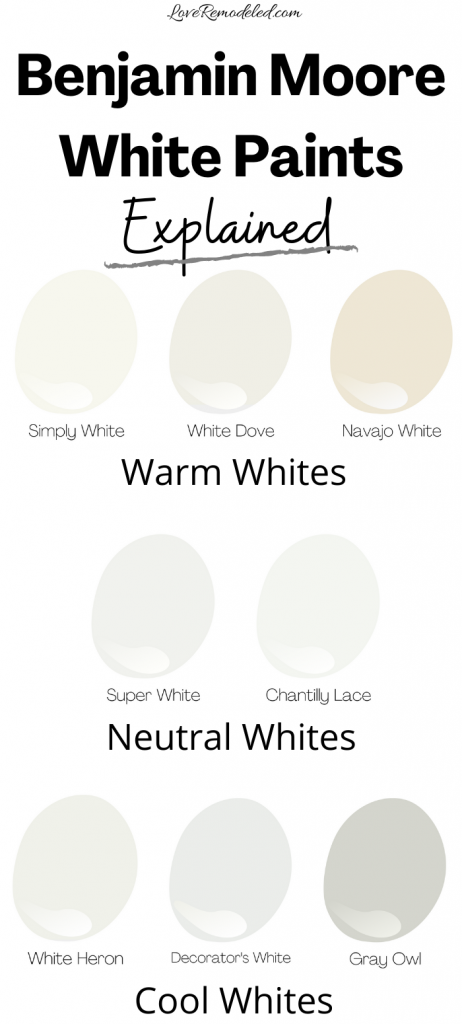 Have a question or want to show off your project? Join the discussion in Love Remodeled's Facebook group!