Super White is a clean, bright white paint color by Benjamin Moore. It is very popular and is included in Benjamin Moore's "Favorites" collection.
Benjamin Moore's Super White is versatile and functional. It can be used in a variety of spaces, and is easily paired with other paint colors.
Keep reading to find out all the details on this gorgeous white paint color.
This post may contain affiliate links. If you have any questions, please see my disclaimer page.
Super White Color Details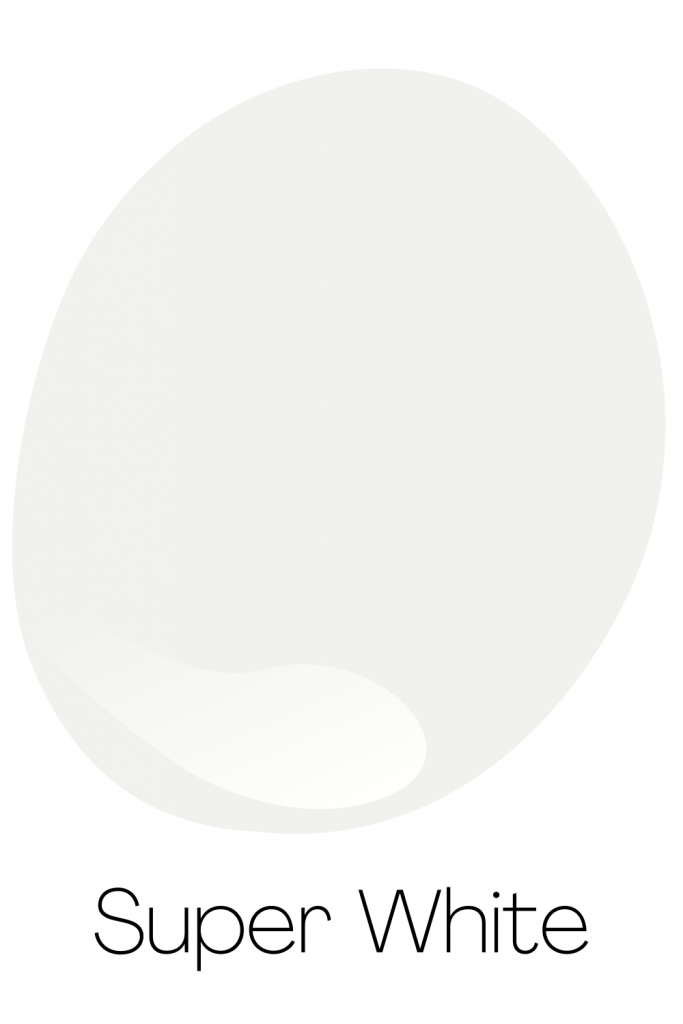 Super White is a classic white paint color that is gorgeous on walls or as an accent shade on woodwork. It is a great paint color to use to define a space.
In a room, Super White will feel clean and perhaps even a little stark. This look lends itself well to a minimalistic, Scandinavian, farmhouse or industrial look.
Super White looks very pure and bright as well. It gives a refined and fresh appearance to a space.
Super White Undertones
Super White paint is a very white paint color. In fact, it is among the cleanest white paint colors by Benjamin Moore (or any other paint manufacturer for that matter), but it is not the absolute whitest.
This is because white paint colors can range from yellowy whites to bluish whites, and everything in between.
Overall, Super White doesn't have a lot of color in it. It is a very whitish white paint color.
That doesn't mean it is without undertones though. All paint colors carry some sort of undertones in them.
Benjamin Moore's Super White tends to have very soft blue and gray undertones. The blue and gray in Super White is very passive though. It is evident when you compare it to a sheet of white paper, or something else that is completely white.
Don't expect to see a lot of blue or gray in it – expect Super White to look white when you paint it on your walls, trim or exterior.
Super White LRV
But, there is more to the story than that. Let's talk about LRV for a minute. LRV, or Light Reflectance Value, is the amount of light that a paint color reflects back into the space. A higher LRV will reflect back more light than a lower LRV will. The LRV scale goes from 1-100, with 1 being entirely black, and 100 being entirely white.
Super White has an LRV of 87. This means that is pretty high up on the LRV scale.
Despite this, you still need a lot of light to make Super White look good in a room, otherwise it will fall a little flat. Be sure to support this paint color, and any paint color, with a lot of natural and/or artificial light to ensure it looks its best.
Now, I said that Super White will look white on your walls, but I need to clarify that just a bit. You may find that Super White takes on a bit of a different look in your space. If you have a lot of red around it, the high LRV in Super White can pick up those blue tones and reflect them back, making it look a bit reddish.
Is Super White Warm or Cool?
Earlier, we discussed that Super White has blue and gray undertones. This means that Super White is a cool white paint color. It isn't drastically cool, and it isn't a blue-ish white in my opinion, but it definitely leans cool.
What Number is Super White?
Super White paint color has the number PM-1 and OC-152. PM means it is part of Benjamin Moore's "Premium Mix" collection. Because it is a white paint color, Benjamin Moore also features it in their "Off White" collection, and has given it a corresponding OC number.
Don't stress over the numbers though. If you order either PM-1 or OC-152, you'll get the same Super White paint color from Benjamin Moore.
Is Benjamin Moore's Super White Too White?
Super White is a great paint color because it is extremely white, but not too white. The soft blue and gray undertones in it pull it back from being too dreadfully cold or uninteresting.
It will be very white though. For this reason, it is one of my go-to picks for trim or other woodwork that I want to give a very bright white appearance.
Where Should I Use Benjamin Moore Super White?
Super White paint is a great color for trim, crown moulding, built-ins, painted brick fireplaces and cabinets.
This clean, bright white is also likely to be a good choice to use with quartz or marble countertops, due to the cooler undertones.
Super White can work on home exteriors as well. It is a very bright white though, and slightly cool. So, it won't give any creamy notes. If you want something with a softer look, you may not what to choose Super White for your exterior. Alternatively, it can be a great accent shade for exterior trim or windows.
Lastly, you can use Super White on the walls of entire rooms. The all white look is coming back in a big way right now, ushered in by the popularity of Scandinavian, farmhouse, and industrial style homes.
Super White works best in rooms that have a bit of warmth to them, as it can be a bit chilly when only seen in cooler light. Warmth can be brought into a space through the use of warmer light bulbs, by adding wood tones, by choosing warmer accent colors, or if the room has southern facing exposure.
What Colors Go With Super White, by Benjamin Moore?
Super White paint color goes with a lot of paint colors, but it really loves to be paired with muted shades that have a gray undertone.
For example, in one color palette, Benjamin Moore pairs Super White with Sea Haze, a grayish green, and Elephant Tusk, a slightly grayed yellow.
In a second color scheme, Super White is paired with a soft, icy blue called Iceberg, and a darker gray named Cinder.
Overall though, Super White can be paired with most shades. Super White is especially great with greens, blues and purples. It also can work with brighter reds, oranges or yellows.
While it wouldn't be my first choice for pairing with greiges and tans, it won't likely clash. There just might be other choices for a white paint that will really accentuate those shades better.
Super White Paint Color Comparison
When I do an in depth color review of different paint colors, I always like to compare them to other popular paint colors. I find that this differential diagnosis of sorts can help homeowners decide which paint color is going to be best in their home.
Super White vs. Chantilly Lace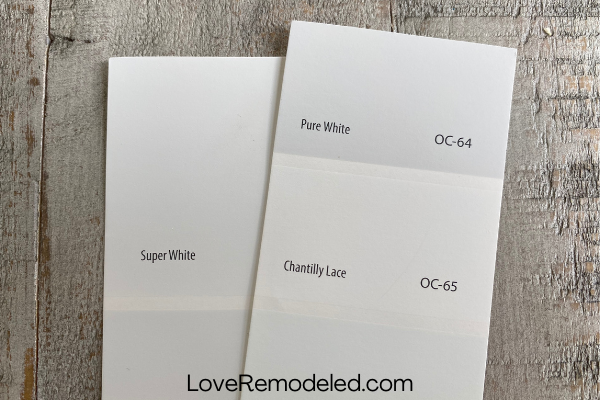 Chantilly Lace is another very popular white paint color by Benjamin Moore. It is a clean white paint color with very little undertone in it.
When you compare Super White and Chantilly Lace, you begin to see that undertone in Super White.
The biggest difference between Chantilly Lace and Super White is that Chantilly Lace just looks white, where as Super White takes on that slight blue and gray tone. For lack of a better way to say it, Super White looks a bit dingy next to Chantilly Lace.
Which is brighter? Super White or Chantilly Lace?
Chantilly Lace is the brighter white between Chantilly Lace and Super White. Both are considered clean, bright whites, but when you compare them to each other, you can see that Chantilly Lace is the truer white.
Super White vs. Decorator's White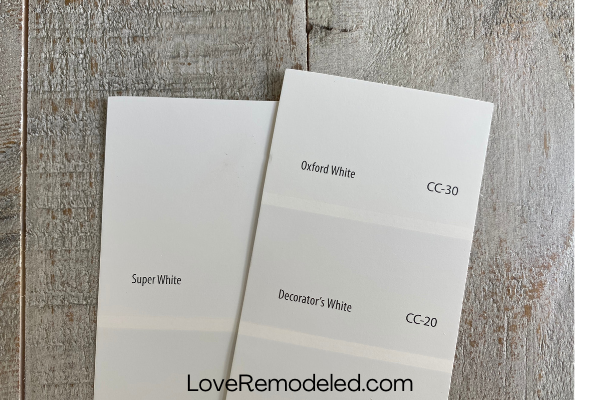 Decorator's White is another super popular white paint color by Benjamin Moore. It is frequently used on walls and trim.
Super White and Decorator's White have the same undertones, but in differing amounts. Decorator's White has more gray and more blue in it, and even a hint of purple. Decorator's White has even more color in it than Super White does.
Click here for a full color review of Decorator's White.
Super White vs. Extra White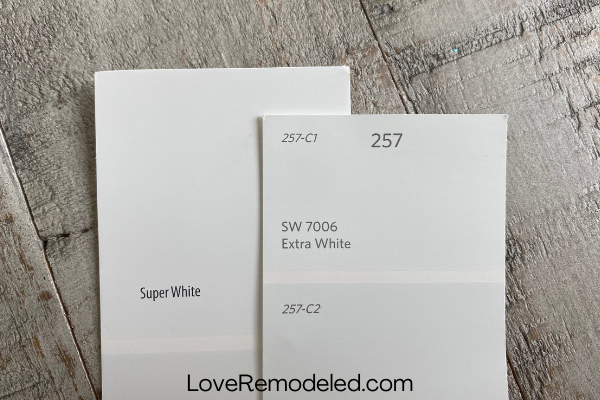 Extra White is probably the closest Sherwin Williams color to Super White. This doesn't mean that they are exactly equivalent though.
Super White and Extra White both have those bluish and gray undertones, but Extra White leans more towards a cool blue. It is more of a chilly white.
Wondering how to pick the perfect paint color?
I have a great solution for you!
Samplize sells 12×12 stick on paint squares in almost every paint color.
These eco-friendly, peel and stick squares are made from real paint, so they will show you exactly what the paint color will look like.
I love Samplize squares because they are able to be placed on your wall and peel right off when you're done.
You can move these paint squares around your room to easily tell whether a color will go in your home, with your furnishings and accents, and with your lighting.
Plus, you can pick the perfect paint color without having to run to the store or open a can of paint, and you won't be pressured into picking a color because you have a bunch of different sample colors painted on your walls!
Oh, and you get free shipping and $5 off your first order – that is basically like getting one square for free!
Final Thoughts on Benjamin Moore Super White
Super White is a really great white paint color for a home. It is beautiful on trim, crown molding, or other woodwork, and can be a great choice for the walls of the right room. Super White is also a good choice for a homes exterior if you want a very white look.
If a clean cooler white is what you're looking for, Super White should be on your shortlist!
For other amazing white paint options, check out this post on white paint colors by Benjamin Moore, or this one on white paint colors by Sherwin Williams.
Need a painter? Click here to find a painting professional in your area!
Want to see all your paint options in one convenient place? Click here to pick up a Sherwin Williams fan deck (contains all SW colors) or a Benjamin Moore Collections fan deck (contains many popular BM colors – other fan decks sold separately)!
Have a question or want to show off your project? I answer all comments within 7-10 days, but for a much faster response, join my new Facebook page here!