Changing your paint color is such an easy way to update the look of your space. While most people don't change their paint colors every season, painting your walls in a fall inspired color can be a great way to give your space a new feel.
Whether you are wanting to celebrate the seasons, or simply wanting to give your home a warm, welcoming vibe, painting your home in fall paint colors is the perfect way to do it.
This post may contain affiliate links. If you have any questions, please see my disclaimer page.
Fall Colors
Fall colors are best typified by the changing colors of the leaves on trees.
The crisp reds, bright oranges, sunny yellows and dark greens of the evergreens are all characteristic of a fall scene.
Altogether, these colors make us feel nostalgic. They bring the excitement of the upcoming holidays, and the peacefulness that comes with the steady drum of the changing seasons. Fall tends welcomes us to admire the beauty around us.
Bringing Fall Colors Inside the Home
When we bring those fall colors inside the home, we invoke the same feelings. Warmth, energy, and nostalgia abound in a room with fall colors.
Painting a room in a rich fall color is a great way to enliven the senses and provide a rich, warm glow for your room.
So without further delay, here are the best paint colors for a fall inspired home.
Fall Paint Colors – Green
Green is a great paint color for fall. It is earthy and peaceful.
Green paint colors are cool colors. Cool colors tend to be calming and relaxing.
To pick a green that's a good green for a fall color scheme, try to choose one that has a bit of gray in the blend.
All colors have are made up of different undertones, and greens with gray undertones tend to be earthy and remind us of slowly changing leaves or evergreens. In addition, a bit of gray in the mix keeps the green from appearing too bright.
Green paint pairs well with many other fall tones as well.
Here are three green shades that are gorgeous, and perfect for I color palette in your home.
If you love green walls, check out this post for more amazing green paint colors!
Fall Paint Colors – Burnt Orange
Orange is a color that we don't usually think of when we are painting a room. But don't count it out.
Orange paint colors can energize a space and make it feel warm and grounded.
Orange is a traditionally earthy color, especially when it has brown undertones.
When picking an orange, choose an orange paint color that is more of a burnt orange or bronze.
While bronze paint colors can also follow into the brown paint color category, coppery oranges that have a bit more orange than brown can look really gorgeous on walls.
This fun, pop of color, can work well in the right space.
Here are a few gorgeous orange paint colors for fall:
Fall Paint Colors – Mustard or Muted Yellows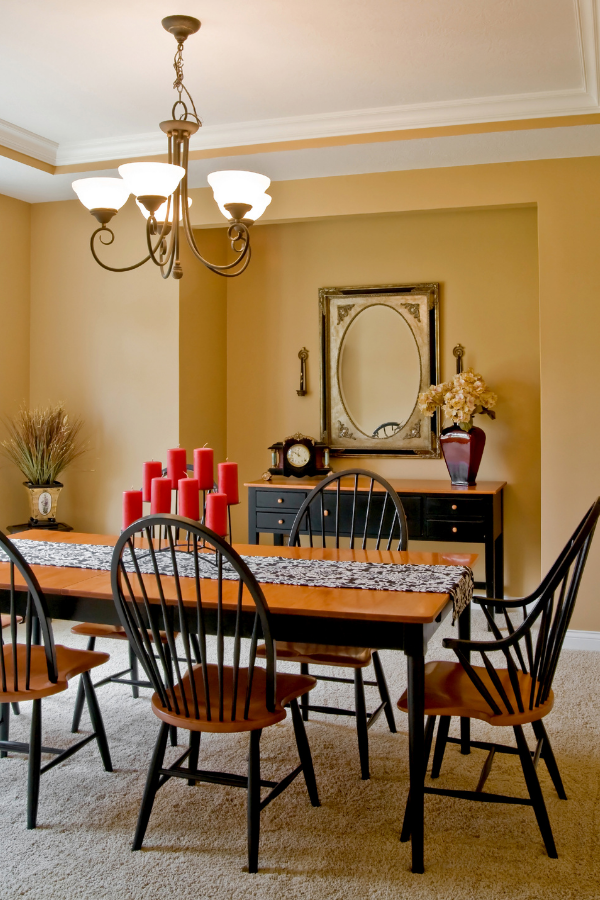 Yellow paint colors can range from pale to bright, sunny to mustard, and light to dark.
Yellows that are reminiscent of fall tend to have some orange or some brown in them.
As long as you don't go with a sunny bright yellow, you're on the right track.
Muted yellows or yellows with some gray or brown, are going to be your go to paint colors for a fall paint color palette.
I love these three yellows and how they energize the room with a warm glow without being too bright.
Fall Paint Colors – Rusty Reds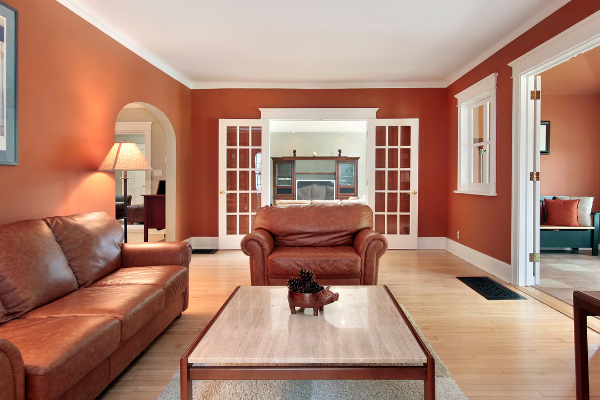 Red is a great color for fall.
When choosing a red paint color for your walls, be sure to steer away from the more crisp bright reds of winter.
Instead, choose reds to have a brown or an orange undertone. This will ensure that the color is truly reminiscent of fall leaves instead of hearkening the Christmas holiday.
You can also go with more of a cranberry colored red if you want a fall color that doesn't have any orange in it.
Here are three gorgeous red paint colors that are perfect for a fall color scheme.
Fall Paint Colors – Muddy Browns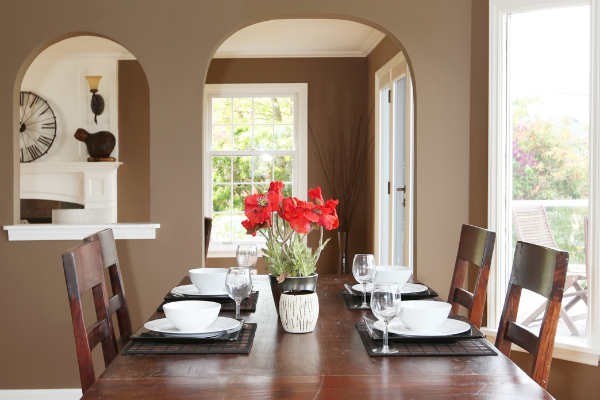 Last, let's talk about brown paint colors.
Brown paint can be classic earthy and beautiful.
A lot of people are choosing brown for accent walls right now in the form of a color called Urbane Bronze. Urbane Bronze is Sherwin-Williams color of the year for 2021.
It is great for accent walls and could even be used in the whole room with the right lighting.
You can also choose a brown that has some lighter tones in it, to make sure you don't overpower the room with the paint color.
For example, here are three brown paint colors that are reminiscent of fall but don't look too drab.
Wondering how to pick the perfect paint color?
I have a great solution for you!
Samplize sells 12×12 stick on paint squares in almost every paint color.
These eco-friendly, peel and stick squares are made from real paint, so they will show you exactly what the paint color will look like.
I love Samplize squares because they are able to be placed on your wall and peel right off when you're done.
You can move these paint squares around your room to easily tell whether a color will go in your home, with your furnishings and accents, and with your lighting.
Plus, you can pick the perfect paint color without having to run to the store or open a can of paint, and you won't be pressured into picking a color because you have a bunch of different sample colors painted on your walls!
Oh, and you get free shipping and $5 off your first order – that is basically like getting one square for free!
Other Examples of Fall Paint Colors
While you wouldn't necessarily want to combine all the fall colors in one color scheme, you certainly could! With their muted tones, fall paint colors naturally go well together.
For example, here are to auto-generated fall color palette, put together with Sherwin Williams Snap-It Tool.
In this first fall color palette, a rich brownish black, a creamy white, a coppery orange, a buttery yellow and a reddish brown are paired together to create a set of gorgeous fall pain colors.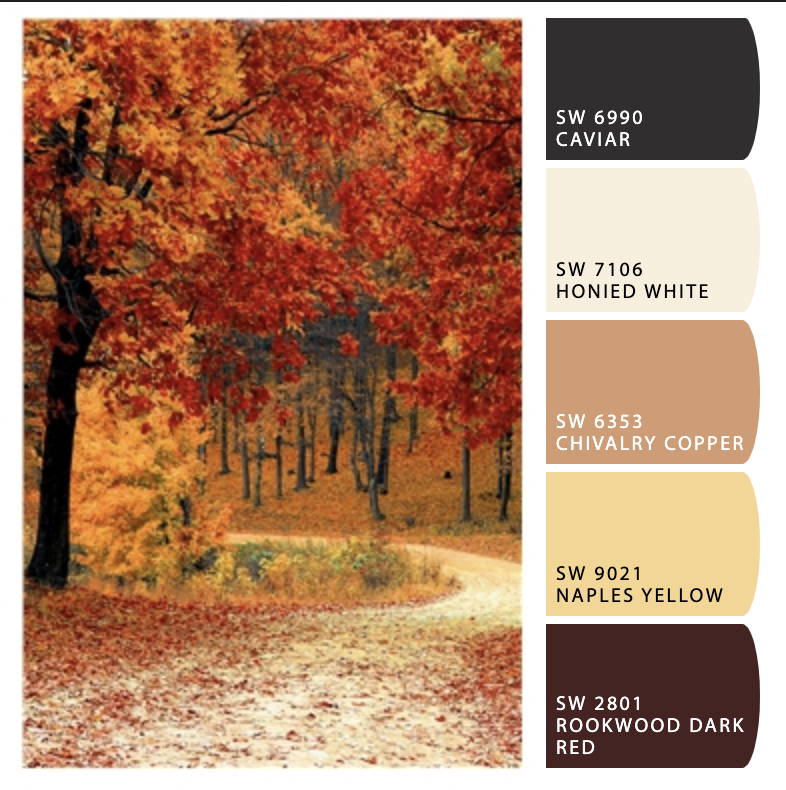 Here is a second fall color palette.
As you can see, the paint colors center mostly on those muddy hues – a deep brown, a crisp white, a rusty red, a mustard yellow and a lighter chocolate color.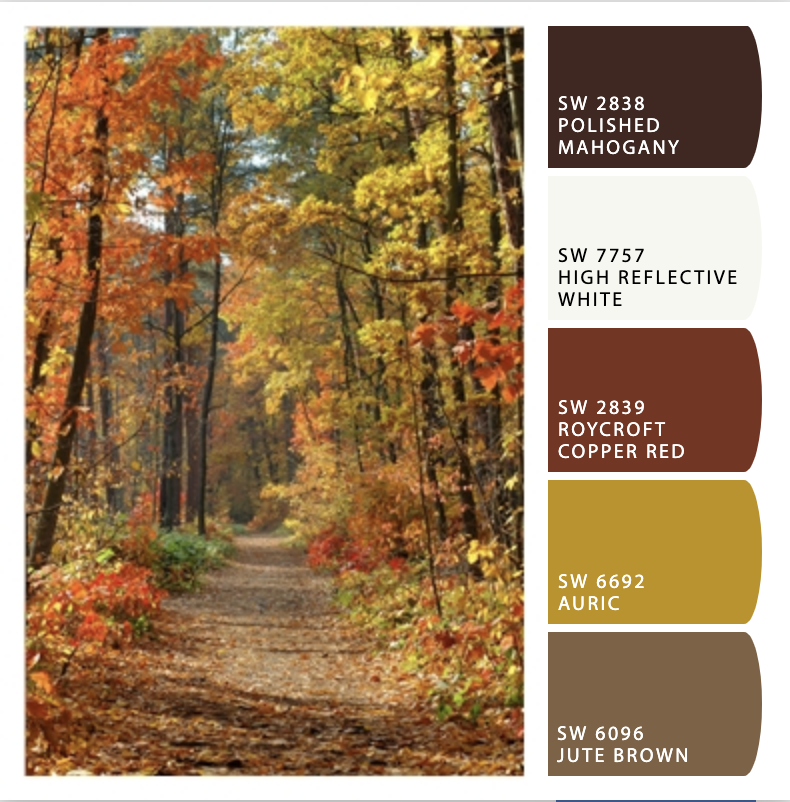 Final Thoughts on Paint Colors for Fall
Whether you want your room to feel like a fall scene, or you just happen to love the warm shades of Autumn, there are so many gorgeous paint colors for fall.
I hope that these fall paint color palettes inspire you, and help you choose a beautiful rich shade for your home.
Oh, and remember to get free shipping and $5 off your first order of your Samplize squares!
Want to see all your paint options in one convenient place? Click here to pick up a Sherwin Williams fan deck (contains all SW colors) or a Benjamin Moore Collections fan deck (contains many popular BM colors – other fan decks sold separately)!
Have a question or want to show off your project? I answer all comments within 7-10 days, but for a much faster response, join my new Facebook page here!