Taupe paint colors are rising in popularity.
In 2021, we're seeing homeowners and designers favor warmer tones in their spaces, and taupe paint colors are no exception.
Let's take an in-depth look at what taupe paint colors and at the best taupe paint colors on the market right now.
This post may contain affiliate links. If you have any questions, please see my disclaimer page.
What Color is Taupe?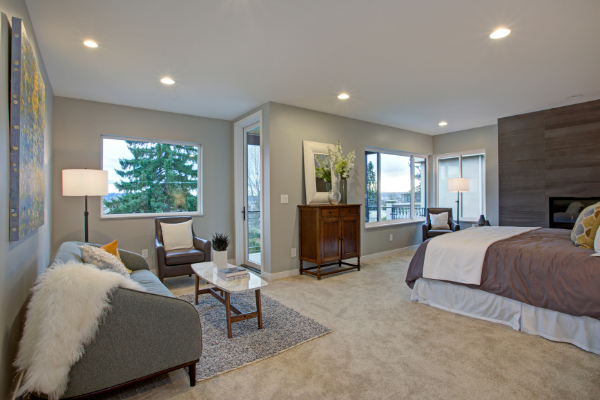 The best way to start this discussion on taupe paint colors is to define the color taupe.
Taupe is a blend of beige and gray with a hint of purple or pink.
If you have been looking at paint colors for any length of time, you may be familiar with greige paint colors. Greige paint colors are also a blend of beige and gray, but they tend to not have purple undertones. Instead, greige paint colors have more green or blue undertones.
For example, Agreeable Gray (SW 7029) is probably most popular greige paint color of all. It is a blend of gray and beige, with a green undertone.
If we compare Agreeable Gray to Shitake (SW 9173), and you see how they are similar in their intentions, but different in their presentation.
Both are warm neutrals, but Agreeable Gray comes off a bit more tame as compared to Shitake's more energetic take on a beige/gray blend.
And, while both a warm colors, the undertones of Shitake present as much warmer than the tones of Agreeable Gray.
To summarize, greige and taupe paint colors are on the same continuum. But, taupe paint colors tend to be warmer than greige paint colors.
So, Is Taupe Grey or Brown?
People often ask this question, and the answer is that taupe is neither gray or brown.
Instead, it is a blend of gray and brown, with warm undertones. Greiges tend to be a blend of gray and beige with cool undertones.
Is Taupe Paint Popular?
Taupe paint is becoming more popular than it was in the 2010s.
For a long time, cooler colors ruled the paint charts – teals, blues, greens, etc.
But in recent years, we're starting to see more warm paint colors take over.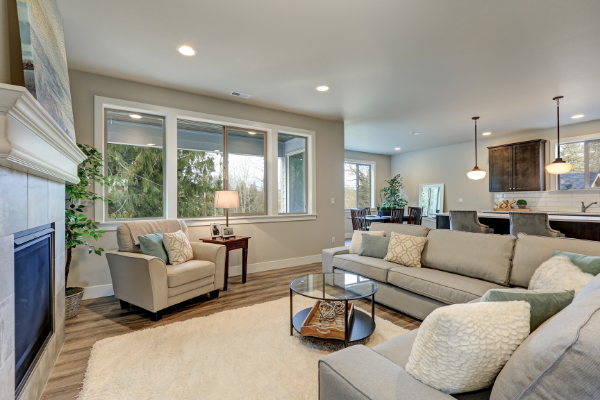 Ultimately, greige paint colors are the top choices for homeowners right now, but designers are using a lot more warm colors in their decorating. For example, warm pinks and copper colored shades are being used to give a space a pop of color that isn't too jarring.
Think of taupe along those lines. Taupe is just a hint off of those popular greiges. Again, it has the same intention as a greige.
It is neutral and versatile, and has those warm tones that are becoming increasingly more popular right now.
Designers have been choosing taupes for a while.
In fact, in 2017, Sherwin Williams chose Poised Taupe as their Color of the Year. Since it takes a bit for homeowners to adopt the decor trends set forth by designers, it is natural that we are now starting to see more people trend towards taupe colored paint.
What Colors Go With Taupe Paint?
Taupe paint colors favor other warm shades, such as pinks and purples. However, taupe can also coordinate well with greens or yellows.
Taupe can also go with gray, but it has to be the right gray. Cool grays can look a bit clashy with taupe, so stick to warmer, more beige colored grays.
In a kitchen or bathroom, taupe paint pairs well with gold, black or silver metals. It is fairly versatile in this way.
For a trim color, I tend to like to pair taupe paint colors with a clean bright white such as Benjamin Moore Chantilly Lace or Sherwin Williams High Reflective White or Pure White.
Where Can I Use Taupe Paint?
One very popular place to use taupe paint is on cabinets.
It pairs nicely with quartz or marble countertops, without bringing another cool tone into the space. A taupe is a perfect warm neutral to balance the white and silver of many kitchens.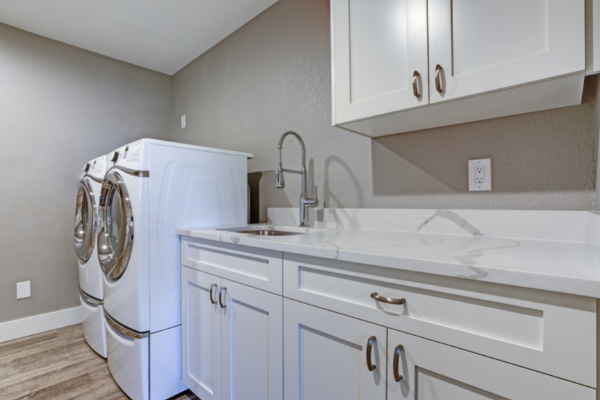 Because it is neither a true gray or a true beige, taupe can work in a lot of different style homes. It can also straddle the line for people who do not want a cool, stark look, but also don't want that beige look of the 90's.
Taupe paint can also be beautiful on walls. As mentioned earlier, it is rising in popularity, and has taken the place of cool gray paint colors for many homeowners.
Last, taupe is a good color for an exterior of a home. Because it is versatile and neutral, it can look warm and inviting on a home.
The Best, and Some of the Most Popular, Taupe Paint Colors
Let's take a few minutes to look at the top taupe paint colors from Benjamin Moore and Sherwin Williams.
Sherwin Williams Shitake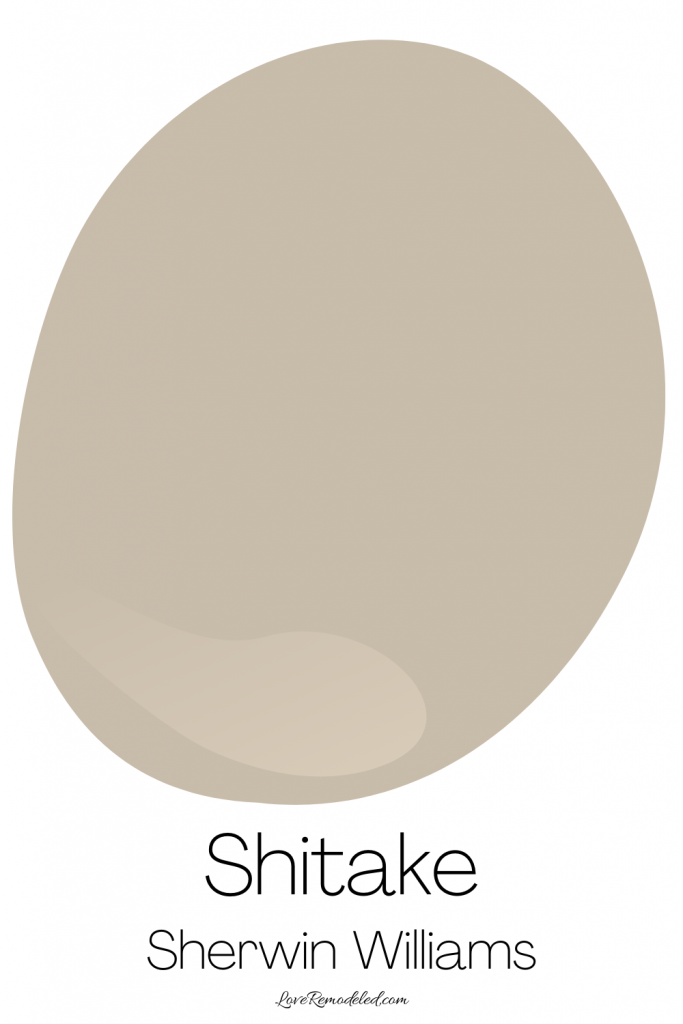 Sherwin Williams Shitake is a natural, earthy taupe paint color.
It is a medium light shade, with an LRV (Light Reflectance Value) of 51. Because of its mid-range LRV, it needs a bit of light to support it, but Shitake isn't as dark as some on the list.
Shitake has a bit more brown than gray in it, and soft purple/pink undertones.
Benjamin Moore Pale Oak
Pale Oak is a popular, light taupe paint color by Benjamin Moore.
Many people will mistake this color for a greige, and consider it alongside other greige paint colors like Agreeable Gray. But, this color is actually a taupe.
This is because Pale Oak is a blend of gray and beige with purple/pink undertones. These warm undertones make it more of a taupe, and a very pretty one.
Pale Oak is great for that modern farmhouse look, and also looks great in a traditional style home.
It is very light – almost an off-white.
Pale Oak is featured in Benjamin Moore's Favorites Collection, which means it is very popular.
Sherwin Williams Toque White
Toque White is a popular off-white paint color by Sherwin Williams.
It is very light – with an LRV of 76 – which means it is a good color for most rooms despite how much light they receive. Any paint shade is going to look better when well supported by natural and/or artificial light, but Toque White is one that also will reflect a lot of light back into a room.
Toque White has a gray/beige base that tends to favor beige. As for undertones, it tends to favor a pink undertone.
This taupe paint color is light and airy.
Benjamin Moore Silver Fox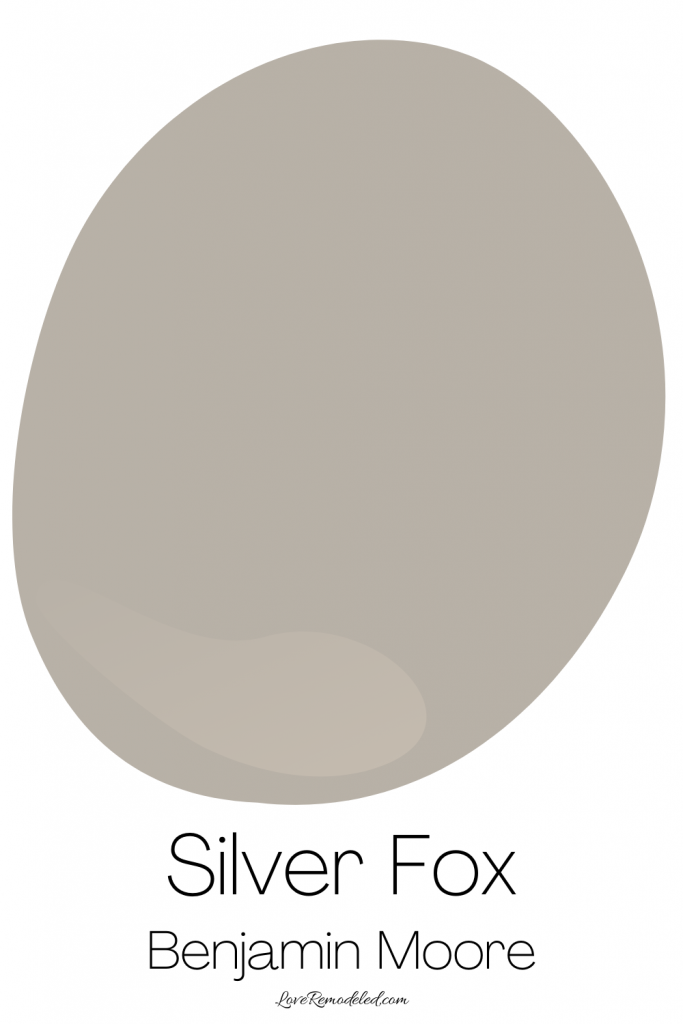 Silver Fox is a a medium depth paint color from Benjamin Moore.
With an LRV (Light Reflectance Value) of 44, Silver Fox has a little more meat on its bones. It is not a dark paint color, but it certainly isn't light either. It is fairly saturated.
Silver Fox has a good bit of beige and a healthy dose of gray in it. It's undertones tend to lean more purple than pink.
Silver Fox is featured in Benjamin Moore's Favorites collection, which means it is very popular with homeowners and designers.
Sherwin Williams Taupe Tone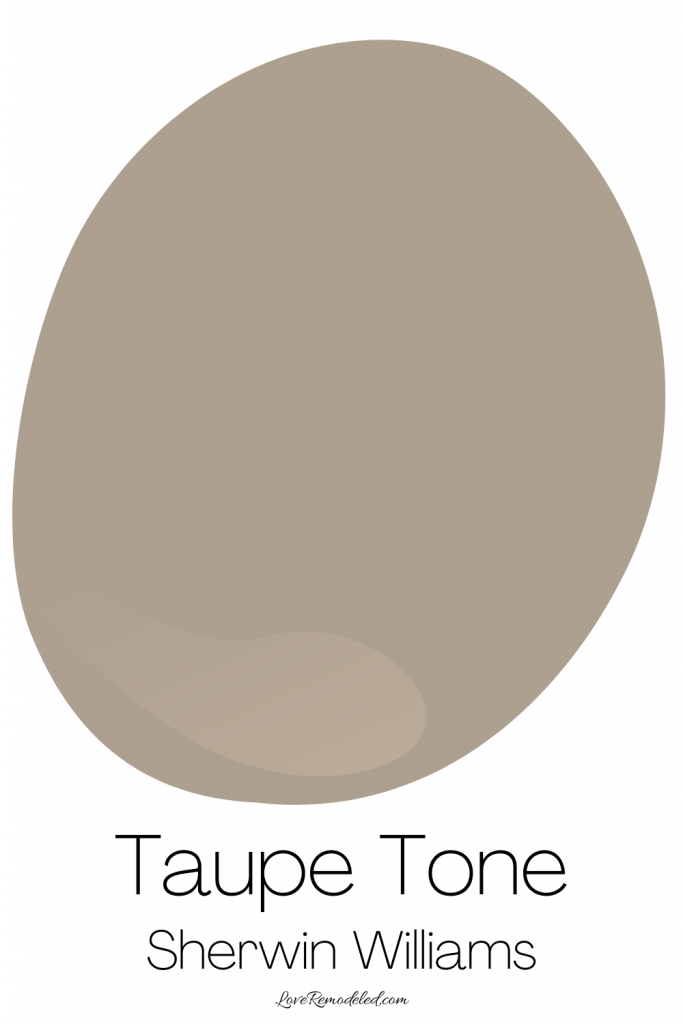 Taupe Tone is a medium taupe paint color by Sherwin Williams.
It tends to favor gray a bit more than beige or brown.
Taupe Tone is not a paint color that you can put in any room of the house, because it is fairly dark. But it is nice when paired with a heavy white trim such as Chantilly Lace, or in a very well lit space. Taupe Tone is the sort of color you would use when you want to make a bold statement with the paint color.
It is also a color you can use on an exterior of a house.
Benjamin Moore Balboa Mist
Balboa Mist, by Benjamin Moore, is another color that you frequently stumble upon when researching shades like Edgecomb Gray, Agreeable Gray, or Pale Oak.
It is a very popular paint color that seems like a greige – a beige/gray blend, until you notice that it has purple and pink undertones.
Balboa Mist has just a bit more depth than Pale Oak or Toque White, but is still a fairly light paint color.
You could use Balboa Mist as a whole home color, or use it just in specific rooms.
Sherwin Williams Tavern Taupe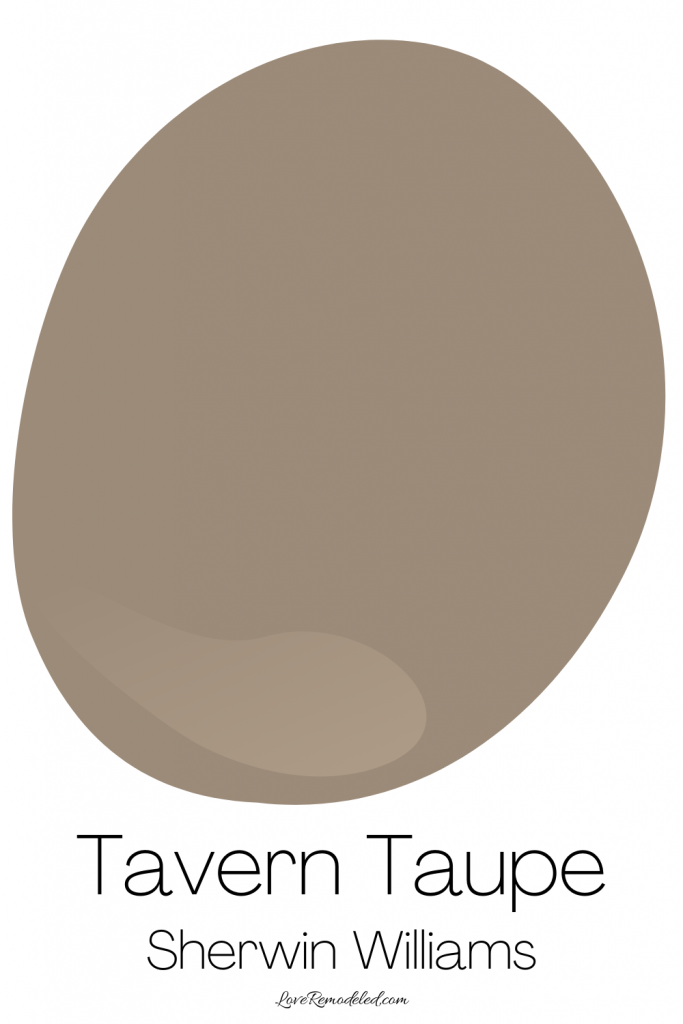 If you're looking for a medium dark taupe paint color, Tavern Taupe might be the color for you.
Tavern Taupe has a bit more brown the gray in it, and those purple/pink undertones characteristic of a true taupe.
Tavern Taupe is fairly dark, and saturated enough that you want a lot of light to support this color.
Tavern Taupe is a great shade for cabinets, or for an accent wall. If you want to paint it on the walls of a whole room, it might be a good color for a study or for a room with crisp white wainscoting.
Wondering how to pick the perfect paint color?
I have a great solution for you!
Samplize sells 12×12 stick on paint squares in almost every paint color.
These eco-friendly, peel and stick squares are made from real paint, so they will show you exactly what the paint color will look like.
I love Samplize squares because they are able to be placed on your wall and peel right off when you're done.
You can move these paint squares around your room to easily tell whether a color will go in your home, with your furnishings and accents, and with your lighting.
Plus, you can pick the perfect paint color without having to run to the store or open a can of paint, and you won't be pressured into picking a color because you have a bunch of different sample colors painted on your walls!
Oh, and you get free shipping and $5 off your first order – that is basically like getting one square for free!
Final Thoughts on Taupe Paint Colors
Taupe paint colors are a gorgeous option for people who want a color that is on-trend, warm, and neutral.
I love taupe paint colors in an otherwise cool kitchen, with white cabinets and white marble or quartz. Taupe paint also looks amazing in rooms with purple, pink, yellow or green accents.
If you want a modern take on a neutral paint color, taupe may be the right shade for you!
Need a painter? Click here to find a painting professional in your area!
Want to see all your paint options in one convenient place? Click here to pick up a Sherwin Williams fan deck (contains all SW colors) or a Benjamin Moore Collections fan deck (contains many popular BM colors – other fan decks sold separately)!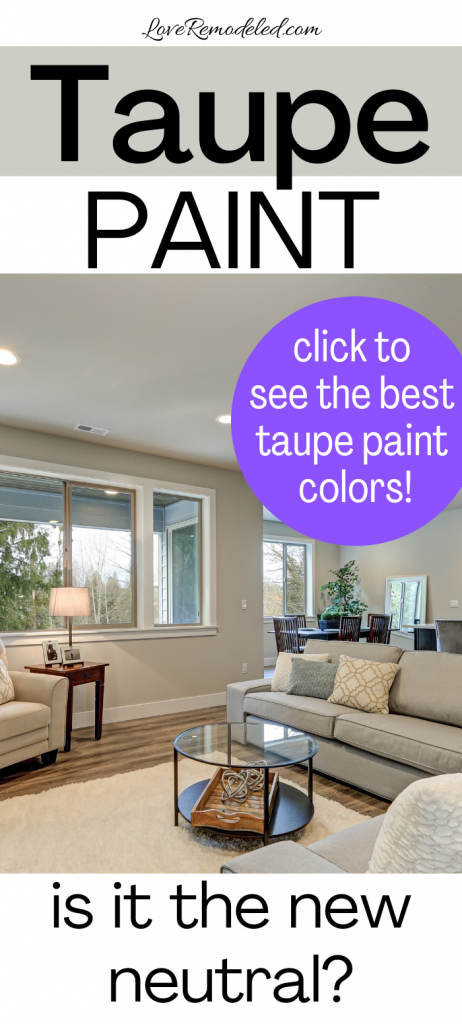 Have a question or want to show off your project? I answer all comments within 7-10 days, but for a much faster response, join my new Facebook page here!