Van Deusen Blue is a medium dark blue paint color by Benjamin Moore. It is a beautiful blue shade that is part of Benjamin Moore's Historic Color collection.
If you are looking for a darker blue paint color that isn't navy, continue reading for all the details on Van Deusen Blue.
This post may contain affiliate links. If you have any questions, please see my disclaimer page.
Color Details of Van Deusen Blue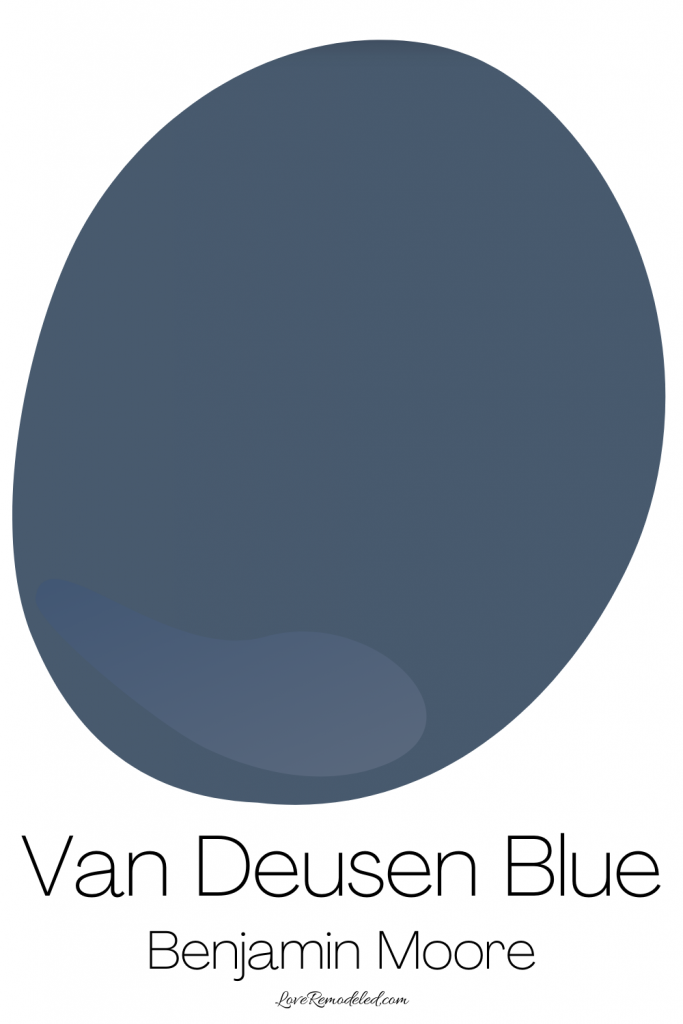 Van Deusen Blue is a gorgeous shade of medium dark blue.
When I think of a truly dark blue, I always think of navy. Van Deusen Blue is not quite so dark that I would classify it as a navy, but it approaches that level of depth.
Without a lot of light, Van Deusen Blue does take on a much darker look, making it look almost like a light navy. When well supported by natural and/or artificial light, you can see that Van Deusen Blue is actually a medium dark shade of blue.
Van Deusen Blue is perfect with wood or white trim. Additionally, it is a great paint color for wood floors of almost any tone (cherry, pine, oak, etc.).
Overall, Van Deusen Blue is a a very classic and sophisticated color. It feels bold, but not dramatic.
Van Deusen Blue Undertones
One of the things that I love about Van Deusen Blue is how relatively undertone free it is. It has gray undertones, which keep it from looking bright, but no purple undertones, as some blues do. It also might have just a hint of a green undertone it it.
Overall though, Van Deusen Blue just looks blue.
With the gray in it, it can definitely be considered a moody blue or a gray blue paint color. Check out this post for information on other gray blue paint colors.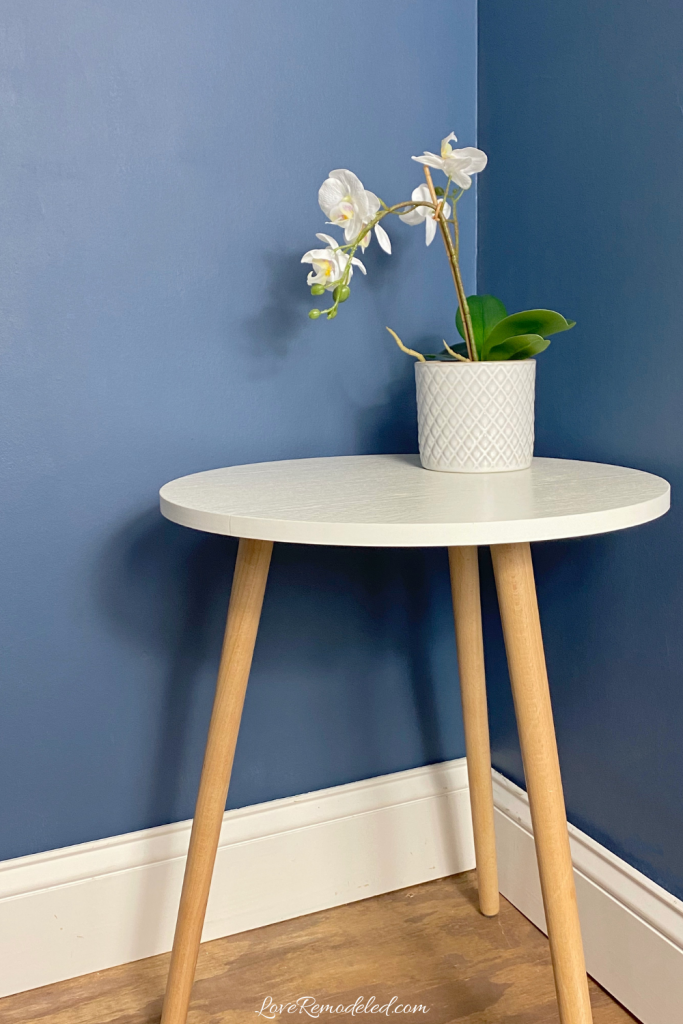 Van Deusen Blue LRV
Van Deusen Blue has an LRV (Light Reflectance Value) of 12. Since the LRV scale goes from 0-100, this means that this paint color will reflect very little light back into the room. Don't let this scare you too badly though.
Good interior and exterior lighting can make this paint color work in a variety of spaces.
Coordinating Colors for Van Deusen Blue
Van Deusen Blue coordinates well with neutrals, such as browns, creams, beiges, and whites.
Van Deusen Blue also looks really nice with yellows, lighter blues, pinks, or blue greens that have gray undertones.
Van Deusen Blue Color Palettes
Here are two color palettes that Benjamin Moore suggests as coordinating shades for Van Deusen Blue.
The first is a gorgeous palette of a smokey light blue and a pale blue green that falls into the off-white range. These shades work nicely with Van Deusen Blue to give a more tone-on-tone color palette.
This next color palette shows how nicely Van Deusen Blue coordinates with yellows. Because dark blue is almost directly across the color wheel with pale yellows, these shades work together perfectly.
Other Paint Colors That Go With Van Deusen Blue
Van Deusen Blue and Simply White
People frequently ask if Van Deusen Blue goes well with Simply White.
Van Deusen Blue is a great color to pair with Simply White. Simply White is a beautiful, crisp white paint color with barely-there yellow undertones. This clean, bright white paint color would be a great trim, door, or cabinet color next to Van Deusen Blue walls. You could also paint a kitchen island Van Deusen Blue and paint the wall cabinets Simply White.
Here is a full paint color review on Simply White.
Van Deusen Blue and Revere Pewter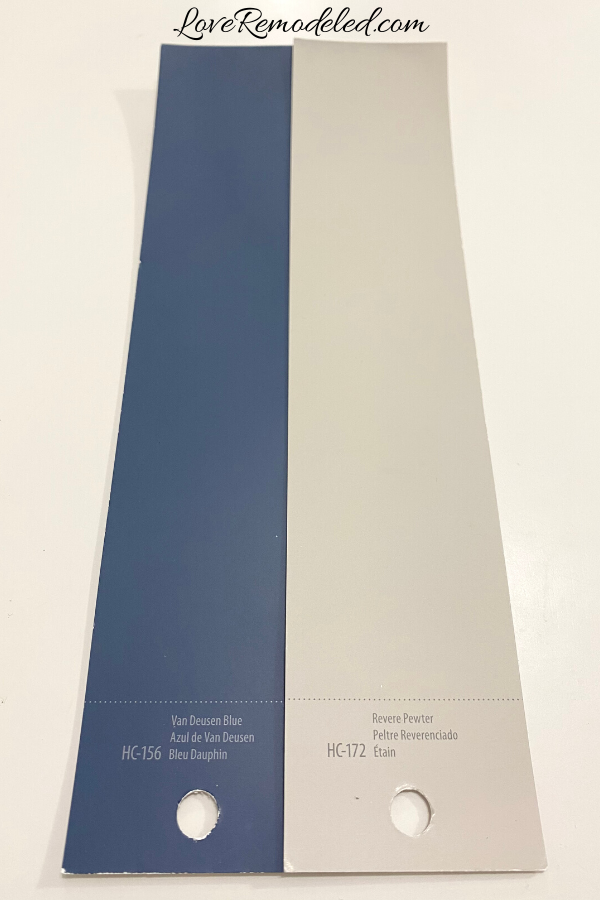 Another paint color that people commonly wonder about pairing with Van Deusen Blue is Revere Pewter. Revere Pewter is very popular paint color by Benjamin Moore. It is aneutral shade that is a blend of beige and gray that leans a bit more heavily towards beige.
Check out this paint color review of Revere Pewter here.
Van Deusen Blue and Gray Owl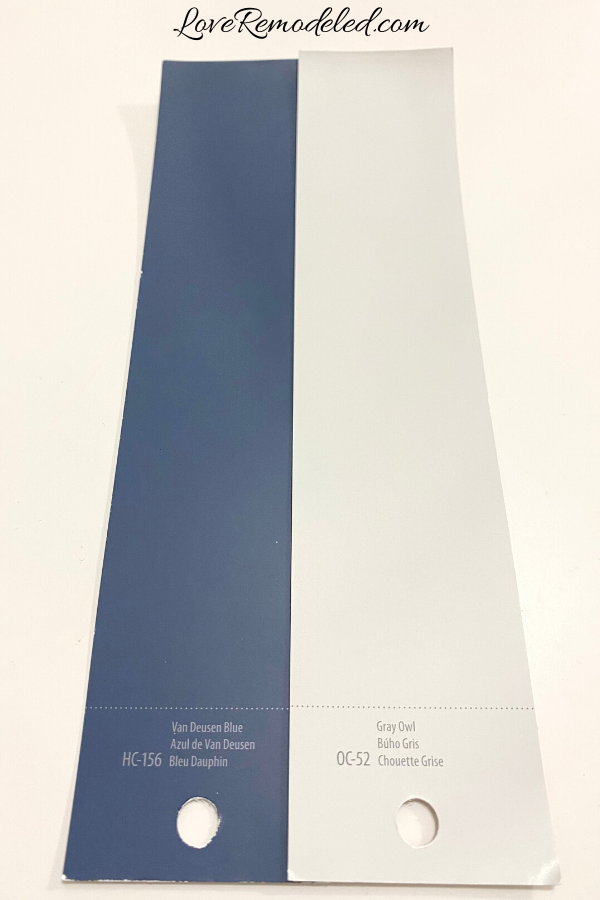 A last color that people commonly ask about is Gray Owl. Gray Owl, by Benjamin Moore, is a soft gray paint color that looks beautiful when paired with Van Deusen Blue.
Click here for a full paint color review of Gray Owl.
Where Can I Use Van Deusen Blue?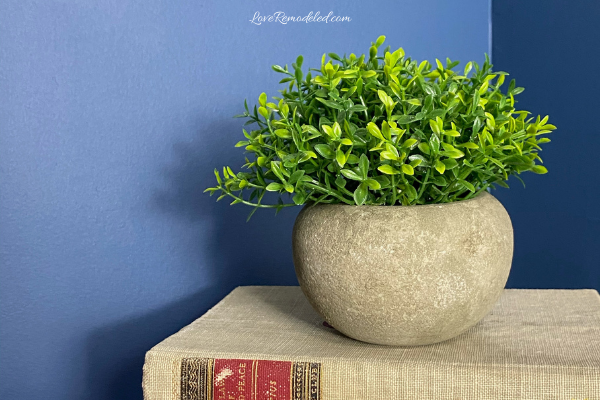 Van Deusen Blue is a great color for a room that has a lot of light, or for an accent wall. I love Van Deusen Blue on an accent wall that has wood strips to give the wall a textured look, or next to white wainscoting.
Van Deusen Blue is also a great color for kitchen or bathroom cabinets because it will show up as a pop of color without being bright.
I also find that Van Deusen Blue works really well on home exteriors. It pairs beautifully with black or white accents, and coordinates nicely with stone or wood tones as well.
Van Deusen Blue Compared
When I look at a paint color, I always like to compare it to other paint shades that are popular. This helps readers differentiate between the paint colors, and choose the one that they like the best, and the one that will work best in their space.
Here are some paint colors the people often consider alongside Van Deusen Blue.
Van Deusen Blue vs. Newburyport Blue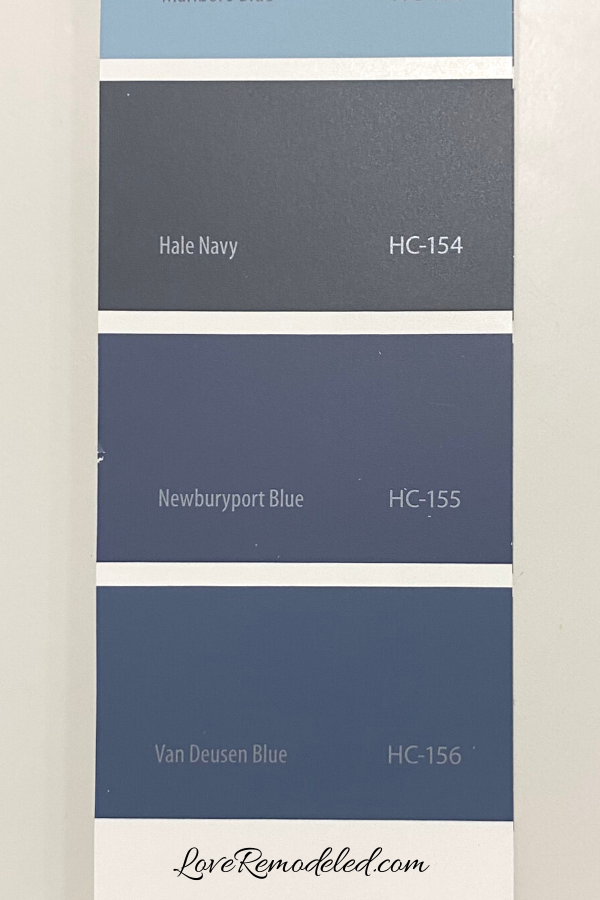 Like Van Deusen Blue, Newburyport Blue is another of Benjamin Moore's Historical Collections paint colors. It is not included in the Benjamin Moore "Favorites" book, which likely indicates that it isn't as popular as Van Deusen Blue
Despite this, Newburyport Blue is still quite beautiful.
Newburyport Blue is a dark blue, with an LRV of 8. It is darker than Van Deusen Blue, and seems to have more of a black or charcoal undertone in it, as opposed to Van Deusen Blue's lighter gray undertone.
Newburyport Blue doesn't have too much in the way of other undertones in it, but a hint of purple may sneak in once in a while.
In many ways though, Newportbury Blue is similar to Van Deusen Blue. For example, they will coordinate with many of the same shades (yellows, lighter blues, neutrals, etc.), but I would never use them together.
Because of this darkness, Newburyport Blue is more of a navy shade. I might choose Newportbury Blue if I wanted a navy paint color that was more classic in its appearance.
Van Deusen Blue vs. Hale Navy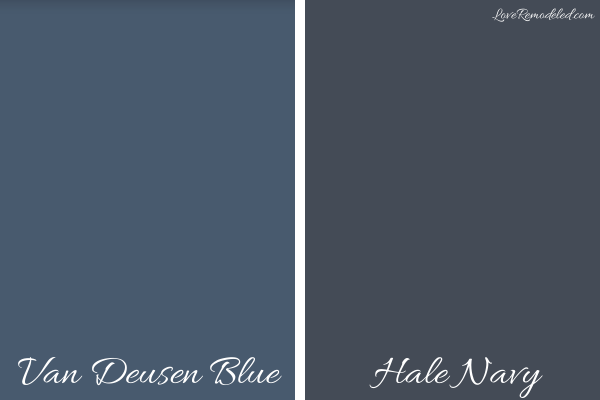 Hale Navy is a third Benjamin Moore Historical Collection paint color. Hale Navy is classic and popular.
It is a very dark paint color though, with an LRV of 6. This color is about as close to black as you can get without being black.
As such, Hale Navy is a navy paint color with black undertones. It will reflect very little light, and runs the risk of looking black in low light.
While both Van Deusen Blue and Hale Navy are dark blues, they are not as similar as Van Deusen Blue and Newburyport Blue.
Hale Navy might be great for accents, but I would hesitate before painting a whole room in this color.
Hale Navy is also a great shade for exteriors or cabinets.
Click here for more information on Benjamin Moore Hale Navy.
Van Deusen Blue vs. Naval
Naval is a popular Sherwin Williams paint color. As the name suggests, it is a navy paint shade.
Like Hale Navy, Naval has black undertones, but not as much as Hale Navy does. Surprisingly though, Naval has an even lower LRV than Hale Navy, coming in at 4.
Naval is good on exteriors and accents, but requires the right lighting to make it work as a whole room paint color.
I would choose Naval over Van Deusen Blue if I wanted to really play up a navy look, or if I was pairing it with brighter shades of yellow, orange or pink.
Click here for more information on Sherwin Williams Naval.
Wondering how to pick the perfect paint color?
I have the best solution for you!
Samplize sells 9×14.75 stick-on paint sheets in almost every paint color.
These no-mess, peel and stick sheets are made from real paint, so they will show you exactly what the paint color will look like.
Simply place them on your walls next to your trim, furnishings or fixed elements, and easily see whether the paint colors work in your space and with your lighting. Then, peel the sheet right off your wall and reapply it somewhere else if you like!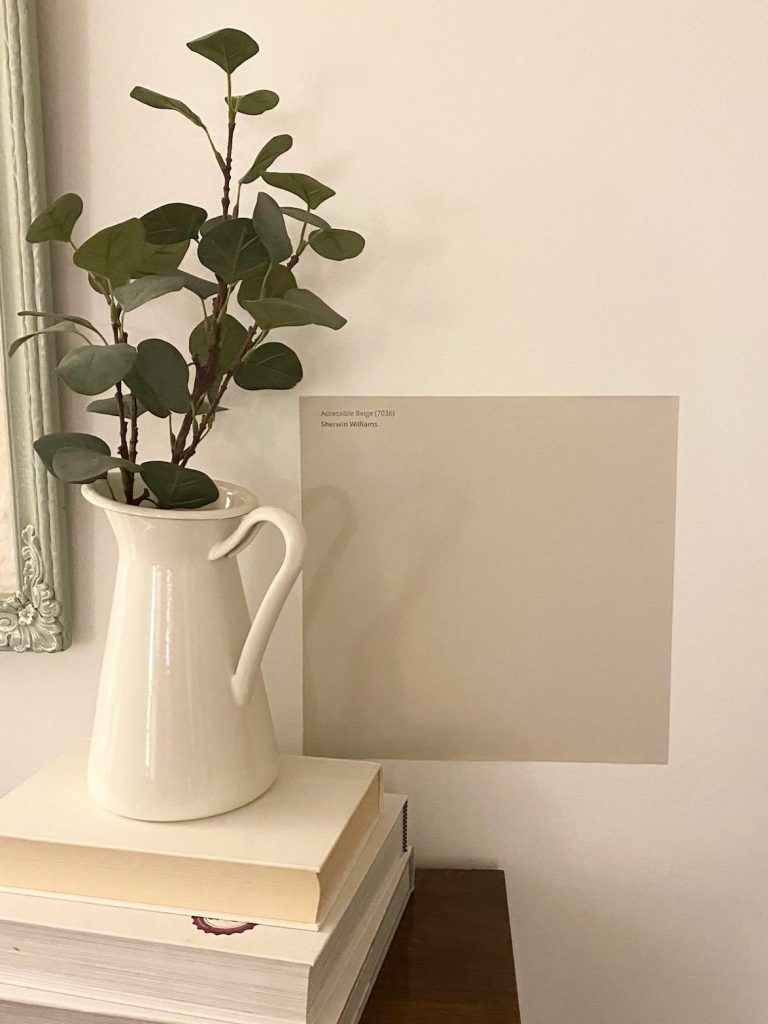 Oh, and you can have them in your home by tomorrow with OVERNIGHT shipping!
As a little tip, if you enter your email, you'll get $5 off your first order! Samplize sheets cheaper than a sample can of paint, and way less work!
Samplize sheets are truly the easiest (and fastest!) way to try a paint color in your home, with no mess.
Final Thoughts on Van Deusen Blue
Van Deusen Blue is a gorgeous blue paint color for any home. It is dark, but not so dark that it falls into the navy category. Van Deusen Blook looks great on exteriors, cabinets, walls or front doors, and can be used in living rooms, bedrooms, entryways, bathrooms – really anywhere!
If you're looking for a dark blue paint color that is interesting and sophisticated, Van Deusen Blue is definitely worth considering!
Want to see all your paint options in one convenient place? Click here to get everything you need to start painting, including Sherwin Williams and Benjamin Moore paint color decks!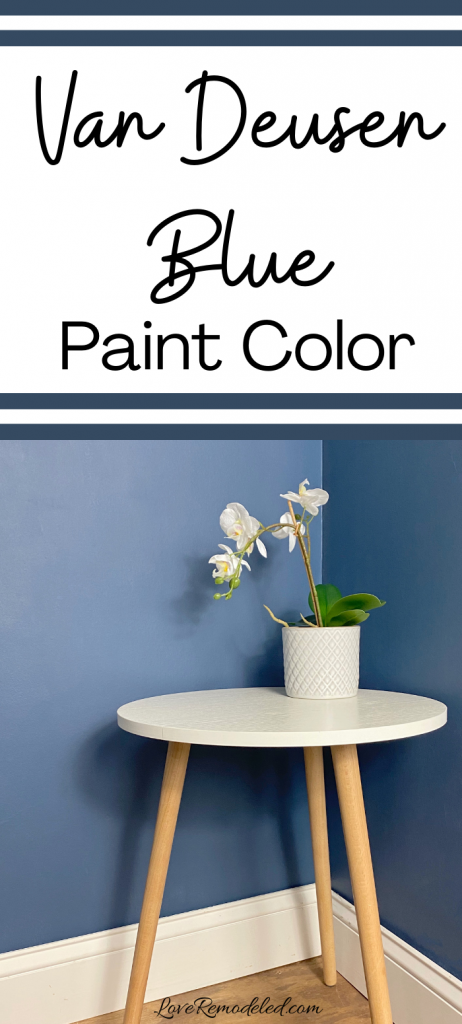 Have a question or want to show off your project? Join the discussion in Love Remodeled's Facebook group!