Naval is a popular Sherwin Williams navy blue paint color. It is a dark and moody paint shade that looks amazing on cabinets, accent walls, doors, and home exteriors.
Naval is a part of the following color collections: 2016 Nouveau Narrative, 2020 Alive, 2022 Opus, ABC's and 123's, Pottery Barn, Pottery Barn Kids, and 2021 Encounter.
As you can see, this shade is used a lot by homeowners and designers.
It has a classic sort of appeal, and acts as a neutral in many spaces.
If you are looking for a dark blue paint color, keep reading for all the details on Sherwin Williams Naval.
This post may contain affiliate links. If you have any questions, please see my disclaimer page.
What Color is Naval Paint, by Sherwin Williams?
Naval is a very dark blue paint color. It is a classic navy shade that always looks blue.
Navy blue paint colors are always very dark blue, but some are brighter than others.
Compared to other navy blue paint colors, Naval is pretty deep and dark. This is because of its undertones.
Naval is a traditional type of paint color that works as a neutral, similar to how a black, brown or white does.
Naval Undertones
Naval is solidly blue, but it does have some black undertones to it. This black undertone is what makes Naval so deep.
Sherwin Williams Naval doesn't look black though, unless it is in a very poorly lit room.
Giving adequate lighting, Naval will always look like a very dark navy blue.
Naval doesn't have too much else in the way of undertones, and this makes it a very functional navy blue paint color.
You may be thinking, well of course Naval is just blue with some black. But, many navy blues also have green, purple or charcoal gray undertones.
Naval doesn't have these undertones, so it should always look navy blue in your space.
Naval LRV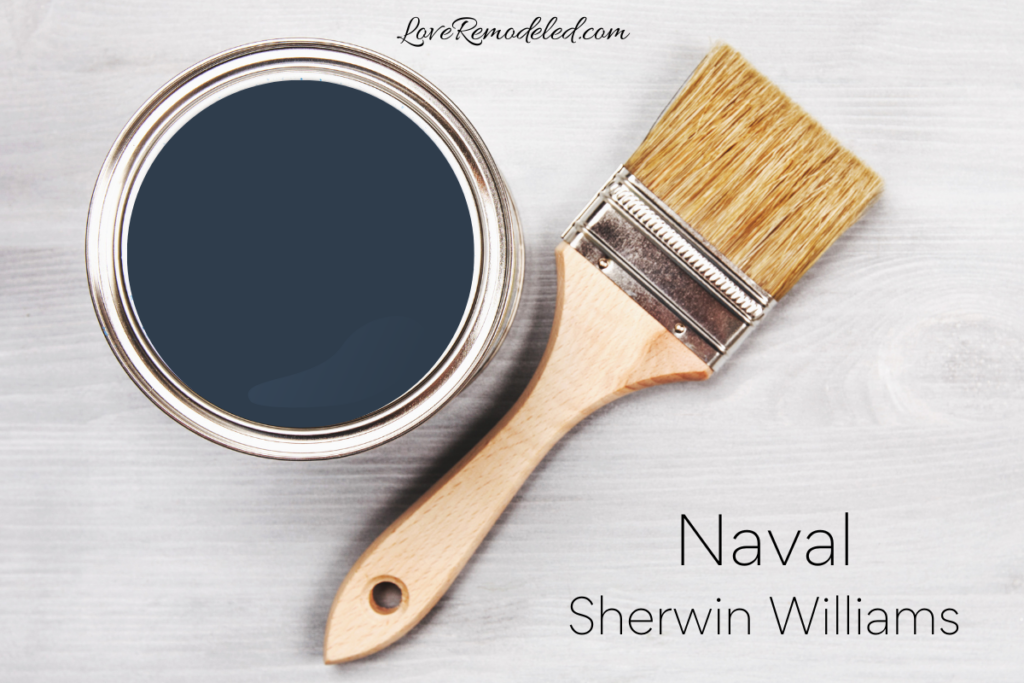 Naval has an LRV of 4.
LRV stands for Light Reflectance Value. It is a number on a scale of 0-100. A value of 0 means that a color is completely black. A value of 100 means that a color is completely white.
The LRV of a paint color tells us how much light the paint color will reflect back into a room. The higher the number, the more light is reflected back into the room. The lower the number, the more light is absorbed by the paint color.
An LRV of 4 means that Naval is a very dark paint color. It absorbs most of the light that hits it, and reflects back very little of it.
This is important information to have about a paint color because it helps to make decisions about where to use it.
A room that is dark can handle a touch of Naval here and there, but you probably don't want to paint a whole room in this paint color.
Is Naval Warm or Cool?
Since Naval is a blue paint color, it is a cool shade.
Cool paint colors tend to make the walls seems to recede into the background.
Naval is a dark, inky paint color that is reminiscent of the night sky.
What Color Goes with Naval?
Naval works with whites, creams, yellows, browns, beiges, cool grays, warm grays, blush pinks, blue greens, lighter blues, and some greens.
From this list of coordinating colors, you can see that Naval is a very versatile color.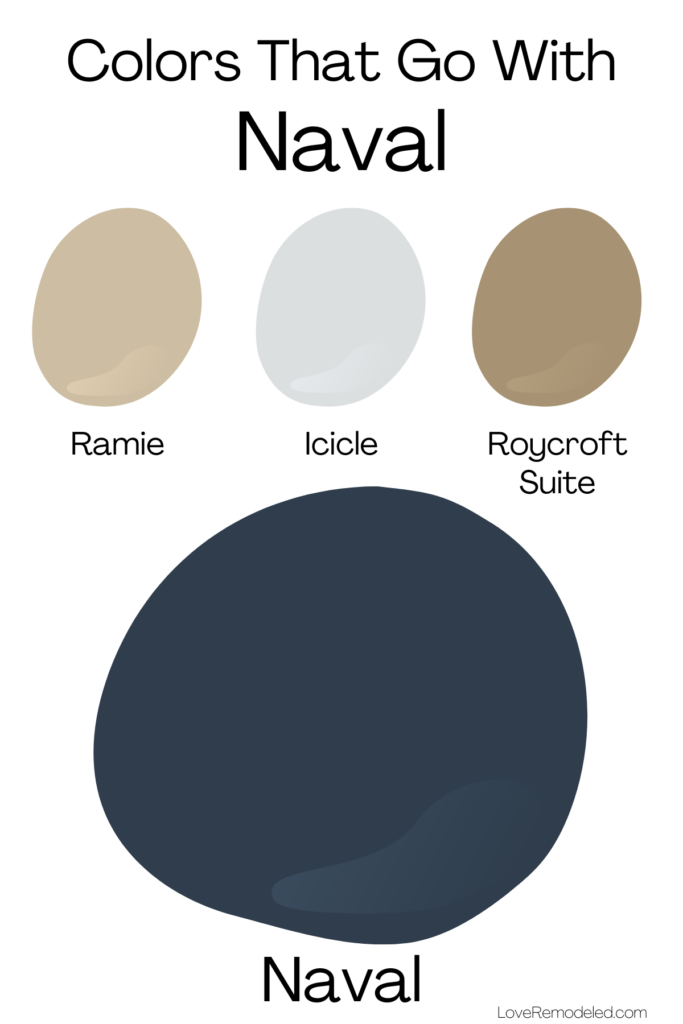 For specific colors that Naval works well with, Sherwin Williams recommends Ramie, a tan paint color, Roycroft Suede, a light brown paint color, and Icicle, a pale gray paint color.
Other paint colors that work well with Naval are Natural Linen, Sea Salt, Silver Strand, Agreeable Gray, Westhighland White, Greek Villa, and Creamy.
Trim Paint Colors for Naval
If you're looking for a trim paint color to go with Sherwin Williams Naval, check out Pure White and High Reflective White.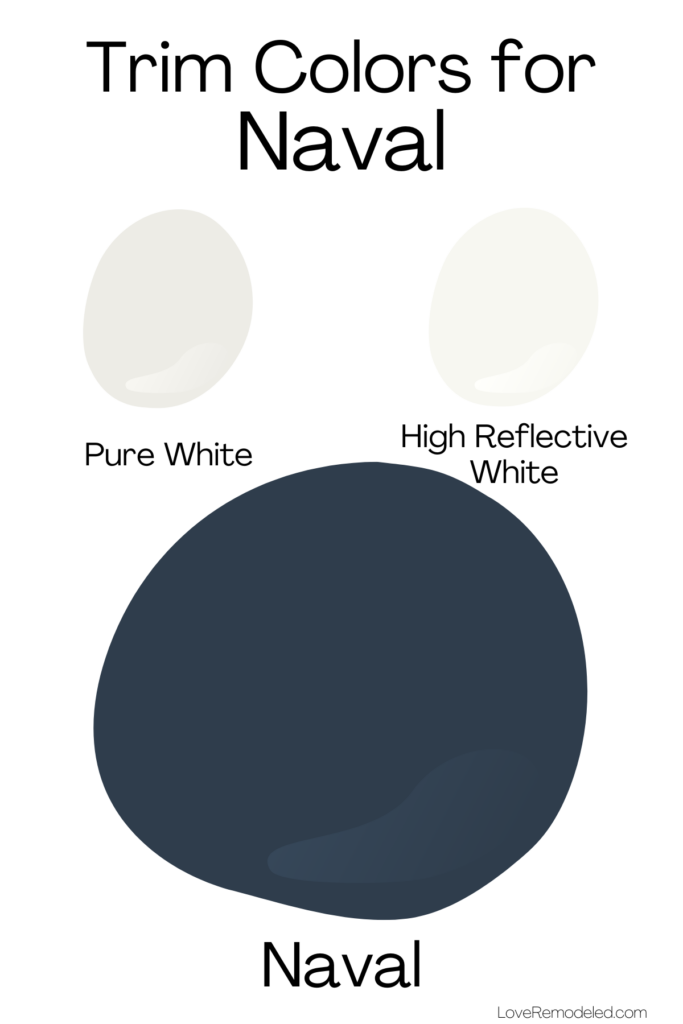 These are my two top paint colors for trim, because they go really well with most paint colors.
Pure White is a softer white paint color with gray and yellow undertones. The undertones in Pure White aren't super strong, but are enough to give it a more muted look.
If you like a very bright and crisp trim paint color, High Reflective White is a great choice. It is Sherwin Williams lightest and brightest white paint color. It is basically undertone free, which is why it goes with just about any paint color.
Naval is very dark though, and works with lots of white paint colors. Other great trim color options are Extra White or Alabaster.
Where Can I Use Sherwin Williams Naval?
Naval is a great paint color to use as an accent.
Unless you're going for a very dramatic look, Naval is best used in small doses.
Naval is a great paint color for cabinets, doors, furniture, accent walls, and exteriors.
Sherwin Williams Naval Compared to Other Paint Colors
Each time I do a full paint color review, I like to compare the paint color to other popular paint colors in the same color family.
This can be helpful if you are trying to decide between navy blue paint colors.
So let's look at Naval compared to Hale Navy, In the Navy, Salty Dog and Charcoal Blue.
Naval vs. Hale Navy
Hale Navy is Benjamin Moore's top navy paint color.
It is a deep, dark navy shade, with gray undertones.
By contrast, Naval looks more like a deep, true navy paint color that is more reminiscent of a royal blue than a grayish navy.
In fact, when you compare the two to each other, Naval looks more like a navy than Hale Navy does.
The charcoal undertone in Hale Navy is really evident when you compare it to Naval, making Hale Navy look like a more muted shade.
Naval has a lower LRV than Hale Navy, but I doubt that you would notice too much of a difference in how much light they reflect back.
If you want a more muted navy blue paint color, Hale Navy is the pick here. But for a truer navy, go with Naval.
Click here for more information about Benjamin Moore Hale Navy.
Naval vs. In The Navy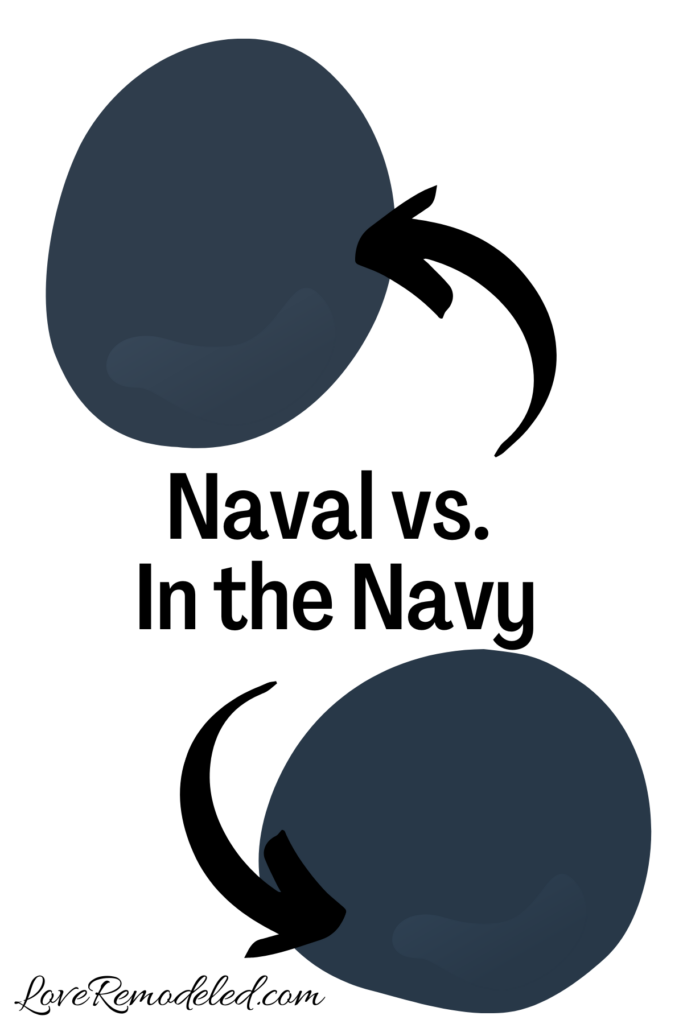 In the Navy is a navy blue paint color by Sherwin Williams. It is a touch brighter than Naval, with less black in it.
In the Navy is a very classic navy blue paint color. It is mature and refined, and is definitely a top contender to Naval.
If you want a color that is a little deeper and more neutral, go with Naval. But, if you want a traditional navy, go with In the Navy.
Naval vs. Salty Dog
Salty Dog is a Sherwin Williams navy blue paint color that is a bit brighter than Naval.
It looks more like a royal blue when you compare it to Naval, but definitely is still dark enough to be considered a navy paint color.
Salty Dog is sort of a less mature version of a navy blue. It has a hint of brightness to it. In lower lighting or more northern facing rooms, it won't look as bright though.
This means that it might turn out to look like the perfect navy blue if these types of lighting, where as Naval may be too dark.
Naval vs. Charcoal Blue
Charcoal Blue is another Sherwin Williams navy blue paint color. Like the name implies, it has a lot of gray in it, and also has a bit of purple.
Charcoal Blue is a more muted shade that Naval, but also a slightly warmer blue due to the purple undertones.
Now, I'm not saying that it is a warm blue, but just that when you compare the two, you see the purple in Charcoal Blue.
If you just want a nice, neutral navy, Naval is going to be a better choice than Charcoal Blue.
Click here for more details on Sherwin Williams Charcoal Blue.
Wondering How To Pick the Perfect Paint Color?
I have the best solution for you!
Samplize sells 9×14.75 stick-on paint sheets in almost every paint color.
These no-mess, peel and stick sheets are made from real paint, so they will show you exactly what the paint color will look like.
Simply place them on your walls next to your trim, furnishings or fixed elements, and easily see which paint color works best in your space and with your lighting.
Then, peel the sheet off your wall and reapply it somewhere else if you like. You can try several different paint colors with no mess, no fuss and no cleaning paint brushes.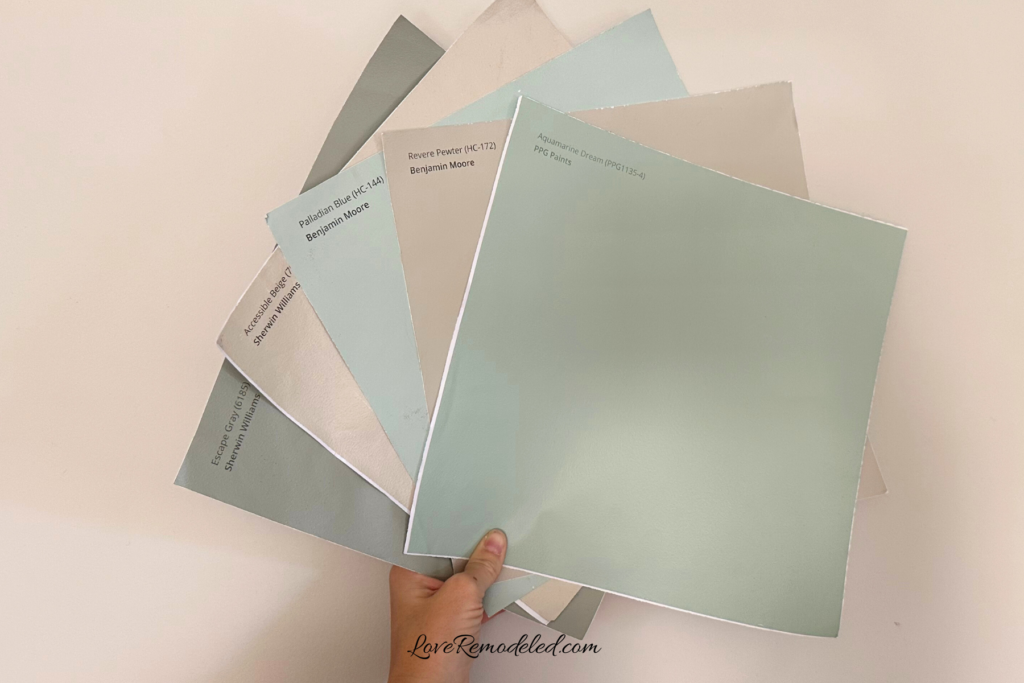 Oh, and you can have them in your home by tomorrow with OVERNIGHT shipping!
As a bonus, be sure to use the code LoveRemodeled10 at check out to get an extra 10% off! Samplize sheets are cheaper than a sample can of paint, and way less work.
They are the easiest (and fastest!) way to try a paint color in your home, with no hassle.
Final Thoughts on Sherwin Williams Naval
Naval is probably Sherwin Williams most popular navy paint color because it is super versatile.
It works well with so many different shades, and serves as a dark, anchoring factor in a room.
If you are looking for a navy blue or dark neutral for your space, Naval should be on your short list!