Sherwin William's Fawn Brindle paint color is a perfect neutral. Since it is primarily a greige, it has strong brown and gray undertones.
Fawn Brindle was chosen by Pottery Barn as one of their featured Sherwin Williams' colors in Fall/Winter 2013, and the muted yet dramatic hue has maintained its appeal since.
Fawn Brindle Undertones
While Sherwin William's Agreeable Gray is a gray greige with brown undertones, Fawn Brindle is a brown greige with gray undertones.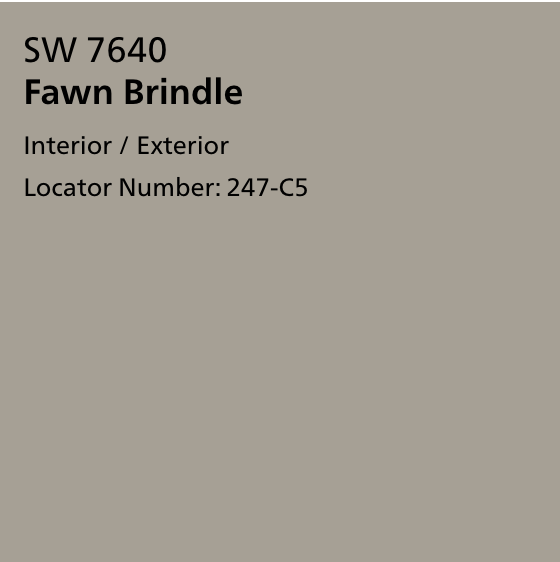 By the color strip, Fawn Brindle has green undertones as well. By this, I mean that if you look at the color strip at Sherwin Williams, the darkest tone on it is a greenish color.
In theory, and Sherwin Williams representatives will tell you, that all of the colors on the strip are the same color, with varying amounts of white. I have never been completely sure about this though, because the colors on the strip look pretty different to me from left to right.
Take a look at the picture below and see what you think: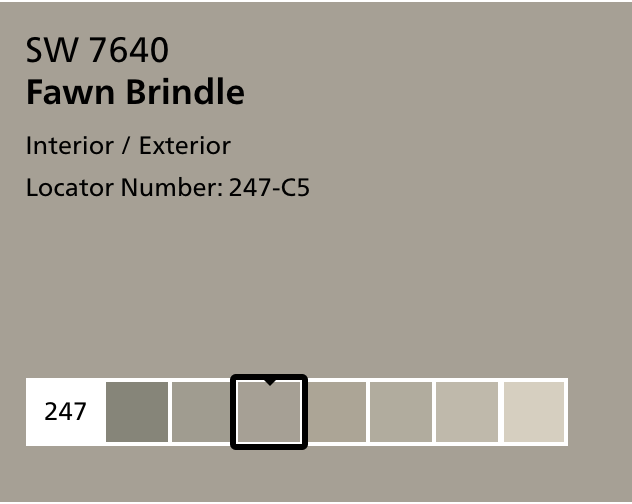 If you're thinking about painting your home Fawn Brindle, here are some things to know about this amazing color.
This post may contain affiliate links. If you have any questions, please see my disclaimer page.
Fawn Brindle Light Reflectance Value
Fawn Brindle is relatively dark when painted on a wall.
It has a LRV (light reflectance value) of 36. Black has a LRV of 0 and white has an LRV of 100, so you can see that Fawn Brindle is on the darker end of the scale.
Don't count it out yet though.
One of the things that is great about paint is that you can choose a base color that you love, but lighten it up!
I chose Fawn Brindle because I loved that it was a brown greige, without being TOO brown. When I looked at the related colors (going up or down the paint swatch), the lighter colors just looked tan to me. For example, Ethereal Mood is the color just above Fawn Brindle, meaning that it, in theory, is a lighter version of Fawn Brindle.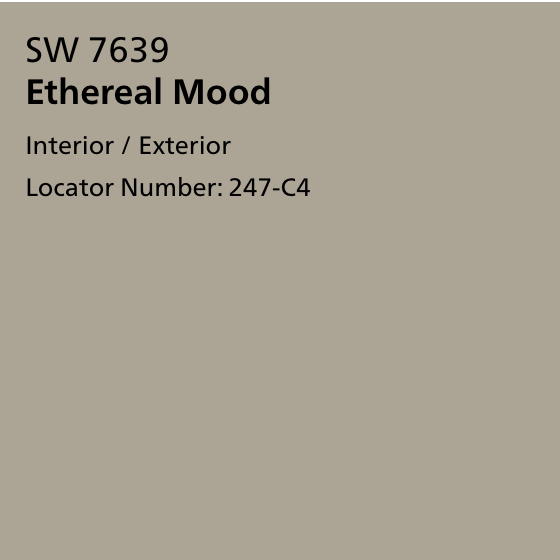 But see how tan it is? It loses a lot of the gray tones.
Making Fawn Brindle Lighter
Instead of choosing Ethereal Mood, I asked Sherwin Williams to mix a can of Fawn Brindle paint for me at 75%. This means that if they usually put 10 drops of a pigment in, they would tell the computer to only put in 7.5 drops of that pigment. So it is the SAME color as the original color, but just a true lighter version of it.
Here is how it looks on my walls at 75% of the original pigment.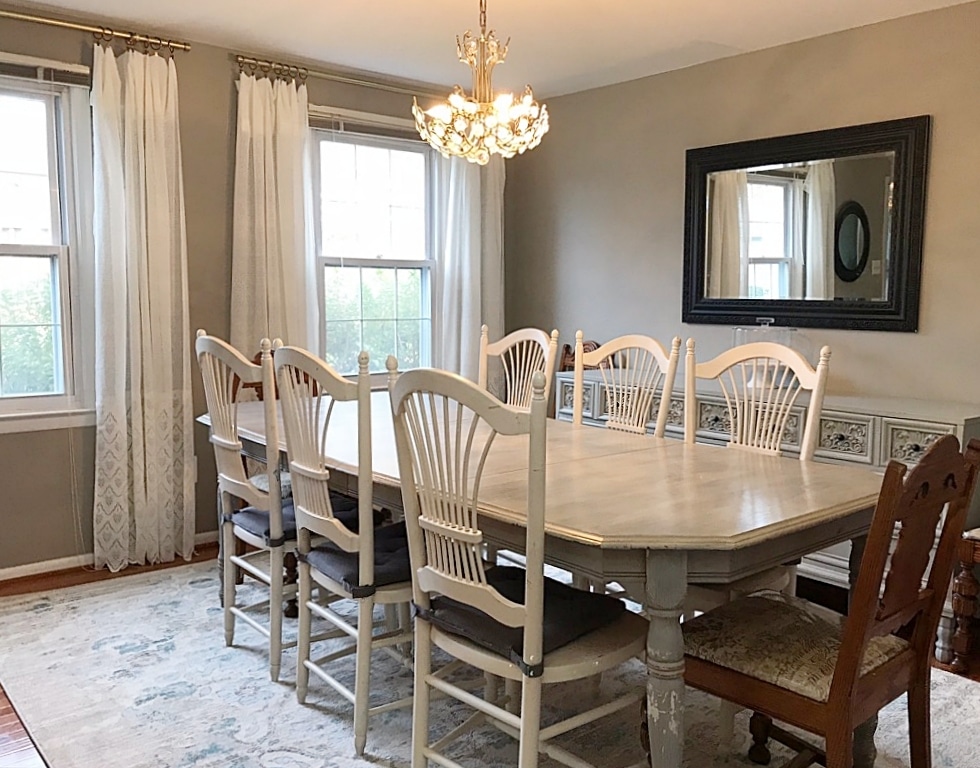 Even at 75%, Fawn Brindle is still dark.
It definitely makes a statement, and unless you have a large home with a ton of light, I would recommend having Sherwin Williams mix it at 50%.
I wanted a bold color in my dining room, but failed to notice that there was no break in the wall, and I would have to run the color through into my hallway. In my dining room, Fawn Brindle at 75% is great! In my hallway, it is a little dark.
That's okay though. I've been looking forward to trying out a board and batten wall somewhere in my home, and the hallway is a perfect place to do it. A white board and batten wall, paired with a darker Fawn Brindle upper, will contrast beautifully! Stay tuned for that transformation!
Wondering How To Pick the Perfect Paint Color?
I have the best solution for you!
Samplize sells 9×14.75 stick-on paint sheets in almost every paint color.
These no-mess, peel and stick sheets are made from real paint, so they will show you exactly what the paint color will look like.
Simply place them on your walls next to your trim, furnishings or fixed elements, and easily see which paint color works best in your space and with your lighting.
Then, peel the sheet off your wall and reapply it somewhere else if you like. You can try several different paint colors with no mess, no fuss and no cleaning paint brushes.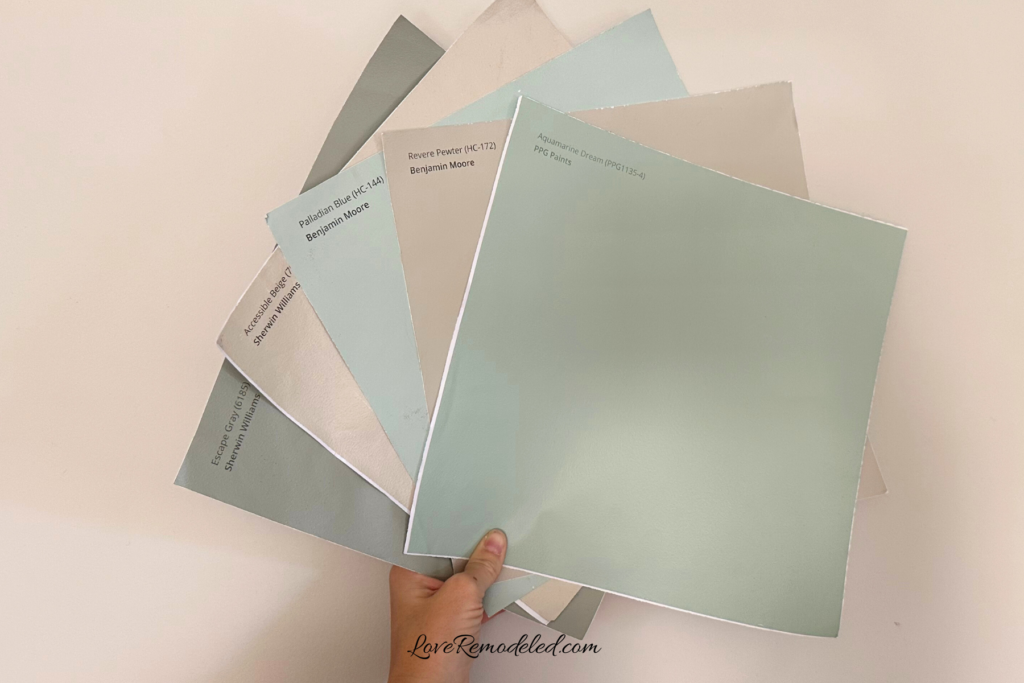 Oh, and you can have them in your home by tomorrow with OVERNIGHT shipping!
As a bonus, be sure to use the code LoveRemodeled10 at check out to get an extra 10% off! Samplize sheets are cheaper than a sample can of paint, and way less work.
They are the easiest (and fastest!) way to try a paint color in your home, with no hassle.
Conclusion on Fawn Brindle
Fawn Brindle is a gorgeous color that is perfect for a well lit room. If your room does not have many windows, I would recommend having Sherwin Williams lighten it up to 75% or 50% of its original formula.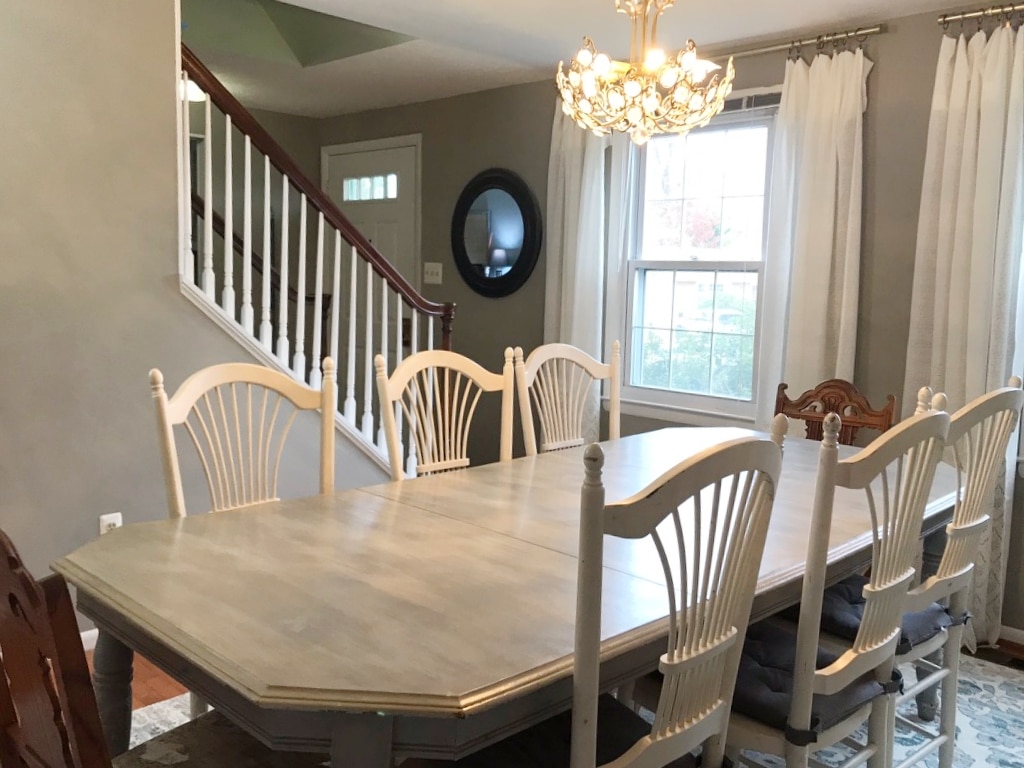 Alternatively, it is perfect for a room that has white wainscoting or beadboard, and looks gorgeous with white accents.
If you have a darker room, lighten Fawn Brindle up for an amazing greige!
If you're looking for a greige color, but aren't set on Fawn Brindle, check out this list of the best greige paint colors. Agreeable Gray has been among Sherwin William's most popular colors for years and is great in almost every home.
Getting Started With Painting
If you want to paint your home on your own, check out this post on how to paint a room.
Want to see all your paint options in one convenient place? Click here to get everything you need to start painting, including Sherwin Williams and Benjamin Moore paint color decks!
Other Posts on Paint Colors You Might Love:
The Best White Paint Colors from Sherwin Williams
A Whole House Color Scheme with Agreeable Gray
Top Beach House Paint Colors from Sherwin Williams
Fawn Brindle Paint Color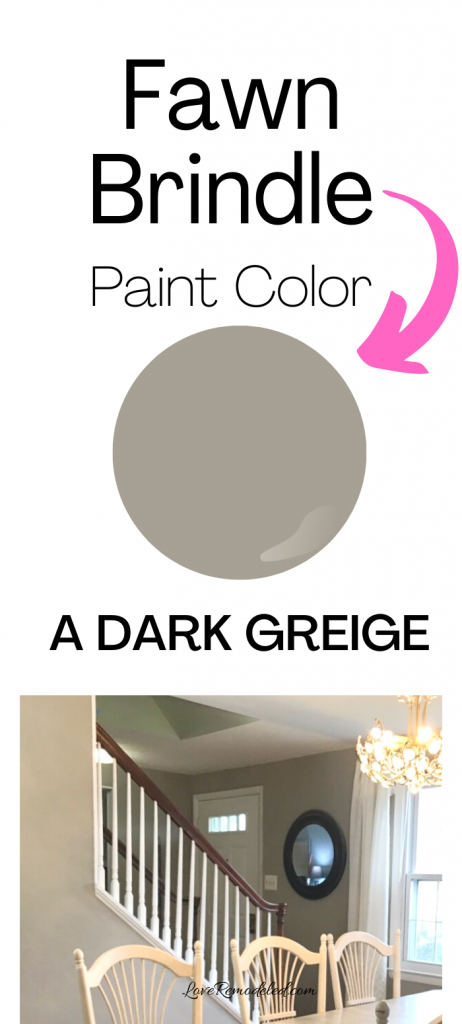 Have a question or want to show off your project? Join the discussion in Love Remodeled's Facebook group!