Captivate is one of Sherwin Williams lowest-priced residential paint products.
This interior latex paint has a price tag of just under $40 a gallon. Does this lower price mean lower quality paint? Keep reading for a full review of Captivate paint.
This post may contain affiliate links. If you have any questions, please see my disclaimer page.
The History of Captivate Paint
Years ago, Sherwin Williams carried a paint called HGTV Ovation. This paint product was low-priced but a pretty decent can of paint.
They moved this line of products to Lowe's, and replaced it with their current line-up which includes Captivate.
Originally, I hoped that Captivate would be similar to HGTV Ovation. But other than price, they are not very similar.
Captivate Paint Details
Captivate paint is a paint and primer in one. This means you do not have to take the extra step to prime your walls prior to painting with Captivate. While this is nice, it is pretty much expected in any decent can of paint.
It is a low VOC product, which again, is standard for latex paints.
Sherwin-Williams claims that Captivate paint can be used on sheet rock, wood, and masonry, without priming first.
Captivate comes in three sheens: flat, satin, and semi gloss.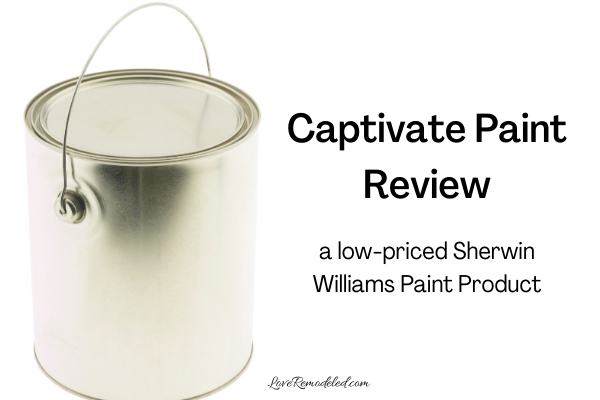 The Pros of Sherwin Williams Captivate Paint
Two of the main things people look for in a paint are whether it is washable and whether it is durable.
A higher sheen paint such as a satin or semi gloss is going to be much more washable than a lower sheen like a flat. For more about how different paint finishes affect your walls and what finish you should use where, check out this post.
My own home, I found Captivate paint to be both washable and durable. Of course, the ability to scrub the paint has a lot to do with the sheen you choose.
The most attractive thing about Captivate paint is the price. If you can catch it on a 40% off sale you can get it for just under $25 a gallon. This means you can paint the whole room (assuming you're using 2 gallons) for under $50. Talk about a low priced transformation!
The Cons of Captivate Paint
My biggest complaint with Captivate is the consistency. It the consistency of a soft gel. This is in contrast to the heavy liquid feeling of most paint.
The thick gel-like consistency makes it go on your walls different than typical paint. In addition, while you would think the thickness would provide extra coverage, it does not.
Captivate has a thick feeling to it but this does not necessarily provide for coverage. You can easily coat your walls with two coats, but might need a bit of touch up if you happen to miss a spot or two. Additionally, you will need at least two coats on the edging and likely 3 to 4.
Captivate vs. Super Paint
If you're looking for a great product with amazing coverage, check out this review of Sherwin Williams Super Paint. While it is slightly more expensive than Captivate, it is a much better product.
Captivate is a great paint you're willing to spend a little extra time making sure any bare spots are covered. But if you want something that's going to provide consistent rolling coverage with minimal effort, go with Super Paint.
Final Thoughts on Captivate Paint by Sherwin Williams
Captivate is a paint product that I would choose solely based on price.
While has many of the characteristics of any good can of paint, the coverage is not as good as a can that costs just slightly more. For this reason, I choose Super Paint to use on my walls.
If you're particularly price conscious though, this "good"can of paint will do the job, with slightly more time and attention to detail.
Other Paints to Consider
If you open the paints outside of the Sherwin-Williams family, stay tuned for my review of PPG Timeless. This paint completely changed my opinion of Home Depot paint products, and you'll want to hear all about it.
Want to see all your paint options in one convenient place? Click here to get everything you need to start painting, including Sherwin Williams and Benjamin Moore paint color decks!