Kendall Charcoal, HC-166, is a popular dark gray paint color that is made by Benjamin Moore.
Because it is a very deep gray, it is bold, versatile and luxurious.
Because it is a fairly clean gray, it is easily paired with a variety of shades.
Keep reading for recommendations of coordinating colors for Kendall Charcoal.
This post may contain affiliate links. If you have any questions, please see my disclaimer page.
Kendall Charcoal Paint Color Details
While Benjamin Moore's Kendall Charcoal is a gray paint color, all paint colors carry undertones.
These undertones are important to discuss because they provide us with more detail about what colors will go best with them.
Kendall Charcoal's main undertones are green and black.
While grays with blue undertones can look icy and overly cool, grays with green undertones tend to feel grounded and stable.
The green undertones in Kendall Charcoal make it a cool gray, though it is a bit less cool than a bluish gray like Boothbay Gray.
Kendall Charcoal has an LRV, or Light Reflectance Value, of 13.
This 0-100 scale tells how how much light a color reflects back into a space, with 0 being absolute black and 100 being absolute white.
As you can tell, an LRV of 13 means that Kendall Charcoal is very, very dark.
Where Should I Use Benjamin Moore's Kendall Charcoal?
Because Kendall Charcoal is so dark, it is not the best color for a whole room, unless you have a space that will support a dark, moody paint shade.
For example, dens or office rooms can look really stunning in a bold paint color, where as living rooms and bedrooms tend to benefit from much lighter shades.
Truly though, Kendall Charcoal is best when used as an accent color.
It can look gorgeous as a trim color, on interior or exterior doors, on cabinets, or on furniture.
Kendall Charcoal is also a great color for the accents of an exterior of a home, such as shutters, trim, doors, and railings.
It can also be used on the exterior of a home and paired with classic white trim.
What Colors Go with Kendall Charcoal?
Kendall Charcoal is a very versatile color, making it extremely useful. You can pair Kendall Charcoal with most shades.
Benjamin Moore recommends using Kendall Charcoal with Whirlpool, a light gray paint color, and Mascarpone, a creme colored paint.
This neutral color scheme is perfect for any style decor.
For a more sunny look, Benjamin Moore pairs Kendall Charcoal with White Vanilla, an off white paint color, and Old World Romance, a golden yellow paint shade.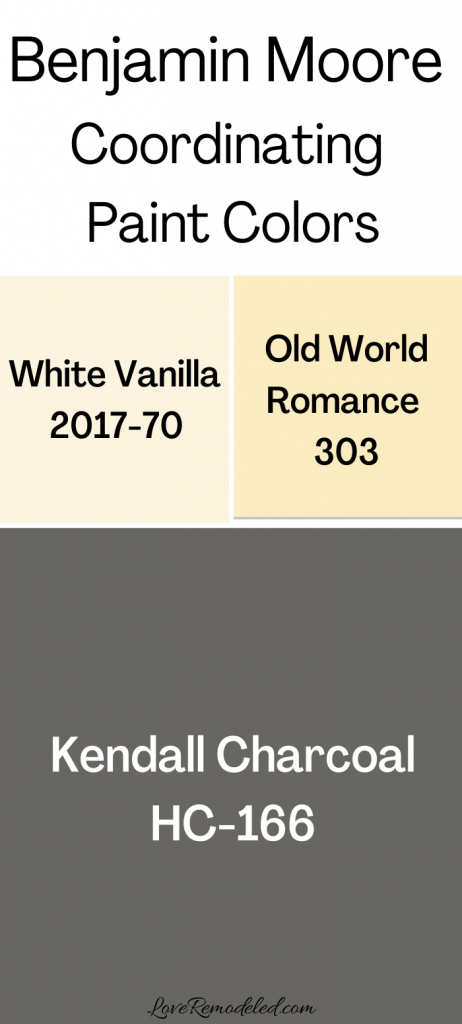 Last, I recommend putting Kendall Charcoal with Healing Aloe, a blue/green paint color that changes depending on the lighting and time of day, and Decorator's White, a crisp white paint shade that is perfect for trim.
The green in Kendall Charcoal will likely make Healing Aloe look a little more bluish than it may otherwise.
For more about Healing Aloe, check out this full paint color review.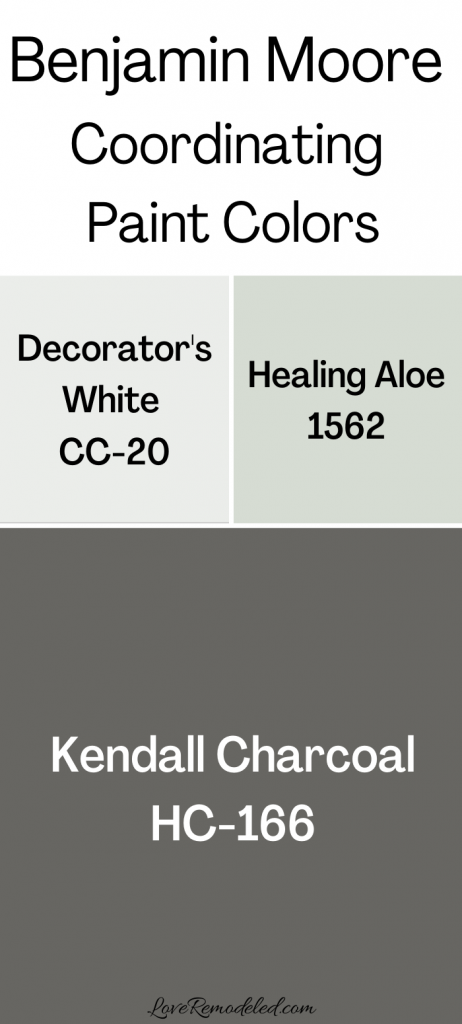 Kendall Charcoal vs. Other Grays
Kendall Charcoal is a great gray, and but it may not be the best one for you.
Here, you can see Kendall Charcoal vs. Chelsea Gray.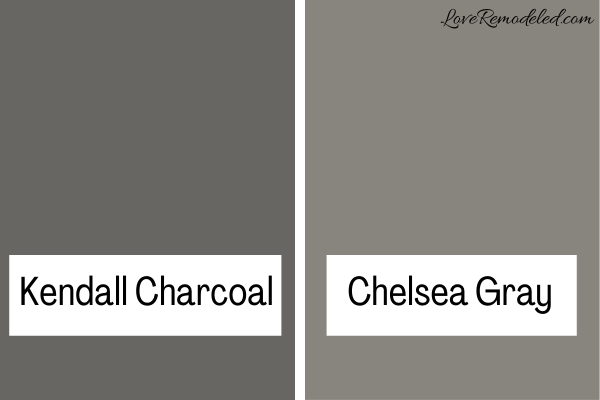 Kendall Charcoal and Chelsea Gray share a color strip (and are both a part of the Historical Colors collection), and both are grays with green undertones.
While they're not lighter or darker shades of each other, they are fairly similar and can be used together.
Between the two, Chelsea Gray is a bit more useable, because it is lighter.
I talk a little more about Chelsea Gray here in this post about 20 amazing gray paint colors.
Click here for a full color review on Benjamin Moore Chelsea Gray.
Here is Kendall Charcoal vs. Amherst Gray.
Again, Kendall Charcoal and Amherst Gray are both part of the Historical Colors collection by Benjamin Moore, and happen to share a color strip.
They are less similar though, as Amherst Gray even more green undertones than Kendall Charcoal. Both are very popular, and can be used in similar spaces.
Because they are so similar in depth, I wouldn't necessarily use them together though.
Here is Kendall Charcoal vs. Urbane Bronze.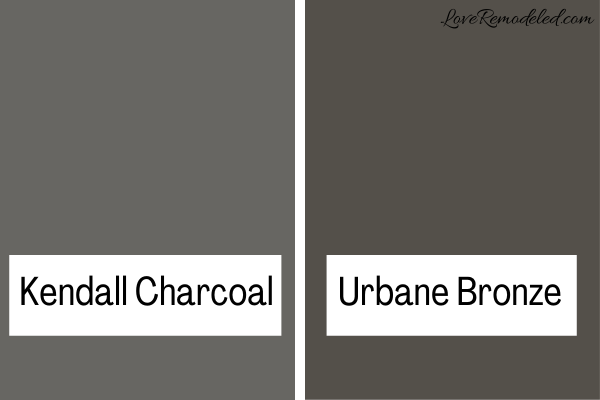 While there are no true matches for Kendall Charcoal and a Sherwin Williams' gray paint color, Urbane Bronze is actually a pretty good Sherwin Williams equivalent to Kendall Charcoal.
Both have green undertones, but Urbane Bronze also has brown undertones that give it that bronzed look.
Check out this post for a full color review on Urbane Bronze – Sherwin Williams' 2021 Color of the Year.
Last, here is Kendall Charcoal vs. Peppercorn (by Sherwin Williams).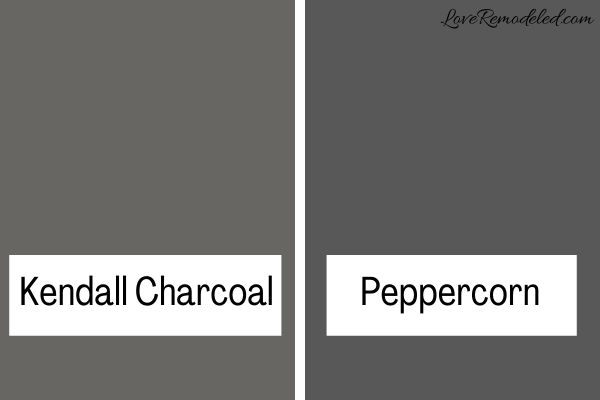 Peppercorn is a very dark gray paint color, similar to Kendall Charcoal, but it has less green and more black in it.
Again, these colors are similar but shouldn't be used together.
Peppercorn has less undertones, and if you want something closer to a true gray, it may be a better bet for you.
Click here for more details on Peppercorn.
Wondering How To Pick the Perfect Paint Color?
I have the best solution for you!
Samplize sells 9×14.75 stick-on paint sheets in almost every paint color.
These no-mess, peel and stick sheets are made from real paint, so they will show you exactly what the paint color will look like.
Simply place them on your walls next to your trim, furnishings or fixed elements, and easily see which paint color works best in your space and with your lighting.
Then, peel the sheet off your wall and reapply it somewhere else if you like. You can try several different paint colors with no mess, no fuss and no cleaning paint brushes.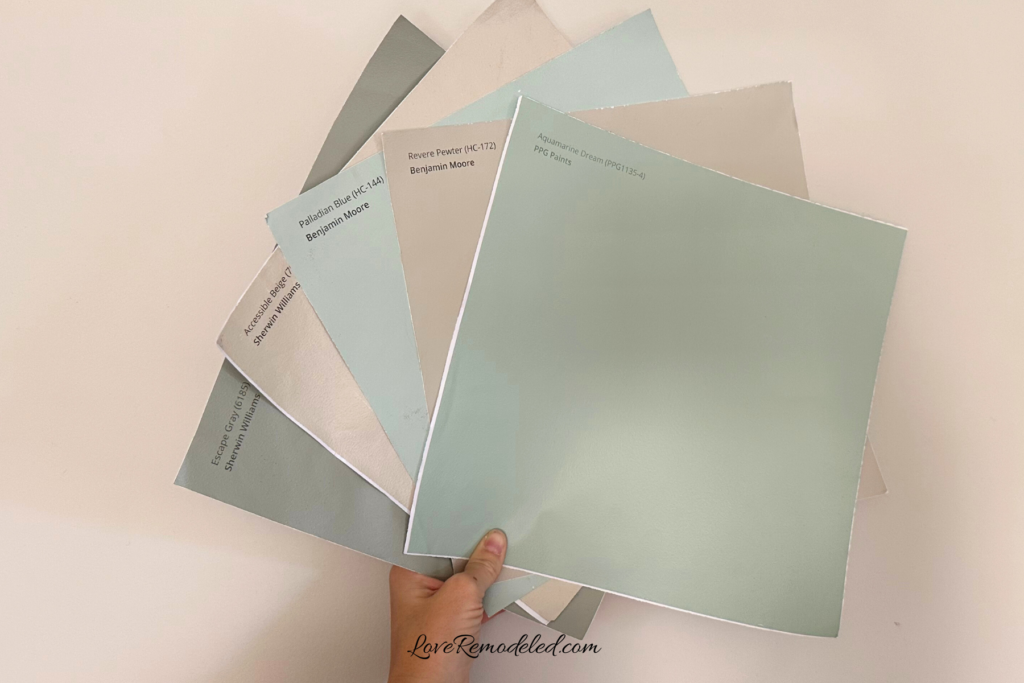 Oh, and you can have them in your home by tomorrow with OVERNIGHT shipping!
As a bonus, be sure to use the code LoveRemodeled10 at check out to get an extra 10% off! Samplize sheets are cheaper than a sample can of paint, and way less work.
They are the easiest (and fastest!) way to try a paint color in your home, with no hassle.
Final Thoughts on Kendall Charcoal, by Benjamin Moore
Kendall Charcoal is a deep gray paint color with green undertones that is perfect for a bold gray accent in the interior of a home, or as an all over color for the exterior of a home.
When you want a dark gray paint color to underscore the colors of your house, Kendall Charcoal should be on your short list!
Want to see all your paint options in one convenient place? Click here to get everything you need to start painting, including Sherwin Williams and Benjamin Moore paint color decks!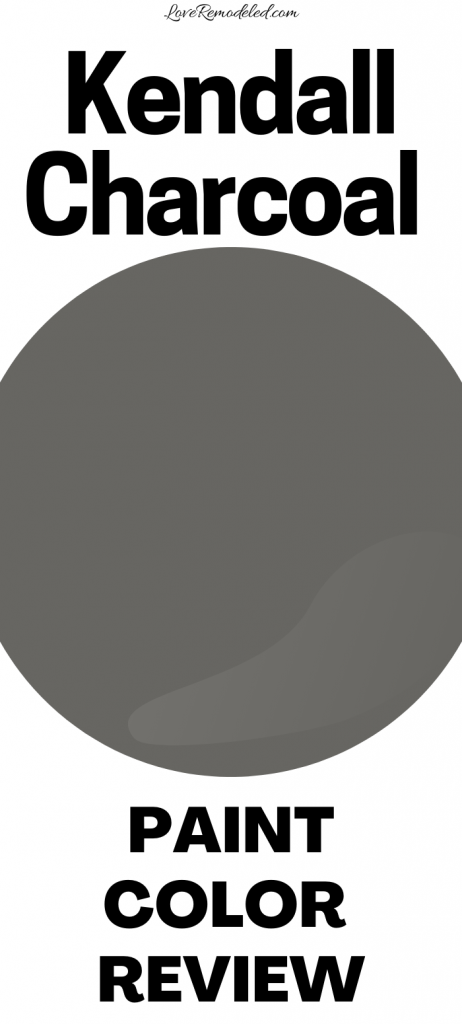 Have a question or want to show off your project? Join the discussion in Love Remodeled's Facebook group!