A bedroom is a special place in a home. It is a place of rest, relaxation, solitude, and intimacy.
Before we discuss actual colors, lets talk for a minute about what makes a wall color right for a bedroom.
Of all the spaces in a house, the bedroom is the place where you want to feel most at home. A well designed bedroom, with the right wall color, helps promote sleep and increase rest.
Typically, cool colors are considered to be calming. Cool colors include blue, green, and purple. Because of the psychological (and even physiological) effects of cool colors, they tend to be the best choices for bedroom walls.
This post may contain affiliate links. If you have any questions, please see my disclaimer page.
What is the Best Color for Bedroom Walls?
The best color for a bedroom wall is thought to be blue.
According to a study by Travelodge, blue painted walls help to reduce blood pressure and heart rate, and the calming shade is associated with restfulness.
For these reasons, blue is considered the best color to paint your bedroom walls. In addition, blue is the most relaxing color you can paint your bedroom walls.
Blue Bedroom Walls
Painting your bedroom walls blue is the best paint color to choose if you want to sleep well. Blue is also one of the most popular colors to paint a bedroom wall.
Here are some gorgeous blue bedroom walls:
Light and Airy Blue Bedroom Wall Color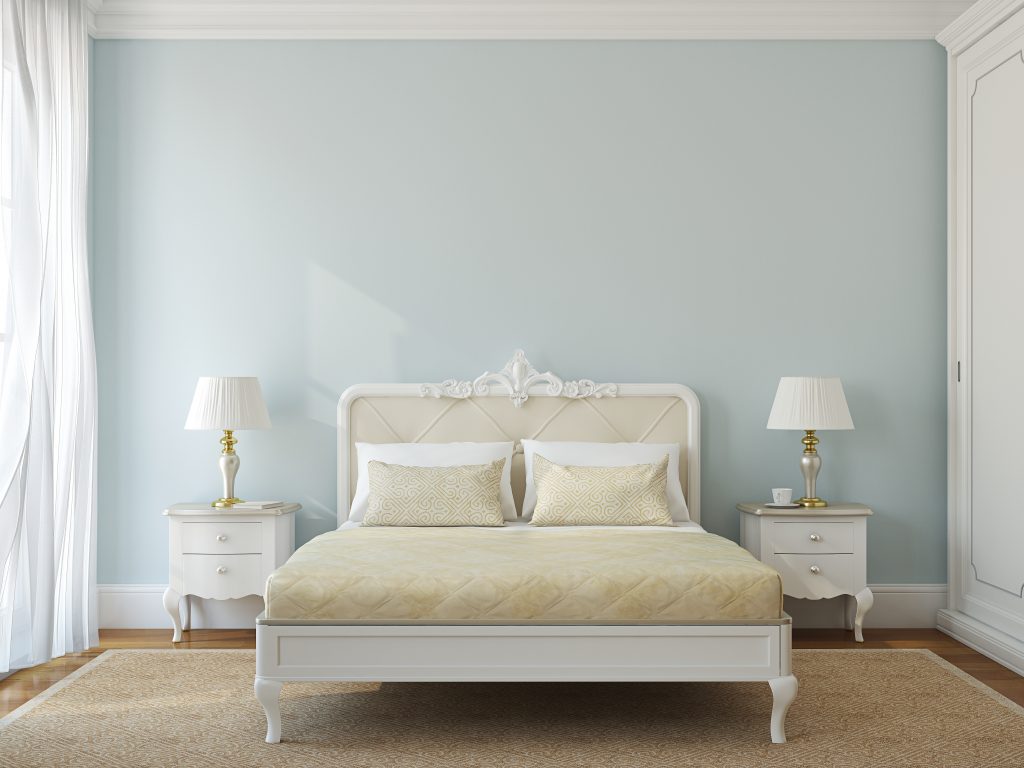 This blue bedroom wall carries slight green undertones, making it the perfect shade for a master bedroom, nursery, child's room or spare room. A light and airy bedroom wall color is a great way to give the room a classical look.
Paint Colors to Get the Look
Sherwin Williams Copen Blue
Benjamin Moore Palladian Blue
PPG Water Lily
Pale Blue Bedroom Wall Color
Pale blue is another great choice for a bedroom wall. This sky blue paint color has hints of a gray undertone, which give it a more mature look in a room. The more gray in the paint, the easier it goes from being only for a little boys room, to appropriate for a master bedroom.
Paint Colors to Get the Look
Sherwin Williams Sleepy Hollow
Benjamin Moore Harbor Fog
PPG Chambray
Deep Blue Bedroom Wall Color
Bedroom walls don't have to be light and airy to promote good sleep. These deep blue bedroom walls have a fair amount of green and gray undertones in them. Again, gray undertones are helpful in maturing a color for use throughout the home.
Paint Colors to Get the Look
Sherwin Williams Mediterranean
Benjamin Moore Aegean Teal
PPG Prussian Blue
Navy Bedroom Wall Color
Last, navy is a blue great color for bedroom walls. Navy tends to act as a neutral more than as a color, so it is a perfect dark wall shade. Navy walls are great in master bedrooms, spare rooms, and even in a little boys room.
As a note, navy walls are going to make the room feel much darker. They won't reflect as much light, due to having a low LRV. Because of this, you may want to proceed with caution unless you, A) want a dark room for better sleep, B) use the navy paint only as an accent wall, or C) have a room with a lot of natural light.
Paint Colors to Get the Look
Sherwin William's Naval
Benjamin Moore Hale Navy
PPG Annapolis Blue
For other great blue paint colors, check out this post!
Green Bedroom Walls
Green is another great color for bedroom walls. The Travelodge study found it to be the third best wall color for getting lots of sleep (after yellow – which is a surprise finding!).
Green walls bring about a calming effect after a busy day. This color is also associated with healing and nature.
Here are some great green bedrooms:
Light Green Bedroom Wall Color
These sage green walls are very serene and calming. They have a slight bit of a gray undertone, which keeps them from coming across as too cheery.
Paint Colors to Get the Look
Sherwin Williams Livable Green
Benjamin Moore Soft Fern
PPG Frosty Pine
Fern Green Bedroom Wall Color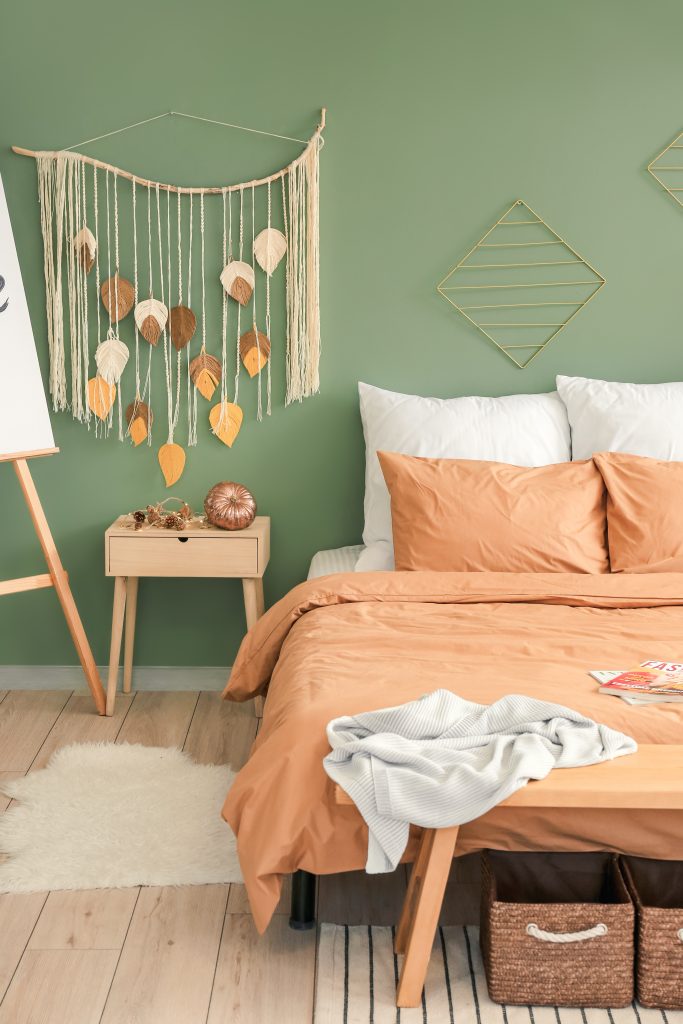 Even a brighter green can work on a bedroom wall. This fern green wall makes for a perfect boho feel for this room. While orange and bright green can feel somewhat stimulating, the look comes together nicely for an all around peaceful space.
Paint Colors to Get the Look
Sherwin Williams Seawashed Glass
Benjamin Moore Spruce Green
PPG Catnip
Dark Green Bedroom Wall Color
This dark hunter green wall is brightened up by white furnishings, but it could also work with wood furniture. Earthy and deep, a dark green wall gives a moody but serene feeling to a room.
Paint Colors to Get the Look
Sherwin Williams Dard Hunter Green
Benjamin Moore Regent Green
PPG Crystal Ball
Gray Bedroom Walls
Gray walls are extremely popular – probably the most popular paint color these days.
Gray paint ranges from warmer greiges (gray with beige undertones) to cooler blue or green toned grays. Both are great for bedrooms, because they are soothing and unstimulating.
Here are some gorgeous gray bedrooms:
Greige Bedroom Wall Color
This bedroom features a greige wall, making it a perfect backdrop for any accessories or coordinating colors. Greiges tend to work well with both wood and white trim, and can easily create a neutral expanse in a room.
Paint Colors to Get the Look
Sherwin Williams Agreeable Gray
PPG Rabbit's Ear
Click here for more top greige paint colors!
Cool Gray Bedroom Wall Color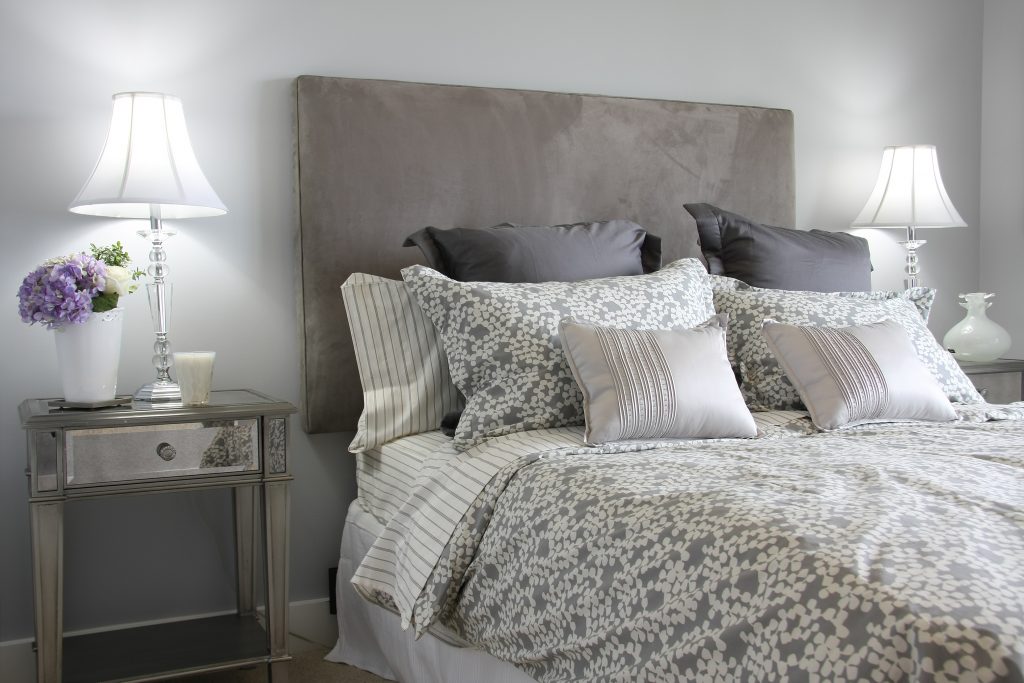 A cooler gray is also a great choice for a room. As mentioned above, cool grays have green or blue undertones, and this makes them great choices for a bedroom. While cool grays are less popular than warm grays right now, they can be a very nice neutral backdrop for a bedroom. In addition, cool gray walls work in nurseries, children's rooms, spare rooms and master bedrooms.
Paint Colors to Get the Look
Benjamin Moore Gray Cloud
PPG Pittsburgh Gray
Also, be sure to check out the top 20 gray paint colors!
White Bedroom Walls
White walls are hugely popular for 2021, and white bedroom walls are no exception. White walls tend to give a space a clean, minimalistic look. In a bedroom, white walls promote peace and openness.
Here are some stunning white bedroom walls:
Cool White Bedroom Wall Color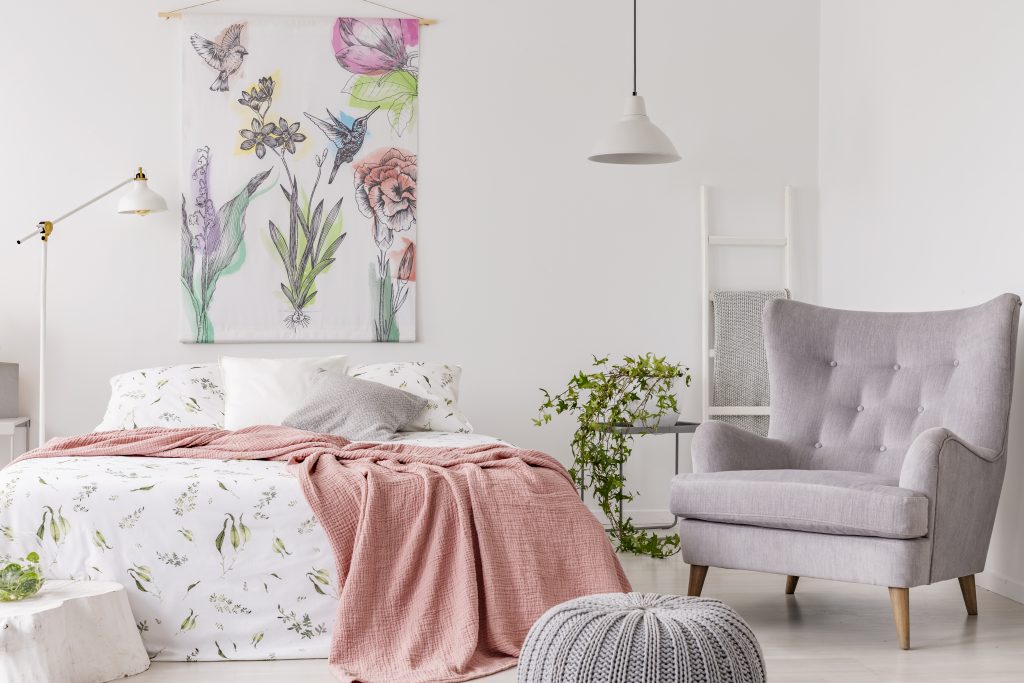 This cool white paint has tinges of gray underneath, giving it just a bit of depth and pulling it back from being too bright.
Paint Colors to Get the Look
Sherwin Williams Crushed Ice
Benjamin Moore Paper White
PPG Pacific Pearl
Warm White Bedroom Wall Color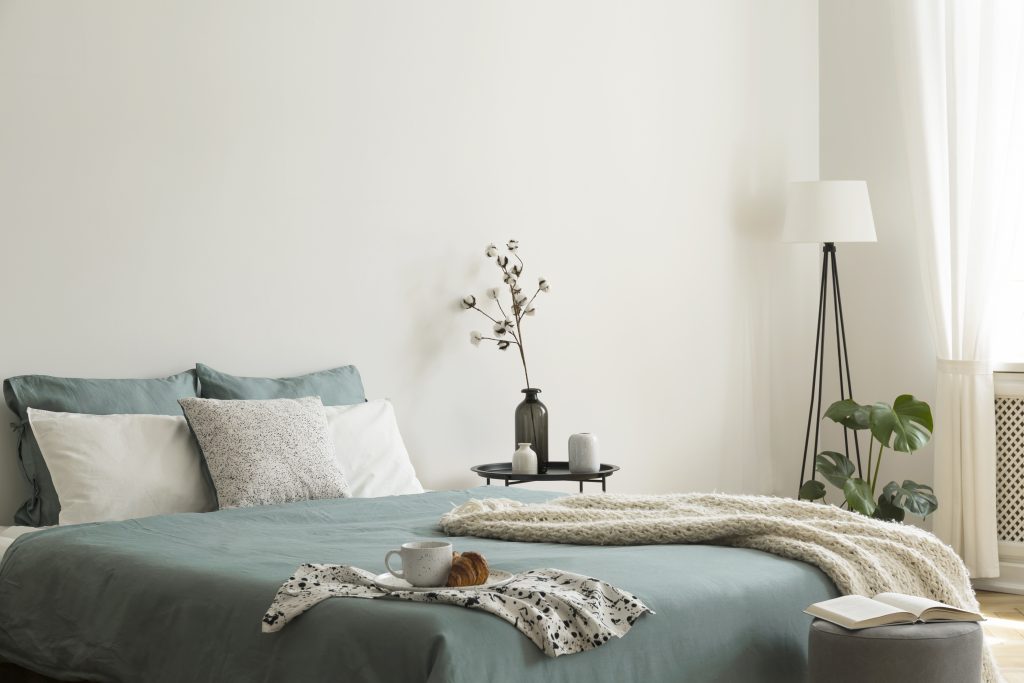 Warm white walls tend to be a bit more versatile and popular than cool white walls. A warm white paint gives a space a welcoming, bright look that can work with all types of furnishings and accessories.
Paint Colors to Get the Look
PPG Delicate White
Click this link for other great white paint colors!
Purple Bedroom Walls
Purple is the last cool color on the color wheel. While purple is generally considered to be a cool color, it has pink undertones, which means that it also has a bit of warmth to it. It sort of straddles the warm/cool line. The pink undertones in purple bedroom walls make it a romantic sort of paint color. Purple is also thought of as an invigorating shade, so picking the right purple for you is important.
If you want an exciting purple, go with one with more brightness. If you want a calming purple, choose one in the lavender family, or one with gray undertones.
Romantic Purple Bedroom Wall Color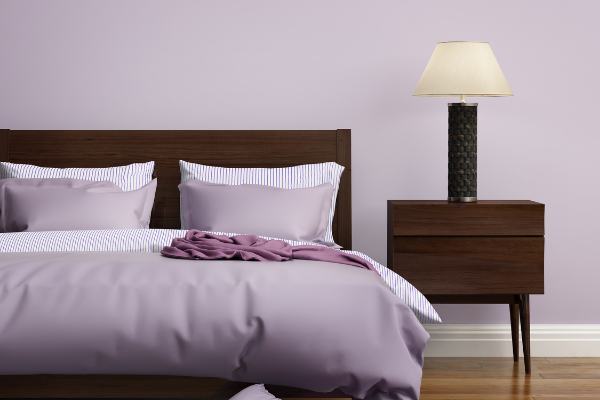 Purple bedroom walls lend a more romantic look to an otherwise cool space. This lavender painted wall looks gorgeous with the dark wood undertones, but would look just as nice with white furnishings.
Paint Colors to Get the Look
Sherwin Williams Silver Peony
Benjamin Moore Winter Gray
PPG Silver Chalice
Wondering how to pick the perfect paint color?
I have the best solution for you!
Samplize sells 9×14.75 stick-on paint sheets in almost every paint color.
These no-mess, peel and stick sheets are made from real paint, so they will show you exactly what the paint color will look like.
Simply place them on your walls next to your trim, furnishings or fixed elements, and easily see whether the paint colors work in your space and with your lighting. Then, peel the sheet right off your wall and reapply it somewhere else if you like!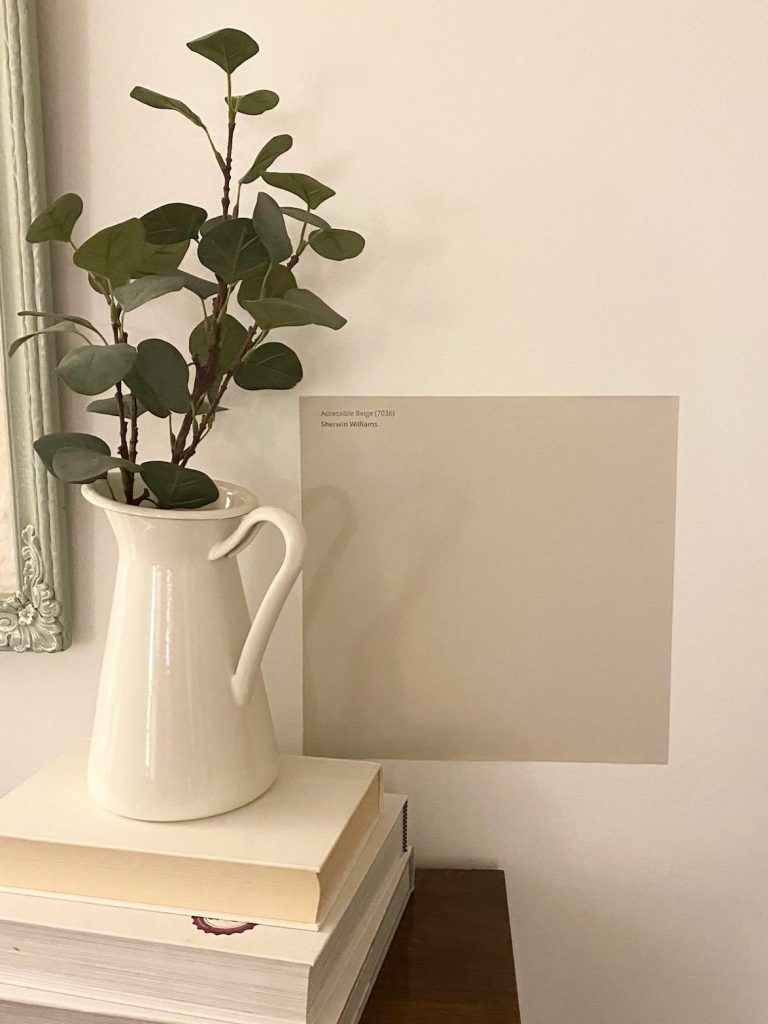 Oh, and you can have them in your home by tomorrow with overnight shipping!
As a little tip, if you enter your email, you'll get $5 off your first order! Plus, if you buy 8 samples, you get 2 more for free!
Samplize sheets are truly the easiest (and fastest!) way to try a paint color in your home, with no mess.
Final Thoughts on Wall Colors for Bedrooms
The color that you paint your bedroom wall is one of most important paint choices you'll make in your home. The right color can increase your sleep and promote great rest. In addition, it'll make your space feel like your own.
Want to see all your paint options in one convenient place? Click here to get everything you need to start painting, including Sherwin Williams and Benjamin Moore paint color decks!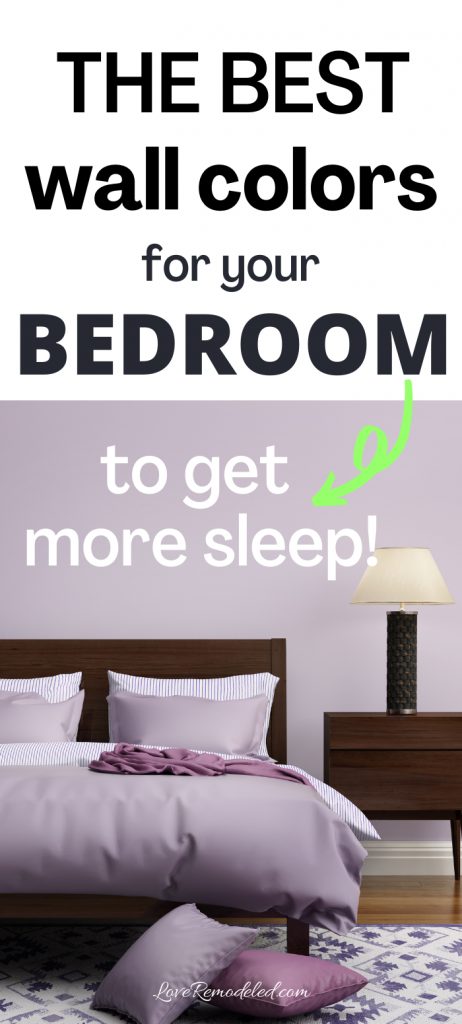 Have a question or want to show off your project? Join the discussion in Love Remodeled's Facebook group here!