Painting your kitchen walls is a great way to give your kitchen a new look.
Not only will new paint make the space feel clean and fresh, the right wall color can also help to update the look of outdated kitchen cabinets.
What are the most popular colors for a kitchen?
The most popular colors for a kitchen, or for any space in your home, are neutral paint shades. Traditionally, this would include white, off-white, gray, and beige wall paint.
In 2021, the most popular paint kitchen wall colors are going to be your white, off-white and gray paint colors. White and gray paint colors have been having a moment for the past year or so, and this trend will continue into 2021. While white kitchen cabinets have been hugely popular for years, white walls are now very in style as well.
Take a look at this post for more paint color ideas for 2021.
Other popular paint colors for kitchens include reds, blues, greens and yellows. Because kitchens don't tend to have as much wall space as other rooms (due to cabinets and appliances), many people tend to choose bolder colors than they would in other spaces.
This post may contain affiliate links. If you have any questions, please see my disclaimer page.
What is the best paint color for kitchen walls?
The best paint color for kitchen walls is going to depend on you kitchen cabinet color, your personal style, and your space.
For example, if your kitchen is small and lacks a lot of natural light, a dark color will probably not be the best choice for you. I'll talk more about this later.
Additionally, if you have honey oak cabinets, you may want to steer away from a warm paint color that is going to accentuate the orange tones of the wood.
Check out this article if you need help choosing a paint color that will coordinate with but not accentuate your honey oak cabinets.
Last, the paint color you choose for your kitchen should coordinate with the rest of your house. If your house is decorated mostly in soft baby blues, you don't want to paint your kitchen walls a bright turquoise.
White it may be a different space, choosing a paint color that flows is important in making the house feel cohesive.
Paint Colors for Small Kitchens
A frequently asked question is, "What color should I paint my small kitchen?"
Small kitchens are especially common in older homes, as older homes prioritized the living spaces more than the working spaces.
Overall, a light color is going to be the best choice for a small kitchen. This will help the space feel bigger than it is.
Specifically, I would recommend a neutral, yellow, light green or light blue paint color.
Neutral Paint Colors for the Kitchen
Neutral paint colors are timeless, elegant, and particularly trendy right now. White and gray are incredibly popular shades for any room in your house, and the kitchen is no exception.
Here, a stark, cool white paint color is used to counter the warm tones of the wood. This look is great if you are going for a modern or farmhouse style kitchen.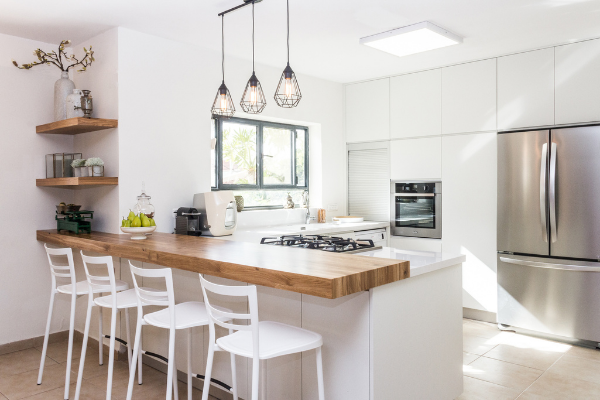 White Kitchen Wall Paint Colors
PPG Silver Feather
Check out this post for other amazing white paint colors.
Gray is also a great color for a kitchen. True grays tend to be cooler colors, as they have blue, green or purple undertones. Cool grays are another good color for a modern or farmhouse style kitchen. They will make the space feel clean.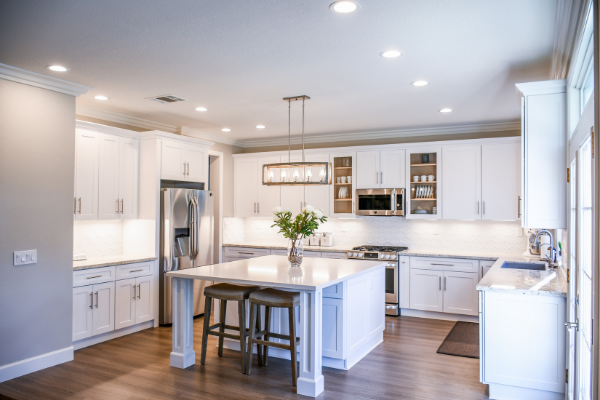 Gray Kitchen Wall Paint Colors
Sherwin Williams Light French Gray
PPG Felted Wool
Here is a roundup of other gorgeous cool gray paint colors.
This next kitchen features greige colored walls that lean strongly towards beige. A gray/beige paint gives an overall warm feeling to a kitchen, as opposed to the cool feeling that a true gray lends. Greige paint colors are great with wood and white cabinets, and can also work really well with bright accent colors.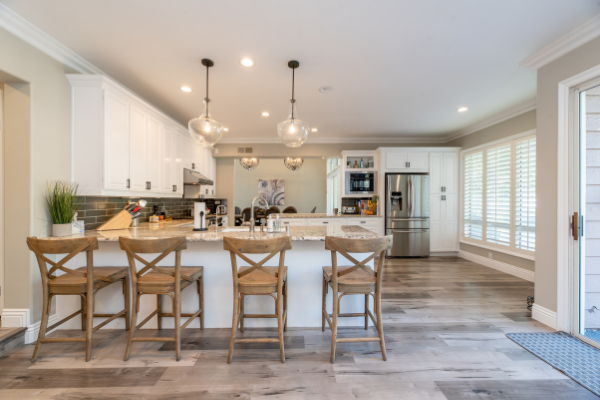 Light Greige Kitchen Wall Paint Colors
Sherwin Williams Accessible Beige
PPG Synchronicity
Here is one last warm greige kitchen. This is a very dark greige paint color, paired with white cabinets and a black countertop. As you can see, the space feels a bit dark, even though it is evident that there is a lot of natural light coming in from the right. Unless you just love this look, I would caution against a dark paint color like this is you don't have a good amount of natural light.
Again, you can pair a dark greige paint with wood cabinets or white cabinets. Since greige paint colors are so versatile and modern, they are a great choice for updating your kitchen walls.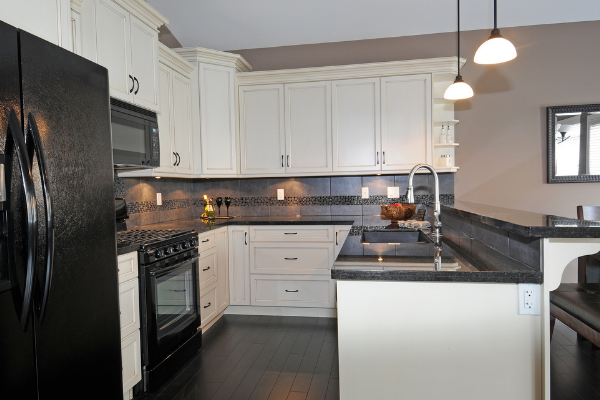 Dark Greige Kitchen Wall Paint Colors
Benjamin Moore Kingsport Gray
PPG Stonehenge Greige
Click here to see other beautiful greige paint colors.
Red Paint Colors for a Kitchen
Red kitchens have been popular for years. Red is one of the most classic and enduring paint colors for a kitchen. It is not a great choice for a house with mostly pastel colors, but works great in a space with lots of neutrals. This allows the red to be a bold pop of color.
Additionally, the color red is known to trigger an appetite. This is why red is so commonly used in food company logos (ex. McDonalds, KFC, Friendly's, Wendy's).
Red is another paint color that can be paired with wood cabinets, especially if you want to highlight the tones in the wood. Here, you can see how the red walls highlight the yellow in the wood of the cabinets. This comes together to make a warm, bright look in this kitchen.
In this next kitchen, red walls are paired with white cabinets for a more stark, bold look.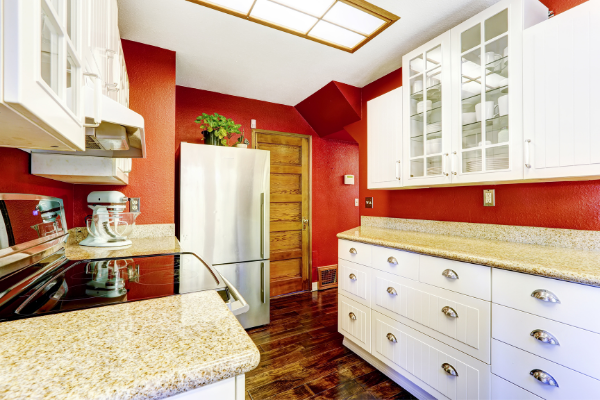 If you like the idea of a red kitchen, but want to modernize or mute the shade a little, I would recommend choosing a red paint color that has gray undertones.
Red Kitchen Wall Paint Colors
Sherwin Williams Red Tomato
Benjamin Moore Heritage Red
PPG Roasted Pepper
Yellow Paint Colors for a Kitchen
Yellow is a nice color for a kitchen because it is bright and cheery. It is a particularly sunny color to be greeted by in the morning when you head into the kitchen for coffee.
Yellow kitchen walls can go with a lot of cabinet colors, including white, gray and most wood shades.
Here, you can see a bright yellow wall is paired with dark cherry cabinets. The yellow in the wall highlights the warm tones in the wood.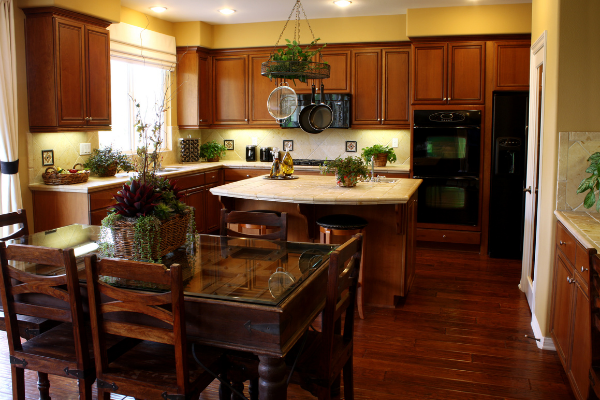 Yellow Kitchen Wall Paint Colors
Sherwin Williams Glad Yellow
Benjamin Moore Hawthorne Yellow
PPG Easy on the Eyes
Blue Paint Colors for a Kitchen
Blue is a very popular paint color for any room of the house, including the kitchen. As a color, it is refreshing, fun, and calming.
According to color theory, blue is a particularly good color for oranged toned cabinets because orange and blue are complimentary colors, and this makes the combination pleasing to one's eye.
A light blue, or a blue green, as pictured below, is a great paint color for both wood or white kitchens. It will modernize the space and give it a bit of personality, while still being well within current style.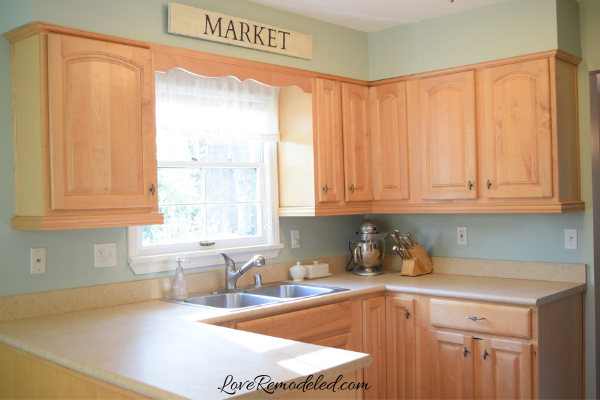 Light Blue Kitchen Wall Paint Colors
Benjamin Moore Wythe Blue
PPG Galactica
This next kitchen features a slightly brighter blue wall, with a very bright blue ceiling. I do not recommend painting your ceiling blue, but I wanted to include this picture so you could see how a brighter blue paint color looks with wood cabinets.
As you can see, the cool blue walls help to draw your eyes away from the warm red cabinets, and the whole thing works together to give the kitchen a more balanced look.
Bright Blue Kitchen Wall Paint Colors
Sherwin Williams Meander Blue
Benjamin Moore Tranquil Blue
PPG Blue Calypso
Finally, a deeper blue paint color is a great choice for a well lit kitchen. Dark blues can go with wood and white cabinets.
The gray undertones in a darker blue help to make the color feel more mature and muted than a brighter blue. It gives a kitchen a polished, classic look.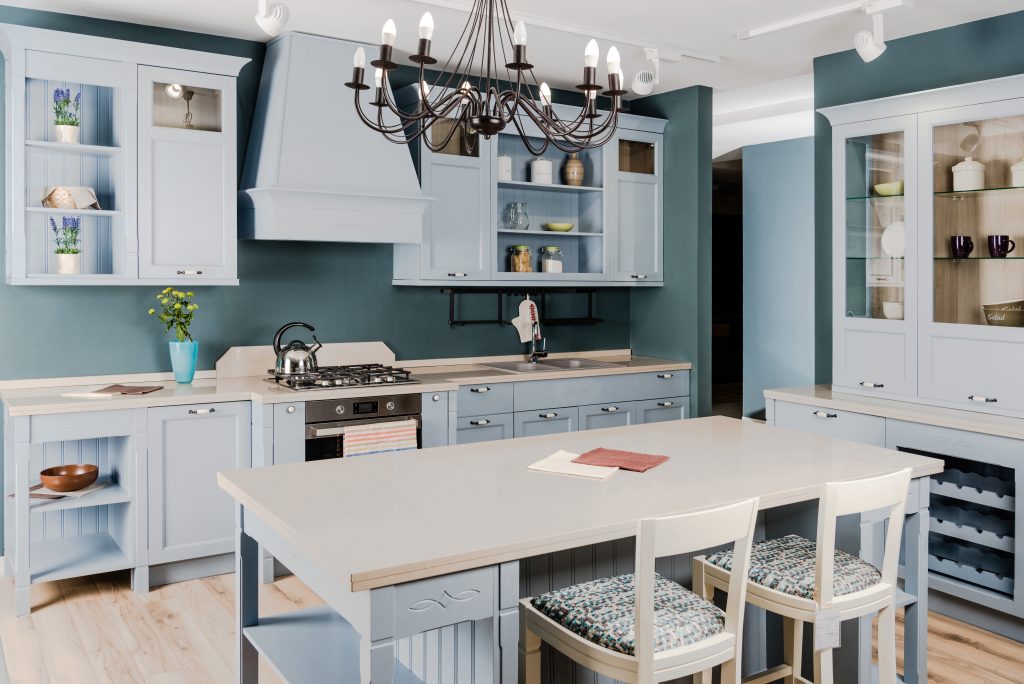 Deep Blue Kitchen Wall Paint Colors
Sherwin Williams Moody Blue
Benjamin Moore Phillipsburg Blue
PPG Prussian Blue
Check out this post for more gorgeous blue paint colors.
Green Paint Colors for a Kitchen
Green kitchens as popular for many of the same reasons blue kitchens are. Cool colors are calming and typically pleasing to the eye.
This light sage green kitchen wall is paired with light wood colored cabinets with yellow tones. Green is a great color for yellow toned cabinets because yellow and green are analogous on the color wheel. This means that they will give the space a somewhat monochromatic look to the eye.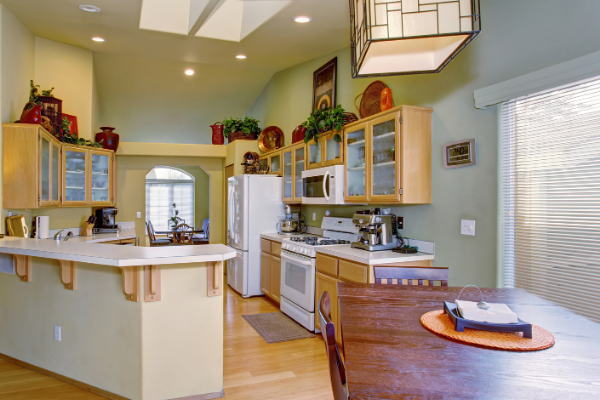 Sage Green Kitchen Wall Paint Colors
Sherwin Williams Topiary Tint
Benjamin Moore Saybrook Sage
PPG Lime Flip
A darker green can also work in a kitchen, with the right lighting. Here, a deeper but brighter green wall compliments the white kitchen cabinets for a fun, colorful look.
Darker Green Kitchen Wall Paint Colors
Sherwin Williams Restful
Benjamin Moore Kennebunkport Green
PPG Hearty Hosta
Now that we have discussed all these different paint colors…
Wondering how to pick the perfect paint color?
I have the best solution for you!
Samplize sells 9×14.75 stick-on paint sheets in almost every paint color.
These no-mess, peel and stick sheets are made from real paint, so they will show you exactly what the paint color will look like.
Simply place them on your walls next to your trim, furnishings or fixed elements, and easily see whether the paint colors work in your space and with your lighting. Then, peel the sheet right off your wall and reapply it somewhere else if you like!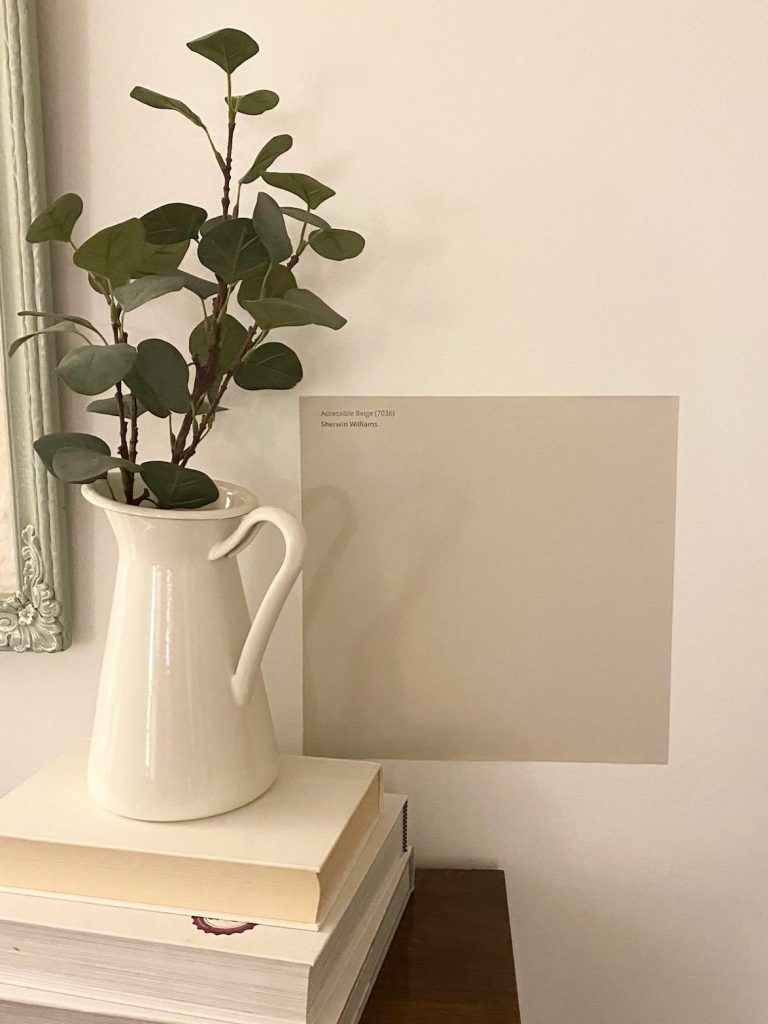 Oh, and you can have them in your home by tomorrow with OVERNIGHT shipping!
As a little tip, if you enter your email, you'll get $5 off your first order! Samplize sheets cheaper than a sample can of paint, and way less work!
Samplize sheets are truly the easiest (and fastest!) way to try a paint color in your home, with no mess.
Final Thoughts on Wall Colors for Kitchens
Painting your kitchen is a great way to update your space or just to make it feel more like home.
Popular kitchen colors include neutrals, reds, greens, yellows and blues. Hopefully this list will help you pick the perfect wall color for your kitchen!
Want to see all your paint options in one convenient place? Click here to get everything you need to start painting, including Sherwin Williams and Benjamin Moore paint color decks!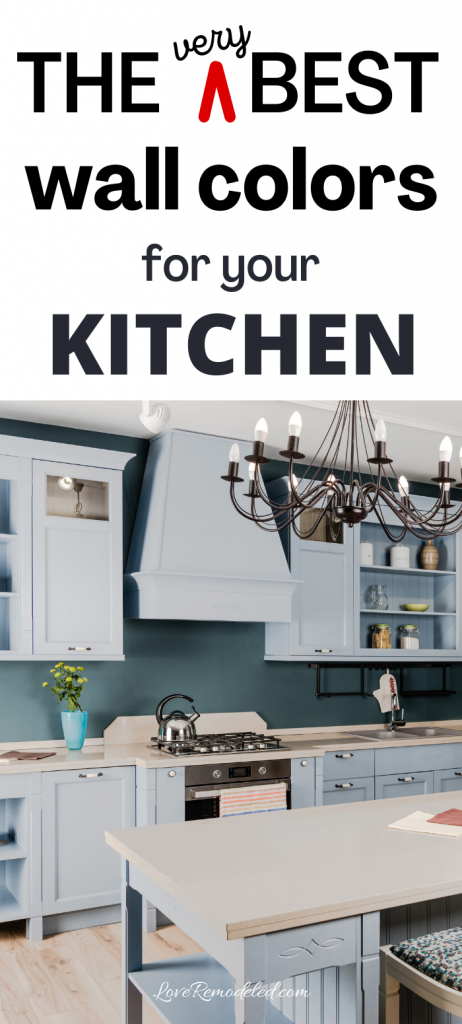 Have a question or want to show off your project? Join the discussion in Love Remodeled's Facebook group!