Choosing the right paint color can bring a tired room back to life, and can make an outdated kitchen with honey oak cabinets look updated.
Honey oak cabinets were so popular in the 90s.
If you had honey oak cabinets… you had arrived. But now, that orangey look is a bit outdated.
One way to really update your kitchen, even with those honey oak cabinets, is to paint it.
But selecting the right paint color can make the difference between having a kitchen that looks like it is straight out of the 90s, and having one that looks modern.
So how do you choose the right paint color for your honey oak cabinets?
Well, you need to start by making sure you understand the nature of honey oak cabinets. So let's talk a minute about that.
A note about color…
When choosing a wall paint color it is important to remember that honey oak cabinets bring more of a "color" to a kitchen than other wood cabinets.
And the color they bring is orange.
Your job in choosing a paint color is to pick one that downplays the orange, but also coordinates with it.
These paint picks, from Sherwin Williams, are a great place to start finding your perfect shade to pair with your honey oak cabinets.
This post may contain affiliate links. If you have any questions, please see my disclaimer page.
Here are 5 amazing paint colors to go with honey oak cabinets.
1. Steamed Milk (SW7554)
Steamed Milk, by Sherwin Williams, is one of my all time favorite paint colors. It goes with everything.
Steamed Milk has an LRV (light reflectance value) of 76. Sherwin Williams classifies it as a "light" color.
When you see Steamed Milk on your walls, it looks like a soft, creamy off-white. Since whites are really in style right now, this is a great color to pick!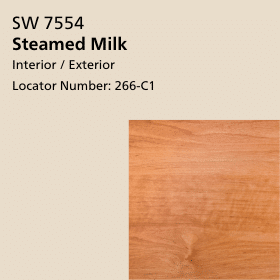 Several years ago, I moved into a home that not only had honey oak kitchen cabinets, but also had honey oak moulding.
I immediately painted the walls with Steamed Milk, and it was like a breath of fresh air. Here is a picture of the kitchen with Steamed Milk on the walls.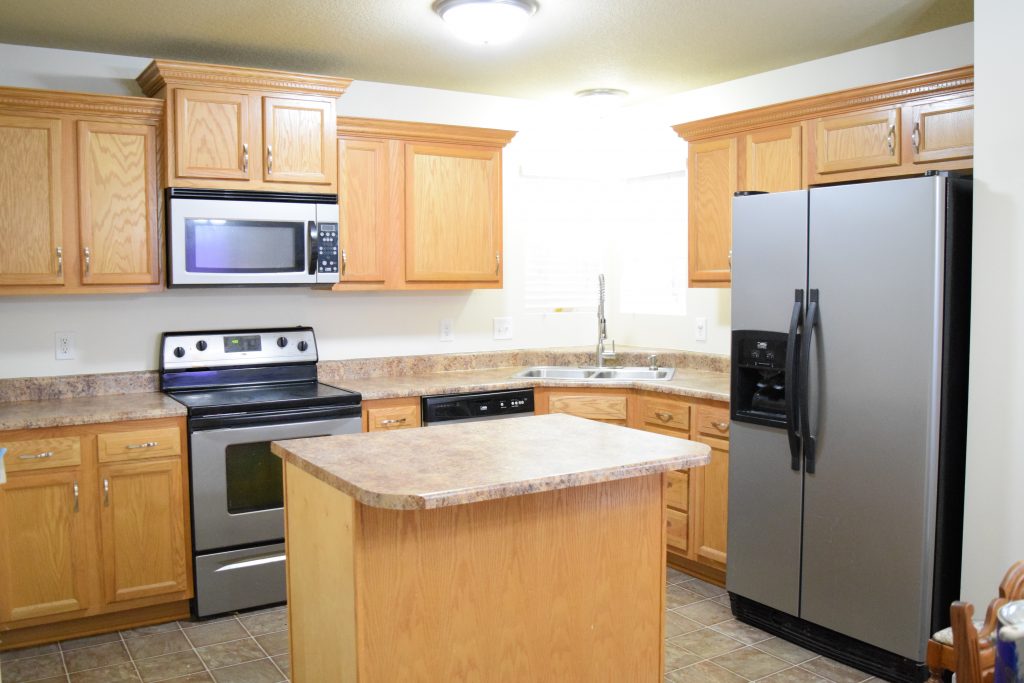 Steamed Milk, and other light creamy colors, are great choices to pair with honey oak cabinets if you want to moderate the tones in the wood.
Since cream colored paints have similar undertones to wood, choosing a paint color like Steamed Milk creates a cohesive look.
Additionally, selecting a wall color with tones that are similar to the tones in the honey oak will serve to neutralize the orange.
You end up with an overall warm look, instead of with lots of colors vying for your eye's attention.
In case you're interested, we updated this whole kitchen on a shoestring budget. Check out what we did and the after pics here.
2. Rainwashed (SW6211)
Rainwashed, by Sherwin Williams, is the perfect bluish green color to coordinate with your honey oak kitchen cabinets.
It has slight gray undertones in it that keep it from being too bright, but also has enough blue in it that it shows up as a true color on your walls.
This cool color will accent the warm tones in your honey oak cabinets and create a nice contrast to the rich orange hues.
In fact, a blue or blue green paint color is a complimentary color to the orange tone in honey oak cabinets, so each color works to accentuate the other color.
So a blue or blue green paint color won't downplay the orange in the honey oak, but it will complement it nicely, giving your kitchen a well put together look.
Rainwashed has an LRV of 59. While it is categorized as "light" by Sherwin Williams, I would consider it to be a light-medium shade.
Rainwashed has enough depth that it makes a statement in the room but doesn't make the room feel smaller.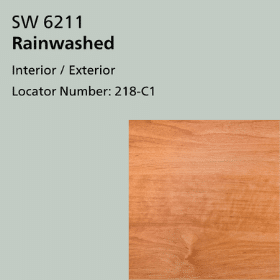 It is very similar to Sea Salt, one of Sherwin William's all time most popular colors.
Rainwashed is better with honey oak cabinets, though, because it has a little more blue in it than Sea Salt does, and accents the orange in the oak in a beautiful way.
Sea Salt is a gorgeous shade to pair with lighter, less orangy wood and darker wood tones though, so don't count it out completely! Find out more about Sea Salt here.
Rainwashed is such a pretty shade that, not only did I use it in my kitchen, I also chose it as one of the best blues from Sherwin Williams.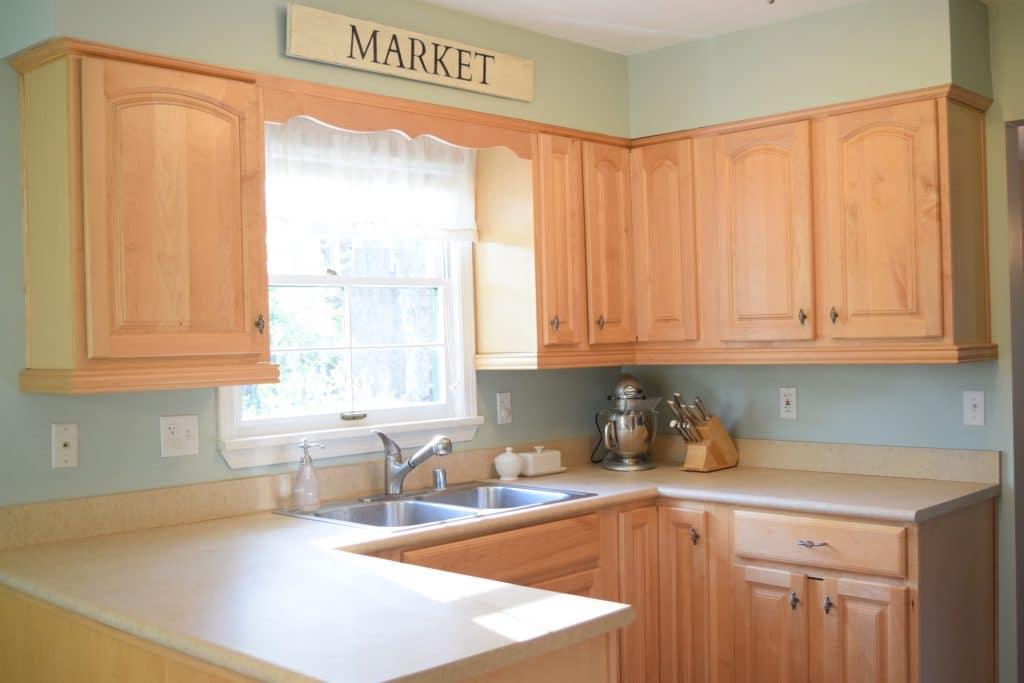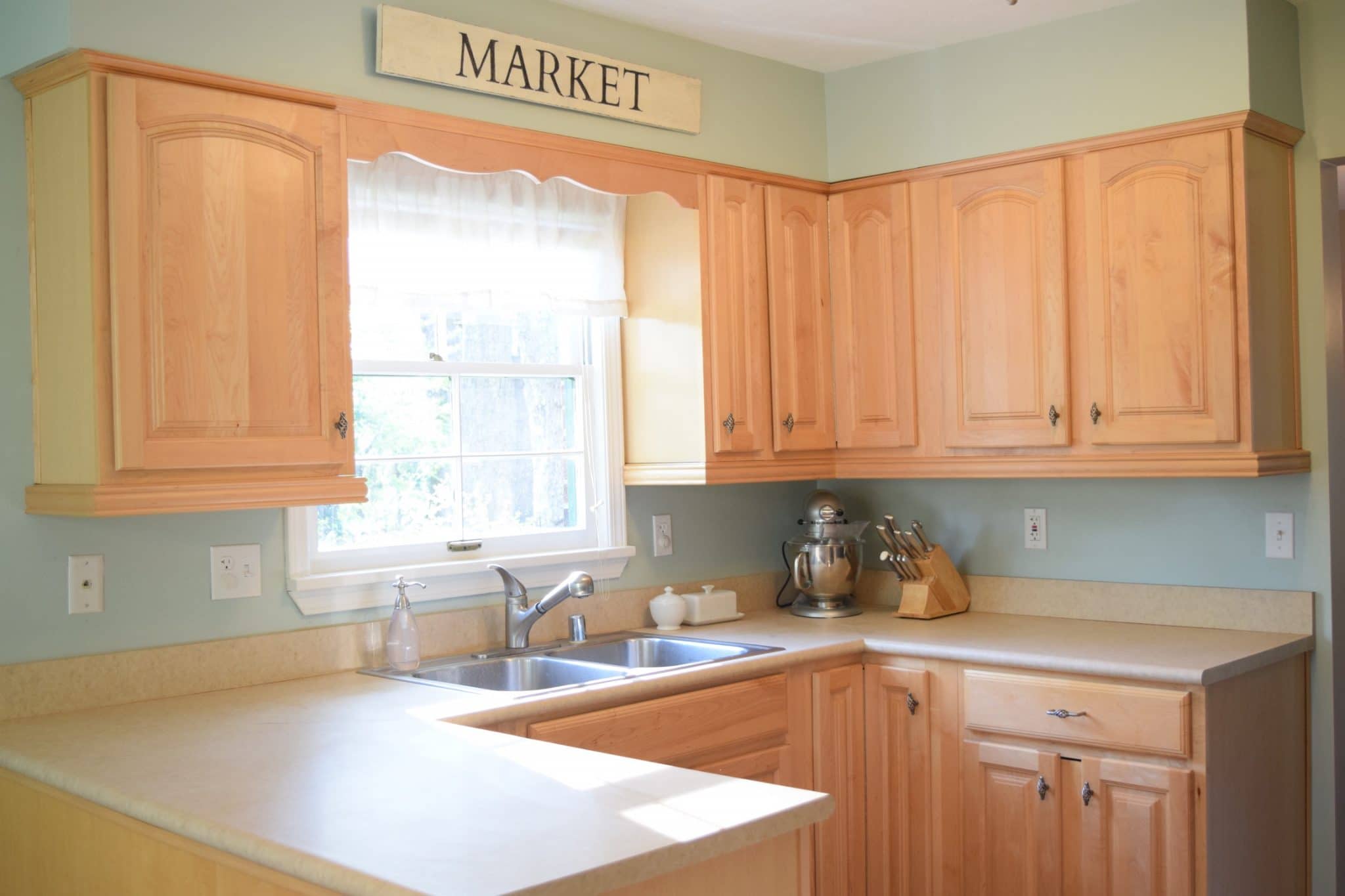 You can check out more about Rainwashed here.
3. Mint Condition (SW6743)
If you're looking for a green that has a little more pop, check out Sherwin William's Mint Condition paint.
This brighter green shade is another cool color that will accent your cabinets instead of tempering the colors in the wood like a warm color will.
Mint Condition has an LRV of 73, meaning that it has just slightly more depth than Steamed Milk. It is a light, but still bright shade.
If you're someone who likes a little bit of color on your walls, this shade will do the trick.
It is bright enough to make a statement but also subdued enough to blend easily with multiple types of decor.
4. Charcoal Blue (SW2739)
Charcoal Blue, by Sherwin Williams, goes great with honey oak cabinets.
In fact, any dark, almost navy blue will go great with your oak cabinets.
This blue, and all dark blues, are cool colors that will accent the cabinets.
The blue will act to accentuate the orange in the honey oak cabinets, and vice versa.
Charcoal Blue has an LRV of 6. This is a DARK shade!
If you have a kitchen with a TON of natural light or vaulted ceilings, this may be a good option for you.
If your kitchen doesn't have many windows, I would steer away from this shade.
This smokey dark blue color pairs so well with the orangey tone of the wood.
Click here for more details on Sherwin Williams Charcoal Blue.
5. Balmy (SW6512)
Balmy is an amazing light blue!
Balmy has an LRV of 66, and is a light color.
It has a little more depth than a powder blue, and almost feels like a SUPER light navy.
If you like the Charcoal Blue color, but don't want to go with a color that dark, this Balmy is a great pick for you.
It is also one of Sherwin William's top paint colors for beach homes and coastal style decor.
6. Accessible Beige (SW7036)
Sherwin William's Accessible Beige is a beige paint color that has slight gray undertones.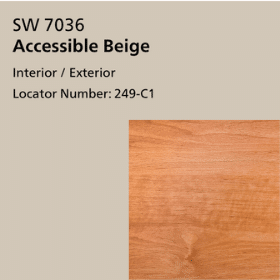 Accessible Beige has an LRV of 58, which is considered "light."
This beige is Sherwin Williams best selling beige because it is versatile and goes well with many styles of decor.
Since Accessible Beige is a warm shade, it will blend with the cabinets more than a cool color will, softening the look of the wood tones and creating a more cohesive feel to the space.
This warm shade is a good coordinating color for honey oak cabinets.
Since it is a neutral, it goes with most decor.
Against white trim, it is dark enough to make a statement.
Check out this post for all the details on Accessible Beige!
7. Mindful Gray (SW7016)
Mindful Gray is a warm greige paint color.
Greige paint colors are shades that are a mix of beige and gray.
Mindful Gray leans more towards gray, making it a good shade to pair with oak cabinets if you want to accent the color of the wood.
While it is a warm shade with purple undertones, it has enough gray in it that it won't blend with the cabinets.
Mindful Gray has an LRV of 48, which Sherwin Williams still classifies as "light." Don't be fooled though.
Mindful Gray is not really a light color. It should be reserved for a room with lots of windows or high ceilings.
Greige paint colors are super in style right now.
If you're looking to make your honey oak cabinets look more modern, Mindful Gray, or another amazing greige paint color, should be on your shortlist.
Click here for all the details on Sherwin Williams Mindful Gray.
Choosing the right paint color for honey oak cabinets makes all the difference.
Hopefully these paint colors will inspire you to paint your kitchen to really update the look.
Wondering how to pick the perfect paint color?
I have the best solution for you!
Samplize sells 9×14.75 stick-on paint sheets in almost every paint color.
These no-mess, peel and stick sheets are made from real paint, so they will show you exactly what the paint color will look like.
Simply place them on your walls next to your trim, furnishings or fixed elements, and easily see whether the paint colors work in your space and with your lighting. Then, peel the sheet right off your wall and reapply it somewhere else if you like!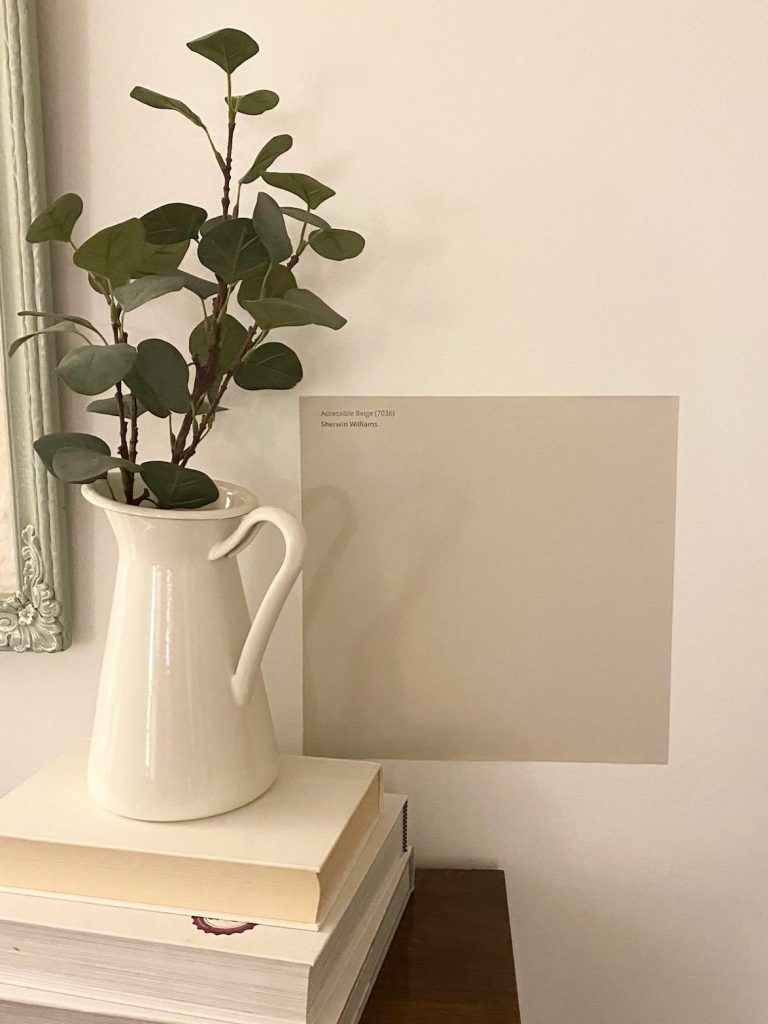 Oh, and you can have them in your home by tomorrow with overnight shipping!
As a little tip, if you enter your email, you'll get $5 off your first order! Plus, if you buy 8 samples, you get 2 more for free!
Samplize sheets are truly the easiest (and fastest!) way to try a paint color in your home, with no mess.
For some other paint colors that go with natural wood, check this post out!
Another easy way to update your honey oak cabinets is to change out the hardware.
Get rid of those gold pulls and knobs (which, in more modern styles, are actually back in fashion!) because they pull more orange into the kitchen when you have honey oak cabinets.
Instead, pick up some black or bronze knobs and pulls, as they help to neutralize the orange that your eye sees in the wood. Here are a Bronze Bar Pull and a Black Cup Pull to inspire you! I've personally used the Cosmas brand and they are a great quality product.
If you want to update your kitchen without replacing your honey oak cabinets, check this out!
Adding cabinets of a different color is a great way to compliment your current wood cabinets.
Having a two toned kitchen is called a "tuxedo" kitchen – and they are highly desirable. According to Zillow, homes with tuxedo kitchens can sell for as much as $6000 more than comparable homes.
Check out how I added gorgeous white cabinets on a wall in my kitchen, as an accent to my oak cabinets.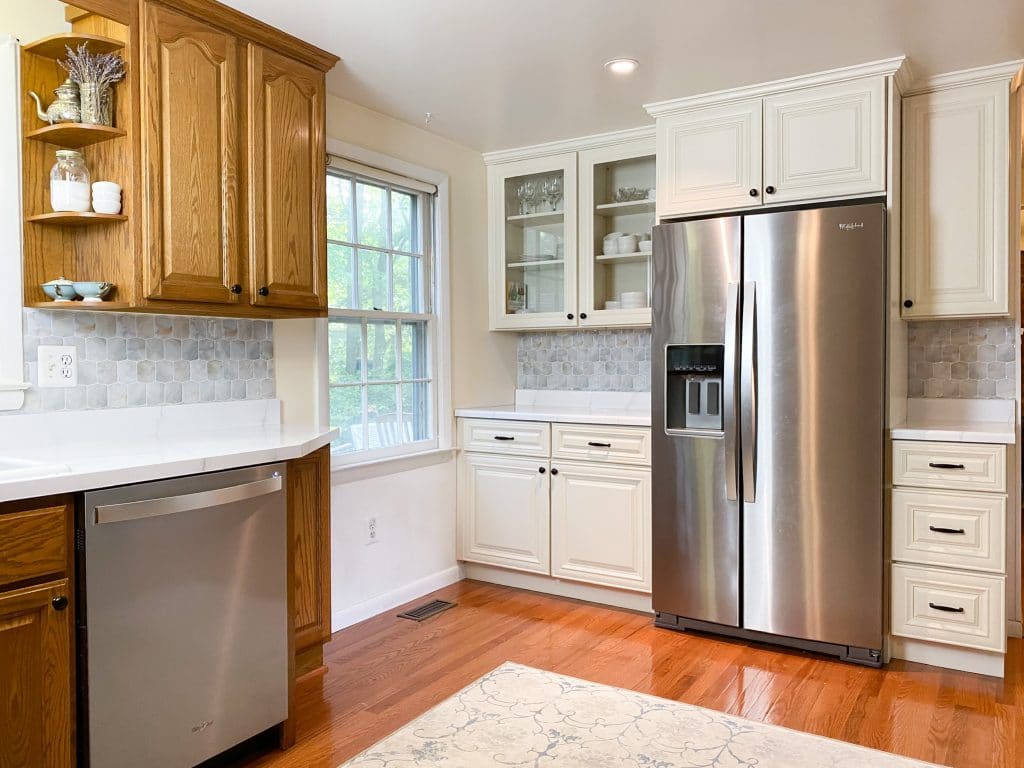 Other Resources to Help You Paint Your Kitchen
Before you start, make sure you choose the right paint sheen for your kitchen.
You need one that is both durable and scrubbable, since kitchen walls tend to need wiped up a lot more than other walls in your house.
Final Thoughts on Wall Paint Colors that Go With Honey Oak Cabinets
Choosing the right paint color to go with your honey oak cabinets is important in updating your kitchen, but it is most important to choose a color that you love!

Check out this list for even more kitchen paint colors!
I hope this list inspires you! And remember to check out the painting resources to help you as you go.
Pick up everything you need to paint your house!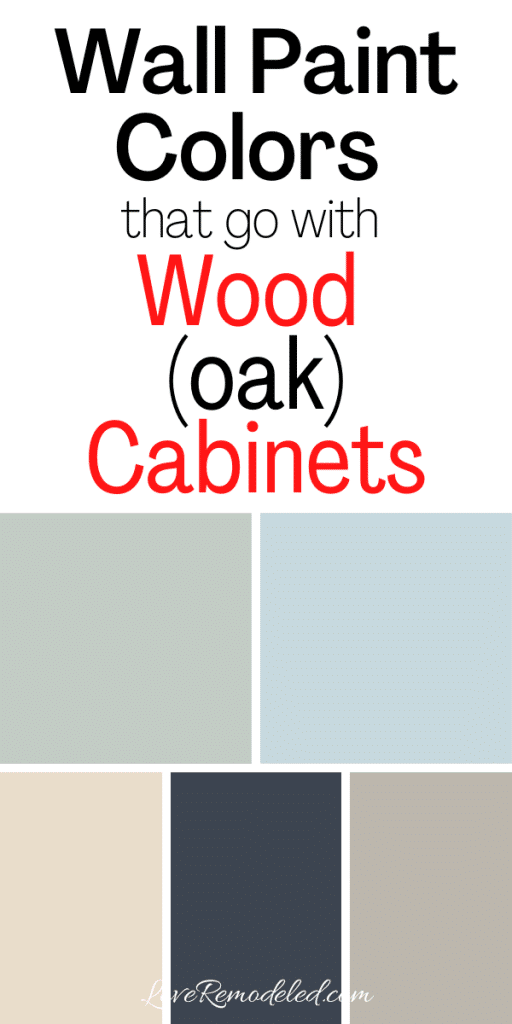 Wall Colors for Honey Oak Cabinets
Have a question or want to show off your project? Join the discussion in Love Remodeled's Facebook group here!
Need some help picking a paint color?
Pick up my 40+ page e-book, containing 30 of the hottest shades for 2022. These paint colors have been specially selected to help you choose from colors that are in style, and teaches you how to use them in your house!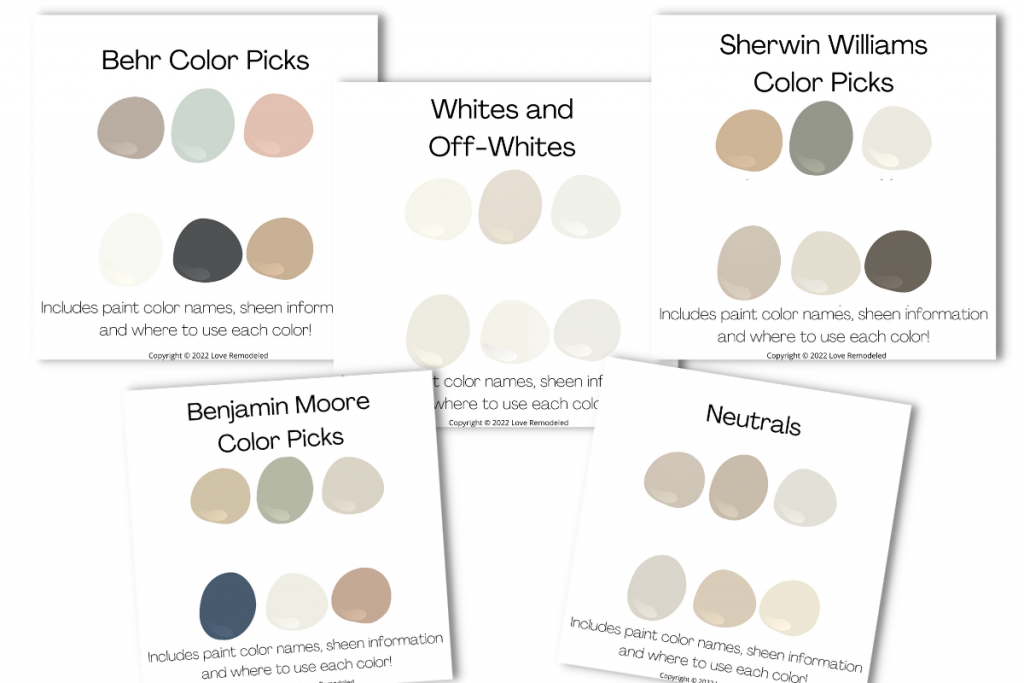 This 40+ page ebook contains:
a curated Sherwin Williams paint color palette
a curated Benjamin Moore paint color palette
a curated Behr paint color palette
the best white paint colors for 2022
the best neutral paint colors for 2022
PLUS a bonus section with my best painting tips!
Hurry! The 2022 Paint Color Palettes e-book is over 30% off right now!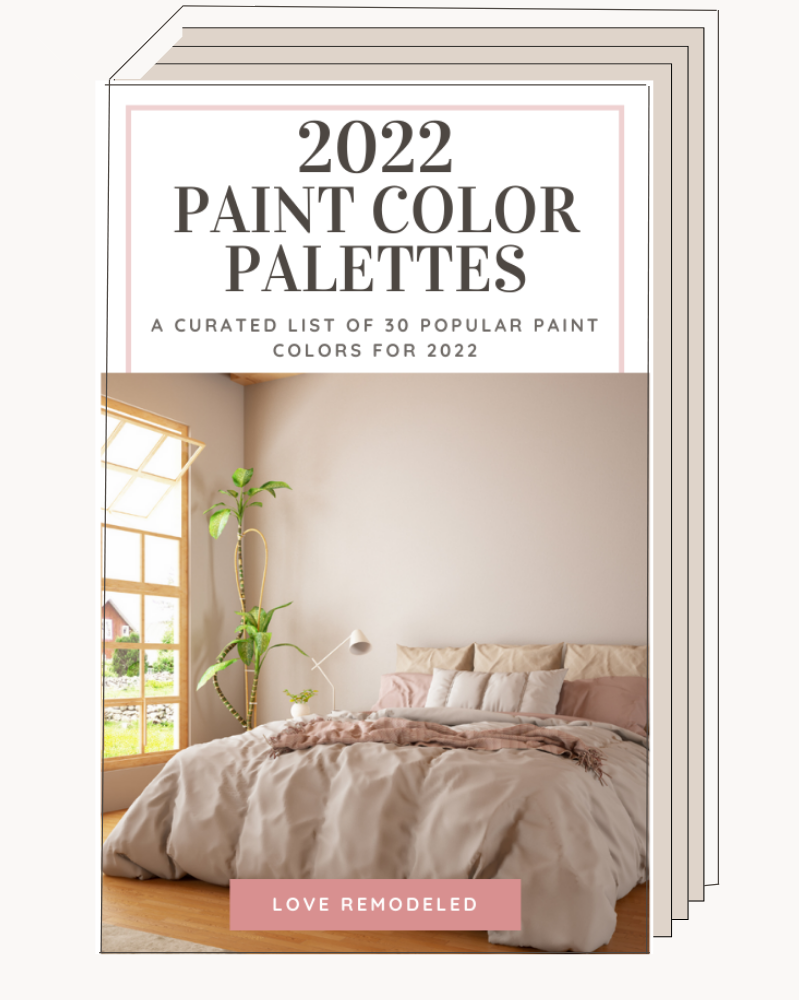 Buy Now – Over 30% off!