Sherwin Williams Amazing Gray (SW 7044) is a popular gray paint color. In fact, it is so popular that it is included in Sherwin Williams top 50 paint colors collection.
Amazing Gray is also a part of the Living Well Sherwin Williams color collection.
Let's discuss all the ins of this mature paint color, including colors that go with it and trim colors.
Amazing Gray Color Characteristics
Sherwin Williams Amazing Gray is a greige paint color. This means that it is a blend of beige and gray.
Greige paint colors are some of the hottest paint colors right now. They have been popular for years, and will continue to be popular because of their versatility.
Amazing Gray Undertones
As I said previously, greige paint colors have gray and beige in them and also a bit of other colors. These other colors are called undertones. Amazing Gray has a hint of green.
This green is not terribly noticeable when you look at Amazing Gray on a paint swatch though. It mostly looks like a warm brownish gray.
But, when you compare Amazing Gray to other greige paint colors, you begin to see that hint of green in it.
Amazing Gray LRV
Amazing Gray has an LRV (Light Reflectance Value) of 47.
With an LRV of 47, Amazing Gray is still considered a light color. But this light color is actually more of a medium light shade.
Because of this, Amazing Gray is not a great color for an all over the house shade. Meaning, you wouldn't want to paint your whole house in Amazing Gray.
This is because Amazing Gray is going to require enough light to look good. If your space is too dark, like a hallway or basement, it may make Amazing Gray look not so amazing.
Is Amazing Gray Warm or Cool?
Amazing Gray is a warm paint color. Like almost all other greiges, the beige in Amazing Gray gives it a very warm feel. And, since Amazing Gray is on the beiger side of greiges, it feels particularly warm.
But those green undertones serve Amazing Gray well. They help cool it down, making it feel a little bit more balanced than some other warm paint color.
Amazing Gray Color Strip
Amazing Gray shares a color strip with many other gorgeous Sherwin Williams paint colors.
For example, Worldly Gray is listed as right above Amazing Gray.
Intellectual Gray is another popular greige, and it is right below Amazing Gray on the color strip. And, Urbane Bronze, Sherwin Williams 2021 Color of the Year, is at the bottom of Amazing Gray paint strip.
We'll discuss Intellectual Gray and Worldly Gray more in a little bit.
Where Can I Use Amazing Gray
Amazing Gray is a good paint color for a living room, dining room, study, or bedroom.
Truly, it can be used anywhere in the house, as long as you have enough light to support it.
Amazing Gray can also be used on a home exterior.
Last, Amazing Gray is a good paint color cabinet if you want a neutral that isn't too bold.
Amazing Gray works well in farmhouse or traditional style homes.
Amazing Gray Coordinating Colors
Amazing Gray goes well with a lot of different coordinating colors.
In particular, Amazing Gray looks good with dark blues, whites, blue greens, and pinks.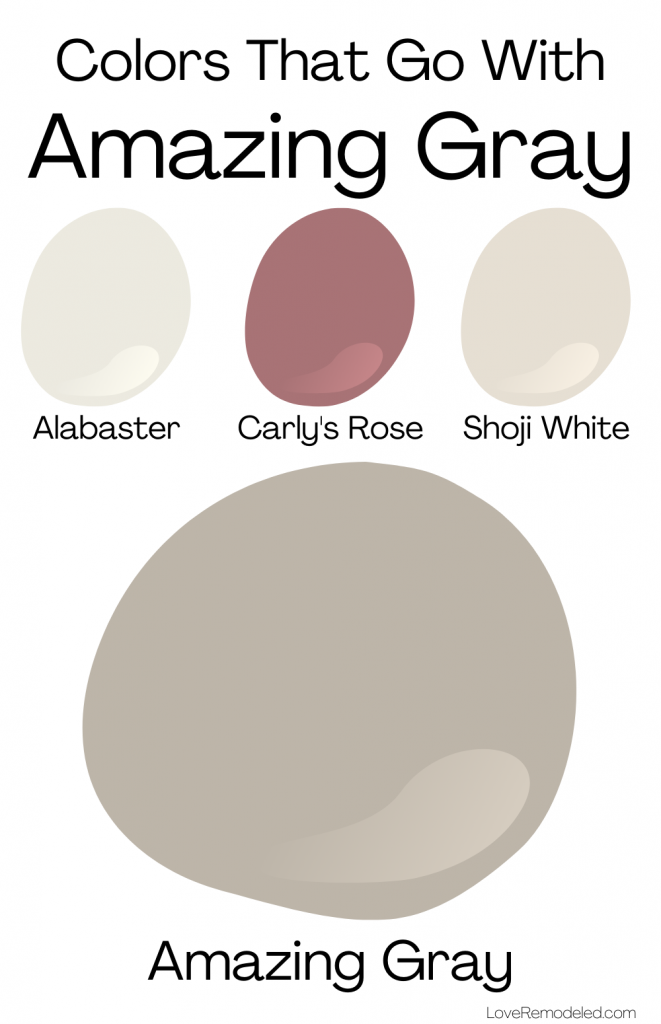 Sherwin Williams pairs Amazing Gray with Alabaster. It is an almost creamy white paint color that is extremely popular.
In addition, Amazing Gray coordinates with Shoji White, an off-white paint shade.
Last, Carly's Rose, a muted dark pink looks lovely with Amazing Gray.
Trim Colors for Amazing Gray
Amazing Gray is dark enough that it looks very nice with bold white trim.
In particular, I like to pair Amazing Gray with my two favorite white trim colors.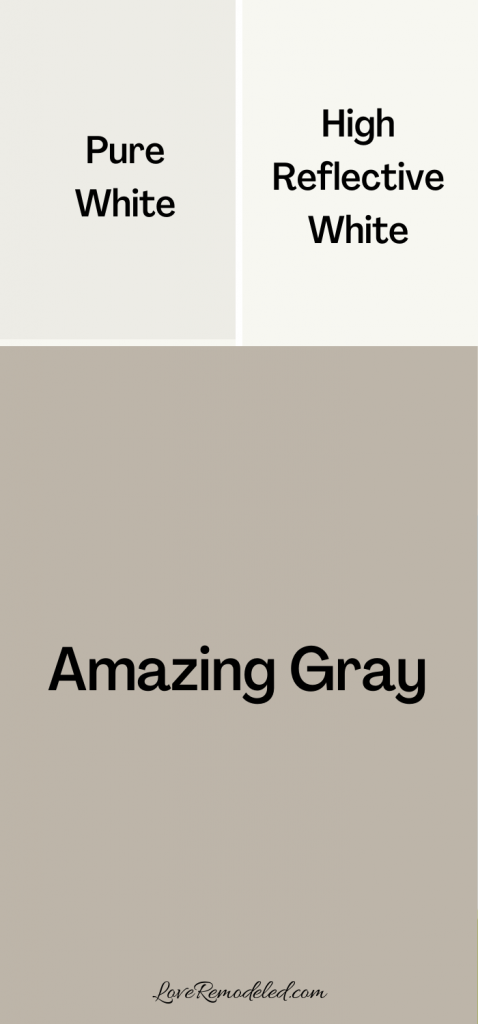 The first, is High Reflective White. It is a very clean, bright white paint color.
If you want white trim that isn't quite as stark, you may like Pure White.
Pure White is my go to paint color for trim.
It is clean and bright, but has just a hint of gray in it. This hint of gray keeps it from appearing to bright or too stark.
Amazing Gray Compared
When I do a full color review, I always like to look at the paint color and compare it to other paint colors.
Not only does this help us see the true undertones in a shade, but it also helps readers make a decision about which paint color is better for their space.
People tend to have a lot of questions about Amazing Gray versus other popular greige paint colors.
Here are the most common paint colors that readers are typically trying to decide between when they are considering Amazing Gray:
Amazing Gray vs Agreeable Gray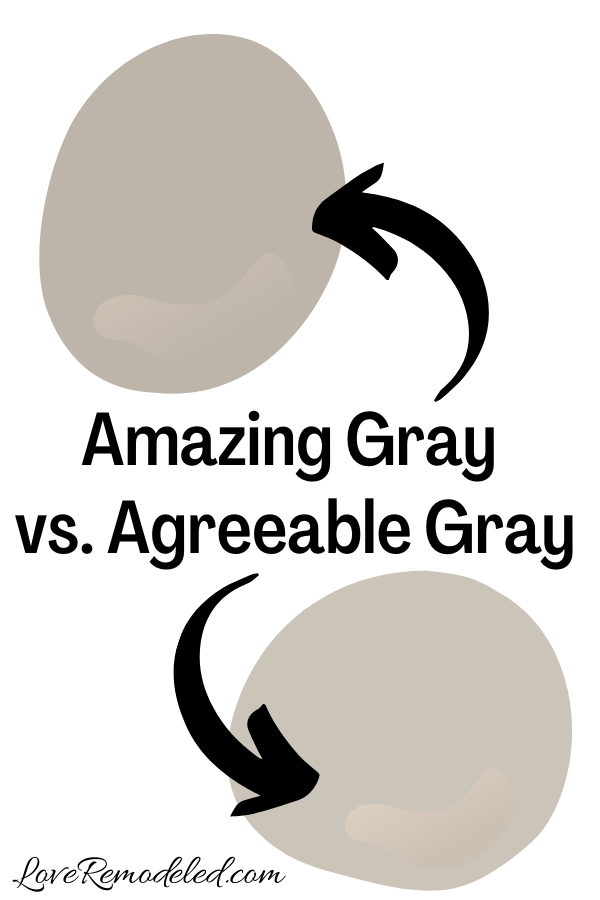 Agreeable Gray is Sherwin Williams top selling paint color.
It is a greige paint color that straddles the line between gray and beige very nicely.
Like Amazing Gray, Agreeable Gray also has green undertones.
But, Amazing Gray is a much darker paint shade than Agreeable Gray. And, Amazing Gray has a lot more beige or brown in it than Agreeable Gray does.
Overall, Agreeable Gray is probably the more versatile paint color. Because it is lighter, it can be used in more spaces. In fact, it is the anchor shade for my favorite whole house color scheme.
If you want a paint color that has a good amount of warmth and depth, I would recommend considering Amazing Gray.
But, if your room doesn't have a lot of light, or you want something that goes with anything, consider Agreeable Gray.
Amazing Gray vs Mindful Gray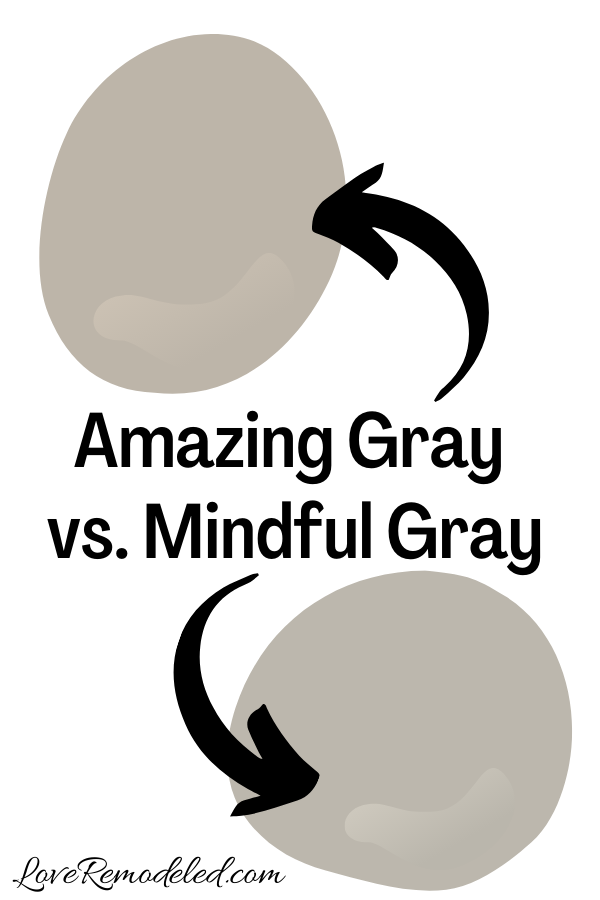 Mindful Gray, by Sherwin Williams, is a second popular greige paint color.
Overall, the paint colors are fairly similar.
Amazing Gray and Mindful Gray have almost identical LRVs, and will feel about the the same weight on your walls.
But, even though they are both warm greiges, Mindful Gray feels a hint cooler than Amazing Gray does. This is because Mindful Gray has some blue-green undertones that make it a bit cooler than Amazing Gray.
When you compare the two together, Mindful Gray looks more gray, and Amazing Gray look more beige.
Which one will go better in your space is going to take some sampling to figure out.
If you're between these two paint colors, I would definitely recommend picking up a sample can or a Samplize square (more on that later) to figure out which is going to be better with your furnishings and fixed elements.
Click here for a full color review on Mindful Gray.
Amazing Gray vs Anew Gray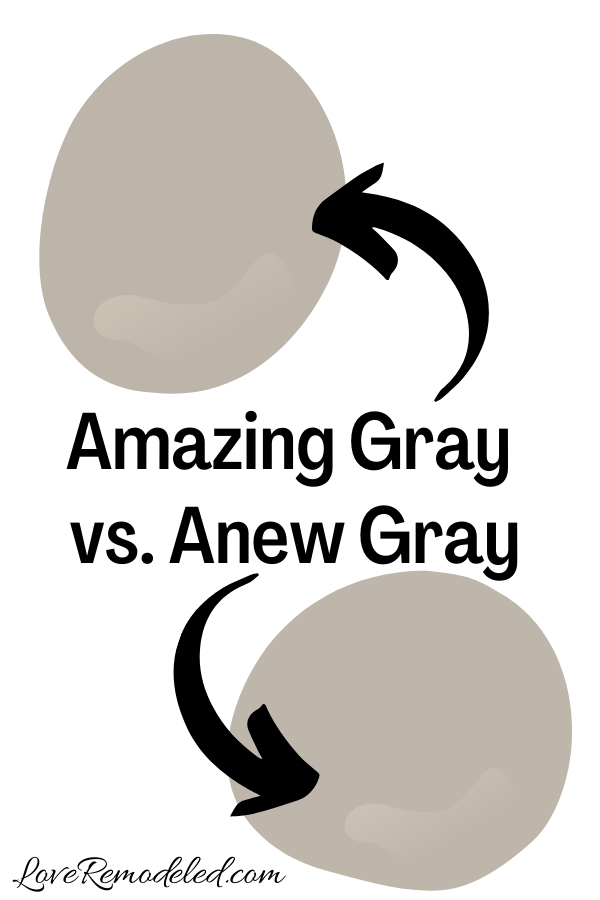 If you're considering Amazing Gray, you're probably also considering Anew Gray. Anew Gray is another popular greige paint color. It shares a color strip with Agreeable Gray.
Anew Gray and Amazing Gray are very similar. Similar LRVs, similar depths. But, Anew Gray has a (very faint) purple undertone.
Like Mindful Gray, this would be another good paint color to grab a Samplize square of to see whether Anew Gray or Amazing Gray works better in your space.
Click here for a full color review on Anew Gray.
Amazing Gray vs Repose Gray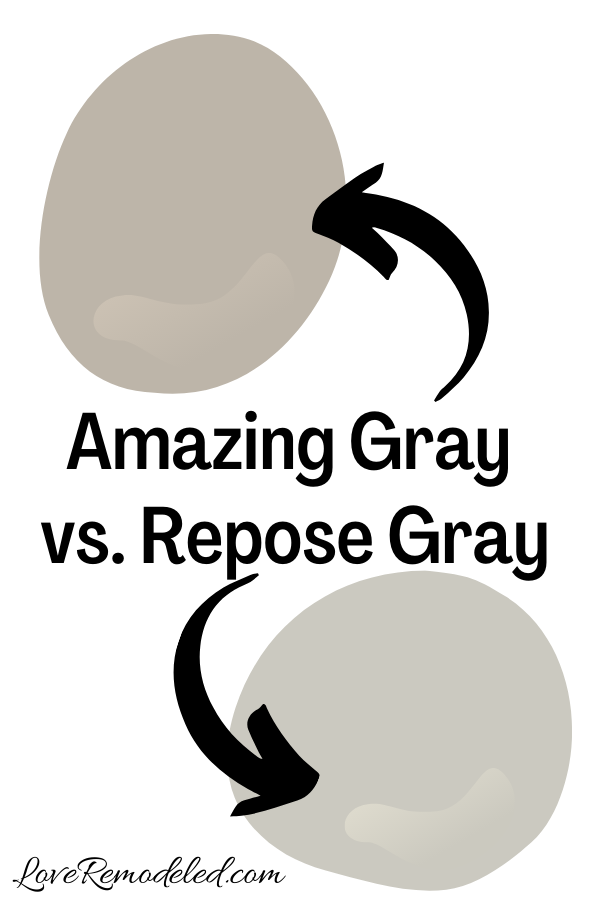 Repose Gray is another super popular greige paint color by Sherwin Williams.
It tends to be a bit cooler than Amazing Gray though, while still being a warm greige.
Repose Gray is a lighter paint color than Amazing Gray, and because of this, is a bit more usable.
When you compare Repose Gray and Amazing Gray together, Repose Gray looks much more like a true gray (though it is a greige) and Amazing Gray looks more like brown (though its also a greige).
If you have a room with a lot of cool Northern light, Amazing Gray may warm up the space nicely and will probably look more like a greige when its on the walls than Repose Gray will.
Click here for a full color review on Repose Gray.
Amazing Gray vs Worldly Gray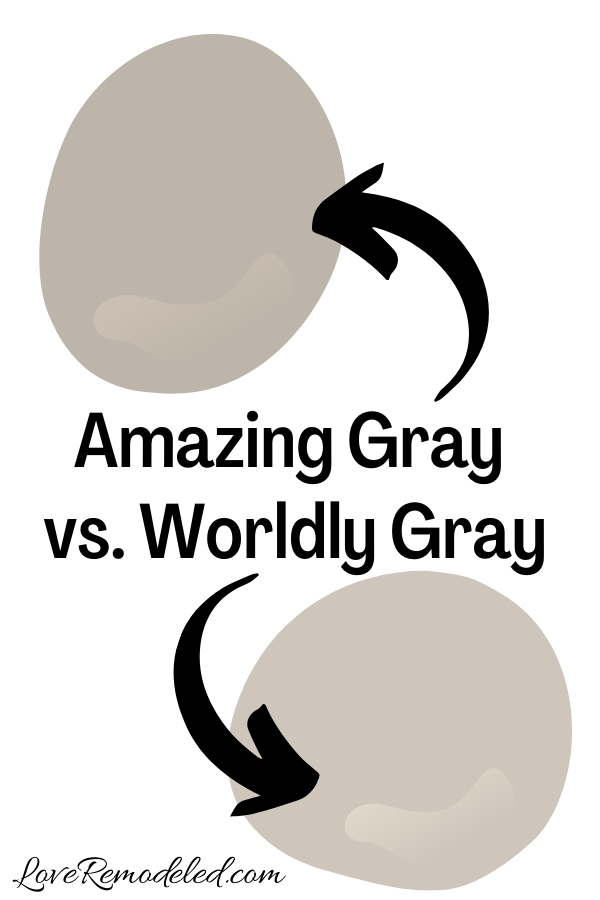 Worldly Gray shares a paint strip with Amazing Gray. In fact, it is the paint color right above it.
Some people say that this means that Amazing Gray and Worldly Gray are the same color, one is just lighter than the other.
This just isn't true with all Sherwin Williams paint colors that share a color strip though. Colors on the same strip tend to be in the same family, but they can vary in their undertones.
But, Worldly Gray and Amazing Gray are actually very similar shades. Worldly Gray looks a bit more beige and Amazing Gray has a bit more brown in it. but both have that green undertone.
If you love these shades, and want a color with more depth, go with Amazing Gray. If you need a lighter shade because you have less natural light, go with Worldly Gray.
Click here for a full color review on Worldly Gray.
Amazing Gray vs Intellectual Gray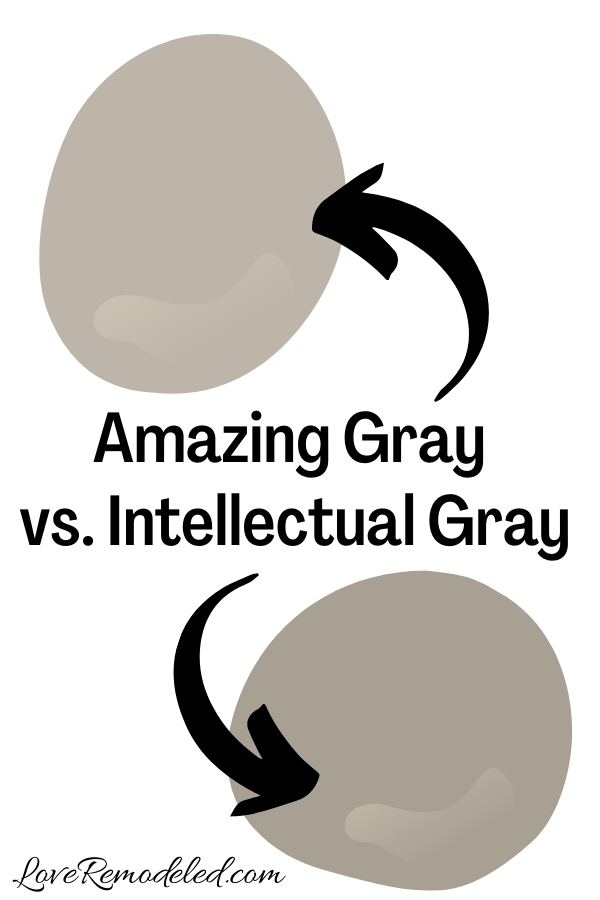 Intellectual Gray is the paint color that is one down from Amazing Gray on the color strip.
Intellectual Gray is a similar greige to Amazing Gray, but a bit darker. It is firmly in the medium range of paint colors.
It has a lot of depth to it, and would be a paint color that I would probably reserve for an accent color or a shade in just one, well lit room in the home. It would also be a good exterior or cabinet color.
So, in this way, Intellectual Gray just isn't as useable as Amazing Gray.
Both are great colors, but if you're looking to paint a room in your house a gorgeous greige, I would probably go with a lighter greige than Intellectual Gray.
Amazing Gray vs Revere Pewter
Revere Pewter is a long time Benjamin Moore favorite paint color. It is still a very popular greige shade. But, this greige favors beige more than gray.
Revere Pewter is actually a pretty similar paint color to Amazing Gray, just a little bit lighter. This makes it a really usable, versatile paint color.
Like Amazing Gray, it also has green undertones.
If you like Amazing Gray, but want a lighter paint shade, Revere Pewter might be a great choice for you.
Click here for a full color review on Revere Pewter.
If you stuck with me through all those paint color comparisons, let's chat for a minute about how to be sure which greige is right for your home.
Wondering How To Pick the Perfect Paint Color?
I have the best solution for you!
Samplize sells 9×14.75 stick-on paint sheets in almost every paint color.
These no-mess, peel and stick sheets are made from real paint, so they will show you exactly what the paint color will look like.
Simply place them on your walls next to your trim, furnishings or fixed elements, and easily see which paint color works best in your space and with your lighting.
Then, peel the sheet off your wall and reapply it somewhere else if you like. You can try several different paint colors with no mess, no fuss and no cleaning paint brushes.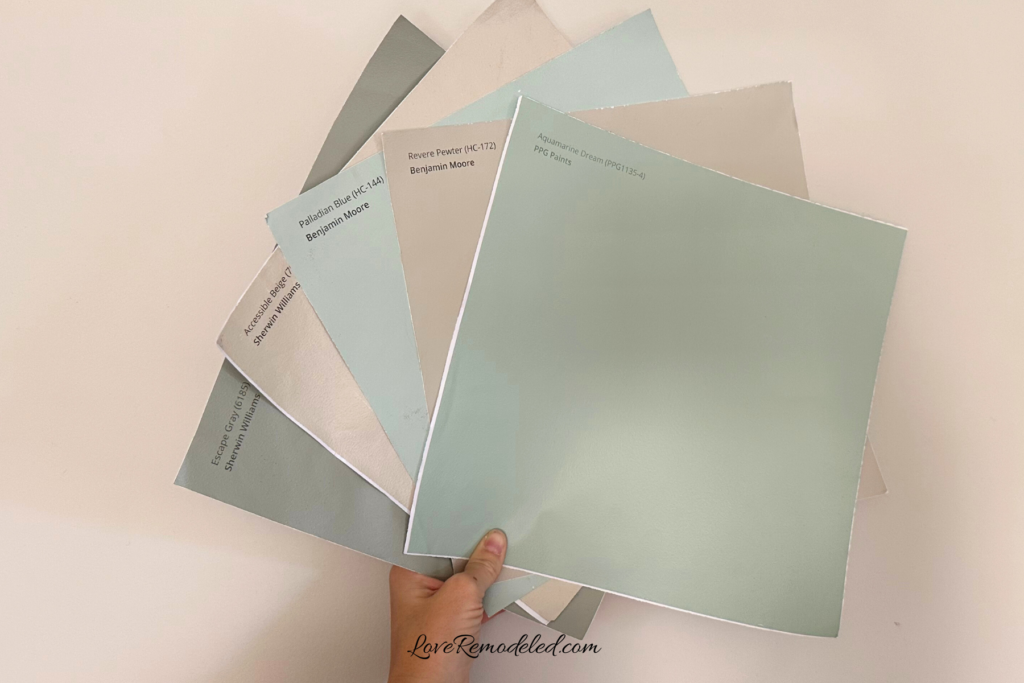 Oh, and you can have them in your home by tomorrow with OVERNIGHT shipping!
As a bonus, be sure to use the code LoveRemodeled10 at check out to get an extra 10% off! Samplize sheets are cheaper than a sample can of paint, and way less work.
They are the easiest (and fastest!) way to try a paint color in your home, with no hassle.
Final Thoughts on Amazing Gray
Amazing Gray is a beautiful greige paint color that goes well with white trim and plays nicely with creamy neutrals. This makes it a great paint color for a farmhouse or traditional style home.
Amazing Gray has a bit of depth to it, so while it isn't the best all-over-the-house paint color, it can give the right room a really saturated look.
If you want a sophisticated greige paint color, consider Amazing Gray!
Want to see all your paint options in one convenient place? Click here to get everything you need to start painting, including Sherwin Williams and Benjamin Moore paint color decks!
Have a question or want to show off your project? Join the discussion in Love Remodeled's Facebook group!