When hanging curtains, it is important that the curtains are the right length. Curtains that are too short make the room look short, stubby and awkward. The cut the length of the wall, making both the window and the room look smaller.
Curtains that are the right length cause the room to feel spacious and intentional, and make the windows look bigger.
How Long Should My Curtains Be?
The right length for curtains can vary, but there are three "best practices."
Curtains can either:
1) hang just above the floor (within an inch of the floor)
2) graze the floor (JUST touch or kiss it)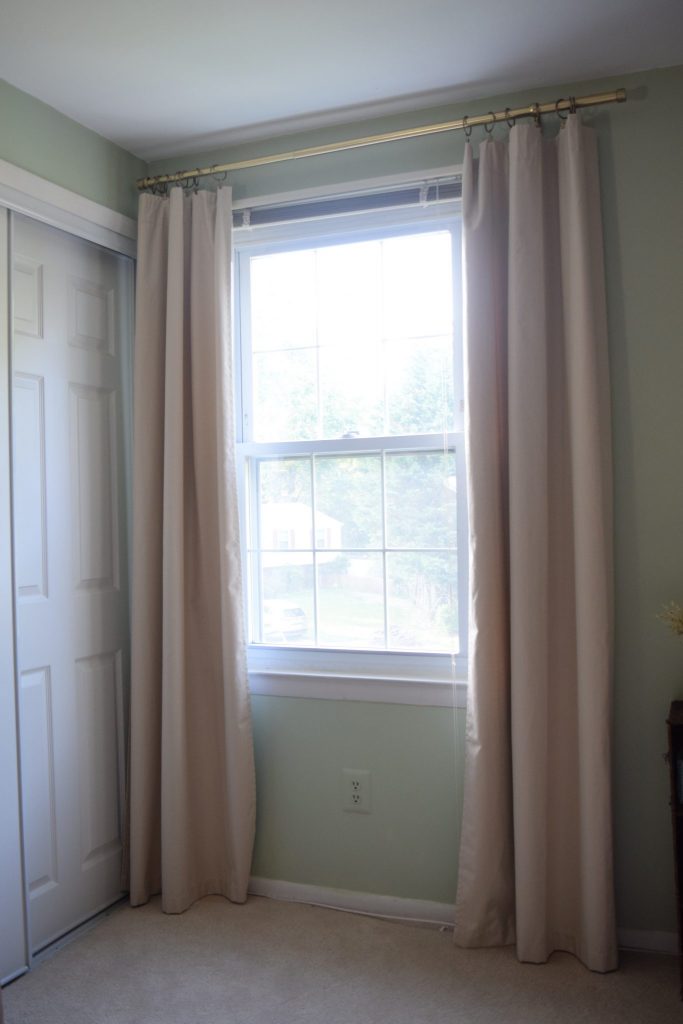 3) puddle on the floor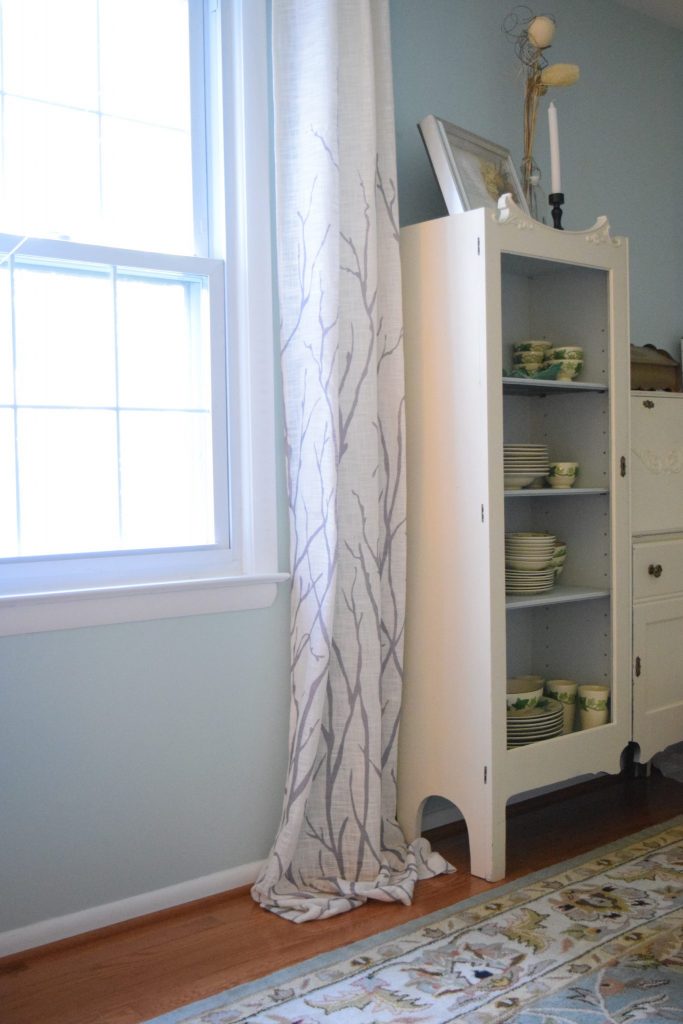 The first two options don't really change the look of the room that much, so, to be honest, I don't really pay too much attention to whether my curtains are an inch off of the floor or touching it.
But the MOST custom look is option 2, grazing the floor. This make it look like a professional designer came in and made curtains exactly for the room.
If you can't get them this perfect, don't stress. No one will notice if your curtains graze the floor or hang less than inch above the floor.
The last option, curtains that puddle on the floor, is a really decadent, lush look. It is gorgeous, but probably not going to be accomplished by doing one of the lengthening methods I'll discuss here.
This post may contain affiliate links. If you have any questions, please see my disclaimer page.
Standard Sizes for Curtains
According to Curtainworks, curtains come in lengths of either 63 inches, 84 inches, 95 inches or 108 inches. While the industry standard provides a lot of options for your curtain lengths, sometimes you need a curtain that is a little longer than one of the options.
There are several reasons why your curtains may be too short.
Maybe you just moved, and your current curtains fit the old windows, but not the new. Maybe you've recently read that curtains should be hung HIGH and WIDE, and you're trying to update the placement of your current curtain rods. Or maybe you bought curtains that fit your budget, but are just a bit too short for your windows. Unfortunately, curtains can be expensive, and the cheapest options are almost always shorter. All of these scenarios have applied to me at one time or another.
So lets get to making our curtains longer.
How to Lengthen Curtains That Are Too Short
There are two easy ways to lengthen curtains that are not long enough. You can do either, if you just need your curtains to be a little bit longer, or both, if you need to add a lot of inches to your curtains. I'll start with the easiest.
Buy Curtain Rings
Curtain rings can add several inches to your curtains, giving you the length you need to have your curtains reach the floor (or just above it).
Buying curtain rings can be expensive if you get them at a regular store. Thankfully, Amazon has some super great options that are cheaply priced but still well made.
I just recently bought these curtain rings, to go with my new curtain rods. With gold coming back in style, I wanted to update my room with some gold touches, and this was the perfect way to do it.
If you look on Amazon, you'll see that many of the curtain rings come in either 1.5 inches or 2 inches. I choose the 2 inch rings for a tiny smidge of extra length on my curtains. Also, make sure to check out how wide your curtain rods are, because these rings need to fit on the rod easily.
When using these clips, you will put the ring on the curtain rod (after taking the finial (the ball or decorative end of the curtain rod) off, and hang the curtain panel from the clip. You'll want at least 7 clips on each panel, maybe more if the panel is super wide. You will also want to make sure you put an odd number of clips on, for spacing purposes.
If you're using 7 clips, put on clip on each end of the panel, one in the middle, and the other two in between the end and middle clips. Do the same for the other panel.
Then, reattach the finial and hang the rod on the mounts.
Is your curtain long enough?
Yes – perfect! What a super easy fix, that adds some style to the room!
No – thats okay! I have another easy fix for you.
Redo the bottom seam.
This sounds a lot scarier than it actually is.
The bottom seam on curtains is usually a large edge of fabric that is folded over (Fold 1), and then a smaller amount of fabric folded and sewn (Fold 2). The trick is to undo the seam, and create a new seam where the small amount of fabric is folded over. Sounds confusing, so let me show you what I mean.
This is how the bottom of your curtains probably look. See how the fabric has two folds in it?
You are going to undo the seam (the stitches where Fold 2 is), with a seam ripper. Then, open Fold 1 so that there is only one fold left in the fabric. This will leave the fabric with only Fold 2 in it and no stitches.
Now, there are actually two methods that you can redo the bottom seam where Fold 1 is at.
Method 1 to Increase the Bottom Edge of ShortCurtains
The first is to sew it. If you have a sewing machine, you can just run a straight line of stitches along the fabric and, voila! You've lengthened your curtains by several inches.
If you don't have a sewing machine, don't worry. This isn't a sewing tutorial and you don't need to purchase a sewing machine to add length to your curtains.
Method 2 to Increase the Bottom Edge of Short Curtains
Instead, you need to get some Stitch Witchery. It is a ribbon like roll of a type of fabric tape. Roll it out in between the two pieces of fabric. Then, heat up your iron and press the area where you placed the Stitch Witchery. It'll fuse the two pieces together!
Stitch Witchery is awesome, and holds up to handling and washing. I've actually used it in the past to make pillow covers that have survived years of abuse from my children.
While you have your iron out, make sure to press out the original fold line, so your curtains hang nicely.
So, now you've successfully lengthened your curtains by redoing the seam at the bottom.
Conclusion
With adding curtain rings and lengthening the bottom edge of your curtains, you can add several inches on length to your short curtains.
Remember those short blue curtains from the first picture?
Check out how much length I was able to add by attaching curtain rings and redoing the bottom seam!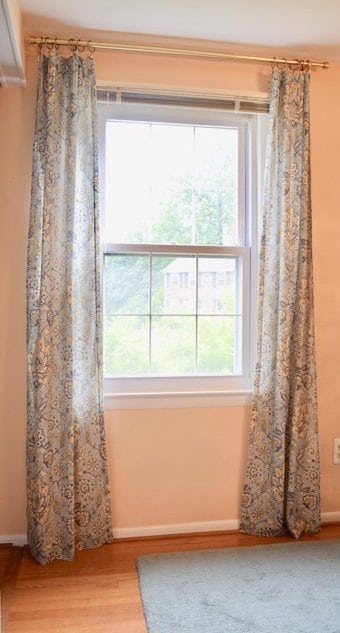 If you've taken a look around Love Remodeled before, you may notice that the wall colors are not part of my whole house color scheme. We've recently purchased a new home and haven't gotten to the painting stage yet. Stay tuned for how we update this lovely 1970's home!
Hopefully, these two methods are enough to increase the length of your curtains to where they are either just above the floor, grazing the floor, or puddling the floor, depending on your preference.
If you want to know how to hang your curtains perfectly on the first try, check this page out! It'll show you how to make a template so you drill the hole in the correct place.
Drop me a note and let me know how they work for you!
Pin this post for later!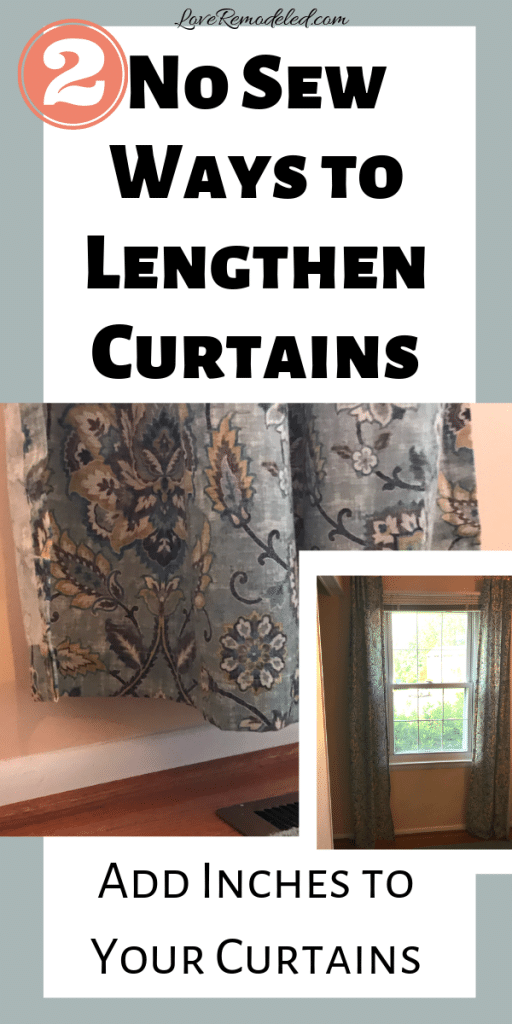 Curtains Too Short? 2 Easy Ways to Lengthen Curtains