Wood trim can be a very beautiful accent in a home. It lends a rich, organic feeling to a space, grounding it in a way that white painted trim doesn't.
Wood trim typically comes in four different shades: blonde, medium brown, honey and dark brown.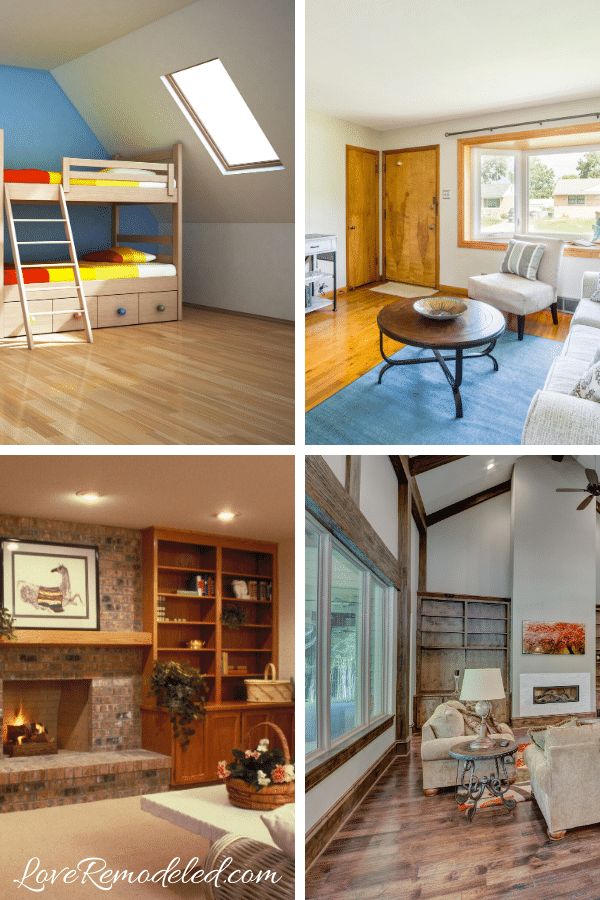 Each shade is beautiful in its own right.
Blonde colored wood (top left) has made a recent comeback in modern home design. It is commonly accented by pastel paint colors.
Medium colored wood (top right) can be easily paired with a variety of furnishings and colors.
Honey colored wood (bottom left) was popular in the 90s, and was used for trim and kitchen or bathroom cabinets. Of all the wood colors, this one tends to present the most challenges when choosing a wall paint color.
Dark colored wood trim (bottom right) was very common in the early 1900s and tends to bring a feeling of richness to a room.
Finding modern paint colors that coordinate with wood trim can be difficult for many homeowners. In fact, one of the questions I get asked most frequently is…
What Wall Colors Look Good With Wood Trim?
This is a great question and it shows two things.
First, it shows that wood trim is still very prevalent in homes, and many people choose to work with it instead of painting it.
Second, it shows that it can be difficult to find the right paint colors to coordinate with wood trim. This is because wood trim has more noticeable undertones that you need to work with. Wood carries naturally warm tones that go well with certain colors.
When you have wood trim, you have three options:
First, you can accentuate the warmth of the natural trim color by pairing it with a warm paint color. For example, a red, yellow, pink or beige wall color will highlight the wood tones.
Second, you can tone down the warmth in the wood trim by contrasting it with a cool paint color. This could be done by pairing it with a gray, blue or green wall color.
Last, you can compliment your wood colored trim by setting it against a neutral paint color.
There is not right or wrong answer to whether you should accentuate, tone down or compliment your natural wood trim. Instead, this is a matter of preference and the mood you're going for in the room.

A word of caution though: while popular colors in home design change frequently, cool colors are usually favored. This means that unless you love the warmth of the wood and don't mind choosing a color that may not be the most trendy (ex. orange, red, or even yellow), you probably don't want to accentuate the wood color.
This post may contain affiliate links. If you have any questions, please see my disclaimer page.
Best Paint Colors for Wood Trim
Here are some gorgeous paint colors for natural wood trim.
Wood Trim with White Wall Paint
White paint is hugely popular right now. This neutral can go with any home style or decor choice, and brightens up a dark space.
For a white paint that will go well with wood trim, you will want to choose a white that has warm undertones. This means that the undertones will favor beige or yellow, and not blue.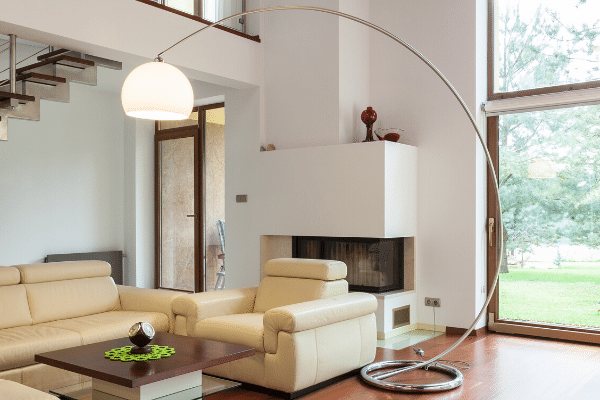 You can see that the white paint in this picture is a pretty pure white, but leans more yellow than blue. It sets off the dark wood trim nicely, providing contrast and visual interest to the space.
If you want to paint your wood trim with white paint, check out Sherwin Williams Roman Column or Sherwin Williams Alabaster.
Wood Trim with Cream Wall Paint
Cream colored paint is a slightly warmer variation of white paint, and will not appear as stark against the wood trim. Cream paint starts with a white base, but adds in tones of yellow, red or brown.
A cream paint color can go with all variations of wood trim, including blonde wood, medium colored wood, honey colored wood and dark wood trim.
My favorite cream paint color to pair with wood trim is Sherwin Williams Steamed Milk. It has a yellow undertone, but does not look yellow on the walls. Instead, it looks warm and inviting, and accents the wood color of trim nicely.
I feature Steamed Milk in my whole house color scheme because it is so versatile. I used it with the original honey colored trim that the home had (before I painted it white).
Wood Trim with Beige Wall Paint
Another warm option for a wall color that goes well with wood trim is a true beige. Beiges have brown undertones, making them a perfect option for pairing with all types of wood trim.
A true beige paint color is not the most trendy paint choice right now, but a beige with some gray in it, such as Sherwin Williams Accessible Beige is one of the top selling paint colors.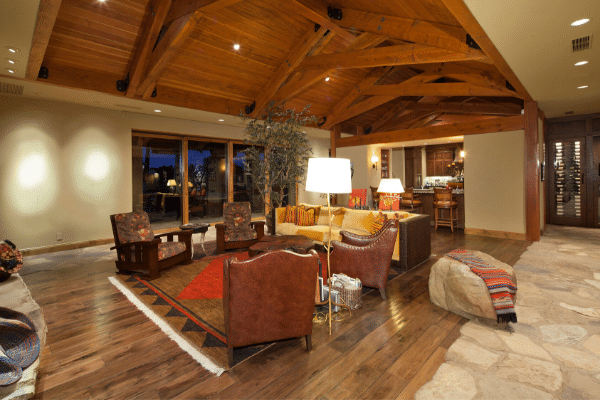 If you like a beige paint color like the one shown in the picture above, check out Sherwin Williams Maison Blanche.
Wood Trim with Yellow Wall Paint
Yellow wall paint is a great color to pair with wood trim because it echos the warm tones in the wood.
Yellow is a sunny, welcoming color that can be restful when displayed in pale shades or exciting when it takes a more vibrant hue.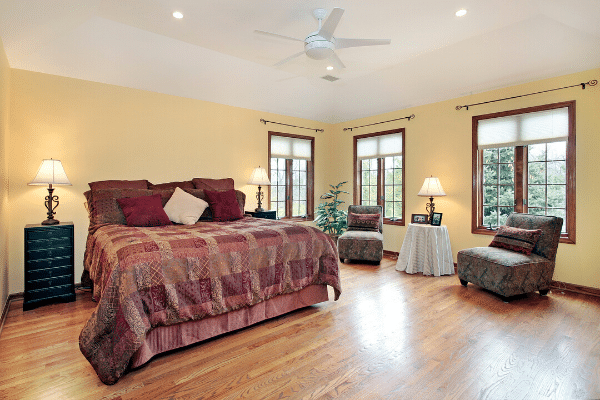 If you like the pale yellow in the picture above, check out Sherwin Williams Friendly Yellow. This muted yellow will work well in a bedroom, bathroom or kitchen.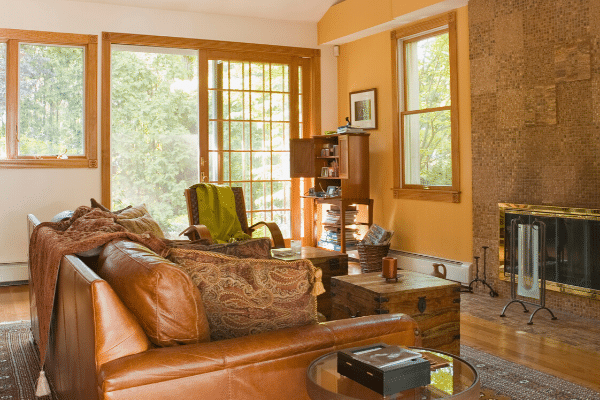 In this second picture, you can see how the warm orange tones in the wall color accentuate the honey color in the wood trim. Paired with warm brown leather and wood furniture, this picture highlights how honey colored wood can be accented with other warm browns and oranges colors to create a beautiful color palette.
For a yellow wall paint with a bit more depth, and more orange tones, Sherwin Williams Brittlebush is a good option.
Wood Trim with Gray Wall Paint
Gray paint has had a big moment in recent years. While cool grays were very popular several years ago, warm beige-grays (greiges) are the colors that top the paint charts now.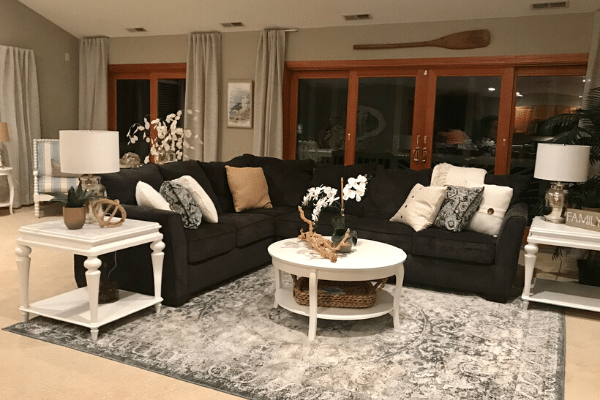 Sherwin Williams best selling paint color is Agreeable Gray, followed closely by Repose Gray. Both are beautiful grieges that will go nicely with wood colored trim. Check out this link for other great greige paint colors!
Choosing a greige or gray paint color is a great way to tone down the natural wood trim and give the room a more current look.
Click here for a list of all of Sherwin Williams best selling colors.
Wood Trim With Blue Wall Paint
Blue wall paints are perfect choices for a home with wood trim. Many different shades will go nicely, ranging from a pale blue to a navy.
Light blue is a perfect choice for a bedroom or living room with wood trim.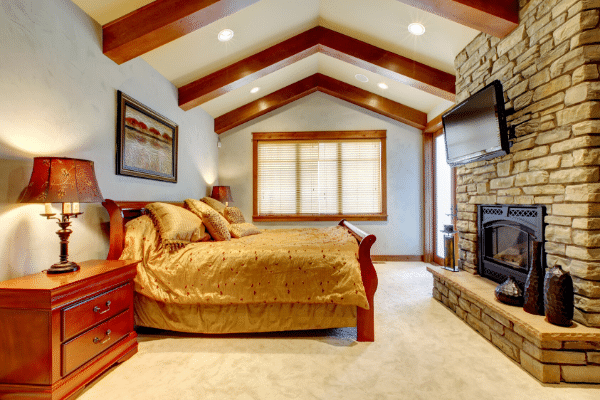 If you like the paint color in the picture above, check out Sherwin Williams Hinting Blue.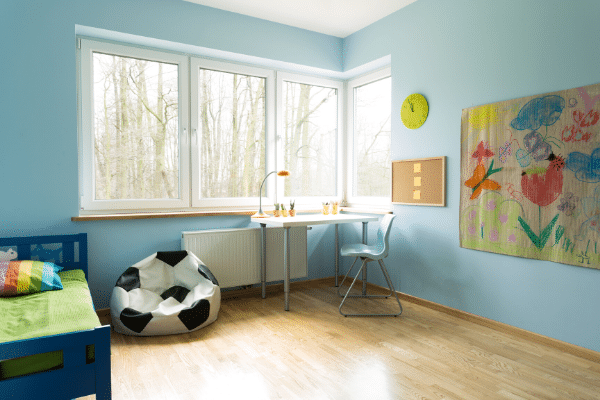 A brighter blue is perfect for a children's room, and even can be used in a living room for a pop of color. A blue that is similar to the one picture is Sherwin Williams Quench Blue.
While blues are cool colors, a blue with slightly purple undertones trends a bit warm, and will go nicely with wood trim.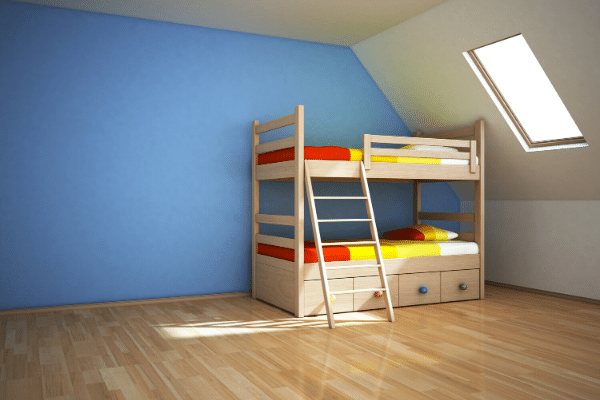 In this picture, a blue with purple undertones is featured with blonde colored wood trim. If you prefer this shade of blue, try Sherwin Williams Jacaranda.
Last, navy colored paint will go well with blonde, dark or medium colored wood trim. Navy paint is popular right now, and Sherwin Williams chose Naval as their 2020 Color of the Year.
Wood Trim with Green Wall Paint
There are several shades of green that go well with wood trim, including a lighter sage green, a cheery turquoise, and a dark hunter green.
A great sage green that goes nicely with wood trim is Sherwin Williams Softened Green. This cool green will accent blond, medium or dark wood trim nicely.
Turquoise paint is a beautiful mix of green and blue. Rainwashed, by Sherwin Williams, pairs nicely agains all wood trim tones, including honey colored trim,.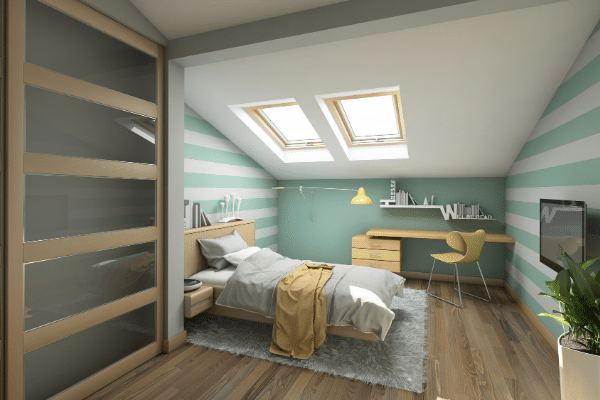 For a hunter green paint color, check out Sherwin Williams Dard Hunter Green. Dark green paint colors go very nicely with blonde wood and dark wood tones.
Wood Trim With Pink Wall Paint
Pink wall paints are very in style in 2020. In fact, Benjamin Moore chose the color First Light as their 2020 Color of the Year.
While this picture shows a very pale pink on the walls, a blush pink would also go very nicely with natural wood trim or dark wood trim.
However, if your trim leans towards a honey color, you may want to avoid a pink wall color as the orange in the wood and the pink on the walls may not coordinate well.
Some great pinks for your wall are Sherwin Williams Romance or Benjamin Moore First Light.
Want to see all your paint options in one convenient place? Click here to get everything you need to start painting, including Sherwin Williams and Benjamin Moore paint color decks!
Other Options For Wood Trim
If you've looked through the whole list and still cannot decide on a good paint color that accents, tones down or coordinates with your current wood trim color, there are a few more options for you.
First, you can darken the shade of your wood trim.
There are two popular products for darkening the wood in your home.
If you are looking to darken your wood only slightly, PolyShades is a great option for you. It is applied on over your current stain and changes the color just slightly. I used the product on some honey oak cabinets I had in a home, and it transformed them into a beautiful dark shade of brown.
Click here to purchase PolyShades.
The second option for darkening your wood trim is a gel stain product made by General Finishes. This product gets wood much darker quickly, in just one or two coats. Like PolyShades, you don't need to strip the wood or the finish prior to applying the product, making it an easy makeover.
If you're looking for a dramatic color difference in your woodwork, pick up General Finishes gel stain here.
Second, you can paint your wood trim.
Painting wood trim brings a crisp look to a room, and allows for unlimited color choices for your walls.
Painting your wood trim isn't as scary as it sounds. You will have to wash it down, sand it lightly and then paint it all (and you likely will have to touch up the edging on the paint on the wall). Click here for a tutorial on how to paint trim.
Final Thoughts on Wall Paint Colors for Natural Wood
Wood trim can be a beautiful accent in a room. Natural wood trim gives the room an earthy, warm foundation and adds a richness to the room in a way that simple white trim lacks.
Wondering how to pick the perfect paint color?
I have the best solution for you!
Samplize sells 9×14.75 stick-on paint sheets in almost every paint color.
These no-mess, peel and stick sheets are made from real paint, so they will show you exactly what the paint color will look like.
Simply place them on your walls next to your trim, furnishings or fixed elements, and easily see whether the paint colors work in your space and with your lighting. Then, peel the sheet right off your wall and reapply it somewhere else if you like!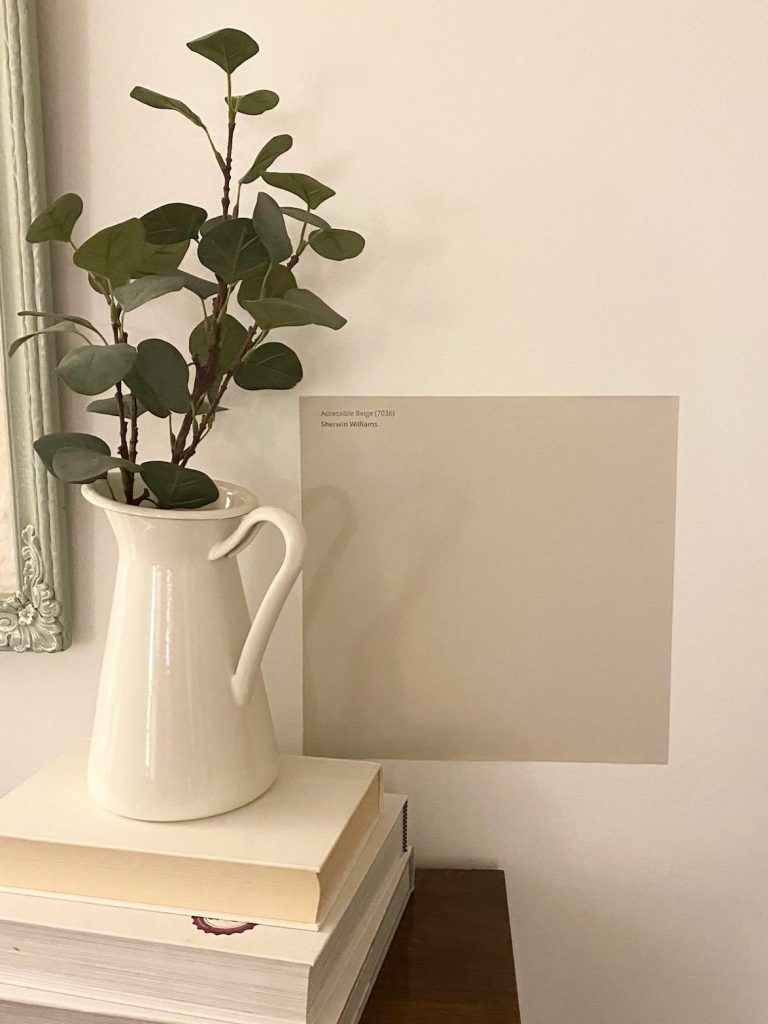 Oh, and you can have them in your home by tomorrow with overnight shipping!
As a little tip, if you enter your email, you'll get $5 off your first order! Plus, if you buy 8 samples, you get 2 more for free!
Samplize sheets are truly the easiest (and fastest!) way to try a paint color in your home, with no mess.
For additional tips on how to choose a paint color, read this article.
Happy Painting!!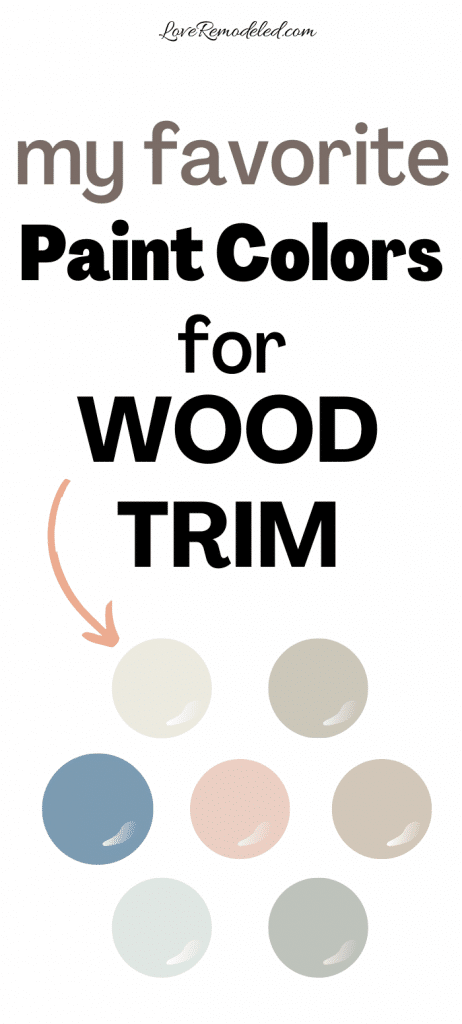 Have a question or want to show off your project? Join the discussion in Love Remodeled's Facebook group here!