The Bestselling Paint Colors from Sherwin Williams
Sherwin Williams paint colors are some of the best paint choices on the market.
Rivaled only by Benjamin Moore, Sherwin Williams is one of the more top paint companies in the United States.
Sherwin Williams publishes a list of its top 50 paint colors based on data from 2018.
Here is a summary of their top shades in each color family.
Top Greige Paint Colors from Sherwin Williams
Agreeable Gray, Repose Gray, and Mindful Gray
Greige paint colors so popular right now that almost all of the paint colors on Sherwin Williams' top 50 list are variations of gray or beige.
Because of that, I had a hard time putting just one greige on this condensed list for you. Here are the top three Sherwin Williams' greiges that made the list.
This post may contain affiliate links. If you have any questions, please see my disclaimer page.
Agreeable Gray
Agreeable Gray (SW 7029) was actually THE most popular color that was sold by Sherwin Williams in 2018.
Because it is the perfect greige, it goes with anything. It is definitely a noticeable color yet always understated.
Agreeable Gray reminds me of an art gallery wall. It is soothing and pleasant, perfect for any decor you choose to pair it with.
It has a Light Reflective Value (LRV) of 60, which puts in in the "light" category of Sherwin William's colors.
With subtle green undertones, Agreeable Gray goes well with both wood colored and white trim.
Agreeable Gray can go in any room, but is a great choice in the common areas of a home because of its versatility.
I like to use Agreeable Gray to anchor my favorite whole house color scheme!
Check out how Agreeable Gray goes with other great paint colors.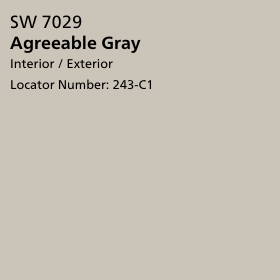 Wondering How To Pick the Perfect Paint Color?
I have the best solution for you!
Samplize sells 9×14.75 stick-on paint sheets in almost every paint color.
These no-mess, peel and stick sheets are made from real paint, so they will show you exactly what the paint color will look like.
Simply place them on your walls next to your trim, furnishings or fixed elements, and easily see which paint color works best in your space and with your lighting.
Then, peel the sheet off your wall and reapply it somewhere else if you like. You can try several different paint colors with no mess, no fuss and no cleaning paint brushes.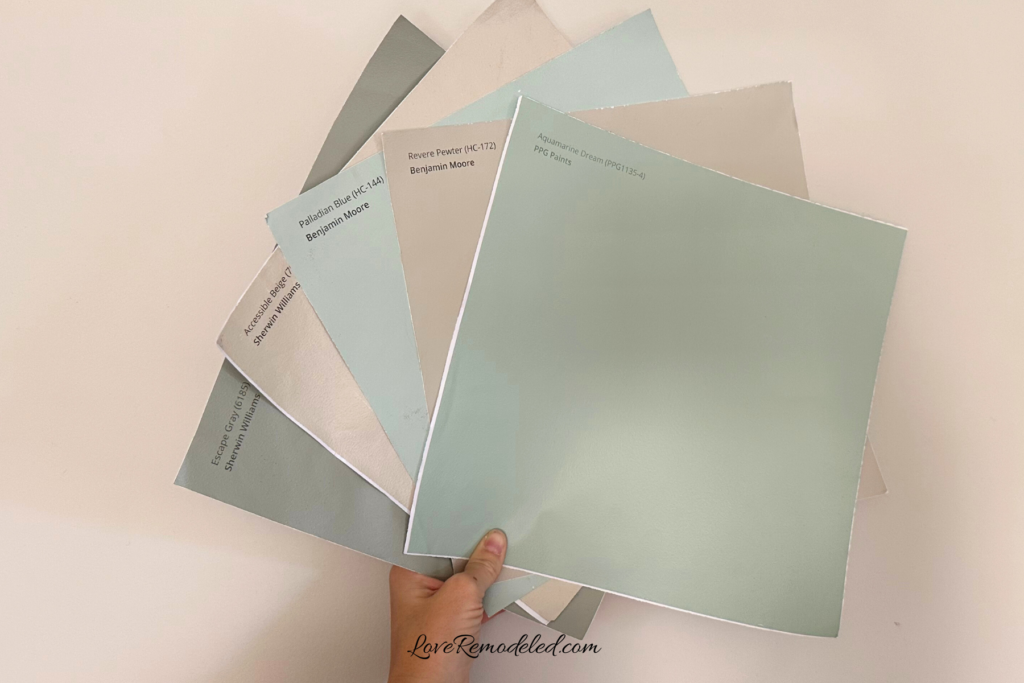 Oh, and you can have them in your home by tomorrow with OVERNIGHT shipping!
As a bonus, be sure to use the code LoveRemodeled10 at check out to get an extra 10% off! Samplize sheets are cheaper than a sample can of paint, and way less work.
They are the easiest (and fastest!) way to try a paint color in your home, with no hassle.
Pick up a sample of Agreeable Gray here!
Repose Gray
Repose Gray (SW 7015) is the second greige on the list. Because of its subtle gray undertones, many would classify it as a greige.
It goes well in many homes, and is extremely popular with designers and homeowners alike.
It is just slightly darker than Agreeable Gray, as it has a LRV of 58.
Pick up a sample Repose Gray here!
Mindful Gray
Mindful Gray (SW 7016) is directly below Repose Gray on Sherwin Williams' color chart. It has very similar undertones to Repose Gray, but has more depth and looks as though it has more beige in it than Repose Gray.
Mindful Gray has an LRV of 48, and while it is still considered to reflect a lot of light, it is darker than the other two greiges listed above. It, too, truly is a greige color, and carries the versatility that most griege paints do.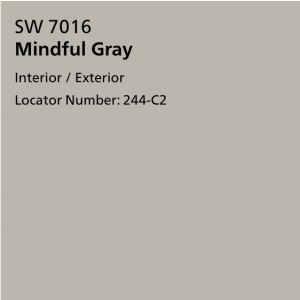 Pick up a sample of Mindful Gray here!
Top Beige Paint Color from Sherwin Williams
Accessible Beige
Accessible Beige (SW 7036) is the most popular beige that Sherwin Williams has right now.
It is a warm beige, with a medium light depth. Set against white, it will definitely look like a color, but is the beige version of Agreeable Gray's greige.
Since it is a true beige, Accessible Beige does not lean towards yellow, but instead has brown undertones.
It has a LRV of 58, meaning that it reflects a good amount of light. Accessible Beige is a good color the common areas of a home.
Check out this post for all the details on Accessible Beige!
Pick up a sample of Accessible Beige here.
Top Black Paint Color from Sherwin Williams
Tricorn Black
Sherwin Williams' top selling black is Tricorn Black (SW 6258).
Tricorn Black is a very dark color, with a light reflectance value of 3. This means that it is one of the darkest colors that Sherwin Williams sells.
Tricorn Black does not appear to have any strong undertones, but is rather a true black.
Pick up a sample of Tricorn Black here.
Top Green Paint Color from Sherwin Williams
Sea Salt
The top green color from Sherwin Williams is Sea Salt (SW 6204).
This popular color has been heralded for years as both an amazing shade of green and as a light color that can also act as a neutral.
Sea Salt is a light green color reminiscent of a pale green sea.
Sea Salt goes just as well in bedrooms and living rooms as it does in kitchens and bathrooms.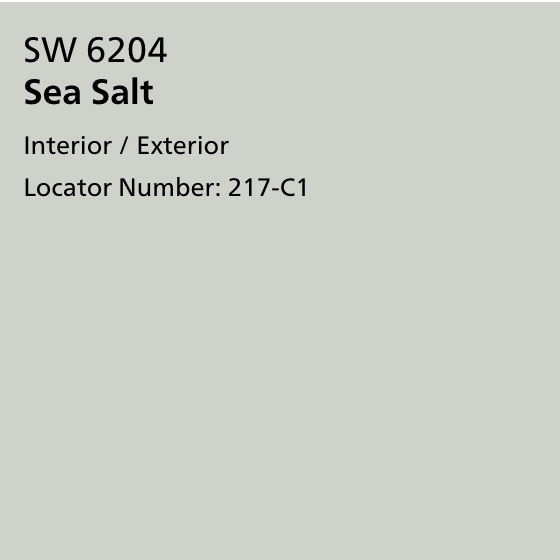 Sea Salt is also featured in my whole house color scheme, as a perfect coordinating color for Agreeable Gray.
Learn everything you want to know about Sea Salt here.
Pick up a sample of Sea Salt here.
Top Gray Paint Color from Sherwin Williams
Light French Gray
Light French Gray (SW 0055) is one of Sherwin Williams' truest grays.
It is featured in their "Classics" collection, and is one of the few grays on the list that does not have some beige in it.
This gray has blue and purple undertones, but looks gray like a storm sky. It is light and beautiful, and would go well in a living room, bedroom, or nursery.
Pick up a sample of Light French Gray here.
Top White Paint Color from Sherwin Williams
Aesthetic White
The top selling white from Sherwin Williams in the last year was Aesthetic White (SW 7035).
Aesthetic White is not a pure white, as is has gray and beige undertones.
Though Aesthetic White is a good choice for walls, cabinets or furniture, it has a bit too much tint for trim in my opinion.
This white will look like it is almost white when on the wall, but when paired with true white furniture, trim or cabinets, it will look more like a very light gray or a greige.
Aesthetic White beat out many great white options to gain Sherwin Williams' top white spot, so it has wide appeal!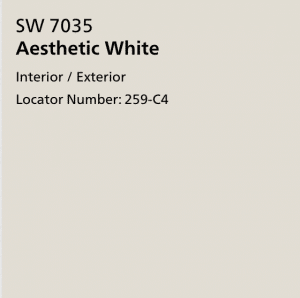 Click here to learn more about Aesthetic White.
Pick up a sample of Aesthetic White here!
Top Blue Paint Color from Sherwin Williams
Gray Screen
Gray Screen (SW 7071) has the word gray in the name, but is actually a pale blue color.
Gray Screen reminds me of a gray morning sky at the ocean.
It has a LRV of 59, so Sherwin Williams considers it to be pretty light reflecting. It will give off a color on the walls though, and will look nice when paired with white trim.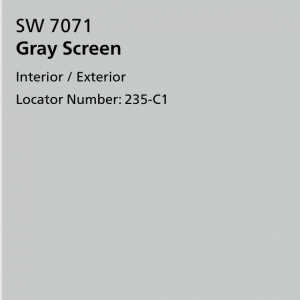 Pick up a sample of Gray Screen here.
More Top Colors from Sherwin Williams
In total, Sherwin Williams lists 50 of their top selling paint colors. Check out the whole list!
SW 7029 AGREEABLE GRAY
SW 7015 REPOSE GRAY
SW 7036 ACCESSIBLE BEIGE
SW 6258 TRICORN BLACK
SW 6106 KILIM BEIGE
SW 7016 MINDFUL GRAY
SW 7043 WORLDLY GRAY
SW 0055 LIGHT FRENCH GRAY
SW 7030 ANEW GRAY
SW 7017 DORIAN GRAY
SW 6204 SEA SALT
SW 7044 AMAZING GRAY
SW 7064 PASSIVE
SW 7018 DOVETAIL
SW 7037 BALANCED BEIGE
SW 7071 GRAY SCREEN
SW 6254 LAZY GRAY
SW 7641 COLONNADE GRAY
SW 6141 SOFTER TAN
SW 7022 ALPACA
SW 7019 GAUNTLET GRAY
SW 6126 NAVAJO WHITE
SW 7671 ON THE ROCKS
SW 7023 REQUISITE GRAY
SW 7011 NATURAL CHOICE
SW 6107 NOMADIC DESERT
SW 6073 PERFECT GREIGE
SW 7674 PEPPERCORN
SW 6255 MORNING FOG *Morning Fog was featured on the Best Blues from Sherwin Williams.
SW 9109 NATURAL LINEN
SW 7632 MODERN GRAY
SW 7069 IRON ORE
SW 6108 LATTE
SW 6253 OLYMPUS WHITE
SW 6071 POPULAR GRAY
SW 7072 ONLINE
SW 7661 REFLECTION
SW 7031 MEGA GREIGE
SW 7067 CITYSCAPE
SW 7038 TONY TAUPE
SW 7048 URBANE BRONZE
SW 7035 AESTHETIC WHITE
SW 7647 CRUSHED ICE
SW 6105 DIVINE WHITE
SW 7042 SHOJI WHITE
SW 7024 FUNCTIONAL GRAY
SW 6148 WOOL SKEIN
SW 7631 CITY LOFT
SW 9166 DRIFT OF MIST
SW 7020 BLACK FOX
To see a snapshot of all the colors, click here.
Getting Started With Painting
If you want to paint your home on your own, check out this post on how to paint a room.
Good luck choosing a paint color for your home! With the popularity of the colors on this list, you're likely to be pleased with any of them!
Want to see all your paint options in one convenient place? Click here to get everything you need to start painting, including Sherwin Williams and Benjamin Moore paint color decks!
Have a question or want to show off your project? Join the discussion in Love Remodeled's Facebook group!