Sherwin Williams City Loft is a popular paint color from Sherwin Williams White and Pastels Collection.
City Loft has been featured in Sherwin Williams' Trendsetter Collection, the Living Well – Reflect Collection, and the Cool White Collection.
Let's take an in-depth look at this paint color to see if City Loft is the right shade for your home.
This post may contain affiliate links. If you have any questions, please see my disclaimer page.
What Color is Sherwin Williams City Loft?
City Loft is a soft, neutral paint color that most easily falls into the gray category.
It is not a true gray paint color though. It has a lot of beige in it as well.
When you compare Sherwin Williams City Loft to a beige, it looks gray. But, when you compare it to a gray, it looks decidedly more beige or maybe even taupe.
With an LRV (Light Reflectance Value) of 70, it is a light paint color. It will reflect a good amount of light into a room, making it a great choice for most anywhere in the house.
So while you don't necessarily need a space with a ton of natural light to make Sherwin Williams City Loft work, the right lighting will play a big role in whether you like this paint color or not.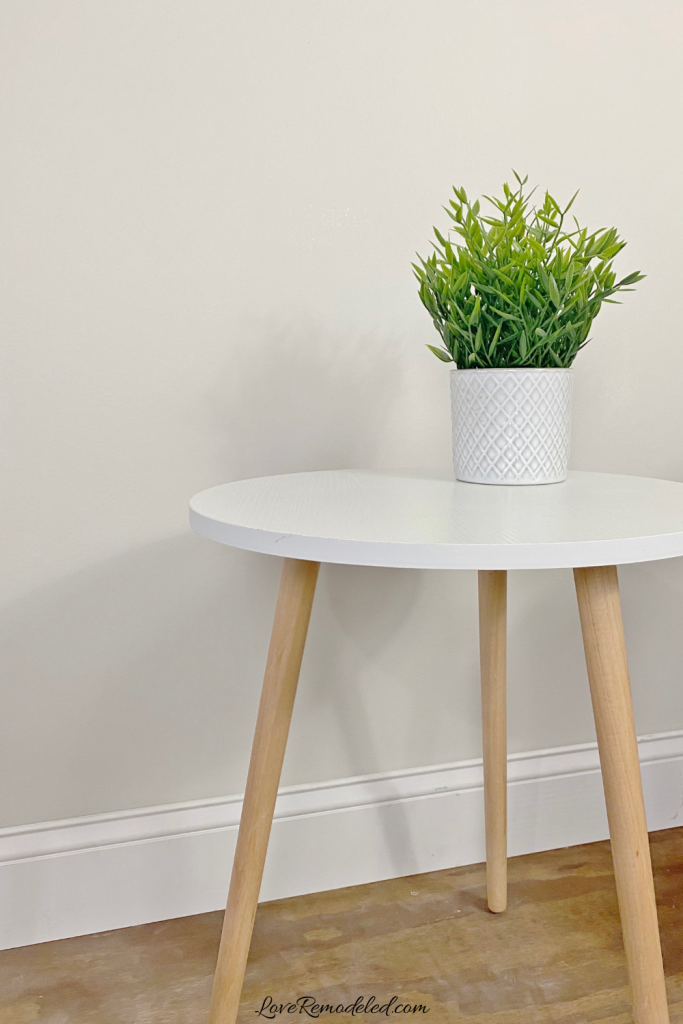 Sherwin WIlliams City Loft Undertones
City Loft has undertones that are gray, beige, and taupe colored. In this way, it is a very transitional color. City Loft can look gray, beige, taupe, peach or even purple depending on your lighting.
If you are considering Sherwin Williams City Loft, it is very important to get a sample of this paint color to make sure it doesn't come across as purple when you wanted gray, or taupe when you wanted beige.
Wondering how to pick the perfect paint color?
I have the best solution for you!
Samplize sells 9×14.75 stick-on paint sheets in almost every paint color.
These no-mess, peel and stick sheets are made from real paint, so they will show you exactly what the paint color will look like.
Simply place them on your walls next to your trim, furnishings or fixed elements, and easily see whether the paint colors work in your space and with your lighting. Then, peel the sheet right off your wall and reapply it somewhere else if you like!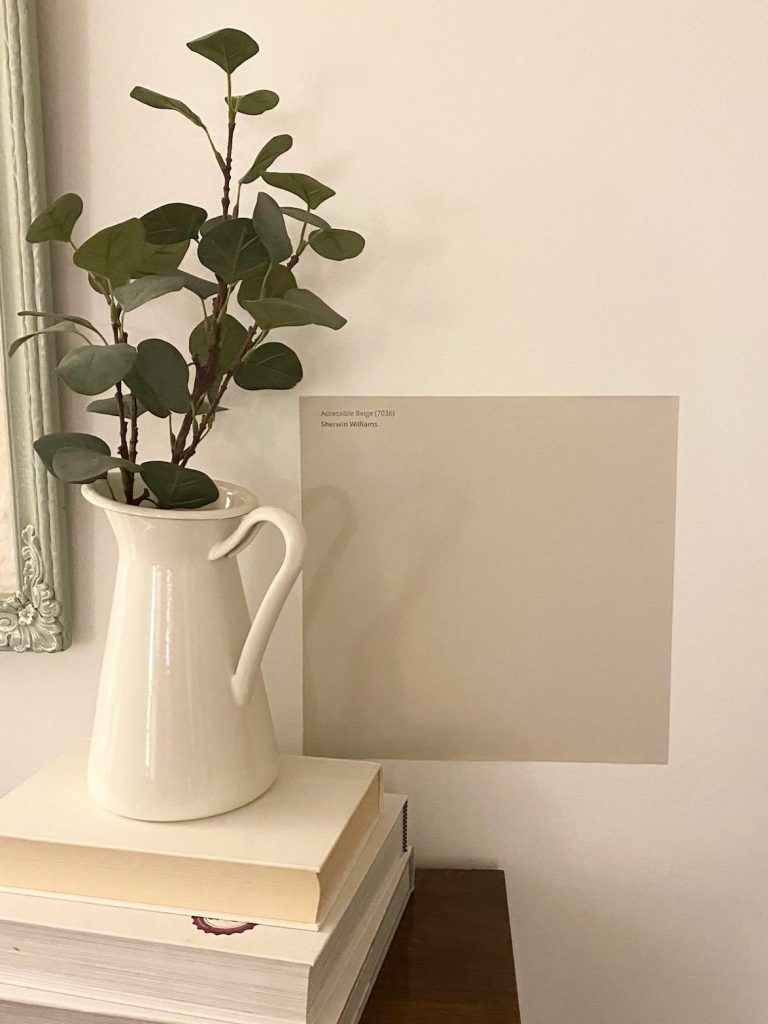 Oh, and you can have them in your home by tomorrow with overnight shipping!
As a little tip, if you enter your email, you'll get $5 off your first order! Plus, if you buy 8 samples, you get 2 more for free!
Samplize sheets are truly the easiest (and fastest!) way to try a paint color in your home, with no mess.
Is City Loft a Warm or a Cool Color?
Due to its strong beige undertones, Sherwin Williams City Loft is a warm paint color.
Warm paint colors have red, yellow and orange undertones, paint colors with beige and brown undertones tend to almost always come off as more warm.
While City Loft can look cooler in certain lighting, comparing it to a truly cool shade, such as Rock Candy, make it very obvious that it is a warm color.
Where to Use Sherwin Williams City Loft
City Loft is such a light shade that it can really be used anywhere in the home. It works great as an all-over paint color that you paint in all the main spaces in your house for a cohesive look. It can also be used as a soft neutral for only one room.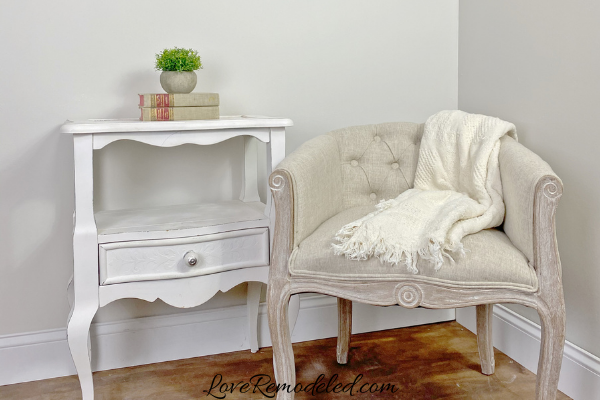 Because of its variable tones, City Loft tends to work best in a room with a lot of other neutral colors in it.
It is great in a farmhouse, traditional or french country style home.
Coordinating Colors for Sherwin Williams City Loft
As I mentioned above, City Loft loves other neutrals. It is not the best neutral for bright furnishings or accessories, but can look amazing with wood tones and shades of beige, cream, brown and whites. You can even pair it with bolder neutrals like black and navy blue.
For example, Sherwin Williams' pairs City Loft with Taupe Tone and Snowbound, two neutral shades. But, in a more daring pairing, they also feature Connor's Lakefront as a coordinating color for City Loft.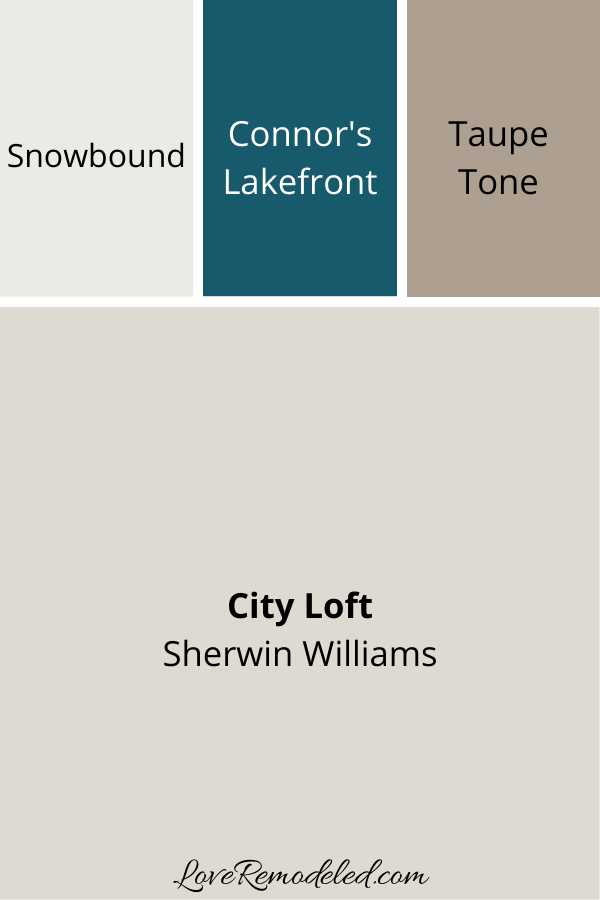 Other Paint Colors to Consider Alongside Sherwin Williams City Loft
If you like City Loft, but you're on the fence about whether it is the right color for your home, here are other paint colors that you may want to consider.
Sherwin Williams City Loft vs. Aesthetic White
Aesthetic White is another popular off-white paint color by Sherwin Williams. It shares a color strip with City Loft, but that doesn't mean that they are just lighter or darker versions of each other.
Aesthetic White is a greige color, like City Loft, but it has just a touch more beige in it than City Loft. It is a warm paint color, and looks great in many of the same spaces as City Loft.
While City Loft may look a little bit lighter when compared to Aesthetic White, Aesthetic White actually has a higher LRV. So Aesthetic White will reflect more light in the space (though this LRV difference is likely going to be indiscernible to the average viewer.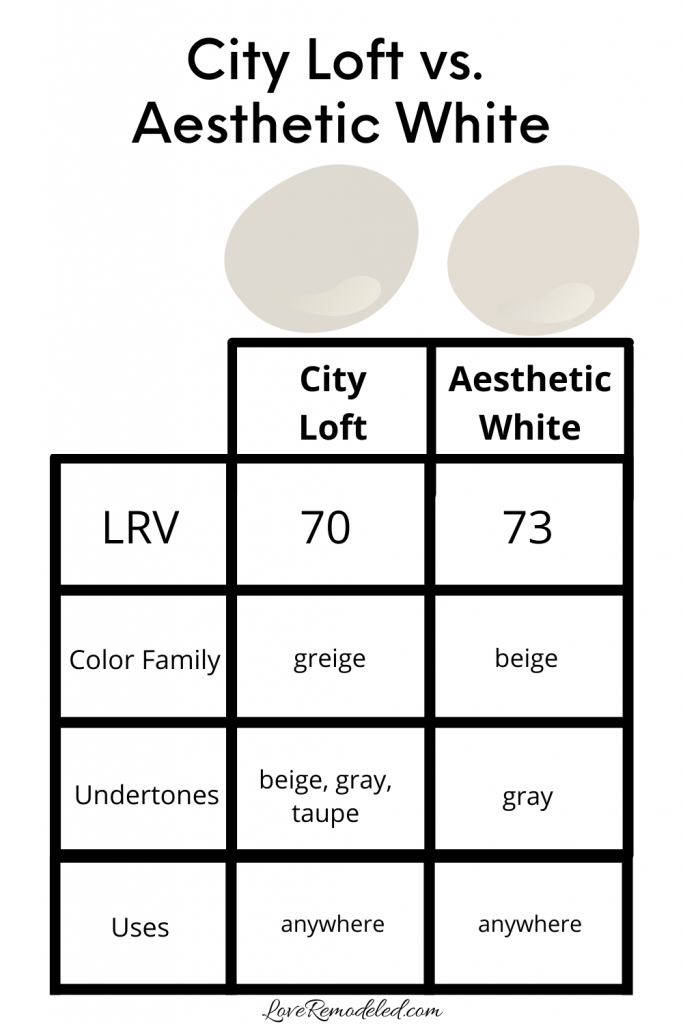 If you like City Loft, but want a color with a little more beige and a little less taupe, check out Aesthetic White.
Sherwin Williams City Loft vs. First Star
First Star is a Sherwin Williams paint color that has a very similar depth to City Loft. While City Loft is a warm color, First Star is a cool paint color.
First Star is a gray paint shade with blue undertones. This is where it gets its coolness from. It is soft, light and airy, like City Loft, but with less variability in how it looks on your walls.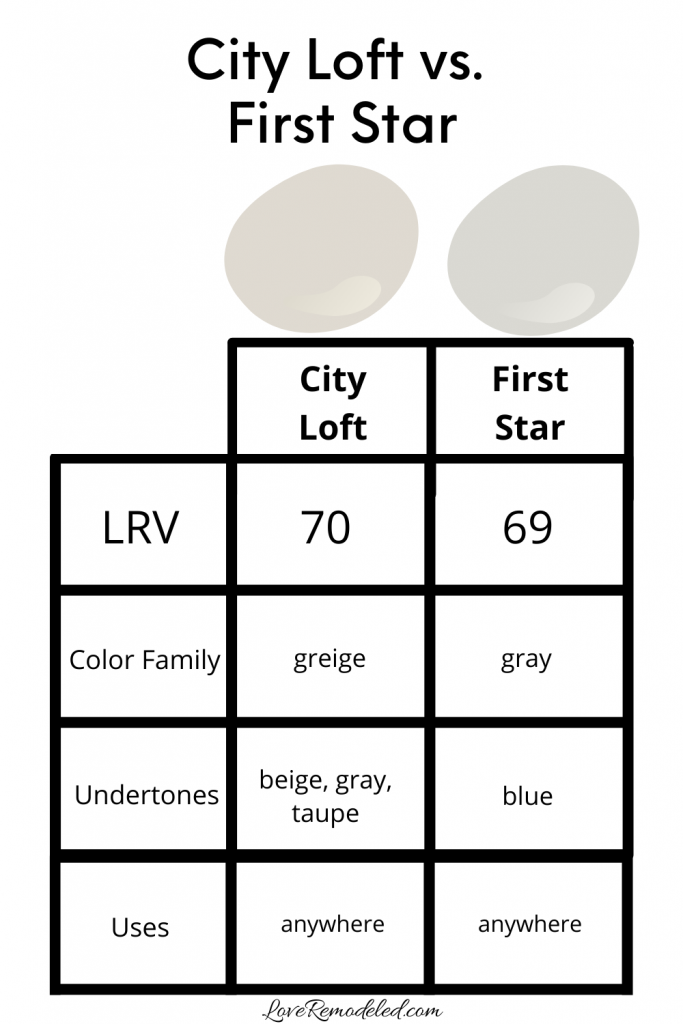 If you like a soft neutral but want something that will be cooler on your walls, First Star might be a good paint color for you.
Sherwin Williams City Loft vs. Drift of Mist
Like City Loft, Drift of Mist is a popular neutral paint color by Sherwin Williams. Along with beige and gray undertones, Drift of Mist also has a bit of green in it. So while City Loft can look a bit purple at times, Drift of Mist can look a bit green.
So an important deciding factor between the two is whether you can live with a shade that hints green or purple. This may make it sound like, "Wow! Neither one of those paint colors are a good shade!"
But don't let these distinctions stop you. ALL paint colors tend to have potentially offensive color undertones. Just make sure you choose one that has an undertone that you like.
Drift of Mist is a great color for anywhere in the home. It works well with other neutrals and tends to work better with those farmhouse style blue greens that are popular than City Loft.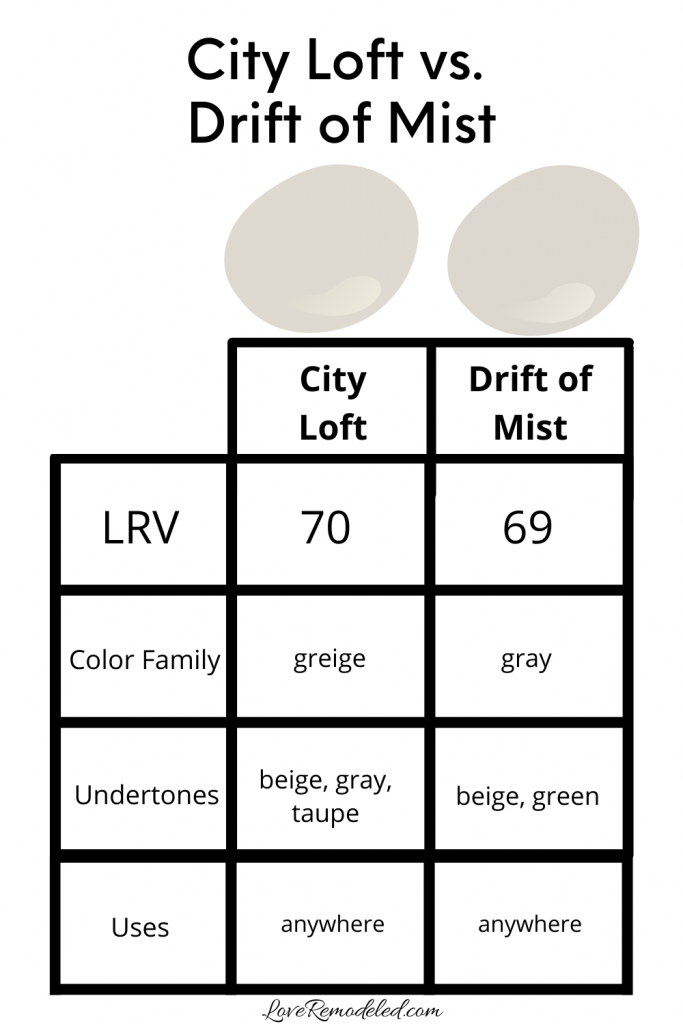 Overall, Drift of Mist is a bit more versatile than City Loft, but that doesn't mean it is better. It is all going to depend on your home and your lighting.
Click here for more information on Drift of Mist.
Final Thoughts on Sherwin Williams City Loft
Sherwin Williams City Loft is a great, off-white paint color that is perfect for anywhere in the house (given you've done your hands-on testing on how it is going to look in different spots of your home). It is popular, but maybe a little less versatile than some of the other popular off-white paint colors.
As I mentioned above, City Loft is a really good color to get a Samplize sheet of because you'll be able to test the shade out in a lot of different places in your home. Try it next to the windows, in the shadows of the room and next to your artificial light sources, as it may look completely different in each spot.
If you like how it looks everywhere, Sherwin Williams City Loft may be a great choice for your house!
Want to see all your paint options in one convenient place? Click here to get everything you need to start painting, including Sherwin Williams and Benjamin Moore paint color decks!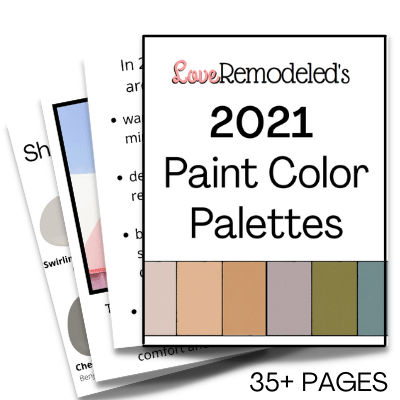 You know the feeling you get when you walk into someone's home and the paint colors are just perfect?
Introducing Love Remodeled's 2021 Paint Color Palettes!
No more having to guess which paint colors are in style, and what paint colors go together well, this colllection of paint palettes does all the work for you!
Check out these gorgeous color palettes from Benjamin Moore, Sherwin Williams, and PPG with all the hottest colors for 2021.
PLUS, I'll show you the best white and gray paint colors to make your home look amazing this year!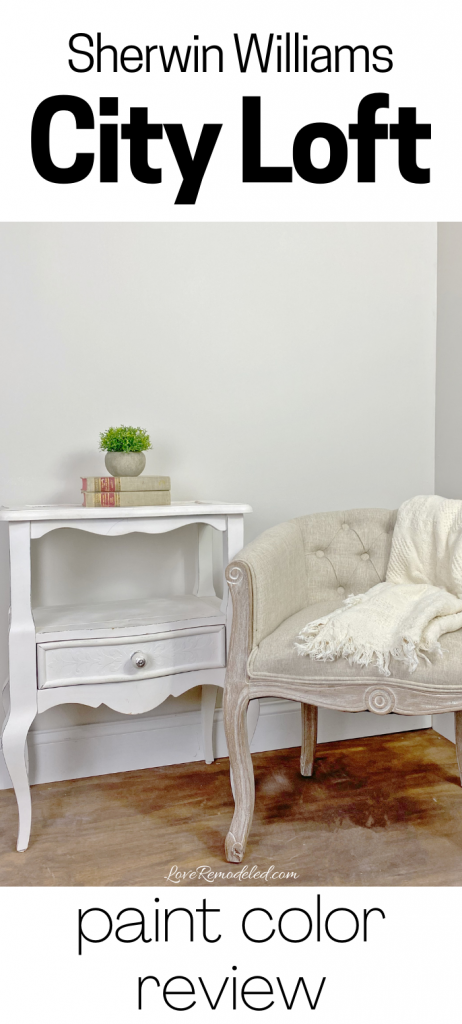 Have a question or want to show off your project? Join the discussion in Love Remodeled's Facebook group here!