First Star is a light gray paint color by Sherwin Williams. It is part of the White color family because of how light it is.
This means that Sherwin Williams actually considers First Star to be an off-white rather than a gray, or an actual color.
It has been included in the Living Well (Create), Top 50 Colors, and Finest Whites & Neutrals (Finest Whites) Collections by Sherwin Williams.
No matter what First Star is considered, it is definitely in the gray family, even if it is light. You will never mistake it for a true white.
If you are interested in a soft gray paint color, keep reading for all the details on Sherwin Williams First Star.
This post may contain affiliate links. If you have any questions, please see my disclaimer page.
What Color is Sherwin Williams First Star?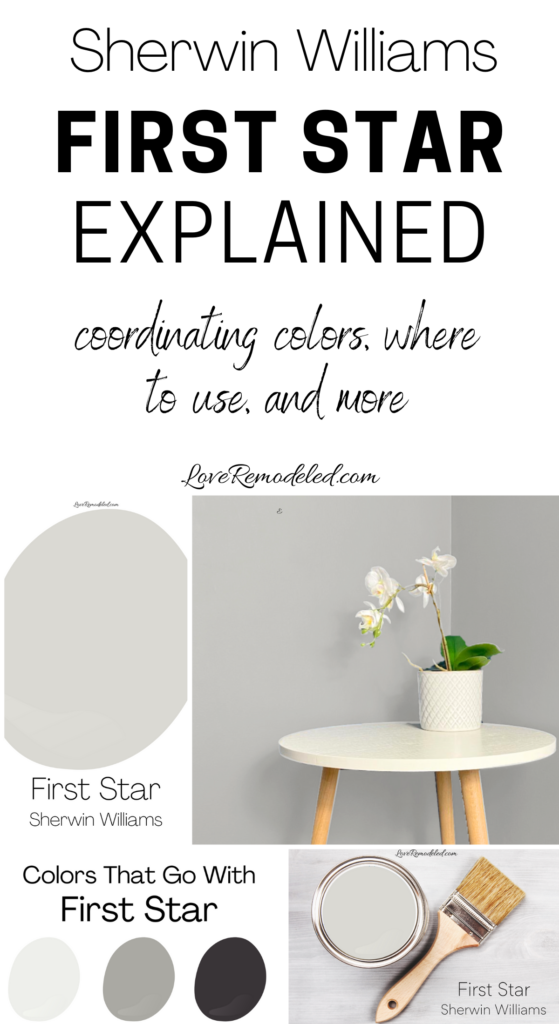 First Star is a light gray paint color. It is soft and airy, unobtrusive and delicate. It is a background sort of color, not one that really shows up too much.
It is a great backdrop for your furnishings and accessories, but not a paint color that makes a big statement in a room.
Sherwin Williams defines First Star as a, "white with a hint of gray."
First Star is a sophisticated sort of gray, rather than a moody or muddy gray. This is because of the particular undertones that First Star has.
First Star Undertones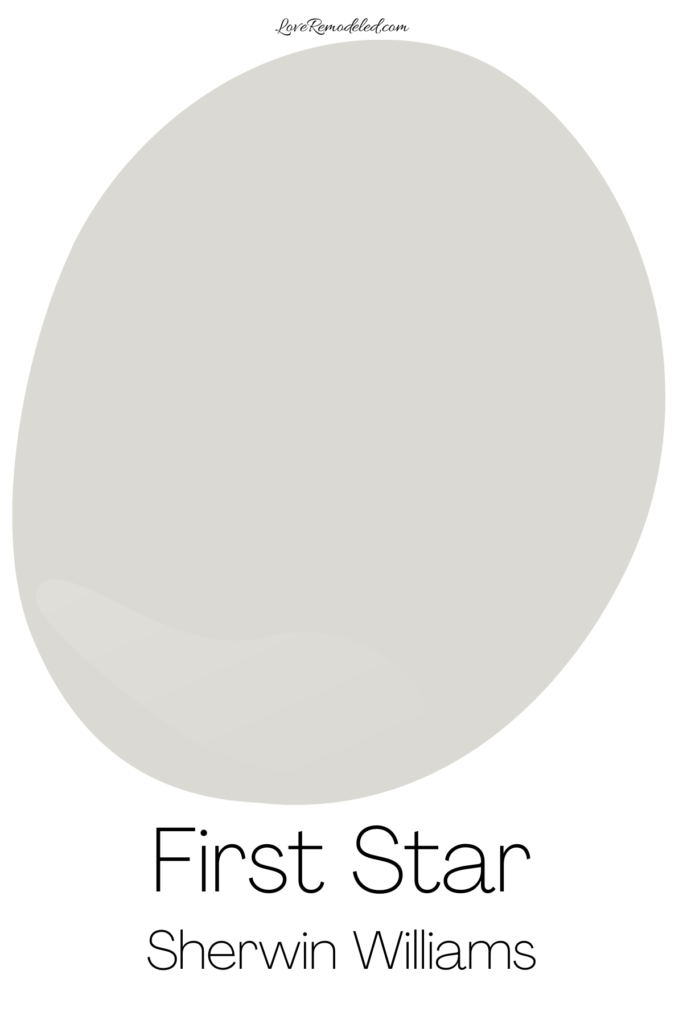 All gray paint colors have undertones. They can have green, blue, purple or even beige undertones that give them the particular look that they have.
First Star has blue undertones. These blue undertones are what gives it the refreshing feeling that it it has, making it a fresh, clean sort of gray paint color.
The blue undertones in First Star are rather subtle though. You probably will not see First Star looking terribly blue.
But, knowing the undertones gives us a bit of information about what colors it will look good with and what sort of lighting it looks best in. More on that in a bit.
Is First Star Warm or Cool?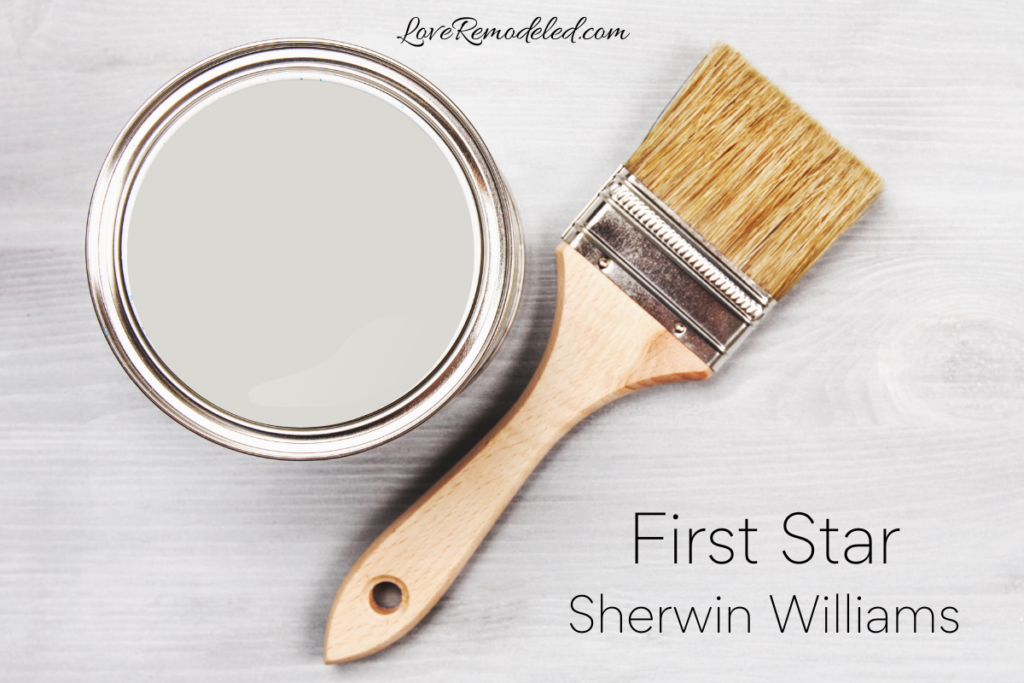 With blue undertones, First Star is a cool paint color. While it isn't the coolest gray paint color you can find, it has that hint of blue that makes it a cool shade.
First Star LRV
First Star has an LRV of 69.
The LRV scale stands for light reflections value goes from zero, which is completely black to 100 which is completely white.
As you can see, an LRV of 69 puts First Star in the light range of paint colors.
With an LRV of 69 First Star works in most rooms. I probably would not use it in a very overly bright room because that may end up washing it out a bit but for most spaces it will be just fine.
Where Can I Use Sherwin Williams First Star?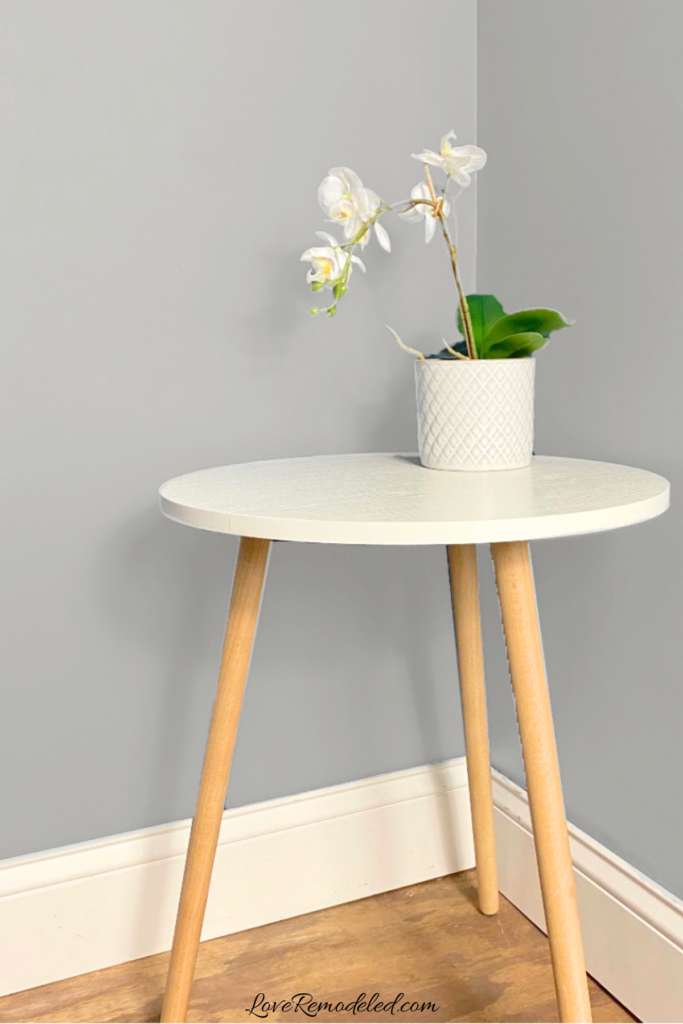 First Star is a great paint color for a home with average lighting. It is a bit light to use in a room with a ton of natural light, but in a typically lit room, it is about perfect.
Because it is so light, First Star is a shade you can use in living rooms, dining rooms, hallways, basements, bathrooms, kitchens, bedrooms, and more.
First Star is also a great paint color for a nursery. Paired with pink, blue or even as a gender-neutral option, First Star is a great backdrop.
You can use in on a home exterior as well, but it isn't one of my go-to choices. This is because it is almost too light to use as a gray, but too gray to use as a white.
The bright, natural sunlight will wash it out, potentially making it just look sort of blah.
Now, this doesn't mean it won't be the perfect color for your particular home with your particular lighting, but it does mean that I would definitely try it before paint my whole house in it.
A Word About Lighting with Sherwin Williams First Star
We talked about those blue undertones in First Star, and its important to remember that cool, northern facing lighting will bring out those blue undertones even more.
If you want a very cool gray or off-white paint color, this may mean that First Star will be perfect. It isn't too blue, but will definitely lean more into that blue with cool lighting. Just be aware of this to make sure it works in your space.
In warmer, southern facing lighting it will look a bit more fresh and clean.
What Colors Go With Sherwin Williams First Star
Sherwin Williams First Star is a fairly versatile paint color that goes well with a lot of other colors.
First Star looks great with pinks, blues, yellows, darker grays with similar undertones, whites with similar undertones, and blacks.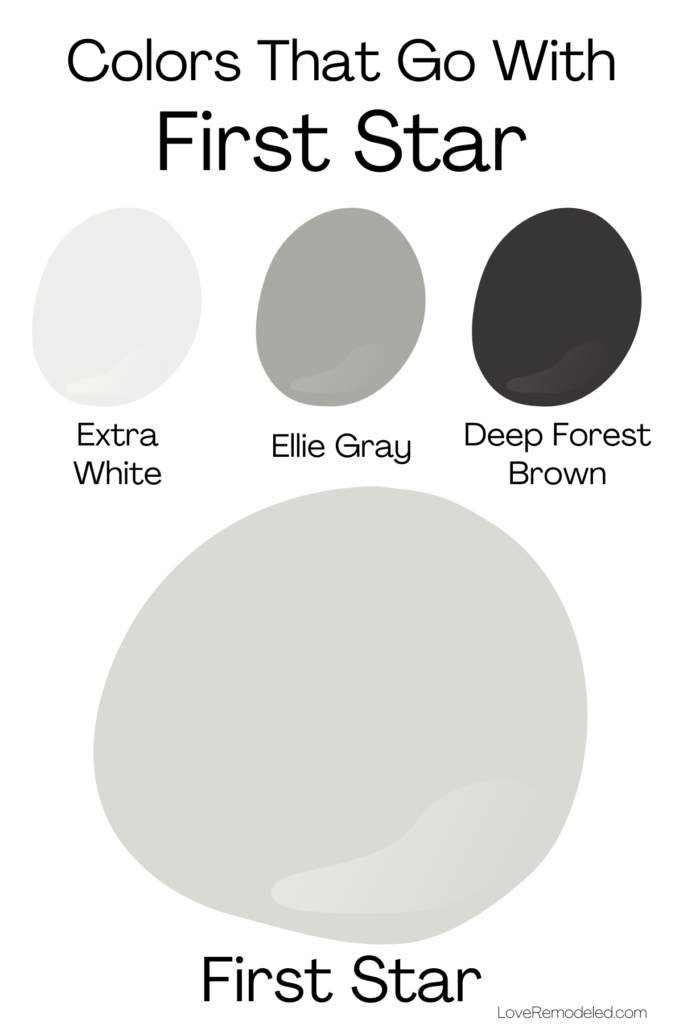 If you are looking for a color scheme for Sherwin Williams First Star, consider pairing First Star with Extra White, a clean cool white with blue undertones, Ellie Gray, a light to mid-tone gray, and Deep Forest Brown, a dark blackish brown paint color.
Together, these paint colors make for a cool gradient of neutrals that all work well together.
Trim Colors for Sherwin Williams First Star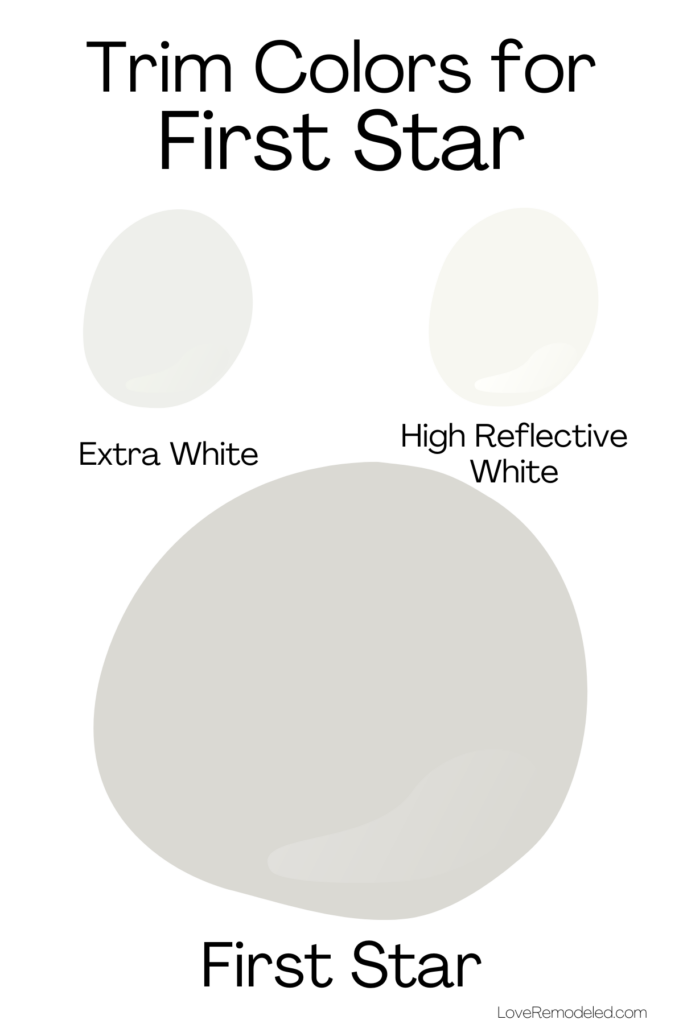 If you are looking for a trim paint color to go with First Star, consider Extra White and High Reflective White.
Extra White is a cool white paint color with blue and gray undertones. It is a little bit softer than High Reflective White, but still looks very crisp on trim.
High Reflective White is Sherwin Williams cleanest and brightest white paint color. It is almost undertone free. It goes well with pretty much any paint color.
How Does First Star Compare to Other Gray Paint Colors?
Sometimes, it is easier to pick a paint color by comparing it to other popular paint colors.
If you have been looking for a new paint color for a bit, you've probably considered some of these other gray or off-white paint colors.
Lets look at First Star compared to some popular gray paint colors to see which paint color might be right in your home.
First Star vs. Repose Gray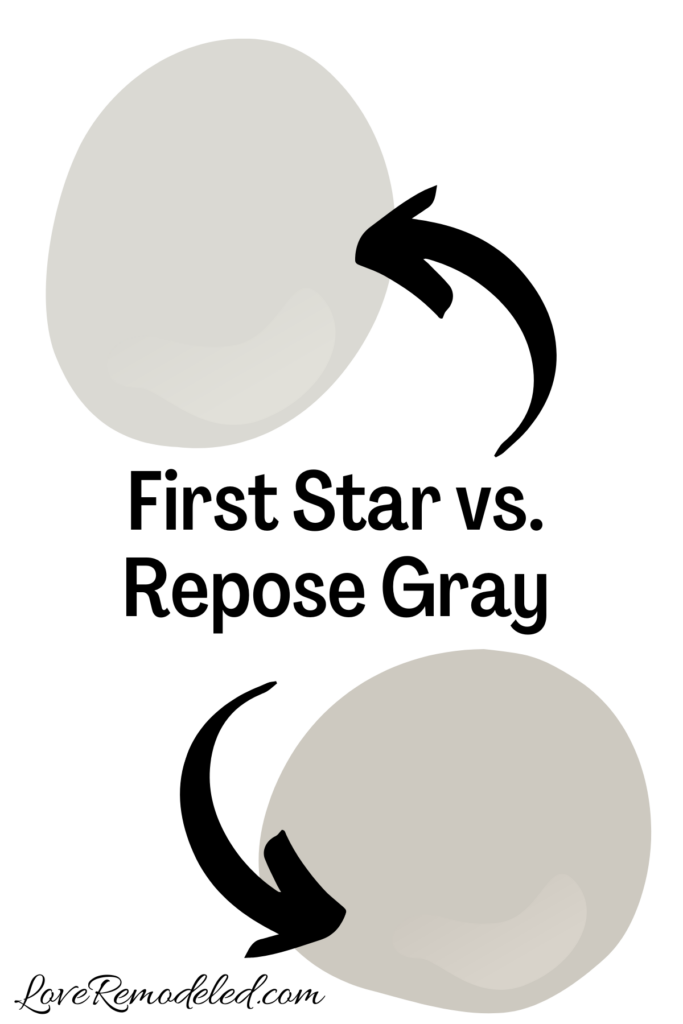 Repose Gray is a popular Sherwin Williams paint color. It is really more of a greige than a true gray, because it is a blend of gray and beige.
Like First Star, Repose Gray has a blue undertone.
While First Star is classified as an off-white, Repose Gray has a lot more color to it. It has an LRV of 58, which means it is much darker than First Star.
If you want a gray paint color that is barely there, First Star is a good choice. But, if you have a really brightly lit room, Repose Gray may have the depth you need to make sure your paint color doesn't get washed out.
Also, remember that Repose Gray has some beige in it, so it isn't going to be as cool feeling as First Star.
First Star vs. Big Chill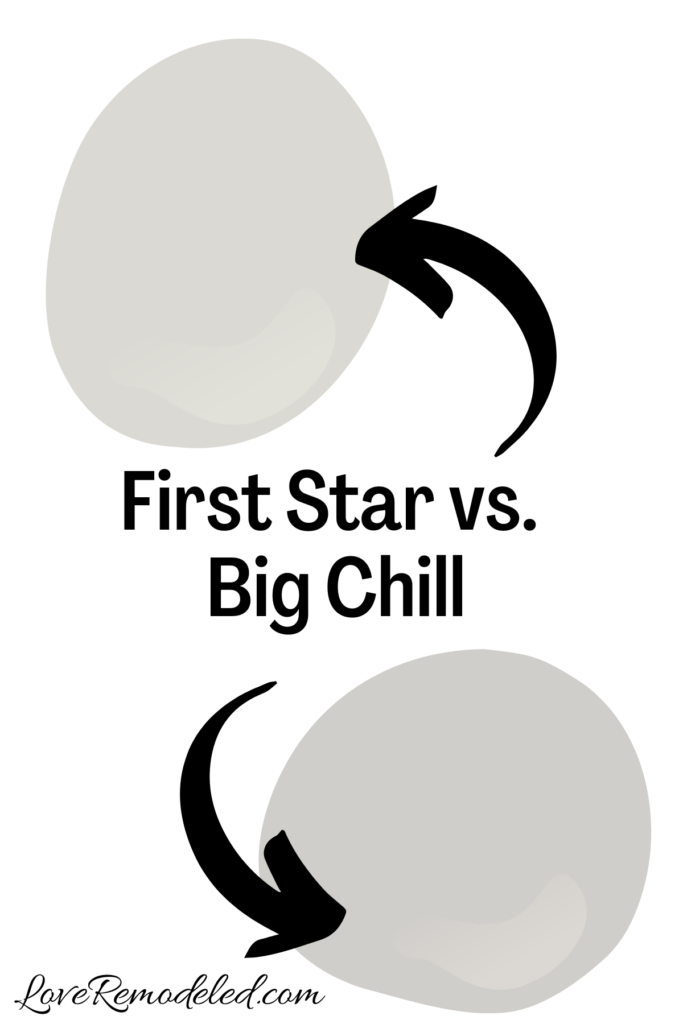 Big Chill is another off-white paint color by Sherwin Williams.
In fact, it is right below First Star on the color strip (though this doesn't mean that they are similar colors or have the same composition, its just where they are placed).
Big Chill is a bit darker than First Star, though is still a light paint color. Like First Star, Big Chill also has blue undertones. With a little more depth though, Big Chill comes off feeling slightly more moody than First Star.
If you really want a light gray with blue undertones, Big Chill is going to be a great choice for just about any room without regard to lighting. It doesn't run the same risk as washing out in bright light as First Star does.
First Star vs. Agreeable Gray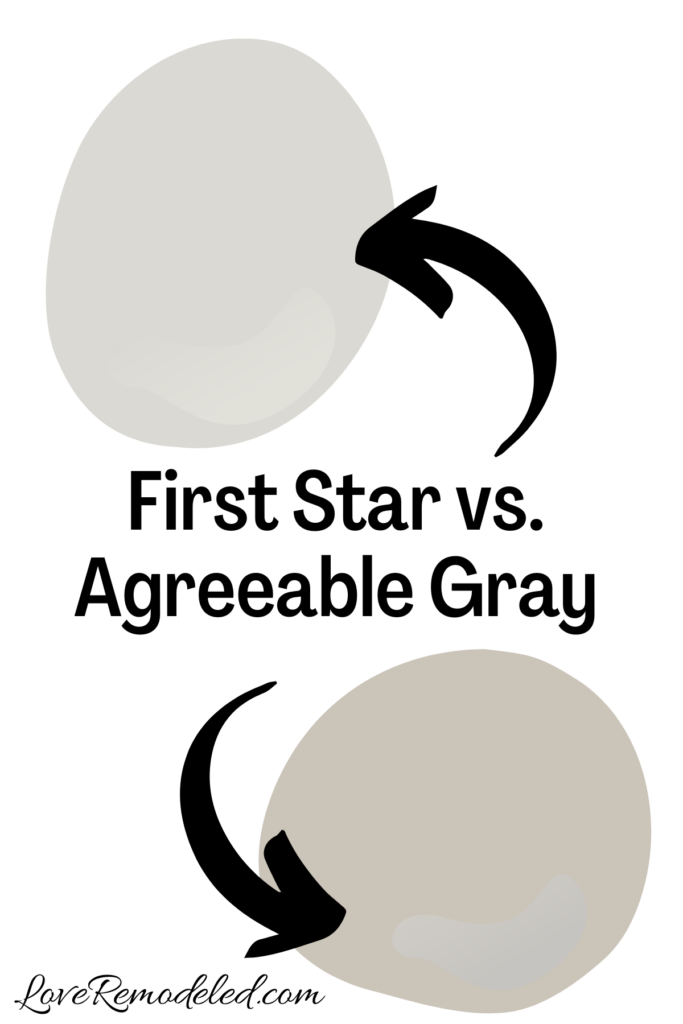 Agreeable Gray is Sherwin Williams most popular paint color, and has been for years. It is a versatile greige paint shade, which means that it is a blend of gray and beige.
While all of the other paint colors we discussed have blue undertones, Agreeable Gray has green undertones.
There are some other notable difference between First Star and Agreeable Gray. First Star is a cool gray, while Agreeable Gray is a warm gray.
Agreeable Gray also has more depth to it, making it a little darker on your walls.
Both are great backdrop sort of shades, but First Star is more clean and fresh feeling, while Agreeable Gray is more neutral feeling.
If you want a super versatile gray paint color, Agreeable Gray is probably the better pick. But if you know you want a cool gray, go with First Star.
Wondering how to pick the perfect paint color?
I have the best solution for you!
Samplize sells 9×14.75 stick-on paint sheets in almost every paint color.
These no-mess, peel and stick sheets are made from real paint, so they will show you exactly what the paint color will look like.
Simply place them on your walls next to your trim, furnishings or fixed elements, and easily see whether the paint colors work in your space and with your lighting. Then, peel the sheet right off your wall and reapply it somewhere else if you like!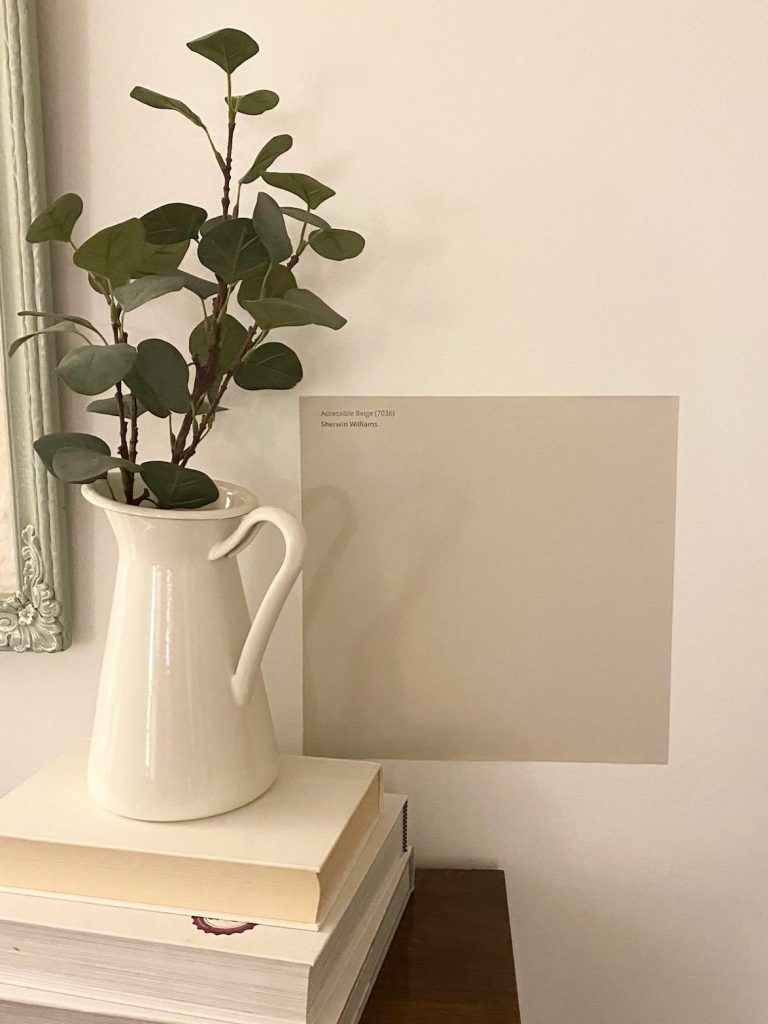 Oh, and you can have them in your home by tomorrow with OVERNIGHT shipping!
As a little tip, if you enter your email, you'll get $5 off your first order! Samplize sheets cheaper than a sample can of paint, and way less work!
Samplize sheets are truly the easiest (and fastest!) way to try a paint color in your home, with no mess.
Final Thoughts on First Star Paint Color
First Star, by Sherwin Williams, is a soft, fresh feeling gray. It is clean and sophisticated, and lends a cool ambiance to a room.
Have a question or want to show off your project? Join the discussion in Love Remodeled's Facebook group!