Check out these 10 simple do-it-yourself projects that you can tackle in an afternoon (and even while your kids are at home)!
I love a good project, but sometimes there just isn't enough time to do major tasks! These DIY projects are ones that you can complete in small steps, with ample breaks getting all of life's other tasks done. Plus, they can be completed in just a few hours!
Take a look!
This post may contain affiliate links. If you have any questions, please see my disclaimer page.
1. Paint your nightstands.
If you want a fast transformation, paint is the way to do it!
Painting a small piece of furniture is quick, but makes a huge difference. If you're using regular paint, give the furniture a wipe down, then sand it lightly. Wipe it down one more time, and you're ready to paint! Remember to go with the grain, in long even strokes. You'll be done before you know it!
Oh, and if you want an even easier painting job, use chalk paint. You don't even need to sand when using it!
If you like the farmhouse look, you can go one step further by giving the piece an antiqued look with this simple tutorial.
2. Make a Shelf
Making a shelf is a great home decor DIY project. It is simple, fast, and easy to customize to your personal style. Plus, it is the perfect way to display your favorite things!
For a simple shelf with corbels, get a 1×6 piece of wood from Home Depot and cut it to the length you want. Then, pick up a set of corbels and you're ready to go! Paint or stain the pieces to your liking and your simple shelf is done.
For a more modern look, make a triangle shelf with a slab of wood and a rope. Here is a tutorial on making a trendy triangle shelf.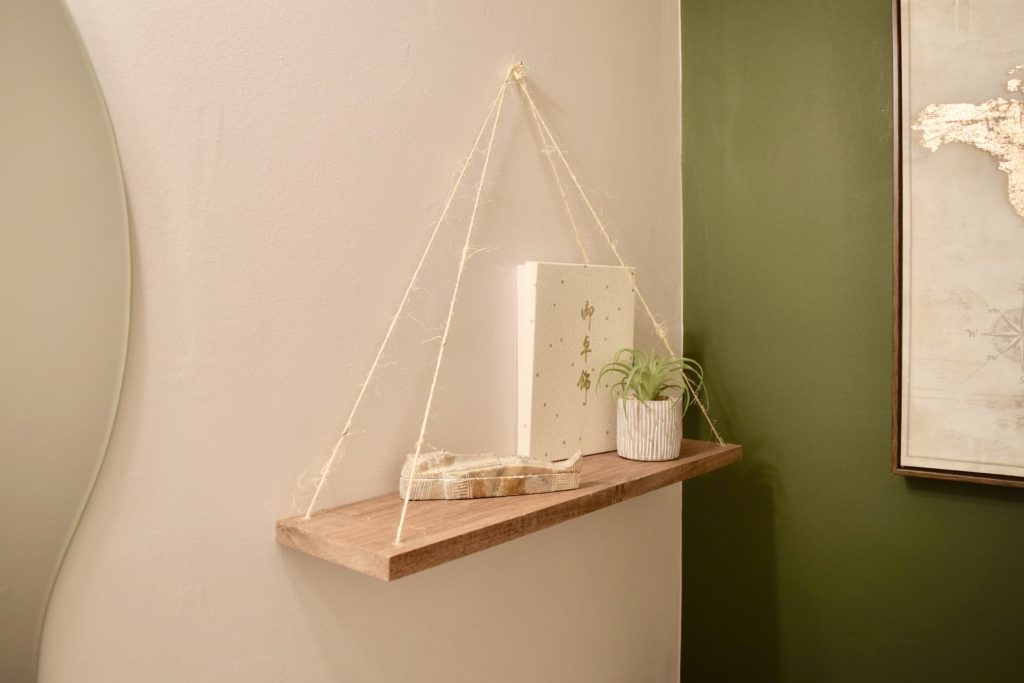 If you have a little more time on your hands, make a crate shelf to hold books, decor or anything you like!
Here is a how-to on making a crate shelf.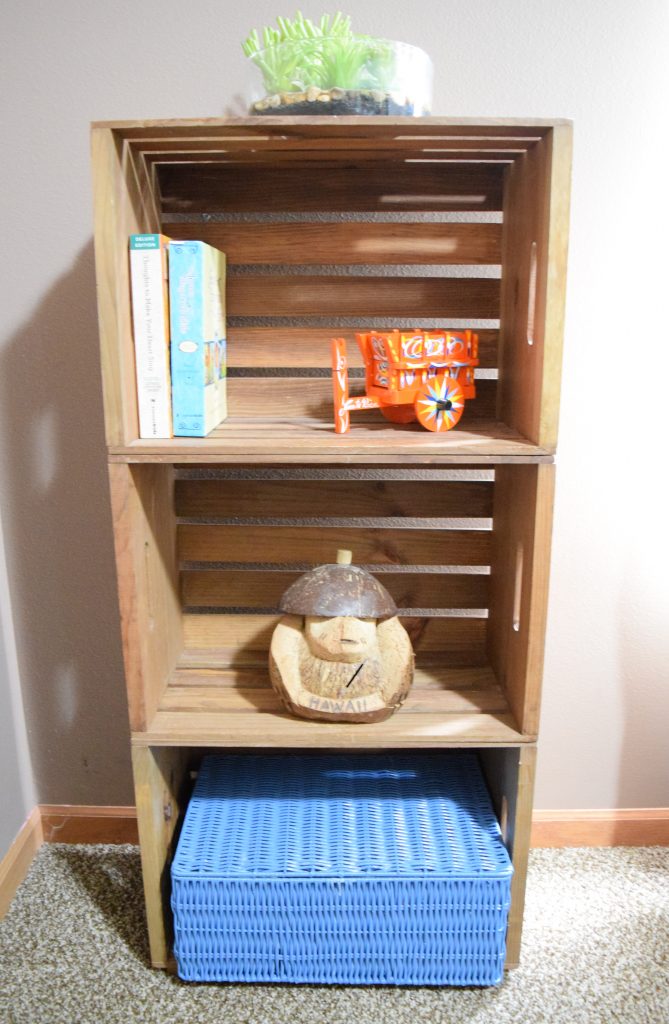 3. Use Peel and Stick Tiles.
Using peel and stick tiles is a pretty amazing way to update the look of your house in an hour. Whether you want to give your kitchen a refresh by adding a backsplash, or you want to update a floor, peel and stick tiles makes the job easy!
Check out these great peel and stick backsplash options (click for pricing info):
Just clean the surface, peel off the backing, and apply the tile to the wall!
The floor tiles are just as amazing (click for pricing info):
Here is a simple tutorial on how to lay peel and stick floor tiles.
4. Update Beige Colored Outlets.
I love this easy DIY because it makes a huge impact in just a few minutes. Changing the color of your outlets makes the whole room look updated.
These outlet covers make it easy too – no electrical work required! With normal outlet plates, you need to change the electrical components to a white face as well. But with this product, the electrical components are covered! Simply unscrew the faceplate on your outlet, and screw this cover in its place. Amazing!
For more details, and info on how to update your switches too, check out how to change your outlets from beige to white.
5. Paint Your Bathroom Vanity
Painting your bathroom vanity is pretty easy to do in an afternoon. Allow time for drying in between coats, and you'll have a new look by sundown!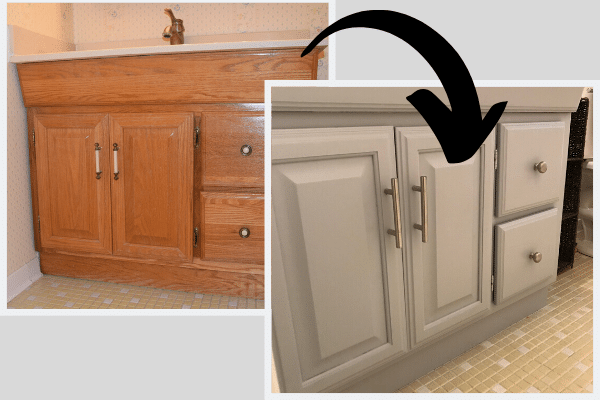 Here is a tutorial on how to paint your bathroom vanity.
6. Paint Your Picture Frames.
Painting picture frames takes them from boring to gorgeous. Whether you're looking to make a gallery wall with all matching frames, or want to give the room a pop of color with a bold frame choice, paint is an easy way to do it.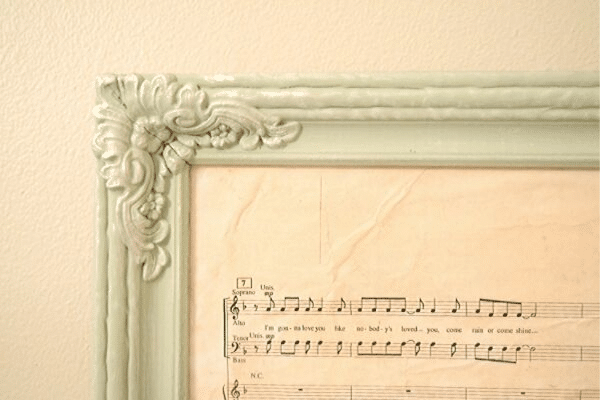 For the frame above, after I painted it, I used Rub n' Buff to give it a silver leafed look. Here is how to do it!
7. Frost the Glass on your Windows or French Doors.
Using easy adhesive film can completely change the look of your room, and afford you more privacy.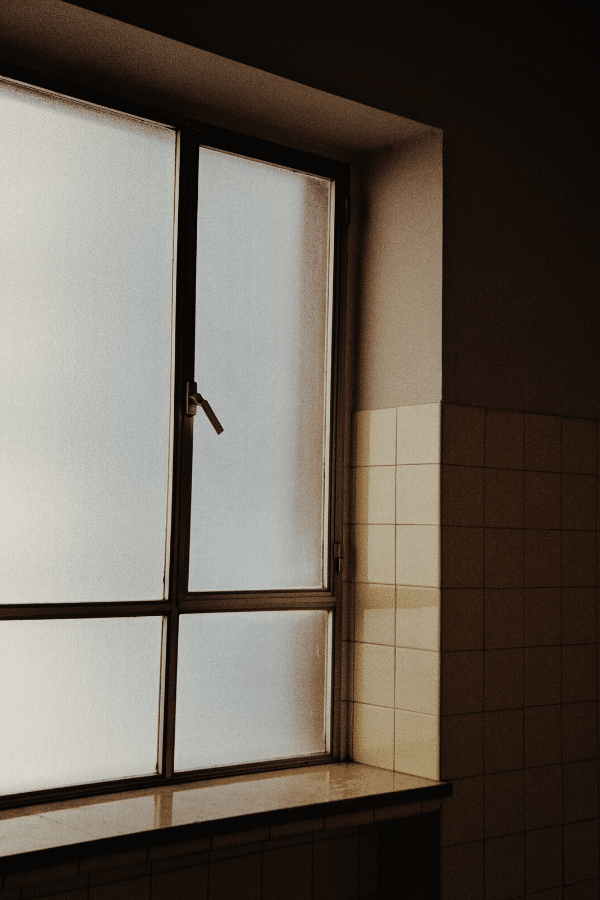 I am just about to do this to french door on my pantry. Stay tuned for the tutorial!
8. Paint Discolored Tile Grout.
Painting discolored grout really makes a bathroom or kitchen sparkle. Whether you've tried everything to clean your grout and you just can't make it look nice, or you want to update the look with a new grout color, this is a great way to give your room a refresh.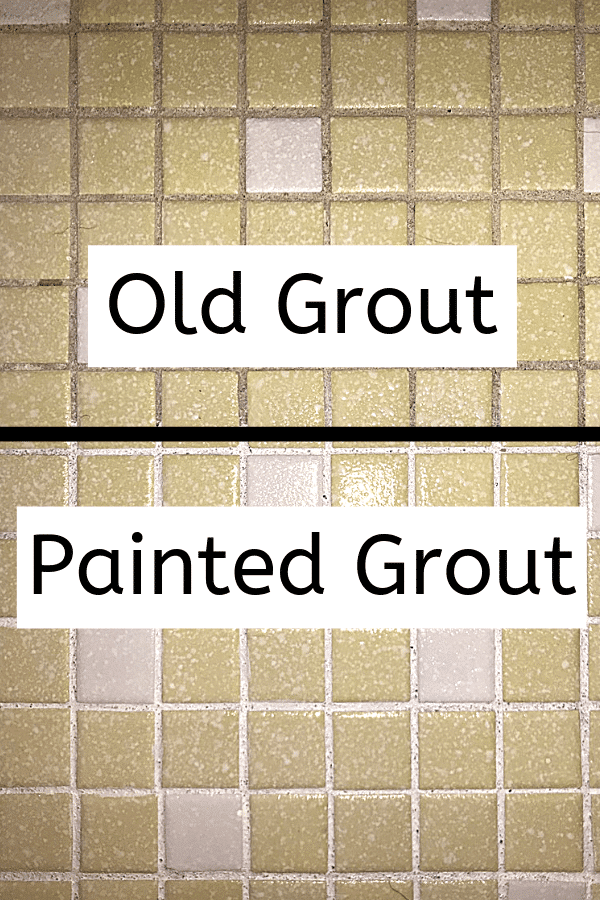 Check out how to paint your grout here!
9. Spray Paint Your Air Registers.
Spray paint is amazing – and you can use it to paint even the toughest things. For an easy DIY, spray paint your old registers to a black, oil rubbed bronze or bright white.
10. Update Kitchen and Bathroom Knobs and Pulls.
Changing the knobs and pulls on your kitchen or bathroom cabinets makes a big impact. It can give a modern look to an old cabinets, and its easy to do.
Check out these great knobs and pulls from Amazon (click for prices)!
Enjoy making your home beautiful with your new home improvement DIY projects!
I hope there is something on this list that catches your eye or sparks your imagination. Happy DIYing!