I have been on the hunt for the perfect washable rug for several years now, and I finally tried out Rugs USA washable rugs.
A friend of mine had purchased one for her home and I spotted it the second I walked in. She was thrilled with her rug, so I decided it was time to get my own Rugs USA washable rug.
Rugs USA is relatively new to the washable rug game, but delivers a great product.
In fact, you can see reviews on each of their washable rugs on their website. With most rugs having an average star rating of 4 to 4.5 out of 5, people seem to be pretty happy with this Rugs USA washable rugs.
Here is my experience with Rugs USA washable rugs.
But first, a little bit of background.
This post may contain affiliate links. If you have any questions, please see my disclaimer page.
Who is Rugs USA?
Rugs USA is an e-commerce store that sells all sorts of rugs. They sell everything from jute rugs, shag rugs, vintage style, kids patterns and more.
Most importantly for me, they also sell washable rugs.
They ship to the contiguous United States and Canada for FREE, which I love. And, if you are in the US, you can return your purchase within the first 30 days (less return shipping fees) for a refund if you aren't satisfied.
Rugs USA Washable Rugs are a Competitor to Ruggable
Almost everyone these days has heard about Ruggable. Their name is almost synonymous with "washable rug," since they were the first big name washable rug brand.
But, Ruggable rugs tend to be fairly expensive now. Plus, I always had trouble with the edges of mine rolling up.
Things like this have left many people to seek out competitors to Ruggable.
While there are several brands of washable rugs now, Rugs USA and Tumble are two brands like Ruggable that are great options.
I have a whole review on Tumble rugs here. I love my Tumble rug, but Rugs USA has way more style options.
Ruggable vs. Rugs USA Washable Rugs
In looking at Ruggable rugs vs. Rugs USA washable rugs, there are a few differences.
First, Rugs USA rugs have a one-piece design. They have a backing layer already on the rug, which helps prevent it from skidding on the floor.
Rugs USA still recommends putting a rug pad under it, but you can get one of those inexpensive rug gripper pads for less than $20 if you don't want to get one from Rugs USA.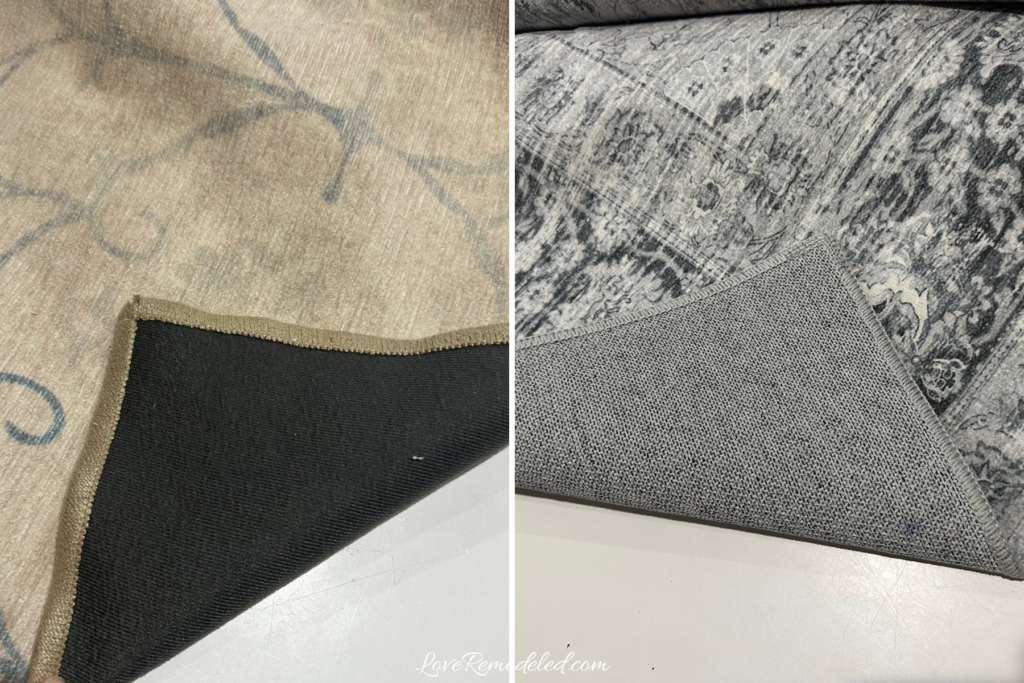 Ruggable rugs require their own special pad, which is sort of like a velcro sheet. As you can see from the picture, the back of the Ruggable rug (on right) is just fabric.
Practically speaking, I found my Ruggable rug so much harder to get down on the pad perfectly because of the velcro-like pad. It would wrinkle in places, or get stuck on one side with some of the pad showing, requiring me to have to adjust the whole thing repeatedly.
Plus, my Ruggable rug was so thin that you could see the outline of the rug pad under it.
A second major difference is the weight of the rugs. My Ruggable rug is really light, and I think that may be part of why the edges roll.
The Rugs USA rug I have weighs significantly more (over 16 pounds!), and I think that the extra weight helps to hold down the edges more.
Third, the Ruggable rug and the Rugs USA rug feel different. The Ruggable rug feels more like fabric, while the Rugs USA rug feels a bit more like a rug.
Both are thin, but the Ruggable rug is definitely thinner. The picture of this is slightly deceiving.
They look to be about the same thickness. But, the Ruggable edges are rolled (which I could never get them to stop doing), and the edge of the Ruggable rug is actually thicker than the rug part itself.
Rugs USA Washable Rugs
Rugs USA washable rugs come in all sorts of styles including:
Truly, Rugs USA has a washable rug style for anyone.
The rugs come in a variety of sizes, ranging from runners, 2x3s all the way up to 10x14s, square and round rugs.
Plus, one of my favorite things about Rugs USA is that they always seem to be running some sort of sale. I love getting a good item on a discount, so sale items always speak to me.
The website is easy to use, and allows you to filter their selections by size, color, styles, shapes, rooms, materials, thickness, and more.
It is very user friendly, and makes it easy to find exactly the best option for your space.
Why I Use Washable Rugs
For a little bit of context for you, I have four children and a large puppy. Having a washable rug is not just a nice-to-have for me. Its almost a necessity.
In fact, within thirty minutes of putting my new Rug USA washable rug down, my dog peed on it. Had this been a regular, non-washable rug, I would have been SO upset at how fast it became soiled.
But, the nice thing about having a washable rug is that I don't have to stress this too much anymore. I can pop it in the wash and have it clean without too much of a headache.
Speaking of washing it, here is how to wash your Rugs USA washable rug.
Care Instructions for a Washable Rug from Rugs USA
When you receive your washable rug, there is an insert with some useful information on how to wash the rug.
How do you wash a Rugs USA washable rug?
You put the entire rug in the washer. Machine wash it with cold water, and then line-dry it.
It is that easy!
Can you put a washable area rug in the dryer?
If you want to use a dryer for your rug, you can dry it on air-only cycle with no heat
If needed, you can use a low-iron to get any wrinkles out.
My Rugs USA Washable Rug
Here is a picture of my rug.
This is when the rug was fresh out of the box (yes, they come flat-packed in a box, not rolled like some other rugs).
As you can see, there are some wrinkles on it from the packing. Really, I was actually expecting them to be much worse than they really are though.
The wrinkles are pretty minimal, and I'm confident that they will fall out within the next few days.
The rug itself is thin, and feels more like a rug mat than a thick rug. So if you want a more substantial feel under your feet, I would recommend trying out one of their plush rugs.
The corners of the rug are reinforced with extra stitching, which is likely intended to help keep the edges from fraying.
The rug looks great in my space. This is my kitchen table area, so I need big things from this washable rug.
I'll continue to update this post with how the rug does over time, but for now, I'm super happy with my Rugs USA washable rug.
The color is beautiful (and as-described on the website), the rug cleans up nicely, and the price was perfect for me.
Final Thoughts on Rug USA Washable Rugs
If you are looking for a rug that is soft, inexpensive and washable, pick up a Rugs USA washable rug.
Washable rugs are one of those products that makes life so much easier.
If you have kids, pets, or even just happen to have the occasional mishap yourself, you will be so happy that you have a rug that you can throw into the washer anytime.