Tumble Washable Rugs are one of the newest machine washable rugs on the market. They join a few other notable rug companies, including the most famous of washable rugs – the Ruggable.
If you are looking for the best washable rug on the market, keep reading for all the details on the Tumble Washable Rug.
Oh, and be sure to click on the link at the bottom of the page for $20 off!
This post may contain affiliate links. If you have any questions, please see my disclaimer page.
Why a Tumble Washable Rug?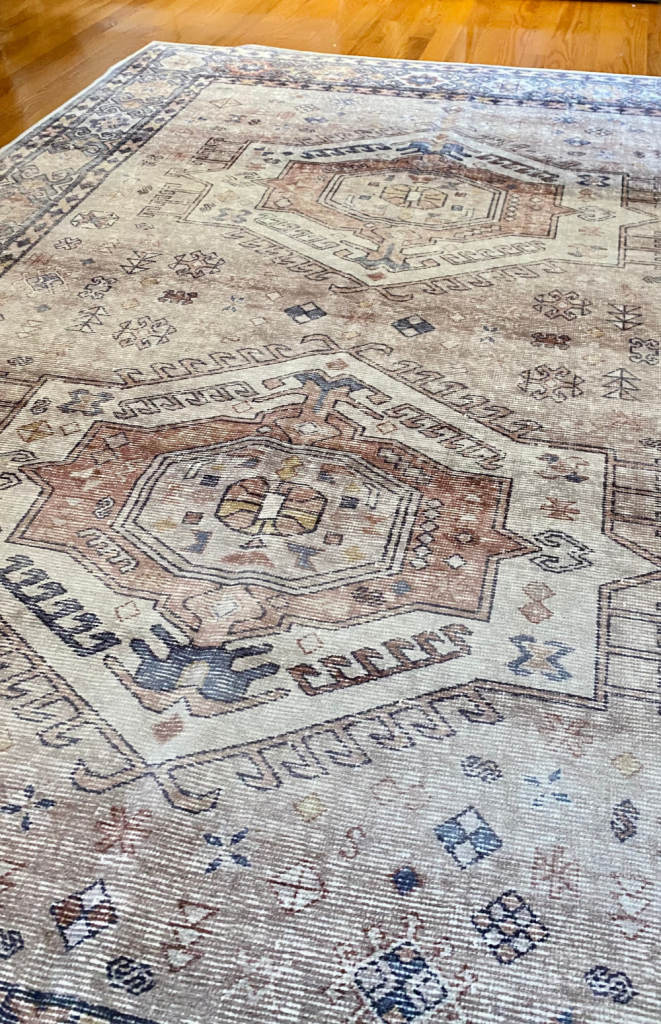 With four kids and a dog, I am a huge fan of the idea of washable rugs. My rugs get dirty from kids, from my dog, and from all the home projects that I do. So having a rug that I can throw in the wash gives me one less thing to worry about.
The Tumble washable rug is a main competitor to the Ruggable brand. And while Tumble rugs are comparable to Ruggable rugs, I would argue that they are actually better.
In the past, I had purchased a Ruggable rug, and… well, it didn't quite do it for me.
I plan to talk all about this in my Ruggable washable rug review (coming soon), but suffice to say, Tumble has answered all my main complaints with their washable rugs.
Features of a Tumble Washable Rug
A Tumble washable rug has a few notable features that make it an amazing rug. Let's start by talking about the design of the Tumble washable rug, as well as the things that set it apart from other washable rugs.
The Tumble washable rug is comprised of two parts.
First, you have a cushioned rug pad that comes in a number of pieces that fit together like a puzzle.
Second, you have the removable top rug piece, which is the part of the rug that you see and feel.
Tumble Rug Pad
The rug pad is one of the main differences between the Tumble rug and some other washable rug brands.
I love that the rug pad on the Tumble rug is soft and cushiony. It gives it more of a real rug feeling than some of the other washable rugs, such as Ruggable's very flat design.
Second, the rug pad has a little bit of weight to it and an anti-skid backing. These features keep the Tumble rug in place whether it is being run on by little feet or driven over by a robot vacuum.
In addition, the rug pad can be wiped easily if crumbs get under the rug, which makes for easier clean up when it is time to do a deep clean on the house.
None of these things seem like a big deal though, unless you've tried another major brand's washable rug and have had the same complaints as I do.
Tumble Washable Rug
The washable rug layer is where the magic really happens on a Tumble rug though.
First, (as I'm sure you've suspected) it is machine washable. You can remove the top rug layer and throw it in the wash.
I currently have the 5×7 size rug, which fits easily into the washer with room to spare. I'm sure that, given the amount of space I have leftover in my washing machine, I could also fit an 8×10 Tumble rug in the washing machine as well.
After washing, the Tumble rug dries quickly on a clothesline or over a few chairs, and doesn't hold any wrinkles.
Second, if you get a little spill on it, you can wipe it right off without needing to wash the whole rug.
I've wiped off chocolate sauce, coffee, spaghetti sauce, jelly and more off my rug, and it hasn't even left a spot. I'm not sure what sort of magic this is, but it is amazing.
Third, the Tumble rug has little pockets in the corner that tuck into the rug pad. They keep the rug in place and make sure that the pad doesn't tuck out from underneath.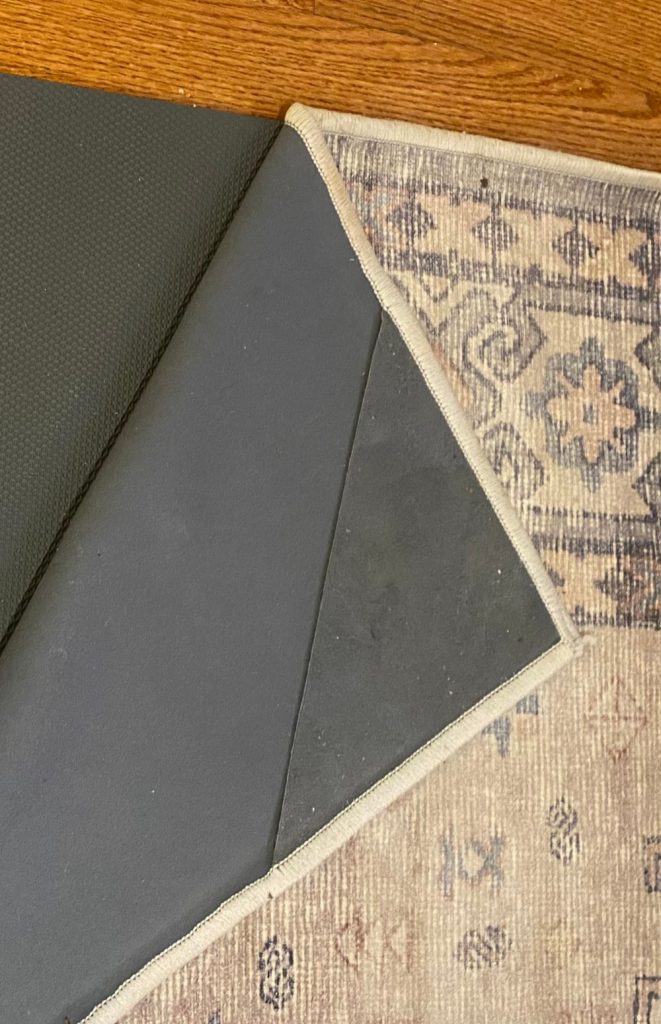 The Tumble rug is thick enough that you don't see where the pad is underneath of it, and also has enough weight that the edges lay flat on the floor. While some other washable rugs tend to curl on the edges, I haven't had this problem with the Tumble rug.
And while I love all these things about the Tumble washable rug, I also need to mention how gorgeous they are.
Tumble Rug Styles
Tumble Rugs come in four categories of styles: Persian & Traditional, Geometric & Neutral & Contemporary, Bohemian & Southwest, and Kids & Nursery.
Between all the options, there is something for everyone. Plus, it seems like they add new styles fairly regularly.
I chose the Sedona – Pastel/Ivory and just love the colors on it. They aren't washed out, but have a vintage sort of look.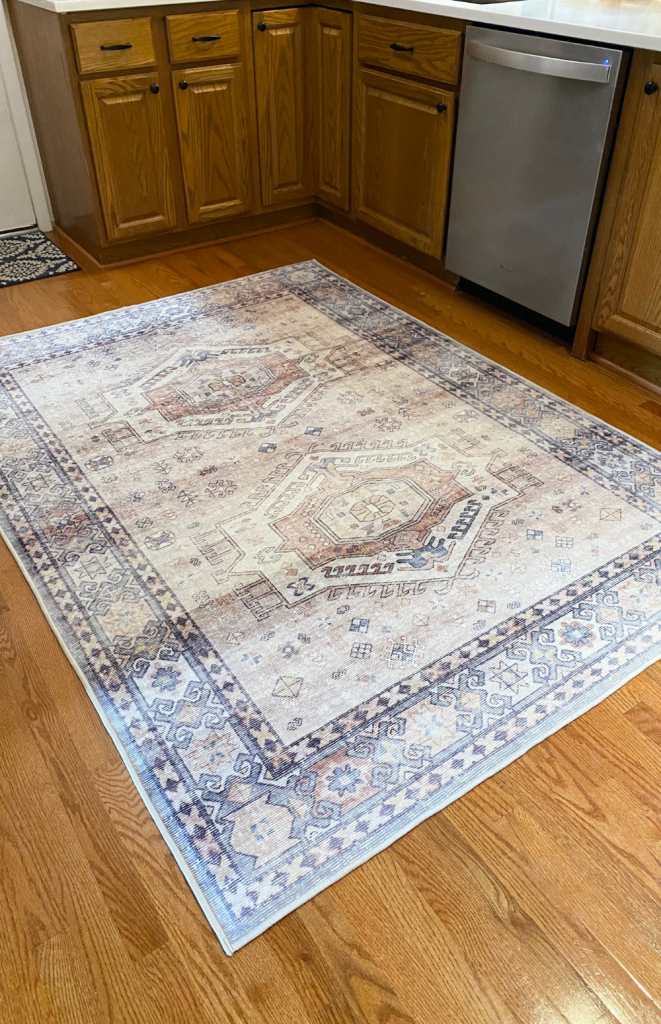 If you're ready to pick one up, click here for $20 off your Tumble rug! (add a rug to your cart and the $20 off coupon will automatically apply!)
Tumble Rug Sizes
Tumble Rugs come in a variety of sizes.
You can get a 2.5×7 or a 2.5×10 runner rug, or a 3×5, 5×7, 6×9, 8x10x and 9×12 rectangular rug.
With all these different sizes, you're sure to be able to find a rug size that is perfect for your space.
Remember that if you're choosing a rug for underneath your kitchen or dining room table (which is a great place to put a Tumble rug), you will want to choose a size large enough that all of the chair legs are able to rest on the rug when they are pulled out to sit in.
Ruggable vs. Tumble
Having owned both a Ruggable washable rug and a Tumble washable rug, I can say that the Tumble rug is, hands down, a better product.
I really wanted to love my Ruggable rug, but it just didn't look or feel quite like a rug should.
My Ruggable rug would get wrinkles in it, the edges would curl up, and the rug pad would shift around on the floor. It required daily adjustments to make sure it looked decent (and not even good, just decent). At one point, I attached carpet tape to the bottom of my Ruggable rug to keep the edges from rolling up, and the rug itself was so thin that you could see the impression of grid of the tape through it.
I have heard that Ruggable rugs now have corner pieces similar to Tumble's corner pieces to keep the corners in place, but I can't verify this as mine did not have this.
Also, Tumble's washable rug is able to be wiped off. It feels soft and cotton-like, but seems to have some sort of coating that keeps liquids from soaking into it. My Ruggable rug wasn't able to be wiped. Liquids would go right into it. While I was typically able to scrub them with a wet rag to get the liquid out, it took a little more work than just wiping it.
Last, my Tumble rug just feels like a higher end product than my Ruggable rug did. It is softer, more cushioned and lays perfectly.
Final Thoughts on Tumble Washable Rugs
I really love my Tumble rug. It is exactly what I had been hoping for when I purchased a machine washable rug.
It looks beautiful, and I've gotten so many compliments on it. But more importantly, it is so functional for my life. Having a rug that I can throw in the wash has saved me time and money on cleanings, and has given me peace of mind.
And, with free shipping and free returns, a Tumble washable rug is definitely something you should try today!
Click here to get $20 off your Tumble rug! (add a rug to your cart and the $20 off coupon will automatically apply!)
Also, check out how my Tumble rug held up to 4 kid and a dog!