Interested in buying a washable rug? I have partnered with Tumble Living to share my experience and opinions on their washable rugs.
Several months ago, I purchased a Tumble rug for my home. I had been searching for a washable rug that would look gorgeous while still being functional for my family. With four children and a dog, I needed a rug that could be easily cleaned, but I didn't want to give up style or comfort to get this.
I wrote an in-depth review on my Tumble rug when I first bought it, so if you are looking for all the details, check it out. But, if you just want the cliff notes of why I love this washable rug, keep reading!
This post may contain affiliate links. If you have any questions, please see my disclaimer page.
Tumble Rug Review Follow Up Thoughts
Having had other washable rugs in the past, I knew the pitfalls that some washable rugs have. They don't feel plush, they curl at the corners, and they don't wash up nicely.
So how did my Tumble rug deliver on these things?
Here are my thoughts on how a Tumble rug has held up to all that life has thrown at it over the past few months.
Use this coupon for $20 off your Tumble Washable Rug! (add a rug to your cart and the $20 off coupon will automatically apply!)
Washability of a Tumble Rug
My Tumble rug has been washed many times now. When I wash it, I follow the directions for washing, and let it air dry afterward.
I have never used stain remover on my Tumble rug, and there isn't a stain on it anywhere! I just pull it off the rubber mat, throw it in the wash and let it dry. That's it! No pre-treating, no scrubbing, nothing… which is great, because who has time for that?!
One of the things I love about the rug is how quickly it dries. While I tend to leave it to dry overnight, it seems to dry completely in just a few hours. This is so important for me, because I don't want to leave it off the pad for very long.
Another great thing about my Tumble rug is that it doesn't wrinkle when I wash it. Other washable rugs that I have had have seemed to maintain wrinkles or curl at the edges after washing. A Tumble rug has a bit more weight to it, making it lay smooth and flat even after multiple washes.
Tumble Living actually sends sticky pads to use at the corners of your rug to make sure the corners don't curl. But, I never ended up using them because I just don't have a need to!
I HATED how the corners curled up on my other washable rugs, so I am so happy that I don't have to work about this with my Tumble washable rug.
Even after all these washes, my Tumble rug still looks amazing, and feels even better.
Wipeability of a Tumble Rug
A second thing that I love about Tumble rug is that it is water-resistant. This means that when my kids spill their drink on it, I can wipe it right off the top of the rug without it sinking in.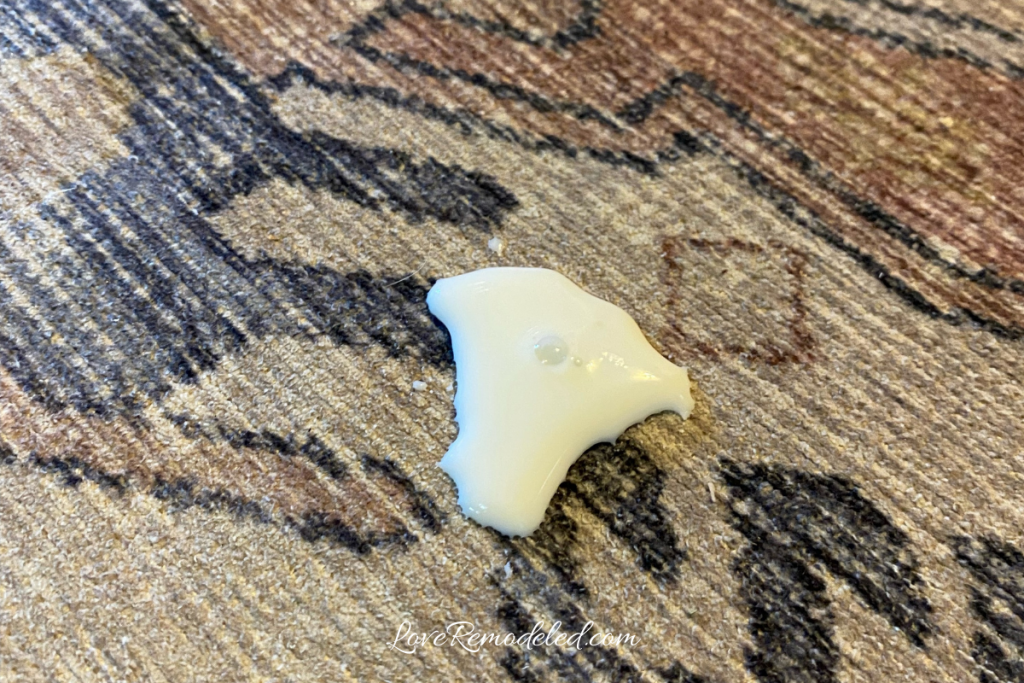 Don't misunderstand this to mean that rug feels plastic-y, like an outdoor rug. It is still perfectly soft.
But, somehow, the Tumble rug makers have designed it in a way that causes the spill to pool on top instead of being immediately absorbed into the rug.
Now, there has definitely been a time or two when a strawberry or other bit of wet food has been smashed into the rug. But even when something that typically stains a rug gets on it, I can take a wet dishrag and wipe it off with minimal effort. No food or drink color has ever stayed on the rug after wiping it.
I'm not sure what sort of magic it took to make a Tumble rug so easy to maintain, but I love it!
Appearance of a Tumble Rug
Despite multiple washes, my Tumble rug is as vibrant as the day I got it.
When it has been a bit since I have washed it, I can tell that the rug is starting to take on a dirty brown color (still working on getting those kids to take their shoes off when they come in!). But, the color goes right back to the gorgeous soft cream and pink shades that the rug should be when I wash it.
This is a present day picture of my Tumble rug (it looks just the same as the day I got it!).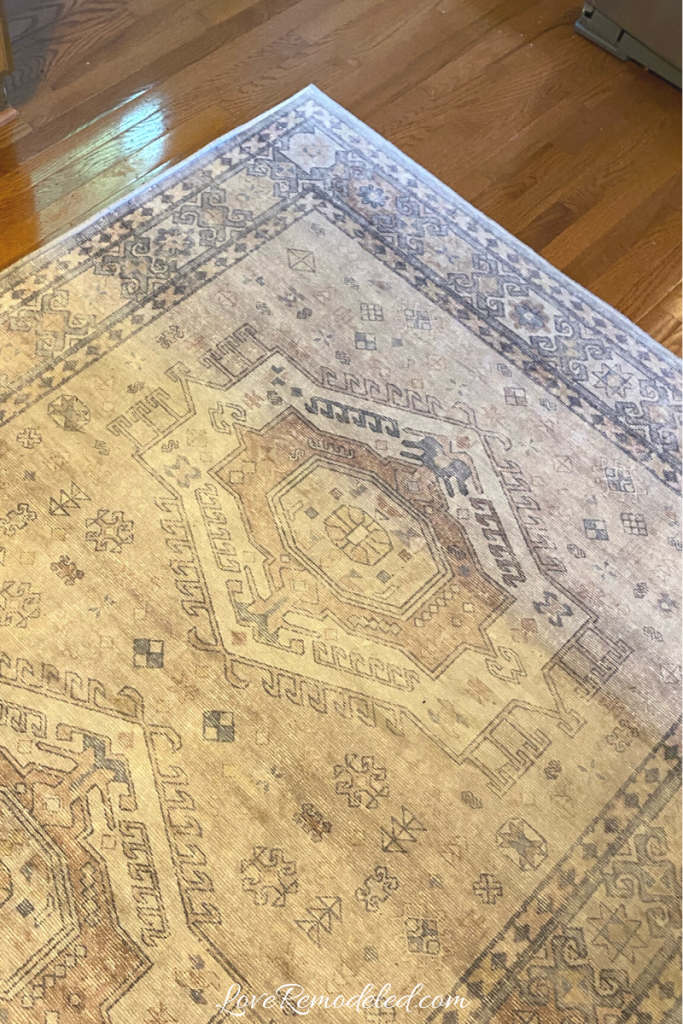 The only way you would know that it was not brand new is that it has a few small pill balls on the outside binding from washing (like the kind you get on a sweater). But you don't see them until you are bending down to wipe something off of the rug.
There are no obvious signs of wear on the rug though, and as I mentioned before, not even a stain! And believe me, my non-washable rug in another room has many stains from the same time period as this one that is in my kitchen!
Feeling of a Tumble Rug
After many months of use, my Tumble rug is still soft and cozy feeling. The rug pad underneath of the top rug part is rubberized, so it maintains its plush feeling.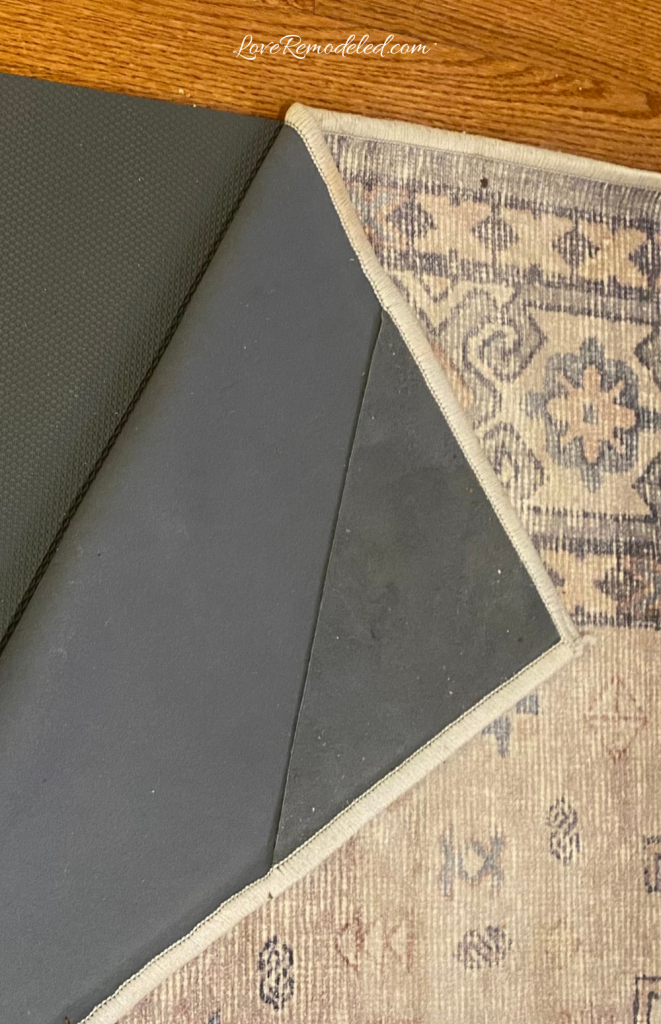 Final Thoughts on How My Tumble Rug Has Held Up
My Tumble rug is by far the best washable rug that I have ever purchased. While I would love to have things that are just beautiful and not have to worry about how they will hold up, I can't!
I need home decor products that will stand the test of time… and the test of multiple children! My Tumble rug has been great for this. It washes quickly and easily, and is ready for whatever the next day brings.
I don't recommend many products, because most products don't deliver on the promises they make. But I can't overstate how happy I am with my Tumble rug.
If you are looking for a washable rug that looks good, feels great and functions well, use this link to pick up a Tumble rug today and get $20 off (applied to your cart in checkout)!