Building a cabinet is a great way to hide your electrical box.
An electrical box is an essential part of a home, but it is not exactly a pretty part. Electrical boxes are metal cabinets that tend to fit almost flush against your wall.
If your electrical box is in a main living space such as a living room, or an area that you're finishing, you may want to hide it using a cabinet.
This post may contain affiliate links. If you have any questions, please see my disclaimer page.
How to Build a Cabinet to Hide Your Electrical Box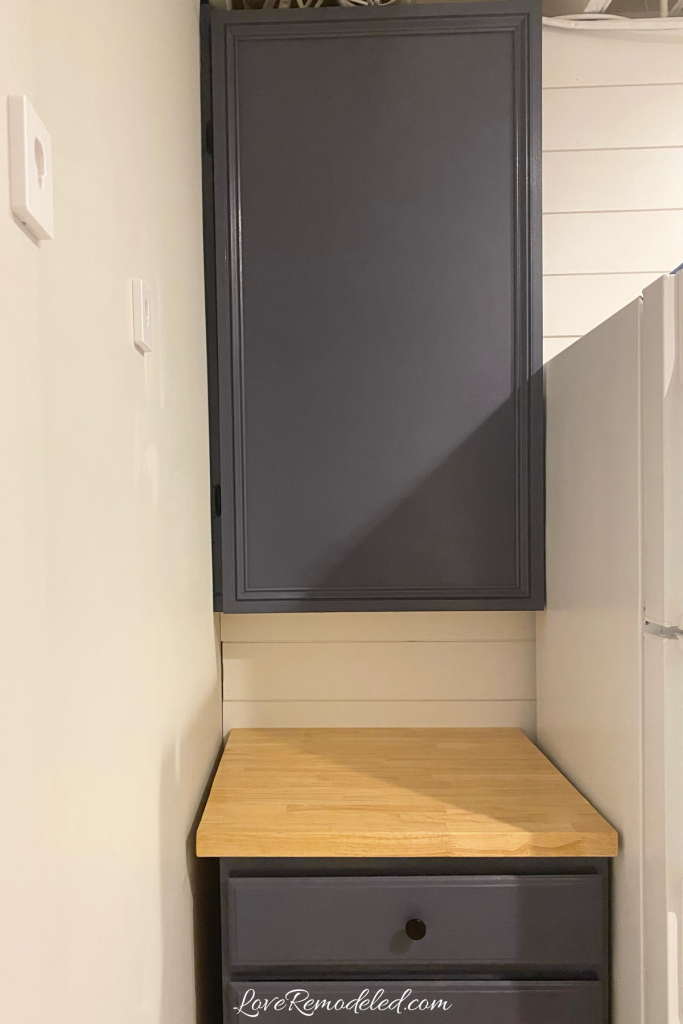 This tutorial will teach you how to make a cabinet to hide your electrical box. Here are the tools and materials you will need to complete this DIY:
Materials:
Sanded Plywood
Trim Pieces
2x4s
Screws
Finish Nails
Paint or Stain
Hinges
Handle
Tools:
Build a Cabinet to Hide an Electrical Box – Step 1
The first step to making a cabinet to fit around your electrical box is to measure how high your cabinet needs to be.
In my case, I wanted to make the cabinet pretty large in case I ever decide to upgrade my electrical panel.
But, your cabinet only needs to be big enough to cover the electrical box, ensuring that an electrician has room to get in there and work if need be.
Then, measure how side your cabinet needs to be, again considering that it needs to be wide enough for an electrician to work in.
To make the cabinet sides, you can use 1×4, 1×6, or 1×8 pieces of wood. Or, you can just use 2x4s if you want.
Cut two pieces to the length you want, and another two for the correct width.
Using a drill, attach all the pieces together to make a box. Before drilling, consider what parts of the box will be seen. For example, you may not want a screw on the side panel of the box, as it will be seen from the side.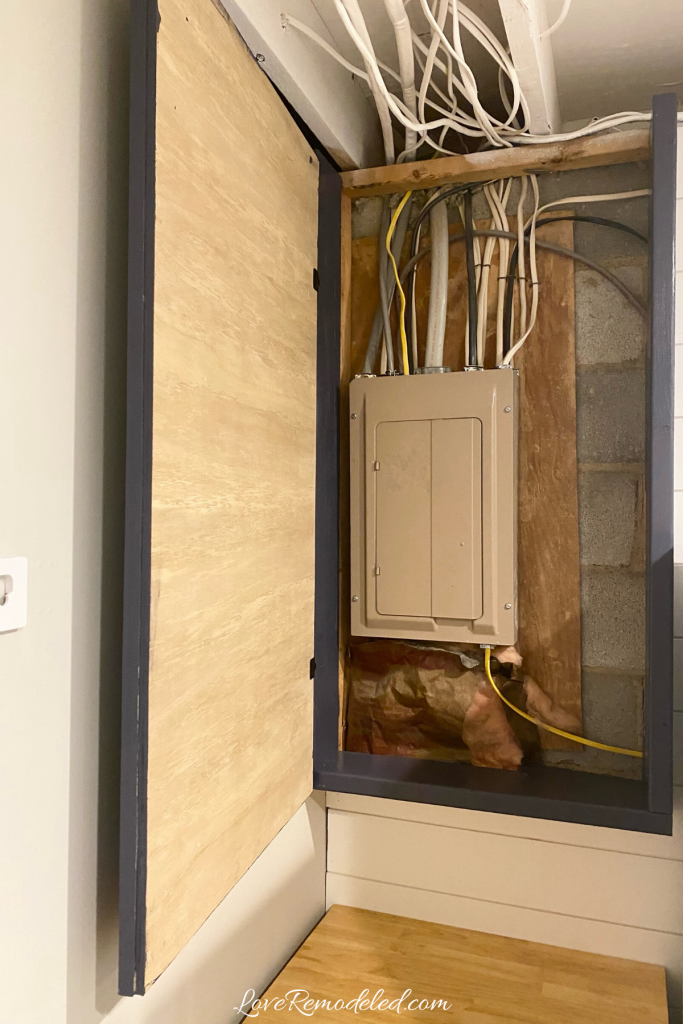 As another option, you can use glue and a finish nailer to add poplar or oak trim pieces to the outside of your cabinet for a smoother/nicer finish than the 2x4s. These will also hide any screws that are holding the box together. (I LOVE my finish nailer, but if you don't have one and don't want to invest in one, you can use finish nails and a nail setter to give it a professional look).
In my case, almost all of the box is hidden by a refrigerator, so I didn't take the time to add finished wood to the box frame.
Build a Cabinet to Hide an Electrical Box – Step 2
The next step is to cut the door.
To make my door, I used sanded plywood and cut it to the right dimensions with my Kreg-Jig circular saw attachment.
This inexpensive attachment makes it easy to rip cut (cut a long length) wood to the exact dimensions you need.
I made my door the same width and height as the outer edge of my frame, less the space required to attach the hinge to the frame.
Build a Cabinet to Hide an Electrical Box – Step 3
If you just want a flat panel door, your door is about finished at this point. I added trim pieces to the front of my door to make the style match the rest of the cabinets more.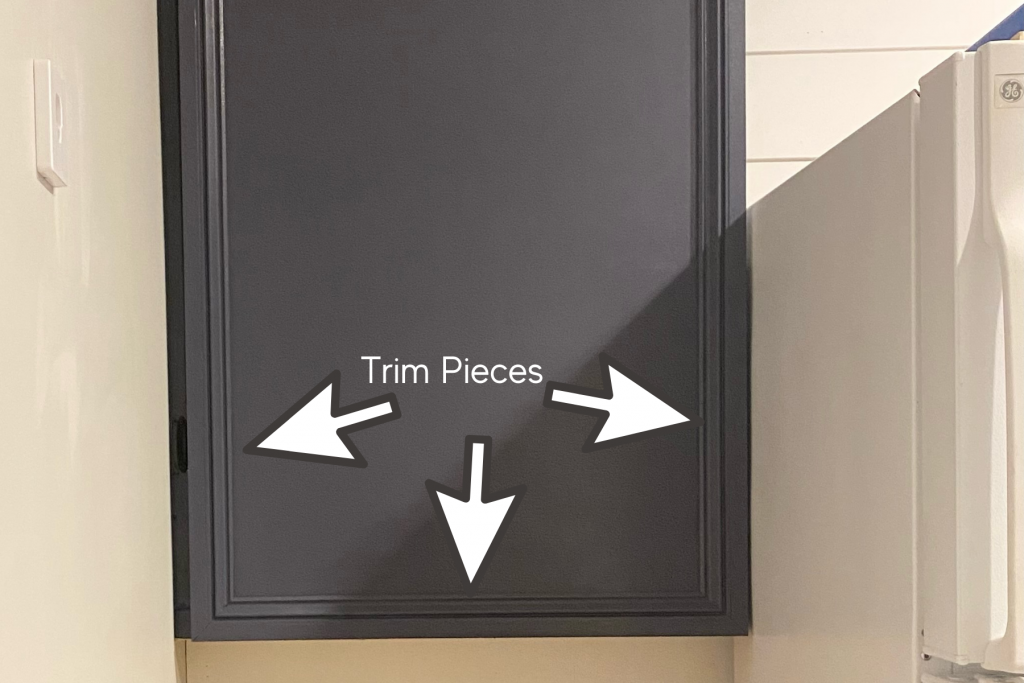 I put wood glue on the backside of my trim pieces, and then used my finish nailer to adhere the pieces to the door front.
If you are planning to paint the door, you can run a bead of paintable caulk along all the seam lines between the trim pieces and the door.
If you are planning to use stain on the door, do not use caulk, as the stain won't penetrate the caulked areas.
Build a Cabinet to Hide an Electrical Box – Step 4
At this point, you are ready to put the door on the frame.
I attached hinges to the door first, and screwed them into the frame.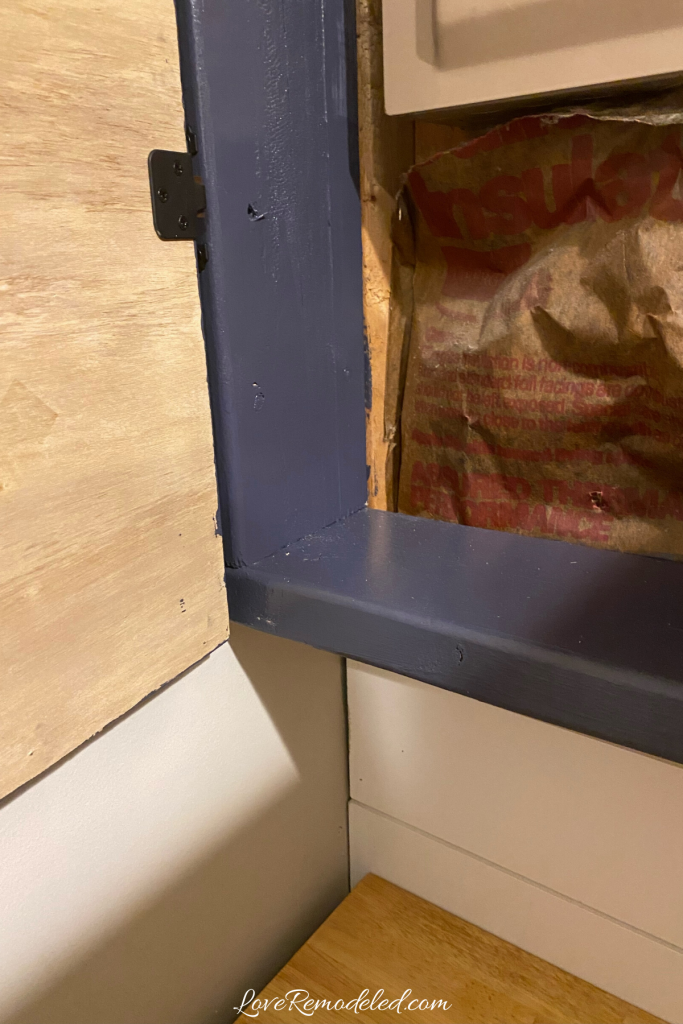 I also bought a handle to attach to the outside for decorative purposes (but lost it… which is why you don't see it in the pictures).
Build a Cabinet to Hide an Electrical Box – Step 5
The last step of making an electrical box cabinet is to finish the exterior with either paint or stain.
I painted my cabinet Hale Navy to match the rest of the cabinetry in the space.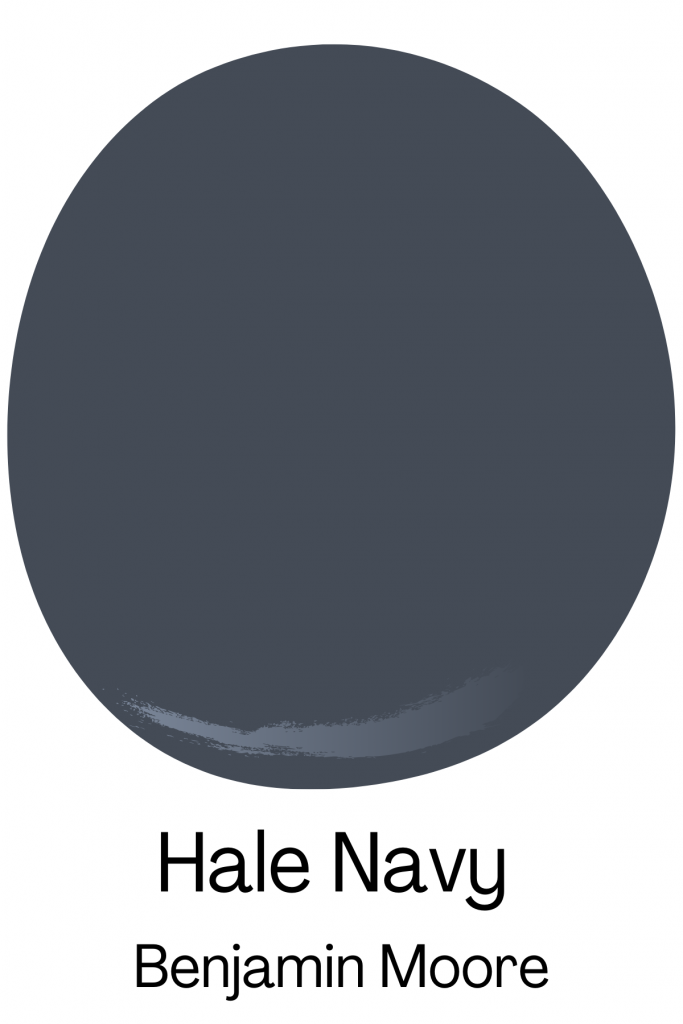 Final Thoughts on How To Build a Cabinet to Hide an Electrical Box
Creating a cabinet for your electrical box really makes the space look finished. It conceals the electrical box in a decorative way that adds your own style.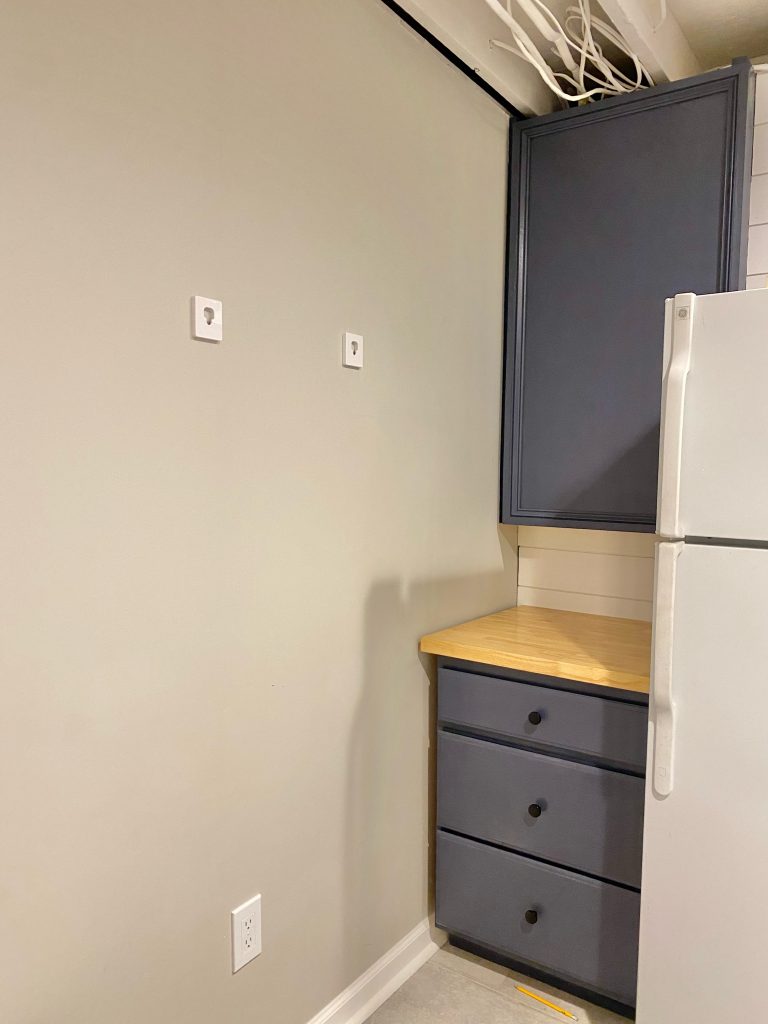 My favorite thing about making an electrical box cabinet is that you don't need a lot of tools or DIY knowledge to make one. It is easy to complete, and only takes a couple of hours to do.
This project was completed as a part of a whole laundry room makeover. Check out the rest of the laundry room!