Natural Choice is a Sherwin Williams Paint color that is in the cream or beige family.
Natural Choice is a soft paint color that isn't very dark, but shows up as an actual color on your walls. Put another way, it doesn't just look white on your walls. It is functional and versatile, which is what makes Natural Choice so popular.
Natural Choice is part of the following Sherwin Williams color collections: Living Well, Top 50 Colors, Warm Whites, and Finest Whites.
If you are looking for information about a light, off-white paint color that works in a lot of spaces and is in style, keep reading for all the details on Sherwin Williams Natural Choice.
This post may contain affiliate links. If you have any questions, please see my disclaimer page.
What Color is Sherwin Williams Natural Choice?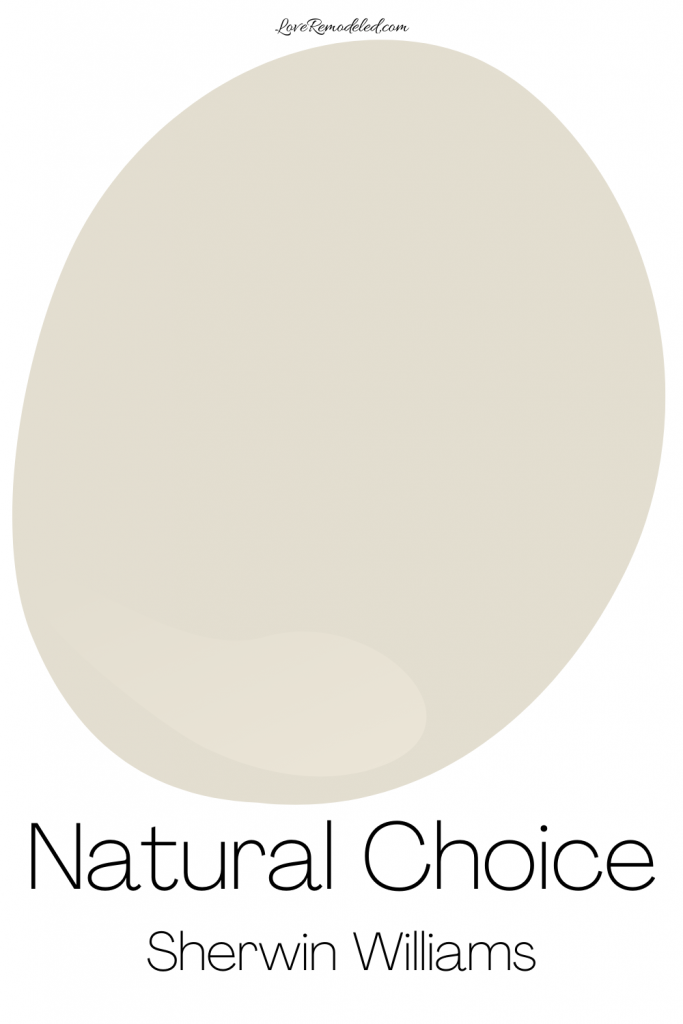 Sherwin Williams Natural Choice is a creamy beige paint color. It doesn't have so much brown that it is completely beige, but it has a bit more brown in it than a cream paint color would.
So while creamy beige isn't exactly a paint color family, it is the easiest way to describe this neutral paint shade.
Recently, warm neutrals with beige undertones have become more and more popular. While gray tones used to be the thing in home decor, the era of beige is being slowly and subtly ushered back in.
Accordingly, Natural Choice is becoming a fast favorite, as it is a modern take on the old beige paint shades. While the beiges of the early 2000's were a more yellowy/orange sort of shade, Natural Choice balances out its yellow with a hint of gray. Altogether, this makes it a muted, more updated sort of beige that works in modern homes.
Sherwin Williams Natural Choice LRV
Natural Choice has an LRV of 73.
The LRV, or Light Reflectance Value, provides information about how light or dark a paint color is. The LRV scale goes from 0, which is completely black, to 100, which is completely white.
An LRV of 73 means that Natural Choice is light enough to use in most spaces, but not so light that it passes as a white paint color. It has a good body to it, and will show up on your walls and pop against white trim, but it isn't a dark paint color.
Sherwin Williams Natural Choice Undertones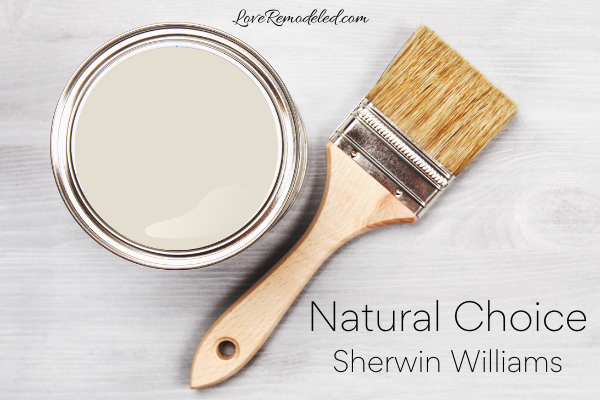 All paint colors have undertones that influence how they appear on your walls. While Natural Choice is a creamy beige shade, it also has some other colors to be aware of.
Sherwin Williams Natural Choice has yellow and green undertones. It also has a bit of gray in it that keeps it from being too bright. These undertones will be more or less pronounced depending on the lighting and what other shade you have in the room.
For example, in south-facing afternoon light, you will probably see a lot more of Natural Choice's yellow undertones. In the evening or in dim lighting, Natural Choice will be more muted, and perhaps look a bit grayer than in bright light. When put next to cream colored accessories, you may find that you see that green undertone peeking through.
Is Sherwin Williams Natural Choice Warm or Cool?
With its yellow and beige tones, Natural Choice is a warm paint color.
Warm paint colors have yellow, red or orange undertones. They make a space feel cozy and energized. In contrast, cool paint colors have green, blue and purple undertones. Cool paint colors feel relaxing and expansive.
Where Can I Use Sherwin Williams Natural Choice?
Natural Choice tends to feel soft and cozy in a space. It can also take on an elegant and sophisticated look.
Natural Choice is a shade that works in living rooms, dining rooms, entryways, bedrooms, kitchens or even bathrooms.
And, because Natural Choice is a light neutral, you can really use it in several rooms of your home to create a cohesive flow to your space. Using one paint color throughout several adjoining rooms makes the rooms feel like they all are part of one big, larger space.
Natural Choice can work in traditional, contemporary, cottage, farmhouse or transitional style homes.
Coordinating Paint Colors for Sherwin Williams Natural Choice
Natural Choice works well with a lot of different coordinating shades.
Specifically, Natural Choice looks great with darker tans and browns, greiges, pinks, greens, dark blues, blue-greens, blacks, whites, and creams.
For a neutral color palette, Sherwin Williams pairs Natural Choice with Analytical Gray, a midtone greige paint color, and Sensuous Gray, a darker gray with a purple undertone.
This color Natural Choice palette demonstrates how Natural Choice can be part of a neutral color scheme, acting as a calming backdrop to bolder colors.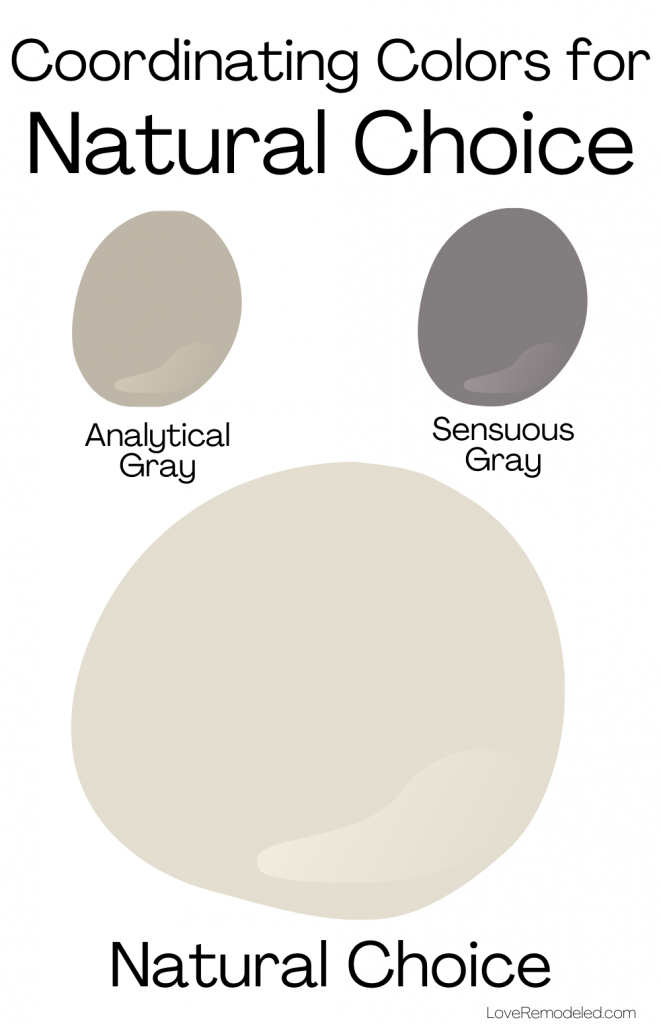 Trim Paint Colors for Sherwin Williams Natural Choice
Sherwin Williams Natural Choice goes just as well with very clean and bright trim paint colors as it does with more creamy trim paint colors.
In particular, I've chosen my two go-to paint colors to pair with Natural Choice. The first is High Reflective White.
High Reflective White is a very clean, bright white paint color that is almost undertone free. This means that it goes with almost any coordinating paint shade. Because it is so light and bright, it really sets off the wall paint shades nicely.
If you like a white paint color for a trim shade, but want something a little softer, check out Pure White. Pure White is bright and looks white, but is a little bit softer than High Reflective White. It isn't stark at all, but also doesn't look creamy.
But, if you like a creamy paint color for your trim, Natural Choice also goes with Alabaster. Alabaster is a soft, warm white paint color that has yellow and gray undertones. It definitely won't look too white in your space, but still will show a contrast from the Natural Choice walls.
Sherwin Williams Natural Choice Compared to Other Paint Colors
When I do a paint color review, I like to compare the paint color I'm discussing with other popular paint shades. I find that this is helpful for people in deciding whether a paint color is the one that they want.
Typically, the shades that people are most interested in are all of the same color family (although, sometimes people like to compare two totally different paint colors because they have the same uses).
In this case, I'm going to compare Natural Choice to several other neutral paint colors: Alabaster, Pearly White, and Oyster White.
Sherwin Williams Natural Choice vs Alabaster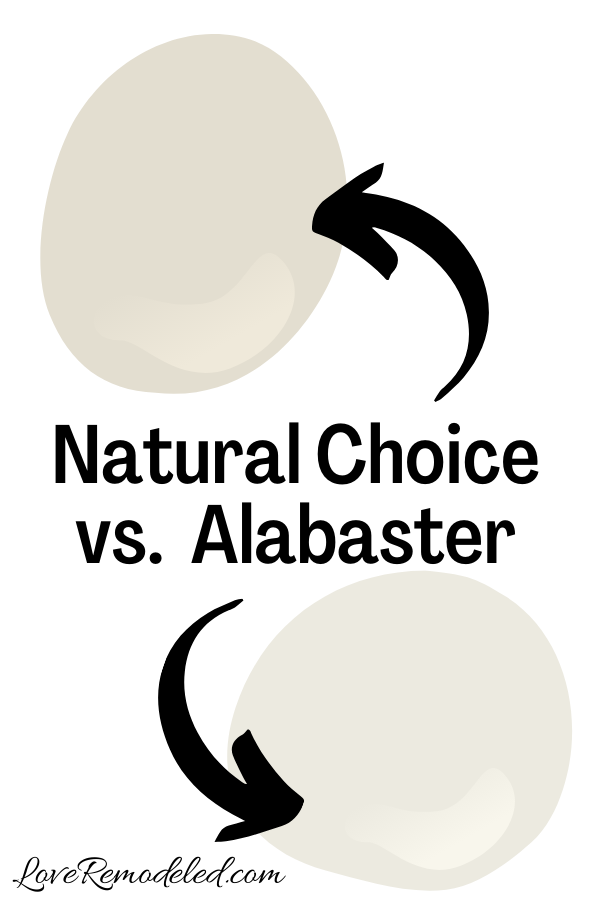 I mentioned Alabaster before as a possible trim paint color to pair with Natural Choice. But now, let's discuss it as an alternative wall paint color to Natural Choice.
Alabaster is a light, off-white paint color that has yellow and gray undertones. It is a creamy sort of white, without actually being a cream paint color (it has a bit too much white and a bit too little yellow to be a true cream shade).
Alabaster is a good bit lighter than Natural Choice. It has an LRV of 82 compared to Natural Choice's 73, which means that Alabaster is much closer to a true white than Natural Choice is.
Both Alabaster and Natural Choice are light neutrals with yellow and gray undertones, but Natural Choice is more of a beige shade, while Alabaster is an off-white. Alabaster can pass for a white paint color if it is the lightest shade in a room, while Natural Choice would never look like a white paint color.
So, while Alabaster and Natural Choice can both give a room a soft, cozy feel, Natural Choice has more meat on its bones, and will look more like a color on the walls. Accordingly, Natural Choice can stand out from the trim, while Alabaster will almost always show barely any differentiation from a white trim color.
If you want a very light and airy shade, Alabaster is a good pick. But, if you want something that is more of a color, go with Natural Choice.
Sherwin Williams Natural Choice vs Pearly White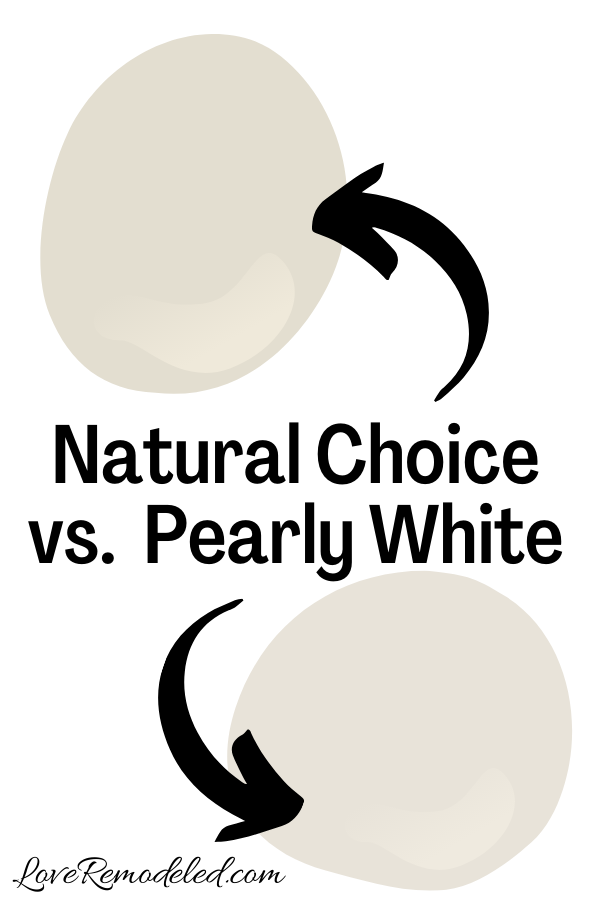 Pearly White is a similar shade to Natural Choice, but is a bit lighter and grayer.
Pearly White is an off-white paint color with gray, cream, and green undertones. It has a slightly higher LRV than Natural Choice, which means that it will be just a bit lighter than it on your walls.
But, while Natural Choice looks more like a grayish beige, Pearly White looks more like a creamy gray. The distinction doesn't sound like all that much, but when you see them in a room, you can tell the difference.
Pearly White gives off a light and airy, soft and neutral look. While Natural Choice tends to look more like a beige neutral.
Both these shades are beautiful, and I would recommend trying them both in your space. Pearly White might be better if you have a lot of southern light in the space, as the warmth from the light will bring out the creaminess of the paint color. Conversely, if you don't want an overly beige room, Natural Choice may come across as just a bit too warm in southern-facing light.
But, Natural Choice may be the better pick in a northern-facing room, as Pearly White may come off as just a bit dull and flat.
Sherwin Williams Natural Choice vs Oyster White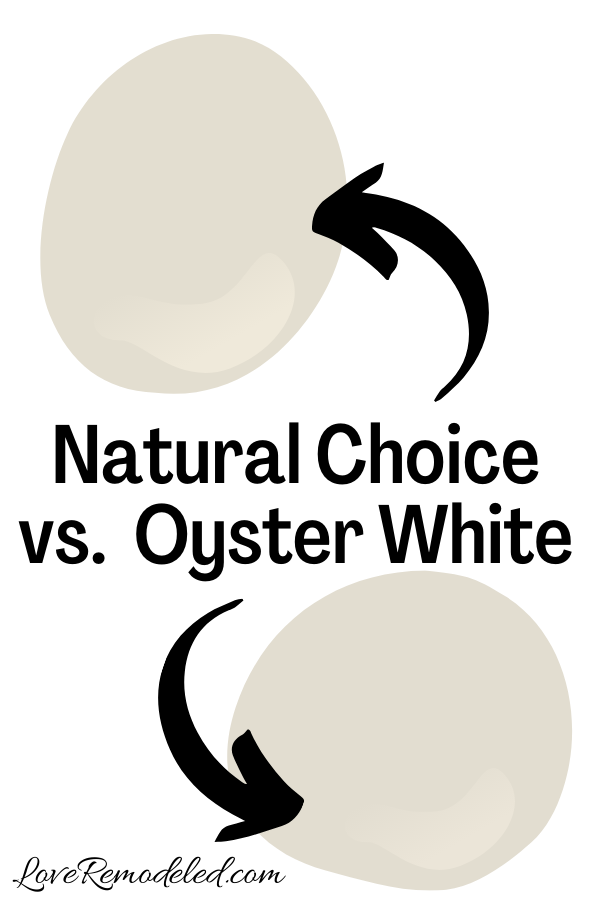 Oyster White is another popular Sherwin Williams paint color, but it isn't quite as popular as Natural Choice.
Oyster White is also an off-white paint shade that lands most cleanly in the beige family. But, while Natural Choice has gray, yellow and green undertones, Oyster White has a little more gray and green than Natural Choice does.
Oyster White and Natural Choice are both warm paint colors, but Natural Choice feels a bit warmer due to having more yellow in it.
Both Oyster White and Natural Choice have about the same depth.
If you're trying to decide between Natural Choice and Oyster White, consider how much warmth you want the space to have. Oyster White will come across as a bit more neutral (as opposed to warm) than Natural Choice will.
Wondering how to pick the perfect paint color?
I have the best solution for you!
Samplize sells 9×14.75 stick-on paint rectangles in almost every paint color.
These eco-friendly, peel and stick rectangles are made from real paint, so they will show you exactly what the paint color will look like.
Simply place them on your walls next to your trim, furnishings or fixed elements, and easily see whether the paint colors work in your space and with your lighting. Then, peel the sheet right off your wall and reapply it somewhere else if you like!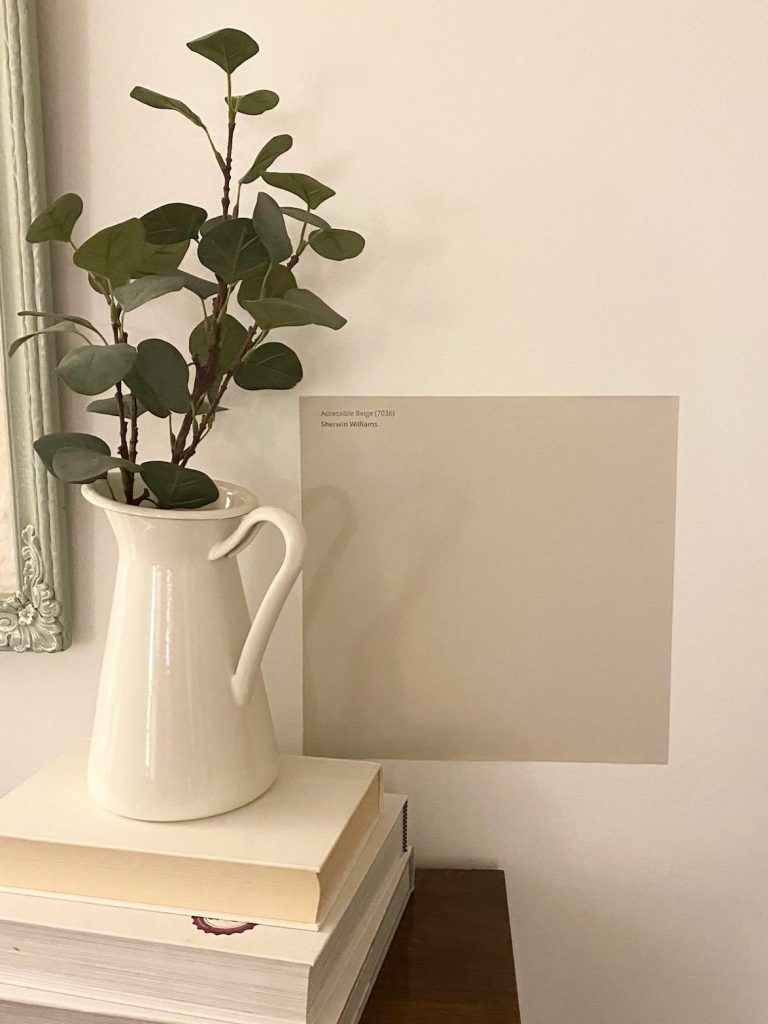 Oh, and you will receive them tomorrow with $5 overnight shipping! But, if you enter your email, you'll get $5 off your first order – which basically means that you will get free, overnight shipping!
Samplize sheets are truly the easiest (and fastest!) way to test a paint color in your home.
Final Thoughts on Sherwin Williams Natural Choice
Warm neutrals with beige tones are fast becoming some of my new favorites. While I loved the grays, and I think there will always be a place for them, beige tones are coming back in style.
Natural Choice is a great beige because it has a bit of gray in it that gives it a mature, sophisticated look. It doesn't come off as dated or out of style.
If you want a modern neutral, Sherwin Williams Natural Choice should be on your shortlist. It goes well in almost any space of the house, and works in many different styles of homes.
Need some help picking a paint color?
Pick up my 40+ page e-book, containing 30 of the hottest shades for 2022. These paint colors have been specially selected to help you choose from colors that are in style, and teaches you how to use them in your house!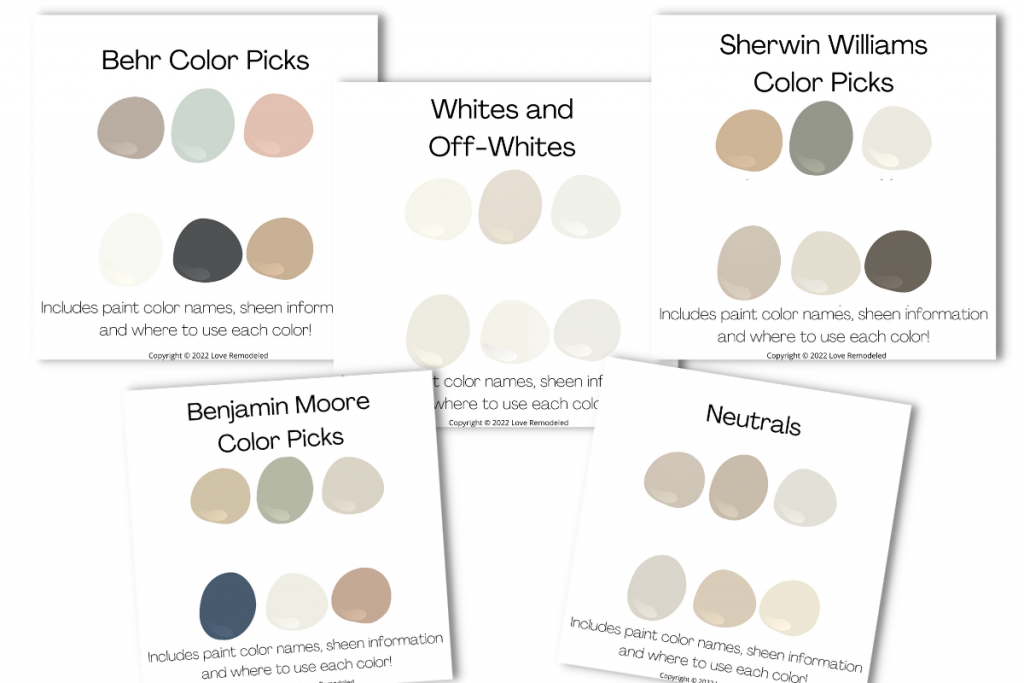 This 40+ page ebook contains:
a curated Sherwin Williams paint color palette
a curated Benjamin Moore paint color palette
a curated Behr paint color palette
the best white paint colors for 2022
the best neutral paint colors for 2022
PLUS a bonus section with my best painting tips!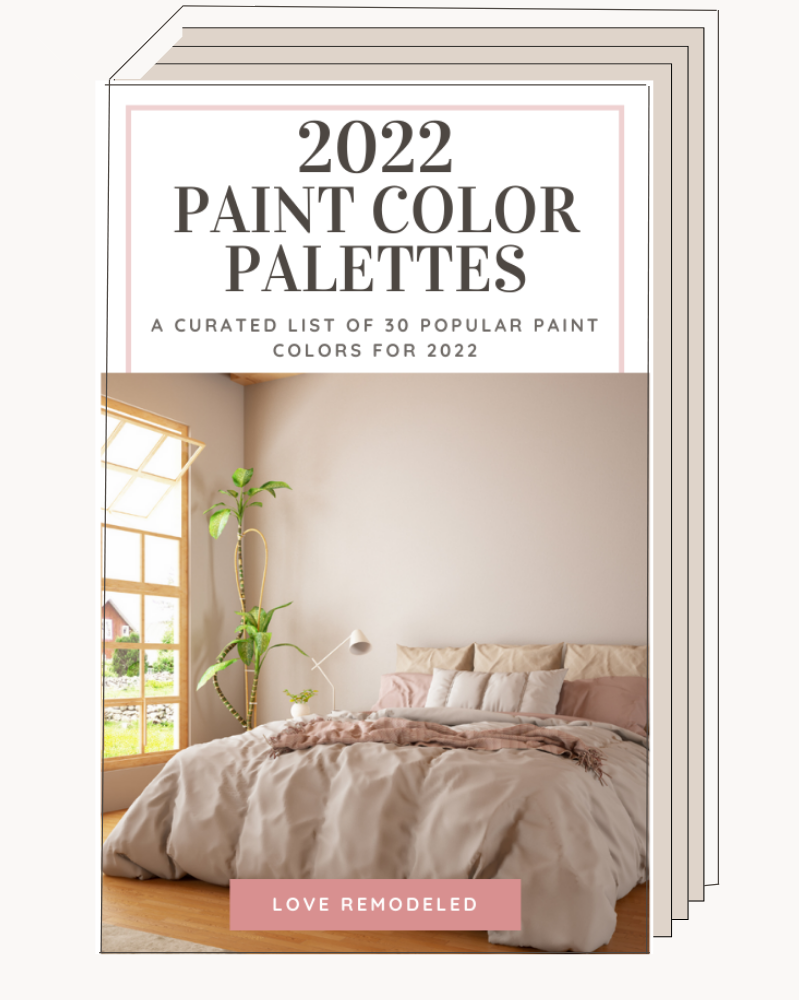 Get the 2022 curated paint color palettes now!
Have a question or want to show off your project? I try to answer all comments within 7-10 days, but for a much faster response, join my new Facebook page here!
Want to see all your paint options in one convenient place? Click here to pick up a Sherwin Williams fan deck (contains all SW colors) or a Benjamin Moore Collections fan deck (contains many popular BM colors – other fan decks sold separately)!