Sherwin Williams Origami White is a light, off-white paint color. It is a soft and airy paint shade.
Origami White has been included in the following color collections: Colormix Forecast 2019 (Wanderer), Top 50 Colors, and Finest Whites & Neutrals (Finest Whites).
Despite not being a pure white paint shade, Origami White is part of the Sherwin Williams White Color Family.
If you want to learn more about this gorgeous shade, keep reading for all the details on Sherwin Williams Origami White.
This post may contain affiliate links. If you have any questions, please see my disclaimer page.
Origami White Paint Color Characteristics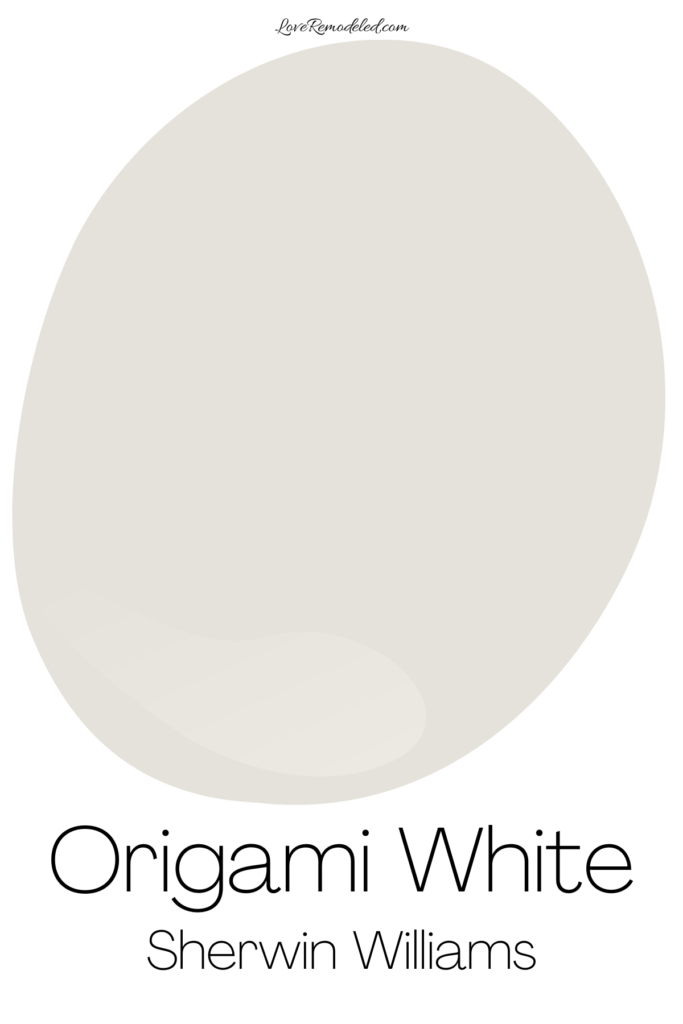 Origami White is a very light off-white paint color that looks bright and airy on your walls.
If I had to call it a specific color, I would say it is a very light taupe shade.
Origami White is a very clean and delicate shade that will brighten any room.
Like any white paint color, Origami White has undertones that are important to note.
Origami White Undertones
Origami White is a blend of gray and beige with purple undertones.
It has more gray than beige in it, making it appear crisper than some light taupe shades.
Origami White LRV
Origami White has an LRV of 76.
LRV stands for Light Reflectance Value. It provides information about how light or dark a paint color appears.
The LRV scale goes from 0, which is completely black, to 100, which is completely white. As you can see, an LRV of 76 is pretty high up on the scale, especially when you consider that no paint colors really have an LRV above 93.
This means that Origami White is a very light and bright shade.
It works well in rooms with an average amount of lighting, but may become a little washed out if a room has a ton of natural or artificial light.
And like all paint colors, it won't necessarily make a dark room appear brighter, but it will definitely look better than a shade with a lower LRV.
Is Origami White Warm or Cool?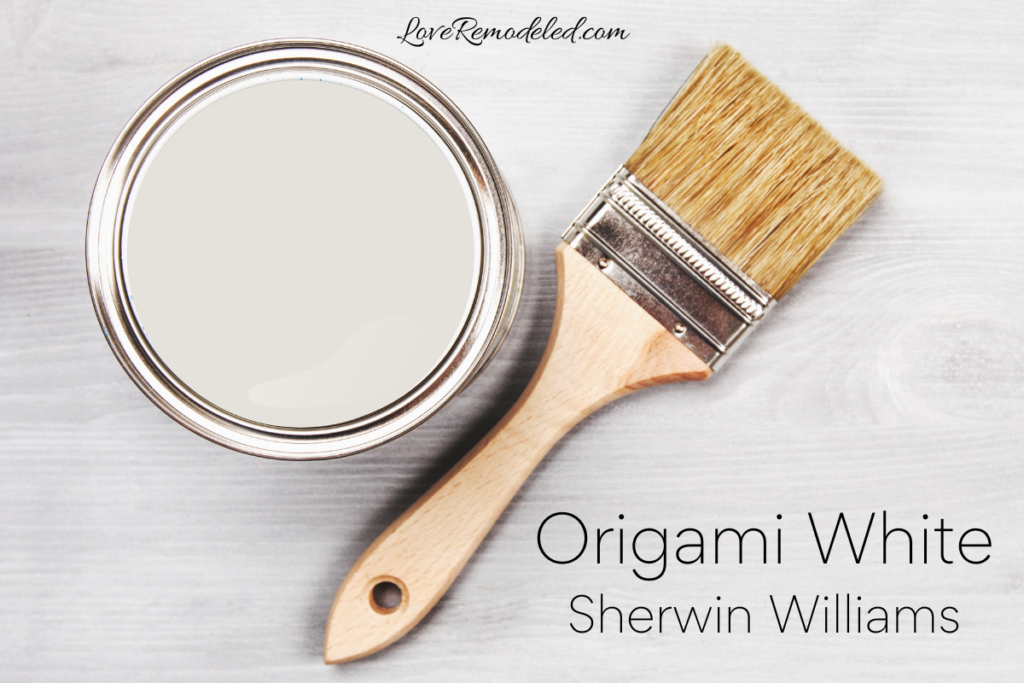 With its purple undertones, Origami White is a cool paint color.
While some purple can lean warm, the purple in Origami White gives it a bit of coolness that makes it look crisp.
That being said though, Origami White also has a bit of warmth to it due to the beige in it. It is subtle and understated, but definitely makes Origami White a little more complex.
Where Can I Use Sherwin Williams Origami White?
Origami White is great on walls. It is an updated, light taupe that goes really nicely with some of the more modern gray floors (with purple undertones) or cool marble.
While Origami White isn't the most versatile shade, it can work nicely on kitchen cabinets if you have cooler shades with similar undertones in your kitchen.
I probably wouldn't recommend Origami White on a home exterior, as it has to much color to look truly white in outdoor lighting, but not enough color to look gray or taupe.
Accent Colors for Origami White
Sherwin Williams Origami White isn't the most versatile paint color, but it goes well with pinks, purples and darker taupe shades.
Specifically, Sherwin Williams suggests pairing Origami White with Anew Gray, a light to mid-tone greige paint color, and Spalding Gray, a darker grayish brown paint color.
Trim Colors for Origami White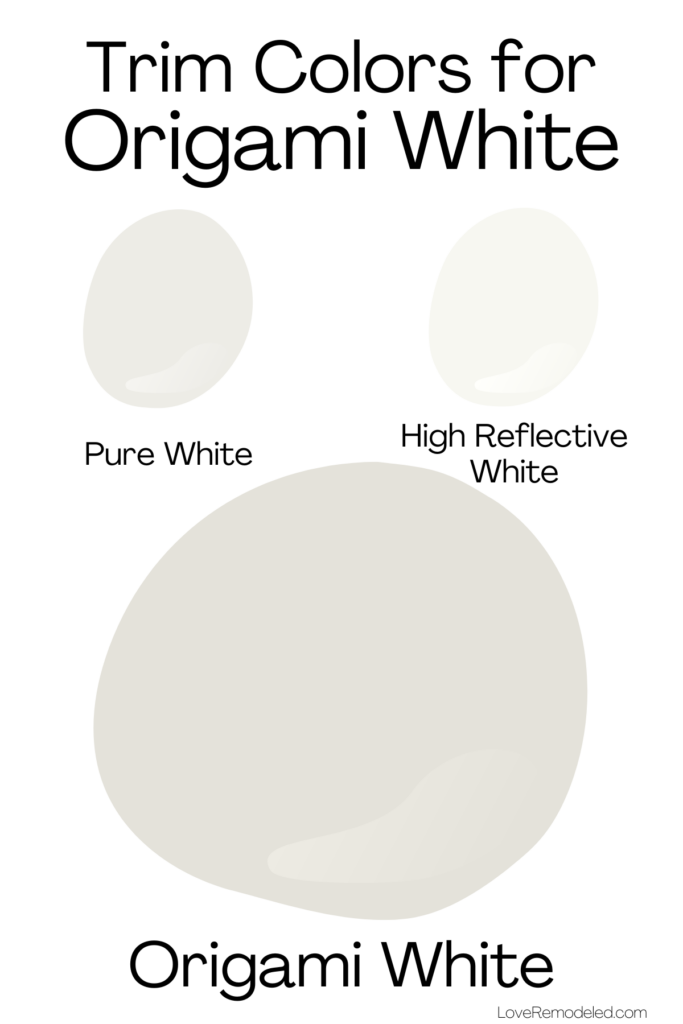 Origami White is a very light paint color, so to get any distinction between Origami White on your walls and white trim, you need to paint your trim a very bright white paint shade.
My two go-to trim paint colors by Sherwin Williams are Pure White and High Reflective White.
High Reflective White is Sherwin Williams' brightest and whitest paint color. It is a very clean color with almost no undertones.
Because it is so bright, it is probably the best option for a trim paint color for Origami White. It will provide the most variation between the wall color and the trim color.
Pure White is another great paint color for trim. It has a bit of gray and yellow in it which gives it a softer look than High Reflective White.
But, it is still lighter than Origami White and will show off your new wall color a bit.
Colors that Go With Sherwin Williams Origami White
When most people are considering a paint color, they tend to also be thinking about other similar shades.
Lets talk for a few minutes about Origami White and some of the paint colors that people compare to it more frequently.
This may help you figure out whether Origami White is the right color for your home, or if maybe another shade is better.
Origami White vs. Snowbound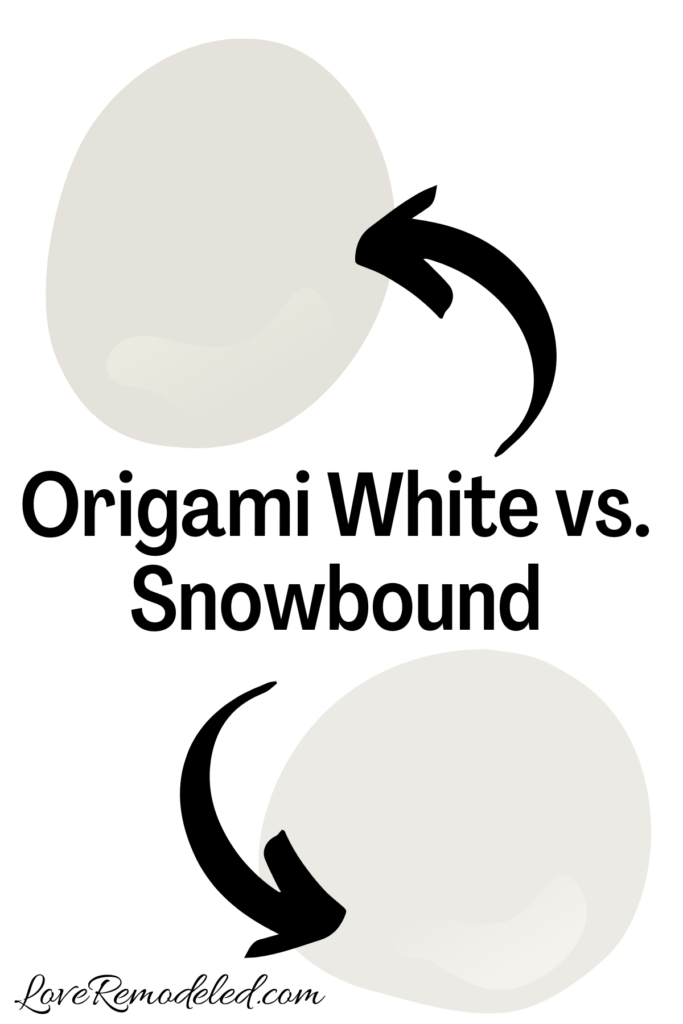 Snowbound is a white paint color by Sherwin Williams.
Like Origami White, it is a blend of gray and beige with purple undertones. Sometimes though, Snowbound can also take on a pink tinge on you walls.
Snowbound is lighter than Origami White, and has a bit more purple in it.
Origami White is a bit better for walls, in my opinion, because it's LRV works well in most spaces. Snowbound has a higher LRV, which means it can be prone to fall flat if a room is very bright.
Plus, since it has more purple in it, I find Snowbound to have a higher chance of being problematic for people.
Origami White vs. Alabaster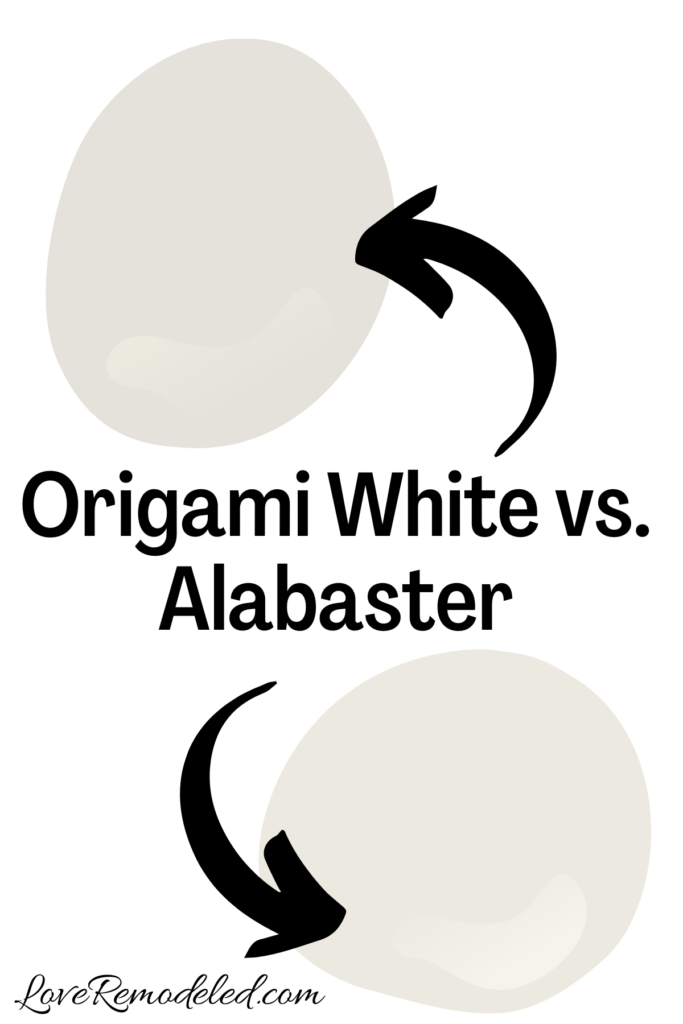 Alabaster is a very popular white paint color by Sherwin Williams.
Alabaster has soft gray and yellow undertones. It is a creamy sort of white paint color that is lighter and brighter than Origami White.
Alabaster is a gorgeous color for walls, but can also be used on trim for a softer look.
If you are trying to decide between Alabaster and Origami White, you really need to check and make sure Origami White's purple undertones work in your space.
Overall, Alabaster is the more versatile pick here. It tends to go better in more people's spaces.
But, don't count Origami White out completely. If you have more pink or purple undertones in your home, Origami White is going to work better.
Origami White vs. Aesthetic White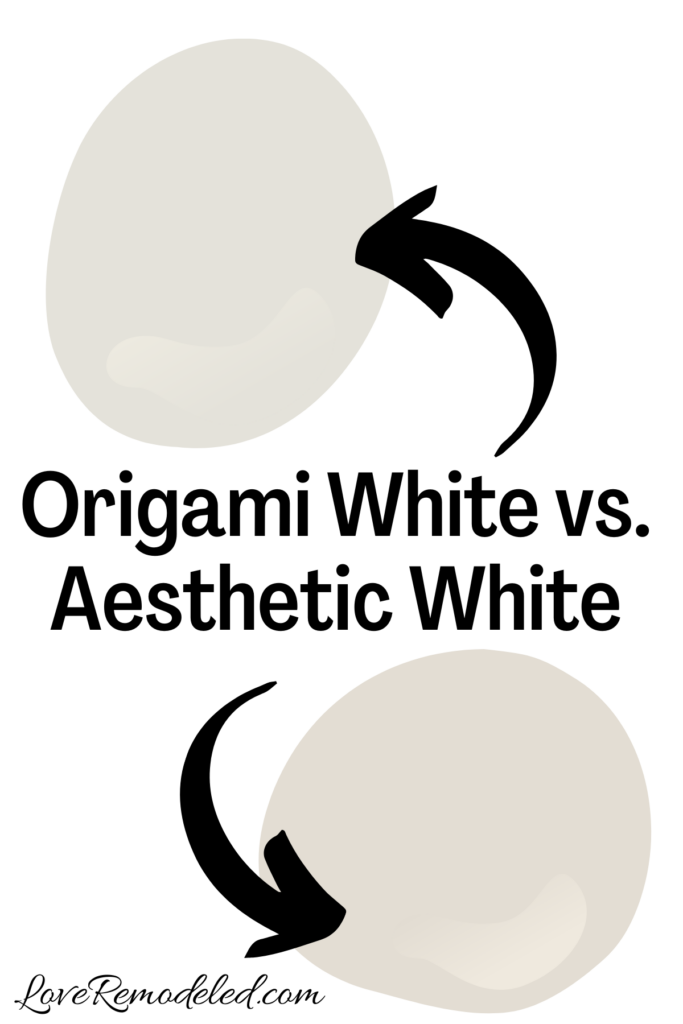 Aesthetic White is a soft, off-white paint color by Sherwin Williams.
Like Origami White, Aesthetic White is a light taupe, meaning it is a blend of gray and beige with purple undertones.
Aesthetic White is a little bit darker than Origami White though, and has a smidge more purple in it.
Overall, Aesthetic White might be a better pick if your room has tons of natural light.
Origami White vs. White Dove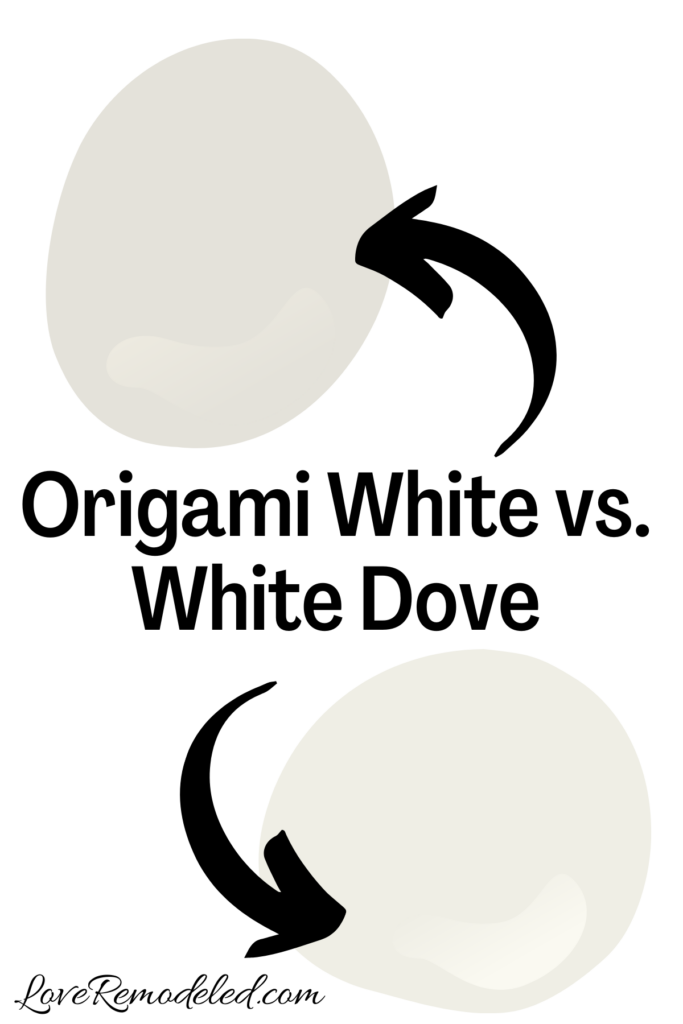 White Dove is a popular Benjamin Moore Paint Color.
White Dove is a warm white with yellow undertones and just a hint of gray. It has a more creamy look than Origami White.
Additionally, White Dove is a lighter shade than Origami White. While Origami White will probably never really look truly white in your space, White Dove can be used as a white paint for trim or walls.
While both these shades are called "white", they are really quite different.
White Dove will be better for you if you have lots of warm tones like beiges and browns in your space. Origami White is a better pick if you tend to have more cool colors in your home.
Wondering how to pick the perfect paint color?
I have the best solution for you!
Samplize sells 9×14.75 stick-on paint rectangles in almost every paint color.
These no-mess, peel and stick rectangles are made from real paint, so they will show you exactly what the paint color will look like.
Simply place them on your walls next to your trim, furnishings or fixed elements, and easily see whether the paint colors work in your space and with your lighting. Then, peel the sheet right off your wall and reapply it somewhere else if you like!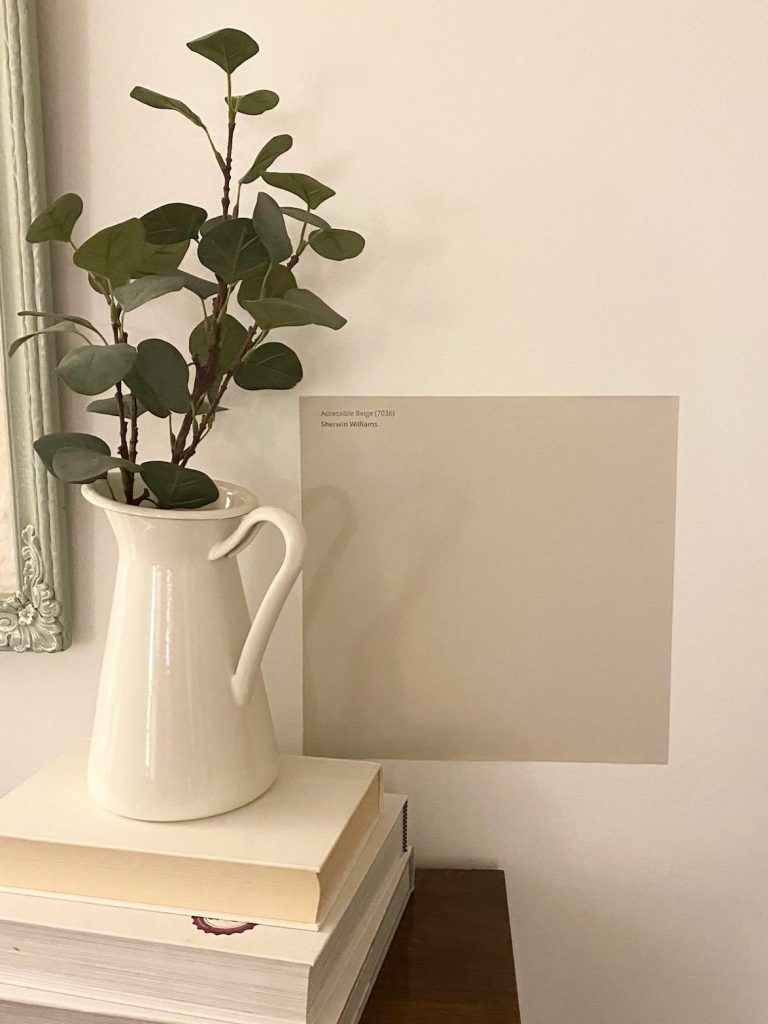 For a limited time, you can use the code SHIP6 for free shipping for your samples. You need to jump on this offer! I've never seen them run a free shipping promotion, so this is your chance!
Another tip for you: if you enter your email in the popup, you'll get $5 off your first order (which is almost like getting one sample for free!). Also, be sure to take advantage of the color bundles, or the buy 8 samples get 2 free offer!
Samplize sheets are truly the easiest (and fastest!) way to test a paint color in your home, with no mess.
Final Thoughts on Sherwin Williams Origami White
Origami White is a great paint color that is becoming more popular as people shift away from cooler toned grays.
Starting around 2021, people have been loving the warmer look of taupe paint colors and the bright look of white paint colors, so Origami White is a perfect option for someone wanting a modern paint color.
Want to see all your paint options in one convenient place? Check out my Amazon Shop, where you can get everything you need to start painting, including Sherwin Williams and Benjamin Moore paint color decks!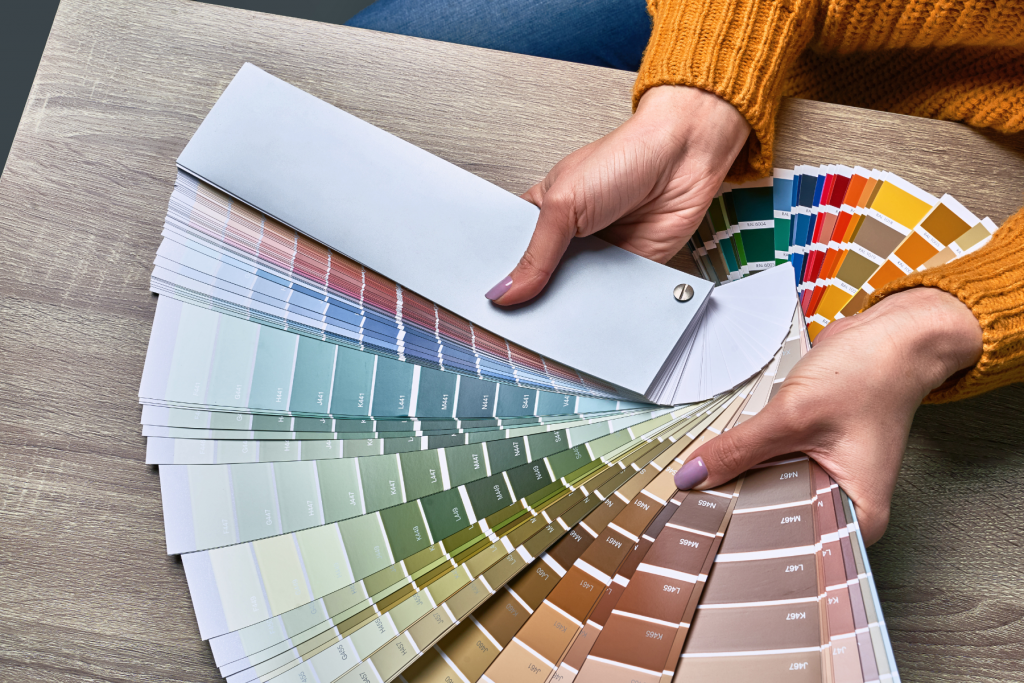 Have a question or want to show off your project? Join the discussion in Love Remodeled's Facebook group here!