If you are looking for some easy DIY staircase makeover ideas, you are in the right place. There are a number of ways that you can update an old staircase to make a huge difference.
Here are some of my favorite ways to do a stairs makeover. Some are super affordable, and others are super easy. My favorite ideas are both!
No matter what your skill level is, there is bound to be something on this list for you.
This post may contain affiliate links. If you have any questions, please see my disclaimer page.
DIY Staircase Remodel Ideas
1. Paint Your Staircase
If you have a wooden staircase, painting it is the easiest way to update the look of the stairs without spending a lot of money.
White and black are the most common paint colors for stairs, but navy or gray can also give your stairs a new look.
Truth be told, this is not my favorite idea for nicely finished wood stairs because once they are painted, its a bit difficult to get them back to nice wood again.
But, if you have carpet grade stairs in your home that you recently removed the carpet from, this is a great way to update the look of your stairs.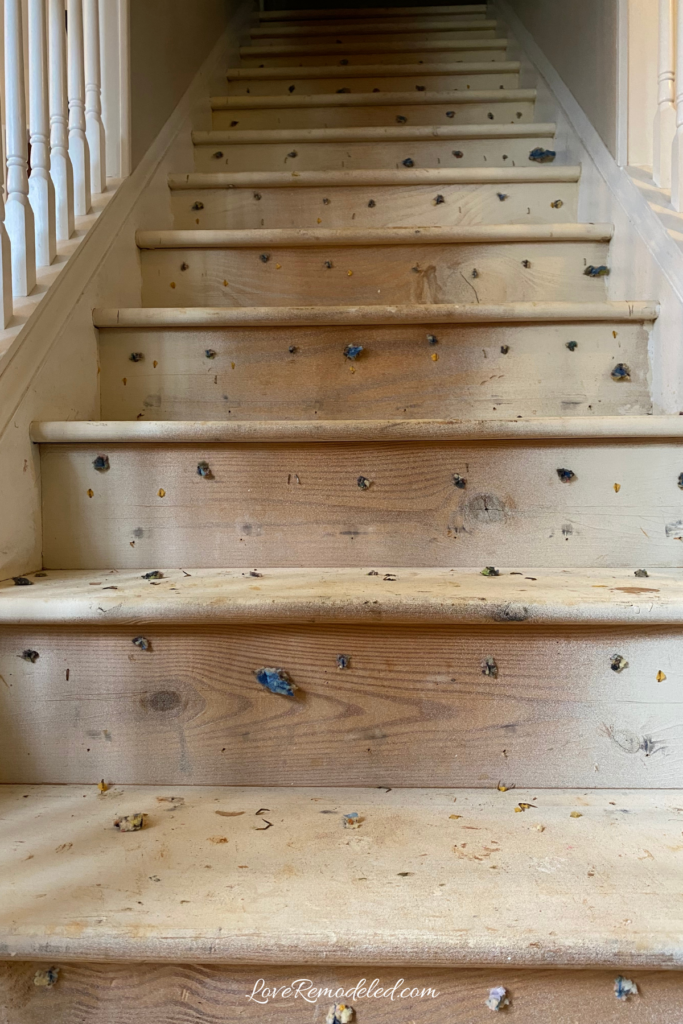 ​You can know if you have carpet grade stairs by how finished they look. If there are lots of holes, rough patches or the wood just generally doesn't look nice, they're probably carpet grade.
In my previous home, all of the staircases were carpet grade. We removed the old carpet from them and remodeled the staircases by painting the stairs, painting or staining the banisters, and adding runners.
To paint the stairs, the first step was to fill all the dents, nicks and holes in the stairs with wood filler.
Then, we sanded the treads and risers with a mouse sander to make sure they felt smooth, and to help the paint adhere to the stairs.
After sanding, I use a shop vac and damp cloth to remove all of the sanding residue from the stairs.
Then, I painted the stairs using Rustoleum Home Floor Coating.
It is a two part system consisting of a Step 1: Base Coat and Step 2: Top Coat. It is a great product that can be used on tile, wood, vinyl and more. In fact, the cans I used were leftovers from when I painted my ceramic tile.
​Using a paint brush, I did multiple coats on the stairs. Because they were raw wood, they sucked up a lot of paint, so I did at least three coats.
Since these were the only stairs down to the basement, I tried a few different ways to make sure I didn't get stuck at the bottom of the stairs at any point waiting for the paint to dry.
To do this, you can either paint every other stair, or paint half of each stair tread leaving the other side unpainted. Then, you will have a way to get back up (or down) the stairs without stepping in wet paint.
​Because I could only paint half of the stair treads at a time, it took longer than usual to complete this painting project, but it was very doable.
When I was satisfied with the painting, I applied a coat of the top coat to make sure the finish would be durable.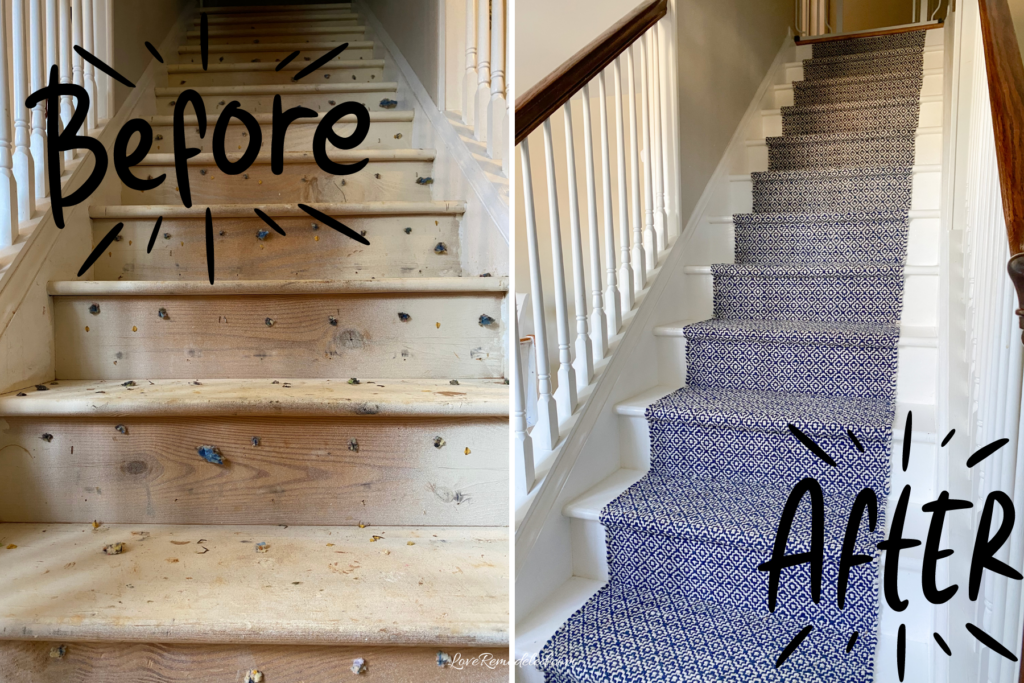 It was a great example of how a little paint can make a big difference.
2. Add a Carpet Runner
As I mentioned above, I also added a runner to this staircase to give it a more updated look.
Since these stairs were in a high traffic area, I was concerned that the fresh coat of white paint I had put on would quickly become dirty or chipped.
Adding a runner rug in a pretty pattern not only gave the stairs a more modern look, it also made the end result of my staircase remodel more functional for my family.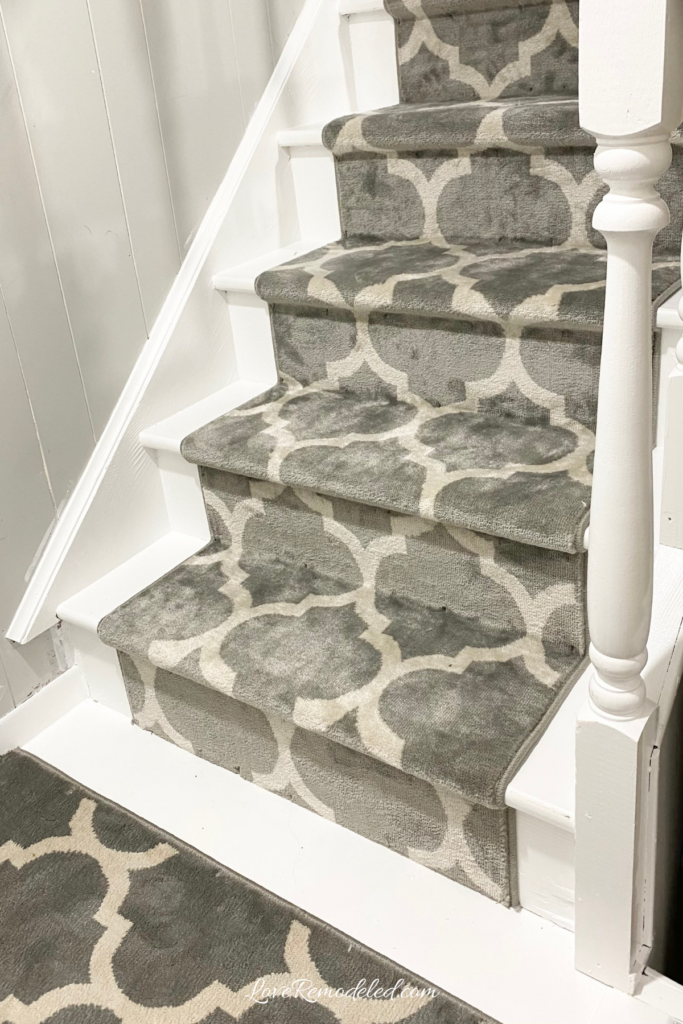 I have a full tutorial on how to add a runner to a staircase here (including where to get the best runner rugs), but if you want the cliff notes, here you go.
Basically, you need to measure the stair treads and risers, order a runner to the length you need (of course you should order a bit extra just in case), and then staple the runner on the stairs using a staple gun.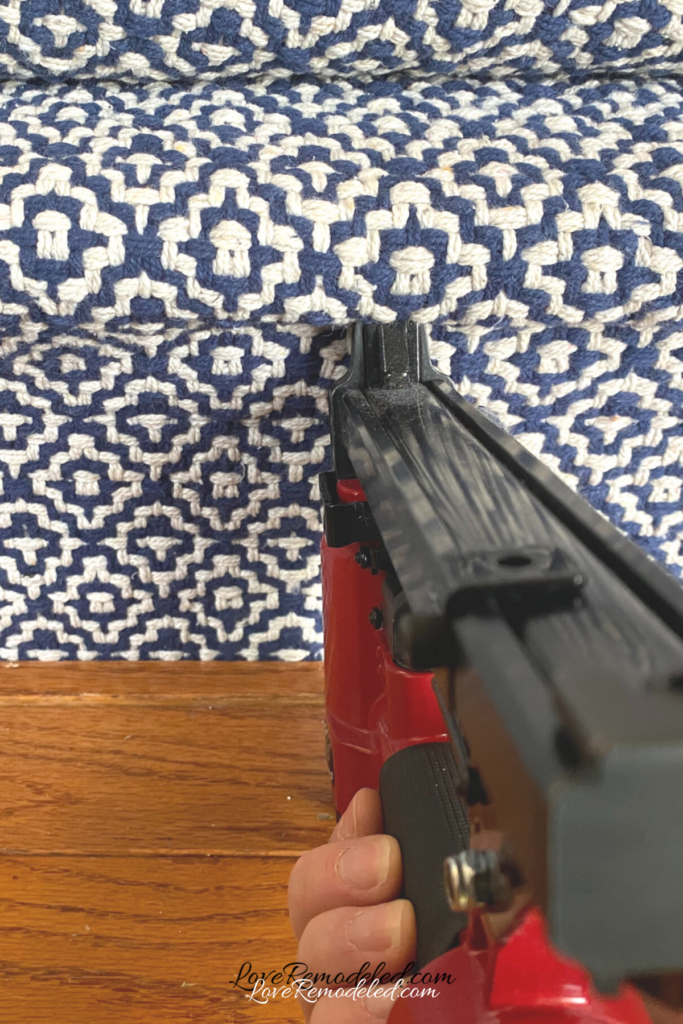 The hardest part is making sure that the runner stays right in the middle of the stairs, leaving the same amount of stair tread on either side of the runner.
​Really, it is a super easy DIY that will make a big impact.
3. Replace or Paint Your Newel Posts
A newel post is the big vertical support post that connects to the handrail.
In many homes, these are classically finished to be the same color as the stairs. But, painting your newel post can really change the whole look of your staircase.
Like with painting the stair treads and risers, make sure to give the newel post a good sanding. You may find that sandpaper is easier to use depending on the level of detail your newel post has.
Once it is sanded, use painter's tape to make sure you don't get paint on the bottom stair tread (if you don't plan to paint it), and paint the newel post with a quality paint.
Some good options are Sherwin Williams ProClassic in a semi-gloss, or Benjamin Moore Advance in a semi-gloss.
Semi-gloss paint is good for wood that gets handled or walked on a lot because it cures to a hard finish and is easy to clean.
If you really do not like the way your newel post looks, you can also replace it. (Click the pictures if you want more information on these newel posts).
4. New Stair Risers
The riser is the part of the stair that is vertical.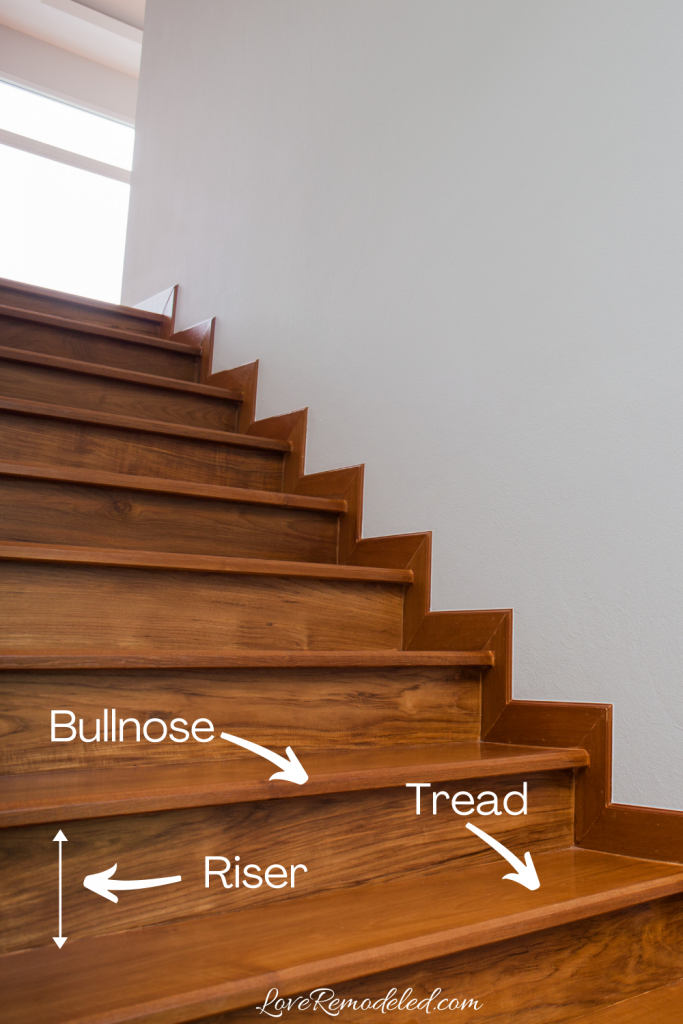 ​You can replace them entirely, paint them, or put peel and stick tile or riser stickers on them for a super simple upgrade.
(Click on the pictures to see more details on each of these products).
Peel and stick tile is one of my favorite easy ways to change the look of a space. You can cut it with a utility knife or scissors, and it just sticks right on the surface you're putting it on.
Here is a tutorial on how to apply peel and stick tiles.
5. Replace or Paint Your Balusters
Replacing your balusters is pretty difficult.
It requires removing the old balusters, and then replacing them with metal balusters, iron balusters, or new wooden balusters. No matter which option you choose, you need to cut the top of the baluster to make sure it fits perfectly.
This is a much harder stair makeover DIY project than just painting them.
I have done this remodel project before, adding new handrails, a custom newel post and new balusters, and it was really tricky. There are lots of angles that need to be perfect, and it is something that may be best left to a professional.
If you are a very experienced DIYer with access to a miter saw, it is definitely doable, but if this is your first attempt at updating your home, I would avoid this option.
​For a much easier option, you can paint your balusters.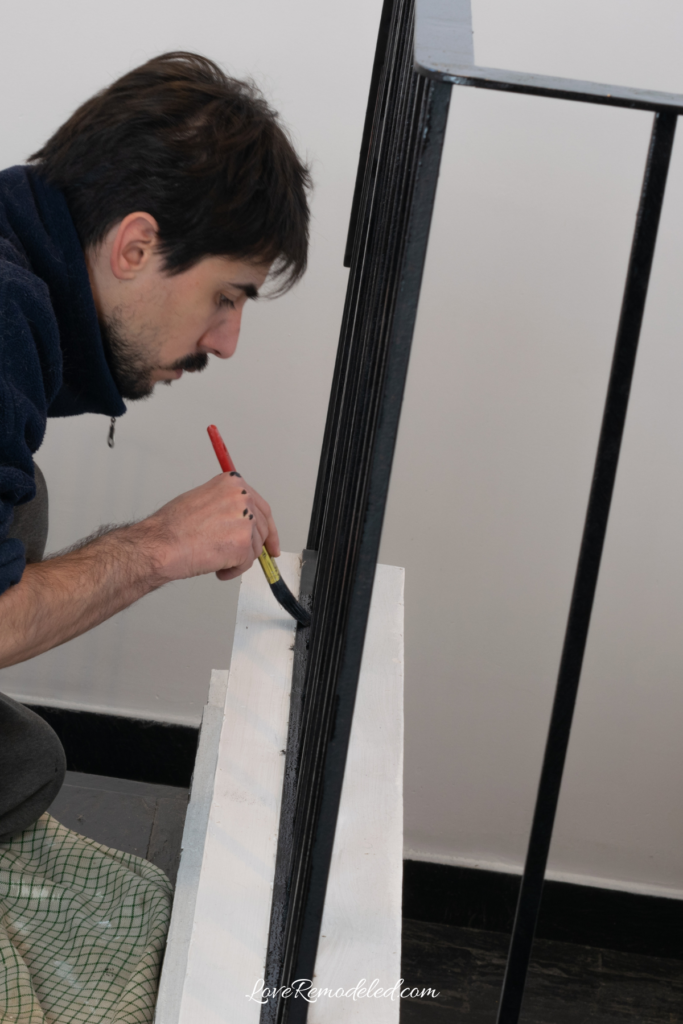 Painting balusters is a great way to bring new life to an old staircase. White balusters are much more in style than many outdated wood shades.
To paint your balusters, you can either use a paint sprayer or a small angled brush.
A paint sprayer is much faster, but it requires taping and putting plastic down everywhere where you don't want paint.
Covering everything with plastic is the most time-consuming part of this project.
But, painting the balusters with a paintbrush is also a lot of work, so it is really just a matter of preference and whether you want to invest in a paint sprayer.
6. Stain the Handrail, Balusters or Newel Post a Darker Color
If you have a wood handrail, balusters or newel post and you want to change the color of the wood, there are a few good options.
First thing to know though is that unless you want to strip, sand and restain the wood finishes on your staircase, you can't go any lighter. You have to go darker.
In the next picture, I use PolyShades to stain the upper handrail that was pre-existing to match the new one we added below it.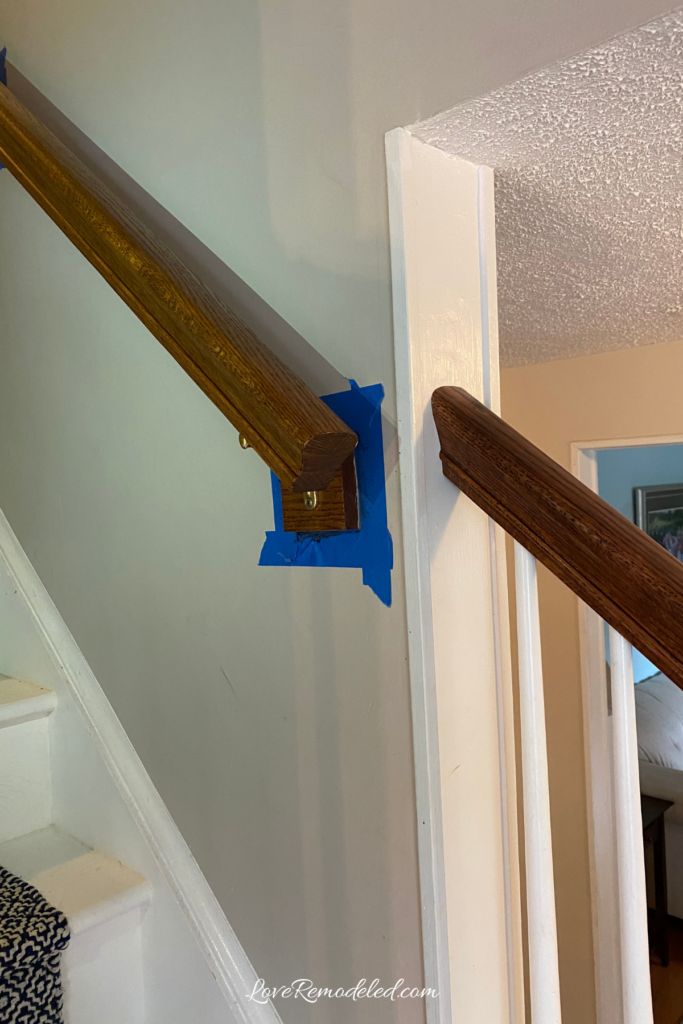 But, if you are okay with making your wood finishes a darker color, you can either use Polyshades wood stain to deepen the color just a bit, or use General Finishes Gel Stain to really darken the color of the wood.
Both products sit on top of your current stain, so some of the previous stain color may show through. The best way to ensure you like the color you are going to end up with is to test it in an inconspicuous place on your stairs (such as underneath the handrail).
​Here is a tutorial on using Polyshades to change the color of wood. This DIY project was on cabinets, but the same procedure applies to staircases.
​Final Thoughts on Stair Remodel Ideas
If you want to update the look of your home, these small changes can make a huge impact.
Whether you decide to add modern stair runners, paint the wood treads a different color, or add a cool geometric design to the stair risers, a DIY project will completely change the look of your home.
Have a question or want to show off your project? Join the discussion in Love Remodeled's Facebook group!