If you are looking to elevate the style of your bathroom, changing the bathroom mirror is a great way to do it.
Replacing the bathroom mirror can upgrade the look of your bathroom without renovating the entire space. This is especially true if you have a builder grade mirror, or a really dated mirror.
Or, maybe you have already renovated your bathroom and are just looking to add the final touches.
Either way, there are a lot of different styles that you can choose for your bathroom mirror.
This post may contain affiliate links. If you have any questions, please see my disclaimer page.
In 2023, some of the top trending bathroom mirror styles are:
Minimalistic – thin, clean lines; gold, black or silver finishes; rectangular, rounded edges or round
Grandmillenial – ornate; traditional; curved lines; typically gold finishes
Modern Farmhouse – metal or wood finishes, or a combination of both
Glam – lights; shiny finishes; modern but ornate
Coastal – rattan, shell, or wood finishes; white, whitewashed, navy, or gold
Bathroom Mirror Sizes
Choosing a size for your bathroom mirror is going to depend on how wide your vanity is.
Typically, you want your bathroom mirror to be about 4 to 6 inches smaller than the width of your vanity.
This leaves a perfect amount of space on either side of the mirror to make it a perfect focal point.
So, if your vanity is 30 inches wide, a mirror that is 24 inches wide is about perfect. When your mirror is centered over the sink, there are 3 inches of space on either side of the mirror.
Best Bathroom Mirrors for Single Vanity or Pedestal Sink
If your bathroom has a pedestal sink, you will probably find that a mirror that is around 20-24 inches wide works well in your space.
For a bathroom with a single vanity, typically bathroom mirrors should be between 24-32 inches wide.
Here are some good options for a new bathroom mirror for 2023.
Best Bathroom Mirrors for Double Vanities
If you have a double vanity, you have a couple of choices for replacing the bathroom mirror.
First, you can replace your existing bathroom mirror with one big mirror.
Depending on how wide your vanity is, this means that you will need a mirror that is between 48-68 inches wide.
Purchasing a super long mirror can be really expensive. So, if you don't want to invest in a 68 inch mirror, there is another option.
You can replace a large mirror with two single vanity mirrors.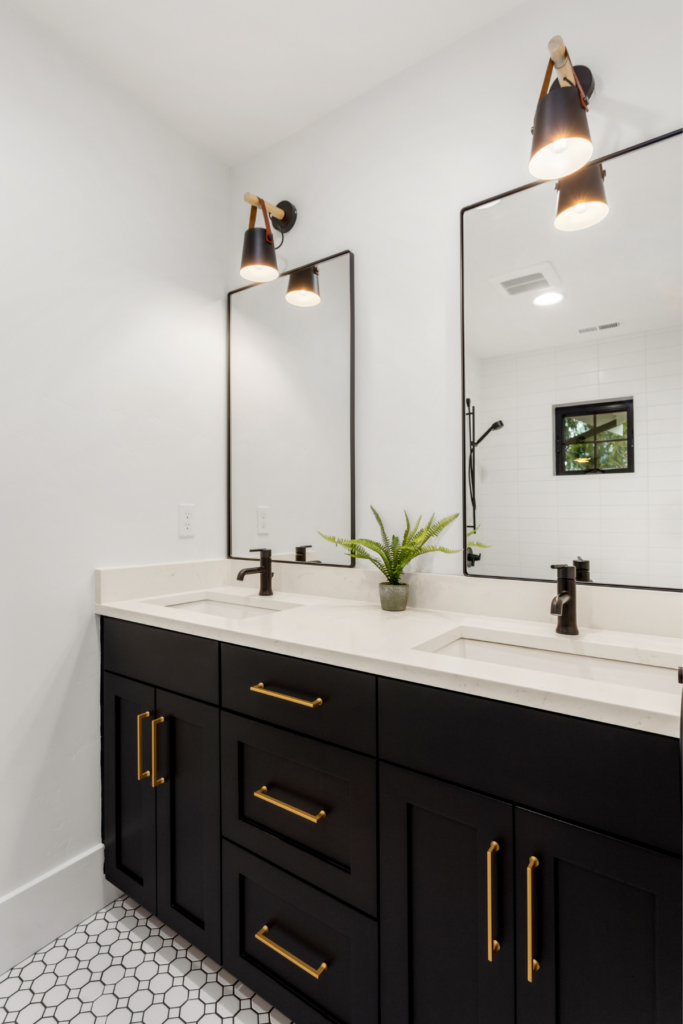 This look is very popular in 2023, taking your bathroom to the next level.
Either is a great choice. It is really just a matter of which look you prefer (and what your budget for a new mirror is).
Here are some of my favorite bathroom mirrors for 2023 that will span across a double vanity:
(be sure to check to make sure whether a 48 inch mirror is long enough, or if a 60 inch or larger mirror will be better in your space)
If you would rather get two mirrors, check out the single vanity mirrors above.
Other Bathroom Mirror Options
Build a Frame for your Bathroom Mirror
If you have one of those large, builder grade bathroom mirrors that sits flat against the wall, another option instead of replacing it is to build a frame around it.
Building a frame around your existing bathroom mirror is a really easy DIY that takes minimal tools.
Here is a DIY tutorial on building a frame for your existing bathroom mirror.
Final Thoughts on Best Bathroom Mirrors for 2023
The best bathroom mirror for your space is going to be one that fits the space and goes with the style of your bathroom.
If your bathroom is super modern, you can't really put up a farmhouse style mirror and expect the space to flow.
Similarly, if you choose a bathroom mirror that is too small for your space, the bathroom will look out of sync.
So, be sure to choose the right style and size for your bathroom, and get this easy bathroom upgrade done today!
Interested in other bathroom remodel ideas?
Check out: