Updating the paint color in your small bathroom is a great way to change how the space looks. Small bathrooms can present challenges for paint colors, such as not having any windows or natural lighting.
This can make paint colors look darker than they would in a brightly lit space.
But, you still have a lot of paint color options when painting your small bathroom. If you need a little inspiration, keep reading for all the best paint colors for small bathrooms.
This post may contain affiliate links. If you have any questions, please see my disclaimer page.
What To Consider When Painting A Small Bathroom
When choosing a paint color for your small bathroom, there are two important considerations.
First, you need to think about the amount and type of lighting that you have in the bathroom.
Many small bathrooms are powder rooms, or half baths. Typically, a powder room doesn't have any windows. When this is the case, you'll need to make sure you have good overhead lighting.
Any paint color needs enough light to support it. Even light paint colors. Otherwise, the space can feel dingy. So, be sure to have adequate lighting in your bathroom.
The next consideration when painting a small bathrooms is what sort of look you're going for.
Do you have a bathroom that feels clean and bright? A white or off white paint colors works well for this.
Going for a spa-like retreat? A green or blue paint color can give this sort of vibe.
Want a luxe, dramatic bathroom? A dark charcoal can look very daring in a small bath.
What Paint Colors are Best for a Small Bathroom?
Overall, if you're looking for a foolproof paint color for your small bathroom, your best bet is going to be a light paint color.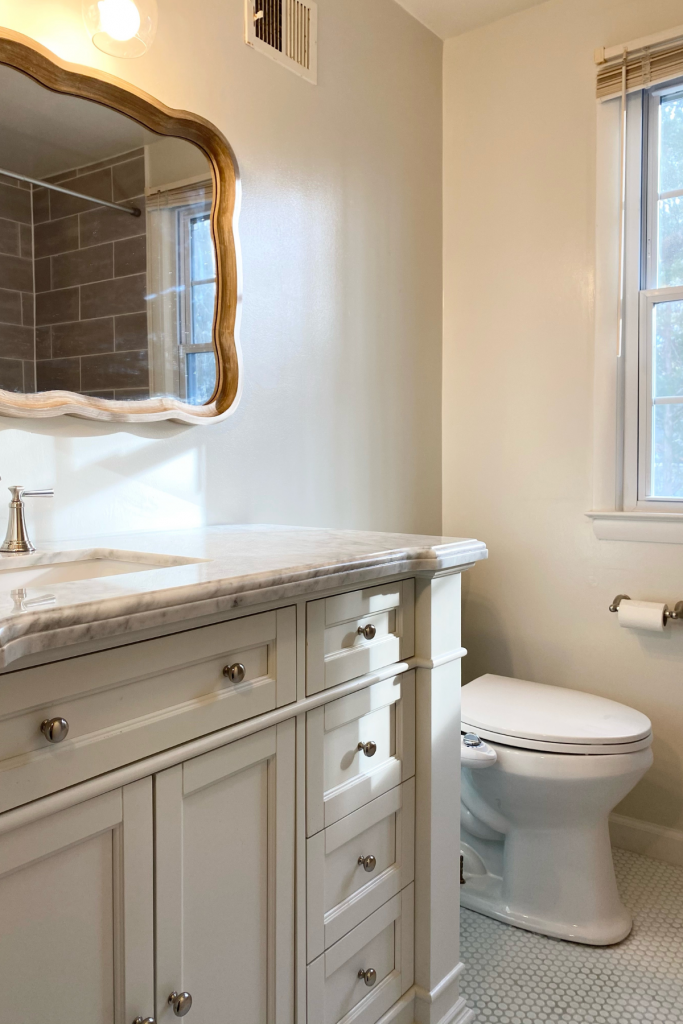 This can include spa like paint colors, such as blues and greens, and neutrals, like whites, off-whites, and grays. Cheery yellows and blush pinks are also good choices for a bathroom.
Light paint colors are less imposing and more versatile than darker shades. This isn't to say that dark shades can't work, but they take a bit more skill to use effectively. More on how to use a dark paint color in your bathroom later in the post.
Here are some gorgeous, light paint colors for a small bathroom: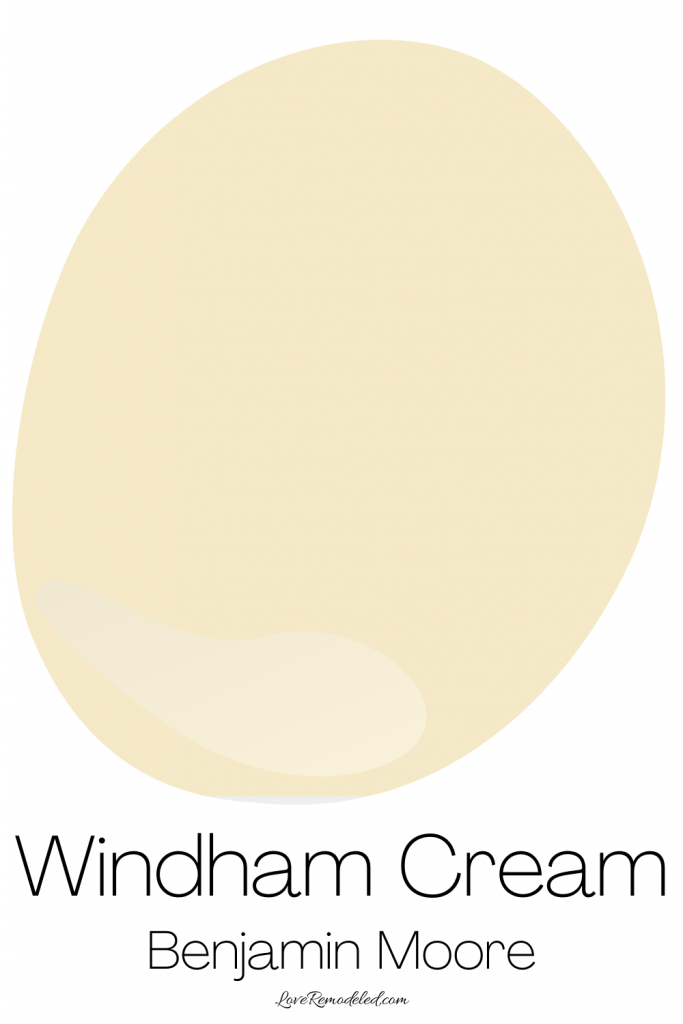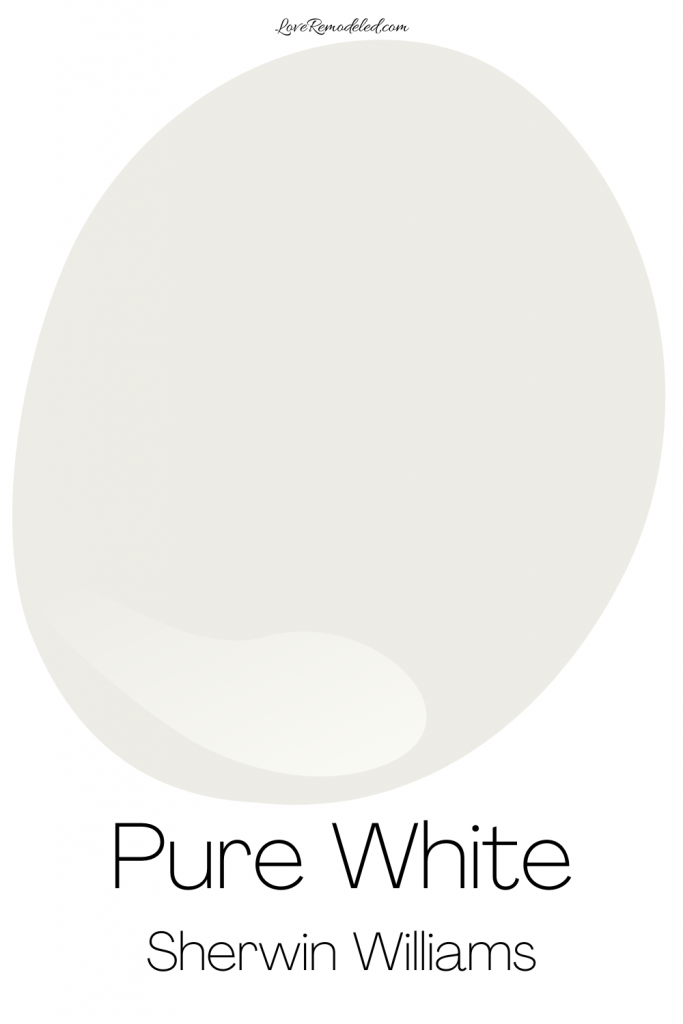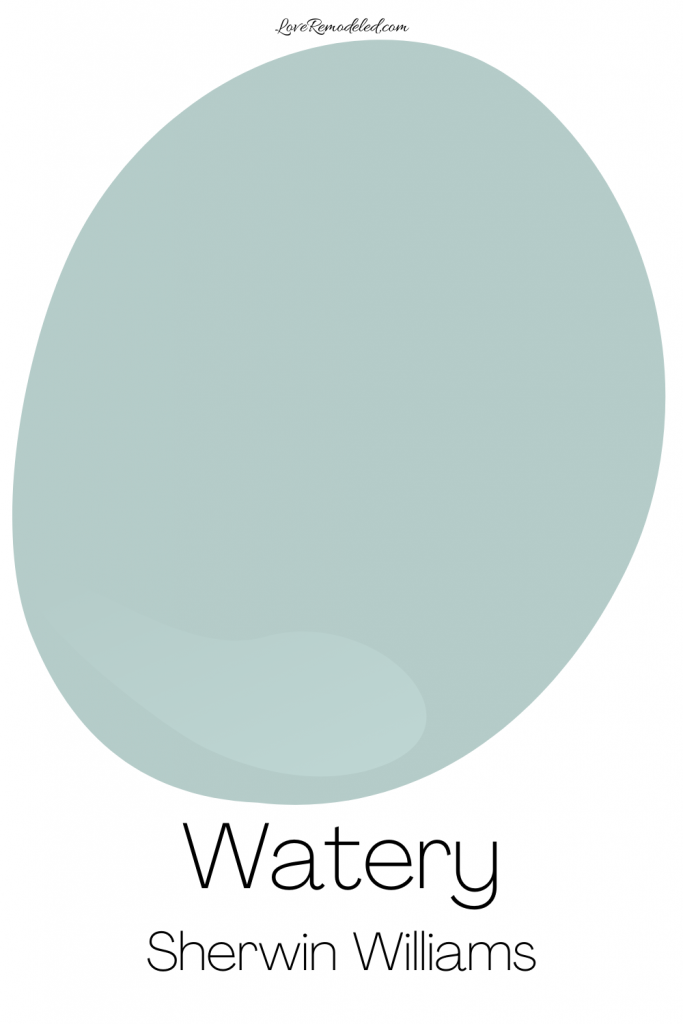 What Paint Colors Can Make a Small Bathroom Look Bigger?
If you want to make your small bathroom appear bigger, blue, blue-green, white and off-white paint colors are great options for you.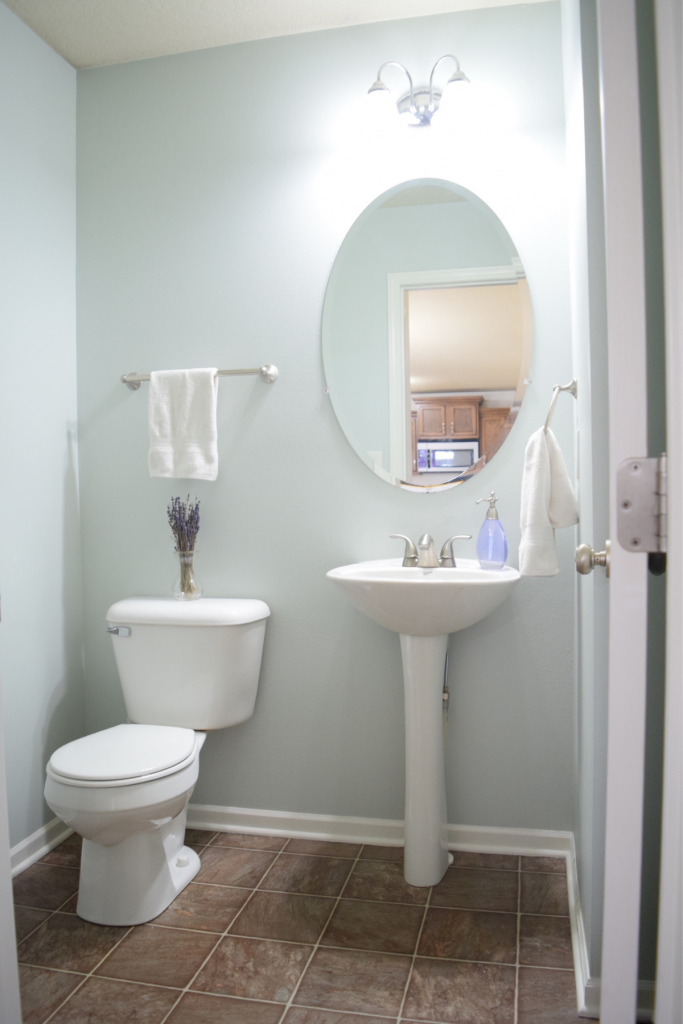 Blue and blue-green paint colors are cool, calming colors that are expansive. They are reminiscent of the sky and tend to make the walls of a room recede a bit.
Some of my favorite blue and blue green paint colors for bathrooms are:
See more blue paint colors here.
See more blue green paint colors here.
Can I Paint My Small Bathroom A Dark Color?
You may have heard that you should never use a dark color in a small room, but this isn't entirely true.
When used correctly, dark paint colors can add depth to a small room that you wouldn't have otherwise.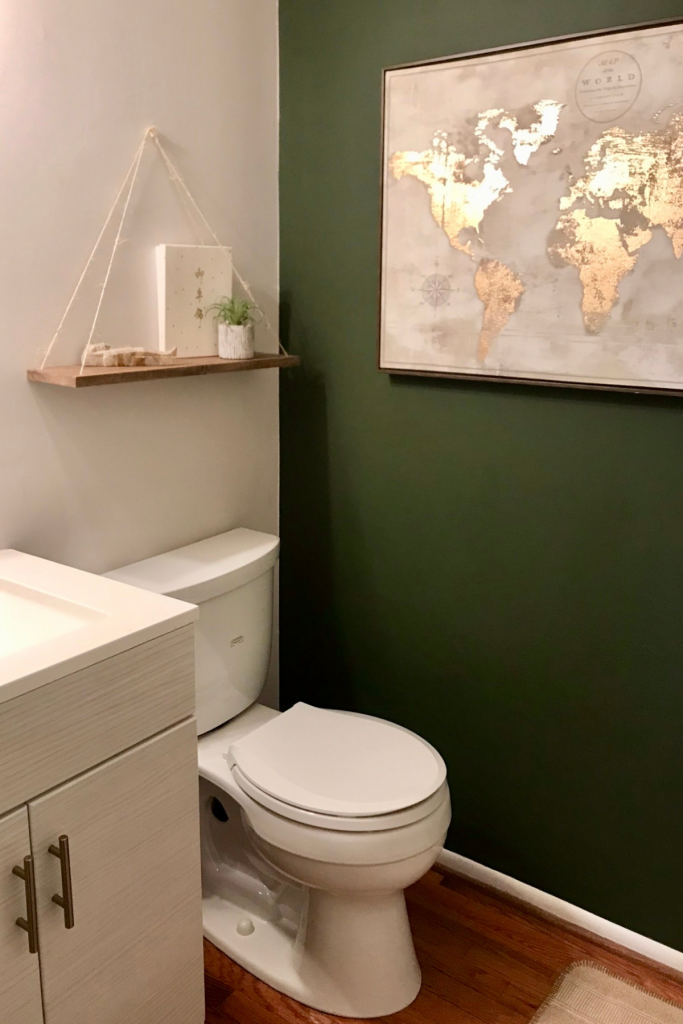 Paint colors can do tricky things. Remember how we discussed that blue and blue green paint colors can make the walls seemingly recede? Similarly, dark paint colors create the sort of depth that a shadow creates.
Dark paint colors shouldn't be used all over a small bathroom though. This would make the space feel small and cramped. Instead, use a dark paint color on an accent wall, in a bathroom with wainscoting, or in a bathroom with tile going up part of the wall.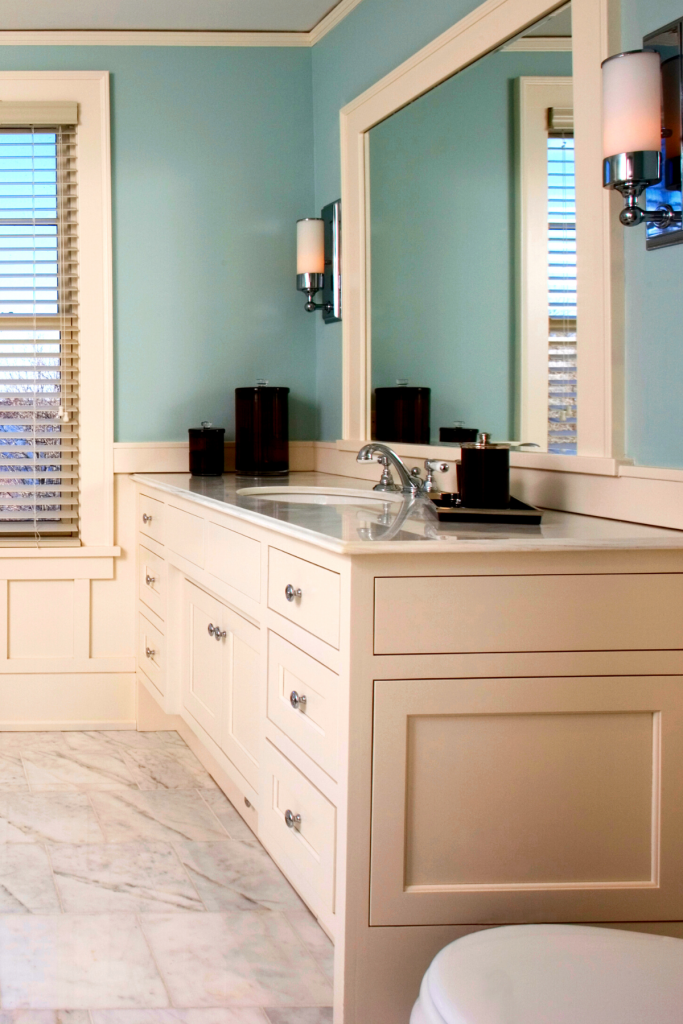 Some of my favorite dark paint colors for a small bathroom are: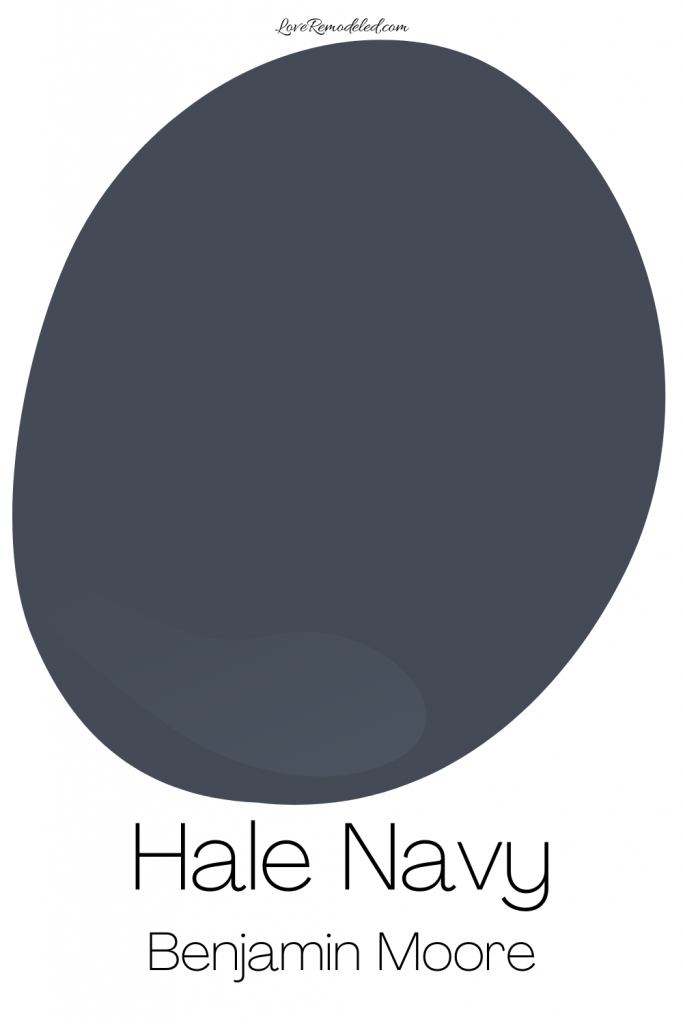 A charcoal black – for a slightly softer take on that classic black and white look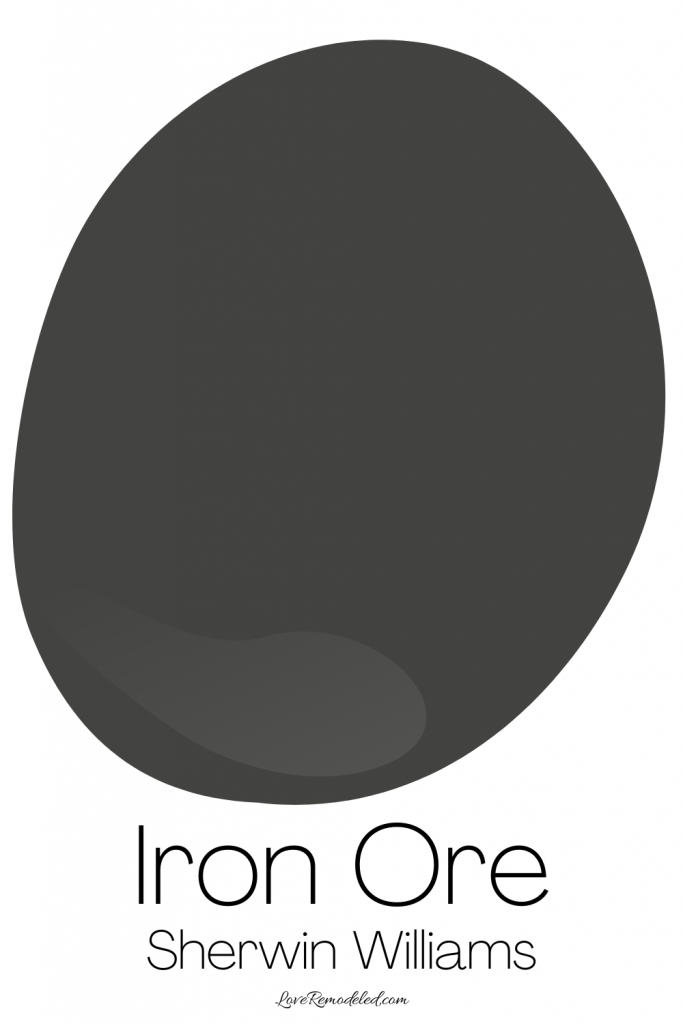 Wondering how to pick the perfect paint color?
I have the best solution for you!
Samplize sells 9×14.75 stick-on paint sheets in almost every paint color.
These no-mess, peel and stick sheets are made from real paint, so they will show you exactly what the paint color will look like.
Simply place them on your walls next to your trim, furnishings or fixed elements, and easily see whether the paint colors work in your space and with your lighting. Then, peel the sheet right off your wall and reapply it somewhere else if you like!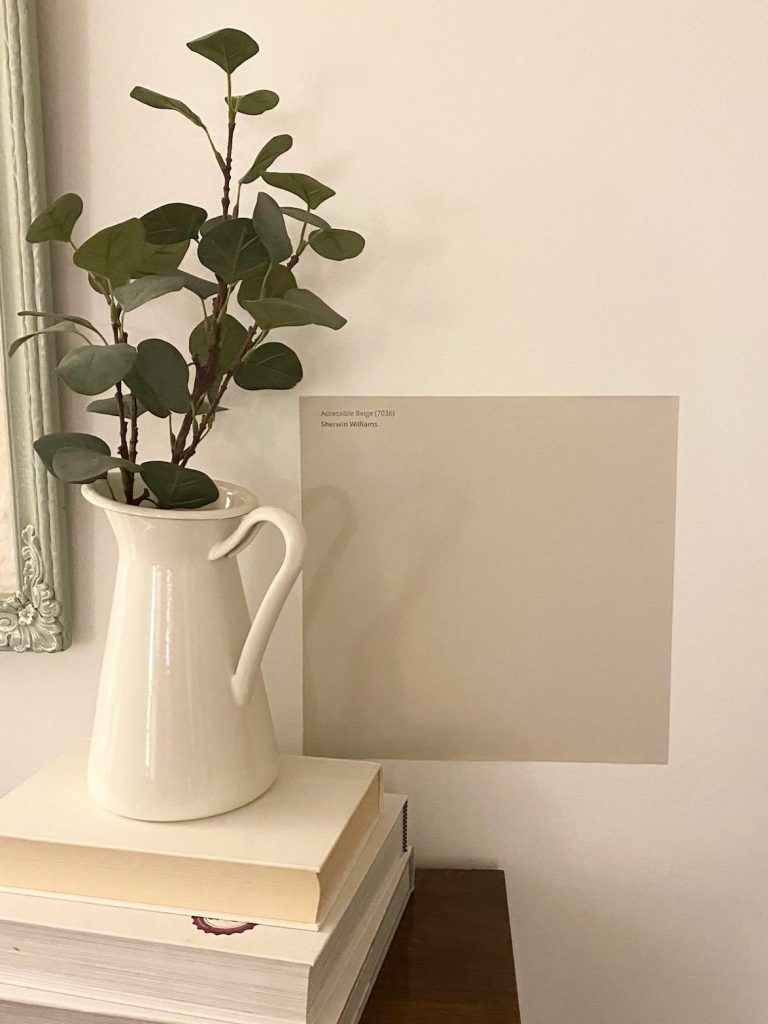 Oh, and you can have them in your home by tomorrow with OVERNIGHT shipping!
As a little tip, if you enter your email, you'll get $5 off your first order! Samplize sheets cheaper than a sample can of paint, and way less work!
Samplize sheets are truly the easiest (and fastest!) way to try a paint color in your home, with no mess.
Final Thoughts on Paint Colors for Small Bathrooms
When you're choosing a paint color for a small bathroom, remember to choose a color that works with the lighting in your space and gives your bathroom the look you want.
As a general rule of thumb, light colors are easier to work with, but a dark paint color can definitely add a luxurious feel to your bathroom.
Have a question or want to show off your project? Join the discussion in Love Remodeled's Facebook group!
Want to see all your paint options in one convenient place? Click here to get everything you need to start painting, including Sherwin Williams and Benjamin Moore paint color decks!