Stonington Gray is a popular gray paint color by Benjamin Moore. It is included in Benjamin Moore's "Favorites" Collection, which tells you that it is a tried and true paint color that has been chosen by the Benjamin Moore color exports as one of the top colors they sell.
Like the other shades in Benjamin Moore's Favorites, Stonington Gray is dependable and timeless.
Stonington Gray, HC-170, is one of Benjamin Moore's Historical Colors – the paint colors which are inspired by historical locations around the United States.
Keep reading for all the color details on this great paint color.
This post may contain affiliate links. If you have any questions, please see my disclaimer page.
Benjamin Moore Stonington Gray Details
Stonington Gray is a gorgeous, softer gray paint color. It isn't quite as soft as some popular grays, such as Gray Owl, but it is not a dark gray by any means.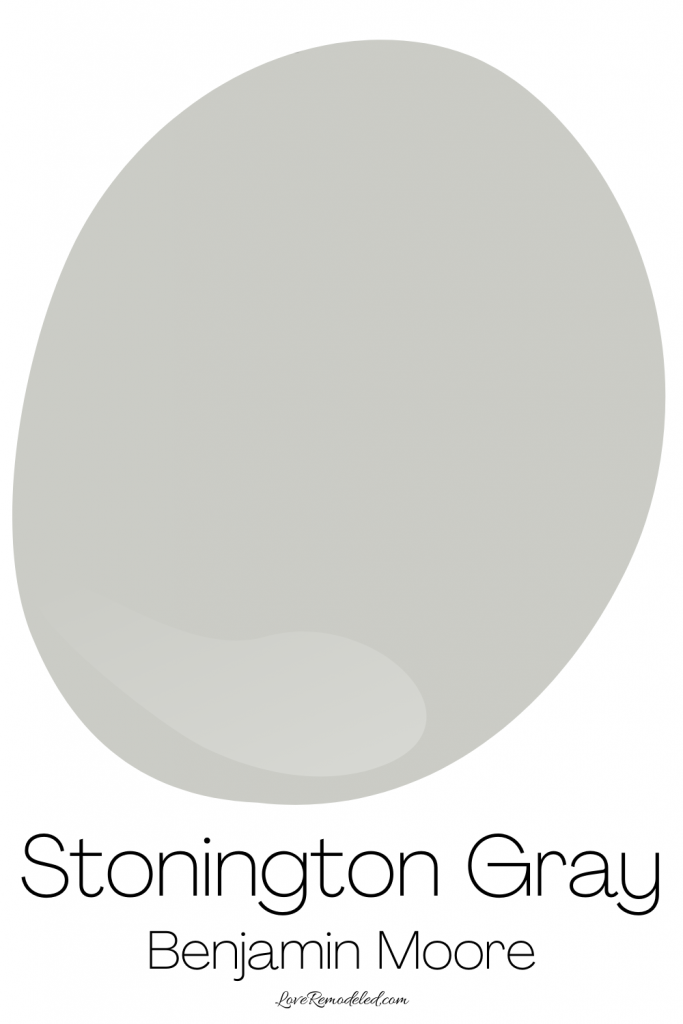 Stonington Gray is interesting because it is a fairly cool paint color, but it isn't icy at all. While some grays can give a room a chilly feeling, Stonington Gray has enough warmth to make it almost flirt with being a warm gray (but it is definitely a cool gray).
Benjamin Moore Stonington Gray can give an appearance of elegance, refinement, and sophistication. In a playroom, it can even be a great backdrop for a whimsical or fun environment.
Stonington Gray Undertones
Stonington Gray does not have a lot of strong undertones in it. In fact, I chose this color as my Best True Gray by Benjamin Moore in my round up of the 20 best gray paint colors.
While typically, Stonington Gray will look like a true gray on your walls, it does have a little bit of a blue and sometimes even a green undertone.
All grays (and all paint colors for that matter) have some undertone in them, so it is important to choose a gray that has a gray undertone that you like.
Stonington Gray is more likely to show a blue undertone in northern light, as this cool light can make any gray color look even cooler. In south facing light, you may find that Stonington Gray displays a hint of a green undertone, but not much.
Truly, Stonington Gray is almost as true of a gray as you can get.
Like I mentioned before, all grays have some undertones, and I find that the undertones in Stonington Gray are the ones that most people expect to find in a gray. For example, when you paint a wall a gray, you are typically not too surprised that it looks cool – almost a little blue. BUT, if you've ever painted a wall and had it look lavender, you know what I mean by an undertone that is unexpected!
So, a blue or blue/green undertone is one of the more livable and expected undertones that a gray paint color can take on.
Stonington Gray LRV
Stonington Gray has a Light Reflectance Value (LRV) of 59. This means that it is still in the light range of colors, but is on the darker end of the light colors.
Stonington Gray is lighter than a true medium shade of gray, such as Stormy Monday, but will have a little more weight on your walls than some pale grays. Stonington Gray will look like a true color, instead of just like off-white.
Coordinating Colors for Stonington Gray
Stonington Gray goes really well with other muted, cool colors. For example, Stonington Gray is shown here with Horizon – a grayish off-white, Boothbay Gray – a gray with significant blue/green undertones, and Amherst Gray – a darker gray paint color.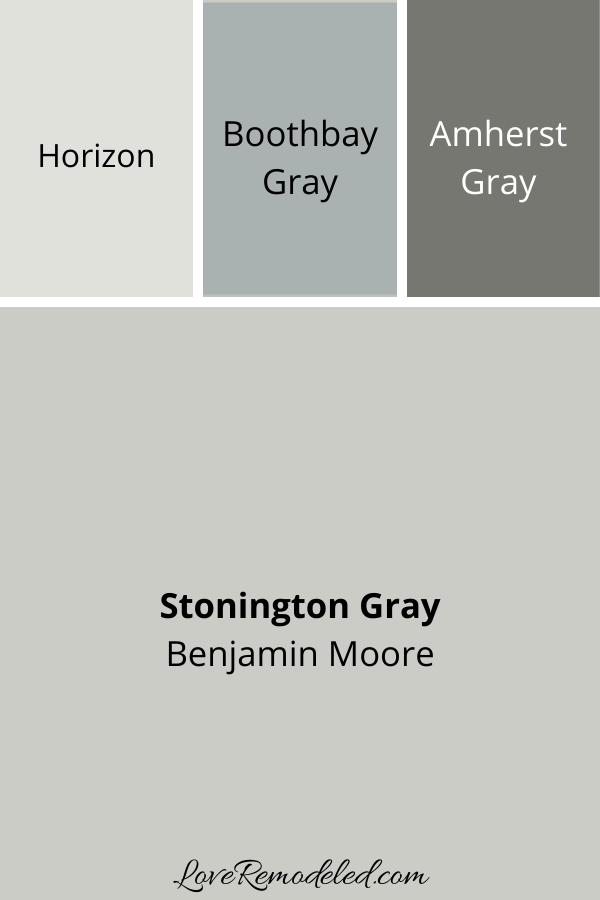 Stonington Gray also looks nice with yellows, dark reds, muted blues and blacks.
For a trim color, Stonington Gray looks great with Chantilly Lace – a very neutral and clean white paint color by Benjamin Moore.
Stonington Gray Compared
When I do a full color review of paint colors, I always like to compare them to other popular paint shades. I think that this is helpful for people in determining whether they really want this color or that color.
So here, I will compare Stonington Gray to several other popular gray paint colors by Sherwin Williams and Benjamin Moore.
Stonington Gray vs. Gray Owl
Gray Owl is a light gray paint color by Benjamin Moore. It is a fair amount lighter than Stonington Gray, as evidenced by its higher LRV. While Gray Owl can be classified as an off-white (and is part of Benjamin Moore's Off-White colleciton), Stonington Gray is more of a true color.
Gray Owl has a bit more in the way of undertones than Stonington Gray. It has a good bit more green than Stonington Gray does, and also a hint of brown.
While Gray Owl and Stonington Gray are both great shades for your walls, one may be better than the other in some instances. For example, if you don't have a lot of light in a space, Gray Owl might be a better bet than Stonington Gray. Conversely, if you are looking at painting an exterior, Gray Owl might look entirely washed out in the bright sun.
Click here for a full paint color review on Stonington Gray.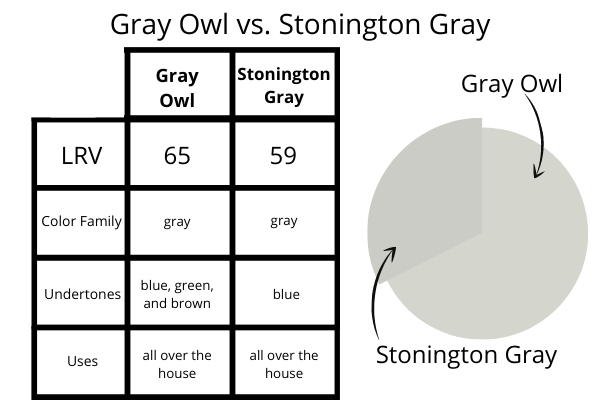 Stonington Gray vs. Revere Pewter
People often consider Stonington Gray vs. Revere Pewter, but not because they are similar colors. They are both neutrals, but they are not even in the same color family.
In fact, Stonington Gray is a true gray paint color, while Revere Pewter is a decidedly greige paint color. While Stonington Gray is a warmish cool gray, Revere Pewter is just plain old warm.
Revere Pewter has gray, beige and green undertones. It is a greige – a gray with beige (or a beige with gray). It isn't even a true gray.
So, I don't think that people contemplate which to use because they are similar colors, but more because Revere Pewter is so popular that people tend to think it should always be considered.
And since it is a question that people commonly have, we will talk about the two paint colors here.
As I said before, Revere Pewter is a greige paint color. It has a slightly darker LRV than Stonington Gray, but doesn't look much darker in real life. Instead, it just looks like a different color.
If you want a gray color that is more versatile, go with Revere Pewter. It is really flexible, and goes with a lot of styles and accenting colors.
But, if you want a little more of a pure and clean look, go with Stonington Gray.
Click here for all the details on Revere Pewter.
Stonington Gray vs. Repose Gray
Repose Gray is the only paint color on this list that is made by Sherwin Williams.
Here again, I think that people often consider these two colors at the same time due to their popularity, but not because the colors themselves are actually similar.
Repose Gray is one of Sherwin Williams top paint colors, and certainly in the top 3 of Sherwin Williams' greige paint colors. That's right… Repose Gray is a greige paint color, not a true gray like Stonington Gray is.
Repose Gray is on the cooler side as far as greiges go though, with more gray than beige. In addition to having gray and beige tones, Repose Gray also has purple and blue undertones.
So altogether, you can see that Repose Gray is actually a pretty different color than Stonington Gray.
But, they have very close LRVs, and pretty similar depths. Both are a bit too heavy to feel light and airy on your walls, but still feel relatively light. And both are gorgeous neutrals.
If you want a shade that is a bit more transitional, you might want to consider Repose Gray. But, if you really love a cool gray, Stonington Gray is going to be a better choice for you.
Click here for a full paint color review on Repose Gray.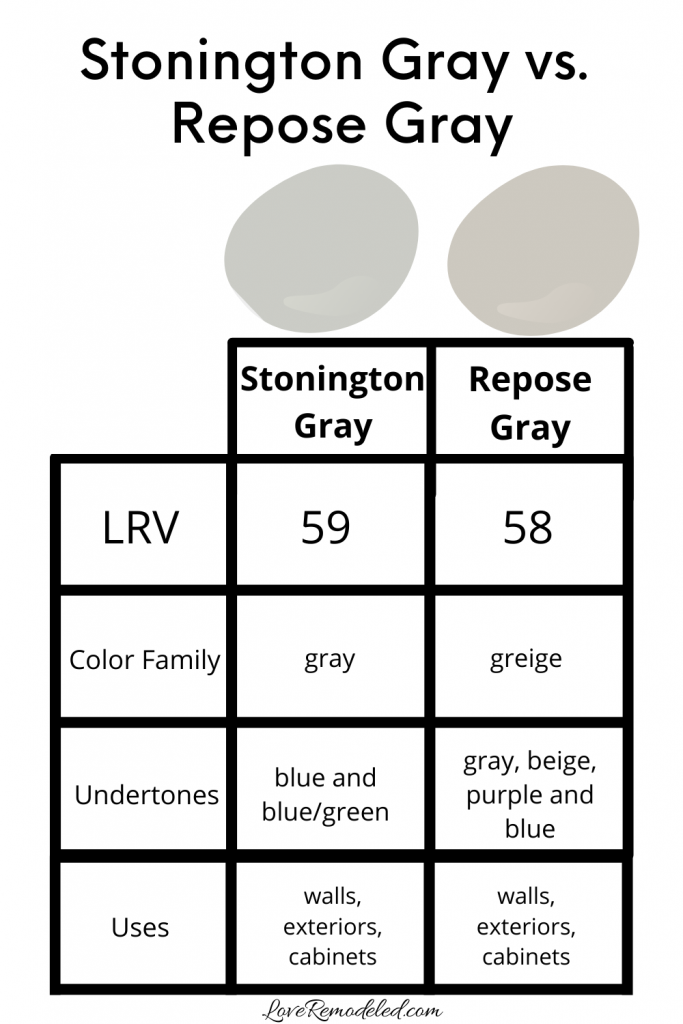 Stonington Gray vs. Coventry Gray
Coventry Gray is another popular Benjamin Moore paint color. It has also been included in the Benjamin Moore Favorites collection.
Coventry Gray is decidedly darker than Stonington Gray. Not only does it have a lower LRV, it also has a lot more depth than Stonington Gray.
In some ways, Coventry Gray is sort of like a darker version of Stonington Gray. Both Coventry Gray and Stonington Gray have blue and blue green undertones.
If you have a room with A LOT of natural or artificial light, Coventry Gray may be a good bet for you. A darker shade can give a room a luxe feel and look really gorgeous. But, if you room doesn't have a good amount of light, stick with Stonington Gray (or maybe even a lighter gray such as Gray Owl!).
Click here for more information about Coventry Gray.
Wondering how to pick the perfect paint color?
I have the best solution for you!
Samplize sells 9×14.75 stick-on paint sheets in almost every paint color.
These no-mess, peel and stick sheets are made from real paint, so they will show you exactly what the paint color will look like.
Simply place them on your walls next to your trim, furnishings or fixed elements, and easily see whether the paint colors work in your space and with your lighting. Then, peel the sheet right off your wall and reapply it somewhere else if you like!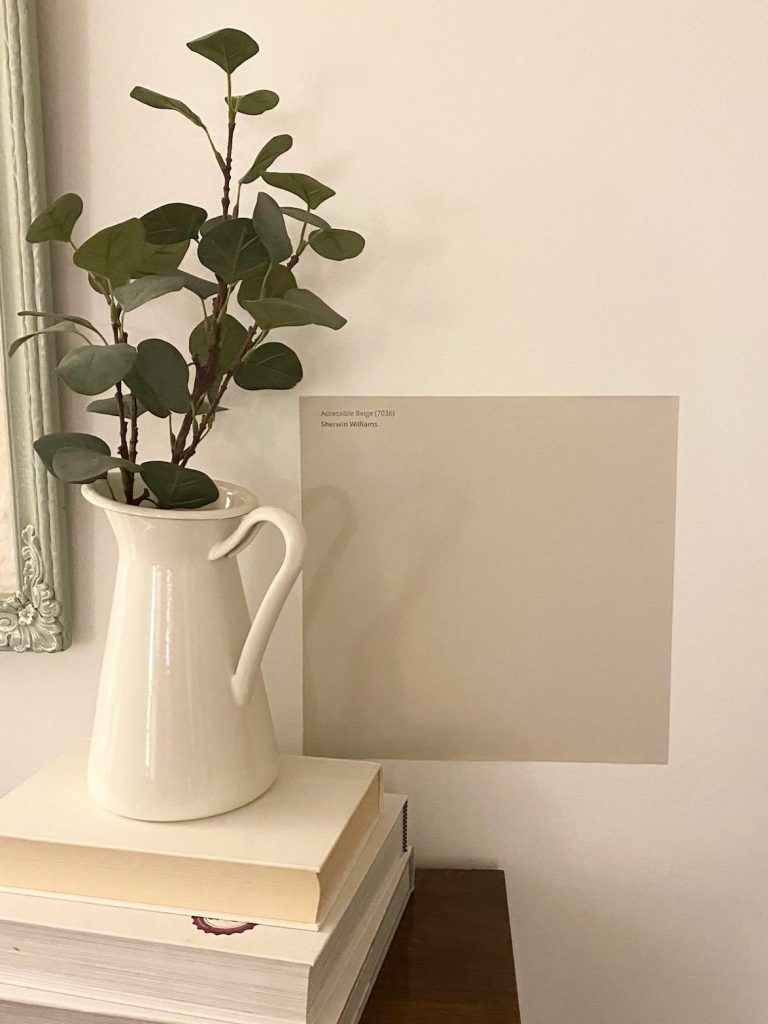 Oh, and you can have them in your home by tomorrow with OVERNIGHT shipping!
As a little tip, if you enter your email, you'll get $5 off your first order! Samplize sheets cheaper than a sample can of paint, and way less work!
Samplize sheets are truly the easiest (and fastest!) way to try a paint color in your home, with no mess.
Where Can I Use Stonington Gray
Stonington Gray is hailed as one of the never-fail paint colors by many, and is a good pick if you want a neutral gray paint color.
It is a great choice for living rooms, dining rooms, laundry rooms, bathrooms, bedrooms, nurseries and more. Truly, you can use Stonington Gray anywhere in the home because it is so neutral. The only consideration is to make sure that you have enough light in the room.
Stonington Gray is also a good color for cabinets, because it isn't too light and it isn't too dark. This color may not be best for a tuxedo kitchen with white cabinets, as it won't provide quite as much contrast as most people like, but it is a great color as a stand alone shade.
Last, Stonington Gray is a good exterior paint color. Due to the abundance of natural light, it will look a little lighter outside your home than it does inside. But, an exterior painted in Stonington Gray tends to look classic and elegant.
Final Thoughts on Benjamin Moore Stonington Gray
Stonington Gray is one of my go-to grays for people who want a neutral gray that doesn't come off as too cool or too warm. It is a light-medium shade of gray that looks great in any room of the house. It can also be used on cabinets or exteriors.
If you're looking for a refined gray paint color that isn't icy for your home, Stonington Gray should be on the shortlist!
Want to see all your paint options in one convenient place? Click here to get everything you need to start painting, including Sherwin Williams and Benjamin Moore paint color decks!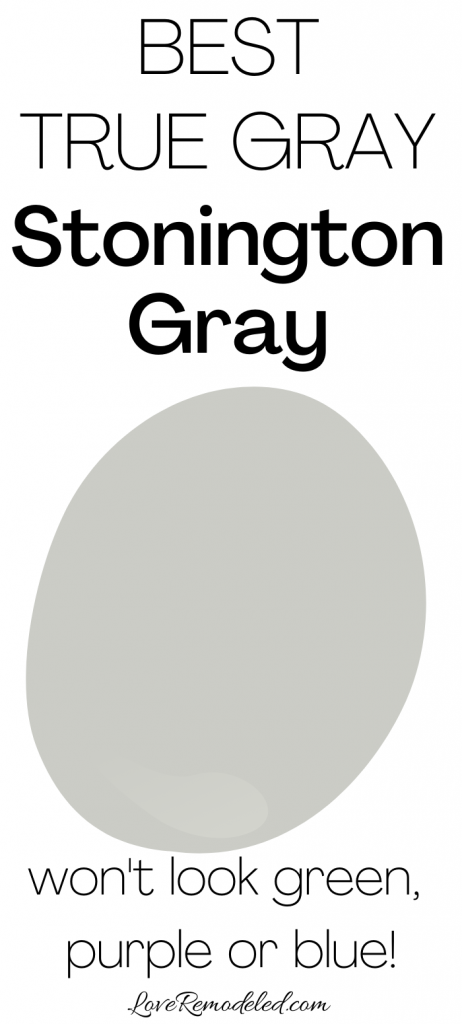 Have a question or want to show off your project? Join the discussion in Love Remodeled's Facebook group!