Horizon is a gray paint color by Benjamin Moore. It was originally in Benjamin Moore's Classic Color Collection (1478) and later included in the Off-White Collection (OC-53).
If you are interested in a light gray paint color that is barely there, keep reading for all the details on Benjamin Moore Horizon.
Plus, I'll tell you where Horizon works, what to pair it with, and what other paint shades you may want to consider instead.
This post may contain affiliate links. If you have any questions, please see my disclaimer page.
Benjamin Moore Horizon Paint Color Details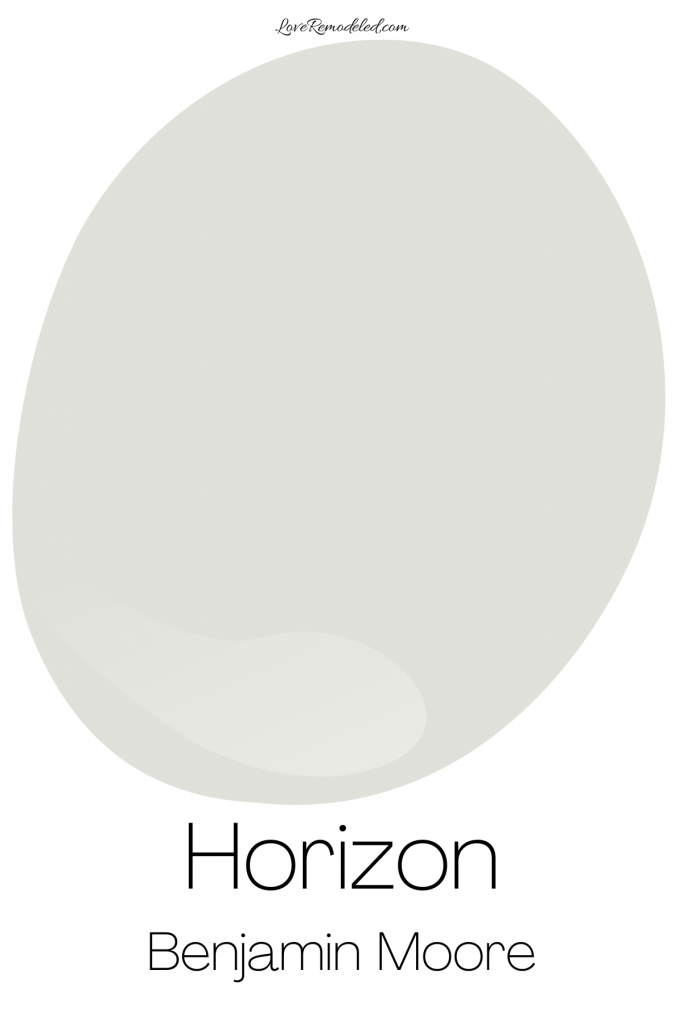 As I mentioned above, Horizon is a gray paint color. It is very light though, and because of this can also be classified as an off-white. This gray shade is very subtle, but still makes an impact.
It looks gray in almost every room, whether you have a lot of light or a little bit of light. In dim lighting, Horizon will look a bit darker, but will still be just a few shades darker than your white trim.
Overall, Horizon looks soft and airy.
Benjamin Moore Horizon LRV
Horizon has an LRV of 74. The LRV (Light Reflectance Scale) goes from 0, which is completely black, to 100, which is completely white.
As you can see, an LRV of 74 is fairly high on this scale. True white paint colors have LRVs of in the 80s and higher, so Horizon isn't a true white for sure. It has just enough depth that it works in just about any room, with any amount of light.
While it won't brighten up a dark room, it can be used even in basements or bathrooms with no natural lighting.
As with any paint color though, Horizon is going to look best when it is supported by adequate artifical and natural light.
Overall, an LRV of 74 makes Horizon highly usable.
Benjamin Moore Horizon Undertones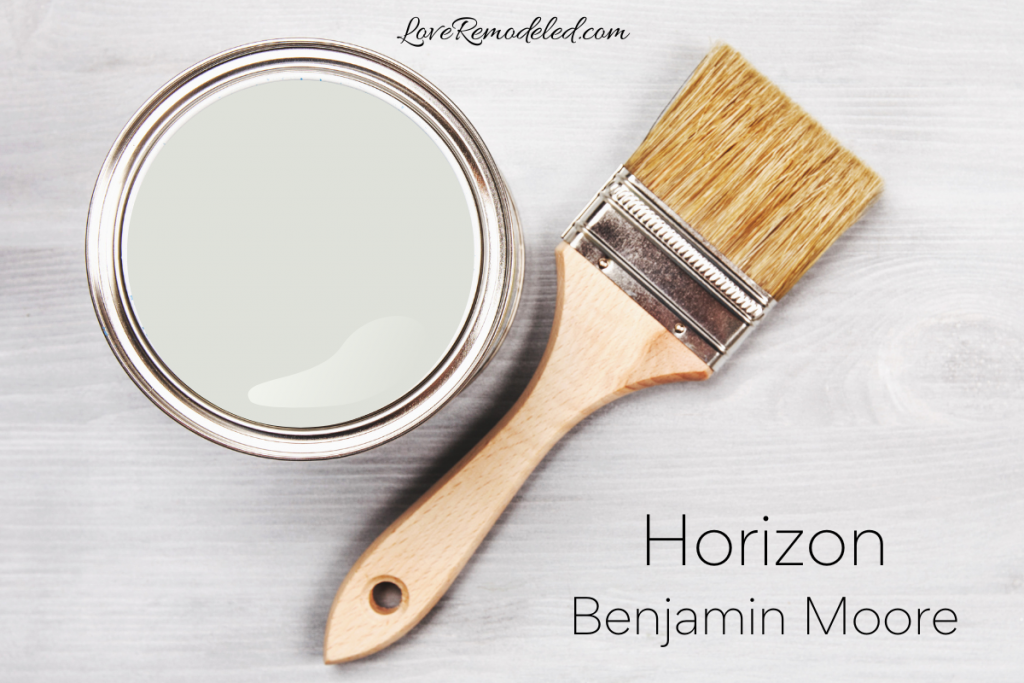 Horizon is a gray shade, but all gray paint colors have undertones.
The main undertone in Horizon is blue. It is fairly subtle, so Horizon shouldn't look blue in your room. But, it is important to know a paint color's undertone because this is the shade that the color will most likely lean into if it's going to shift one way or another.
If you want to emphasize Horizon's blue undertone, you can do this by using it in spaces with cooler lighting. This includes north-facing rooms and rooms with cool-toned lightbulbs.
If you're looking for a paint color to balance out a room with warm lighting, such as southern-facing rooms, the blue undertone in Horizon can help to provide this bit of balance. In southern-facing rooms, you're likely to see a bit less of this blue undertone. Instead, Horizon will look more gray.
Is Benjamin Moore Horizon Warm or Cool?
With its blue undertone, Horizon is a cool paint color.
Cool paint colors have blue, green, or purple undertones. A shade with a blue undertone like Horizon tends to feel soothing, expansive, and chilly, at times.
This is probably why Benjamin Moore gave this soft and subtle paint shade the name they did, Horizon. Horizon makes the wall seemingly recede.
Benjamin Moore Horizon Coordinating Colors
If you want to pair Horizon with a coordinating paint shade, you're most likely going to want to choose another cool paint color.
A gray paint color with a blue undertone loves cool white paint colors, navy paint colors, blue paint colors, darker grays with similar undertones, and black paint colors (these are also great furniture or accessory colors for Horizon).
If you want to add a little bit of balance to Horizon, you could even pair it with yellow paint colors, red paint colors, or cream paint colors.
For a first color scheme, Benjamin Moore pairs Horizon with Chantilly Lace and Puritan Gray.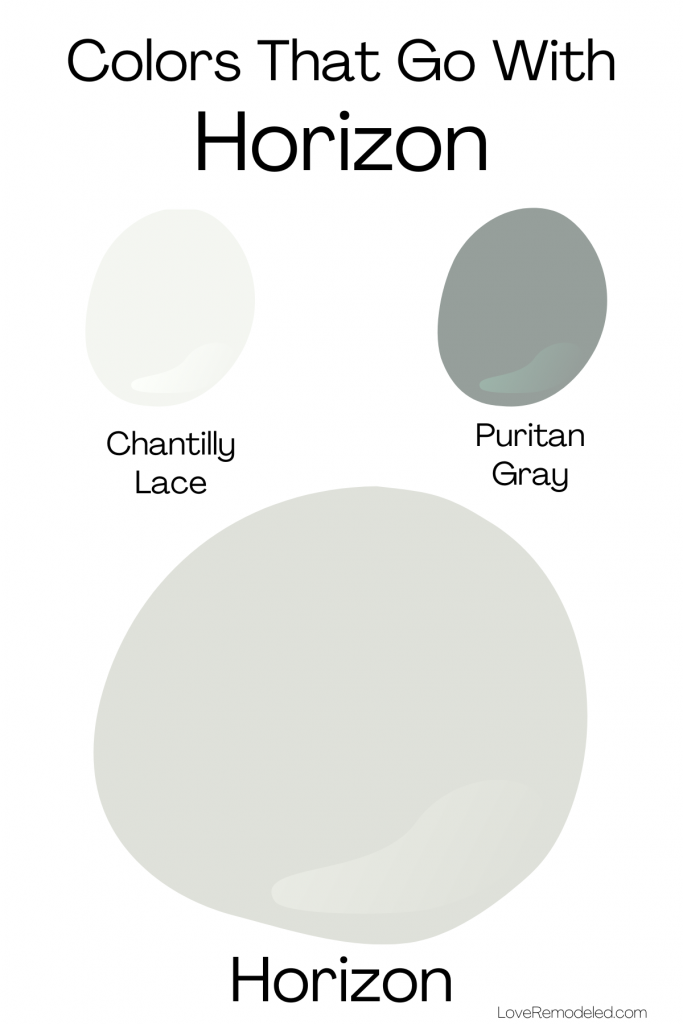 Chantilly Lace is Benjamin Moore's cleanest, brightest white paint color. Chantilly Lace will look very crisp and bright next to Horizon walls. Puritan Gray is a mid-tone gray paint color with blue undertones. It can be used alongside of Horizon as a coordinating shade for an accent wall, or in adjacent rooms.
This neutral color scheme works in many homes and is a good option if you're looking for a cooler color palette in your space.
For a second color scheme, Benjamin Moore pairs Horizon with Baby's Breath and Lush.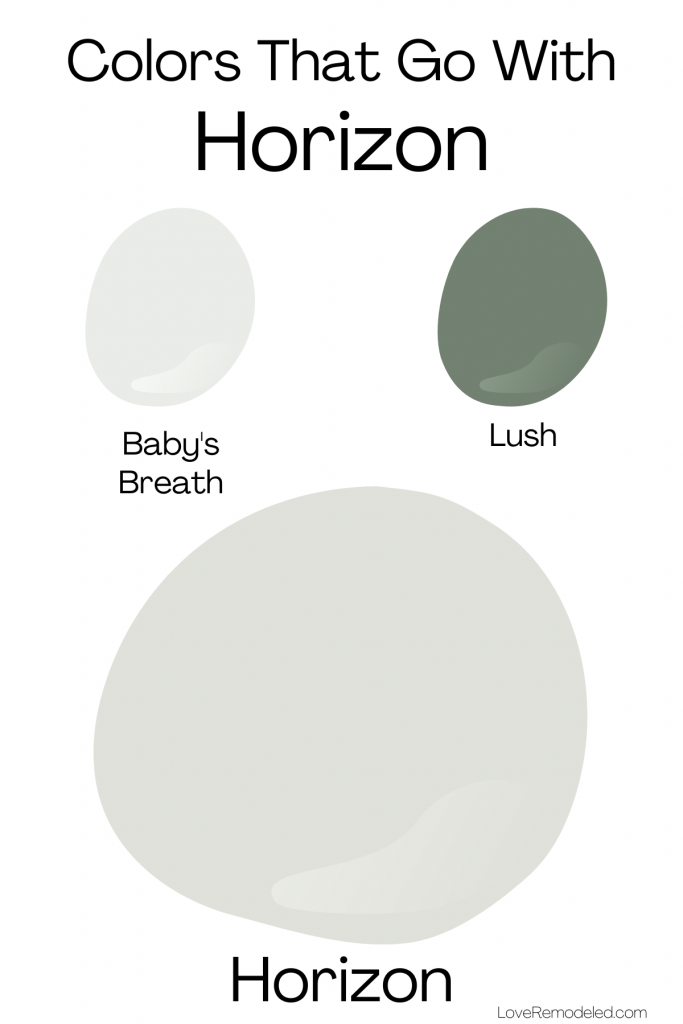 Baby's Breath is an off-white shade that is a hint lighter than Horizon, but has a gray tone. Lush is a deep green with gray undertones. Altogether, this makes for a more earthy sort of color scheme.
Benjamin Moore Horizon Trim Colors
Because Horizon is such a light paint shade, it tends to work best with very light trim colors. Alternatively, you could pair Horizon with a darker trim color, such as a dark gray or black, for a bold look.
My favorite trim color for Horizon is my go-to trim shade for Benjamin Moore paint colors. Chantilly Lace is such a clean white shade that goes with any paint color. In fact, it works so well with Horizon, Benjamin Moore included Chantilly Lace as a coordinating shade for it.
Chantilly Lace is going to look purely white against Horizon, and Horizon is going to look like a soft gray against Chantilly Lace.
Chantilly Lace is a fairly neutral white paint color though, not leaning too warm or cool, because it doesn't have much in the way of undertones.
If you want a white paint color with a cool undertone to pair with Horizon, Super White is a good option as well.
Super White has a blue undertone making it a good compliment for Horizon.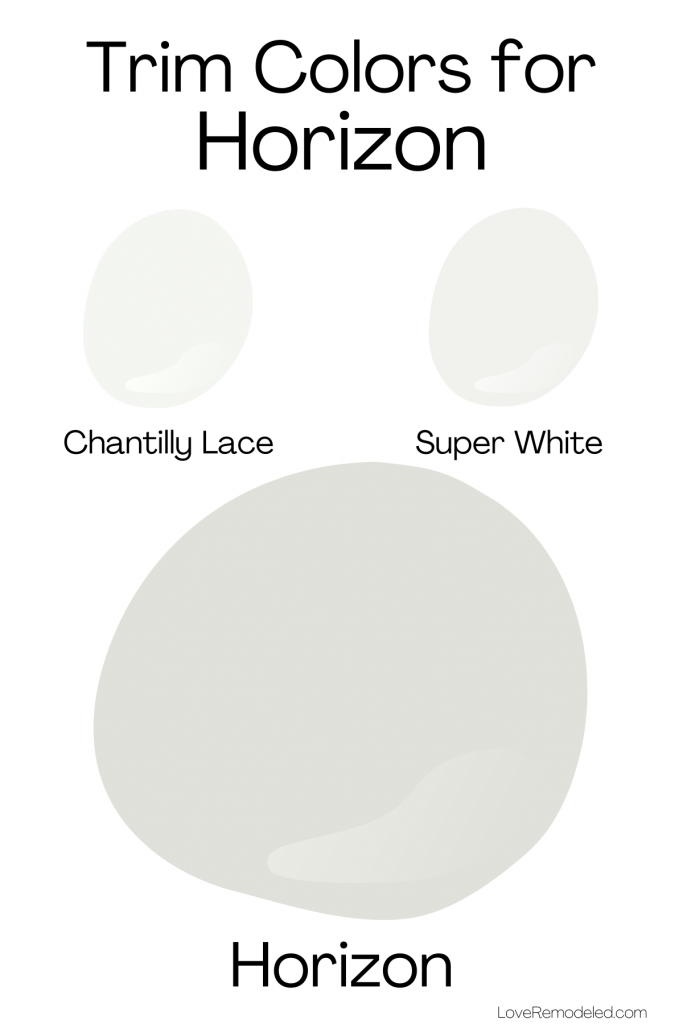 Where Can I Use Benjamin Moore Horizon
Horizon is a great paint color both interiors and exteriors.
In the interior of a house, Horizon looks great in bedrooms, bathrooms, living rooms, dining rooms, and even cool-toned kitchens.
For example, Horizon is a good off-white shade to pair with many quartz and marble's that have a blue or gray undertone.
Because of its high LRV and pleasant undertones, Horizon can be used in basically any room of the house.
Horizon is also a very popular paint color for home exteriors. In fact, Benjamin Moore includes it in their Colors for Vinyl collection because it is such a great shade for vinyl siding.
How Does Benjamin Moore Horizon Compare to Other Paint Colors?
When I do an in-depth look at a paint color, I always like to compare it to other shades that you might be considering as well. This can include colors that are in the same color family, or colors that have the same uses.
For Horizon, people are commonly looking for either a light gray, or a soft off-white shade that is most easily classified as gray.
Here, let's look at Horizon in comparison to Paper White, Gray Owl and Silver Satin.
Benjamin Moore Horizon vs Paper White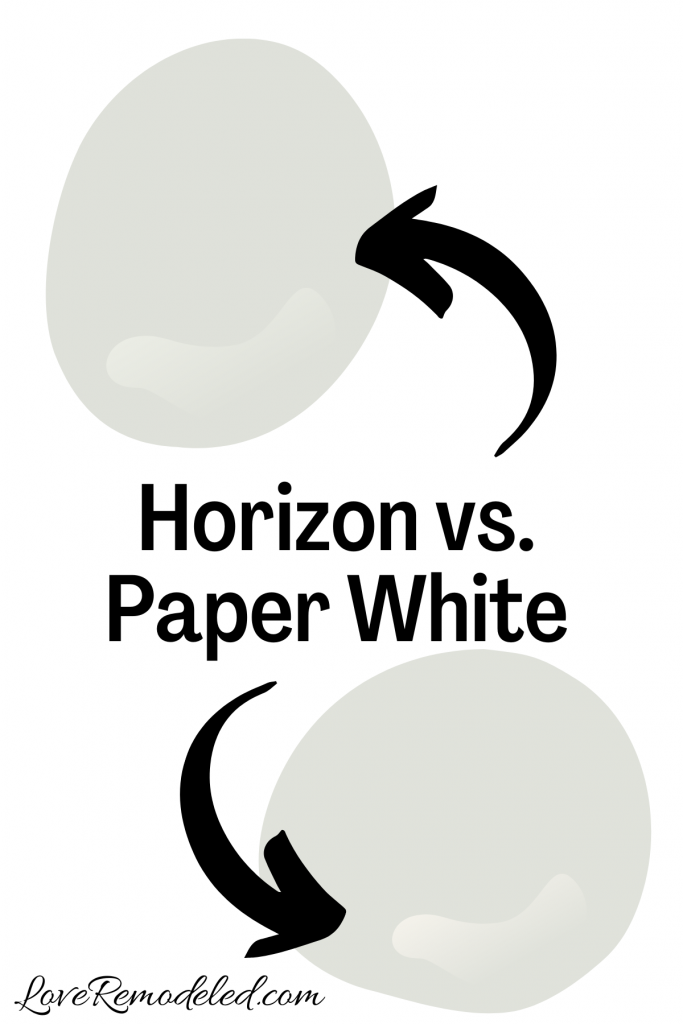 Paper White is an off-white paint color by Benjamin Moore that is very similar to Horizon.
Paper White has an LRV of 75, giving it just about the same depth as Horizon. Additionally, they both are gray shades that have blue undertones.
Truly, you would have a hard time distiguishing one from another because they are so similar. But, when I look at them, I see a bit more gray in Paper White and a hint more blue in Horizon.
So, if Horizon is just looking a bit too blue in your space, Paper White might be the better choice between the two.
Click here to read more on Benjamin Moore Paper White.
Benjamin Moore Horizon vs Gray Owl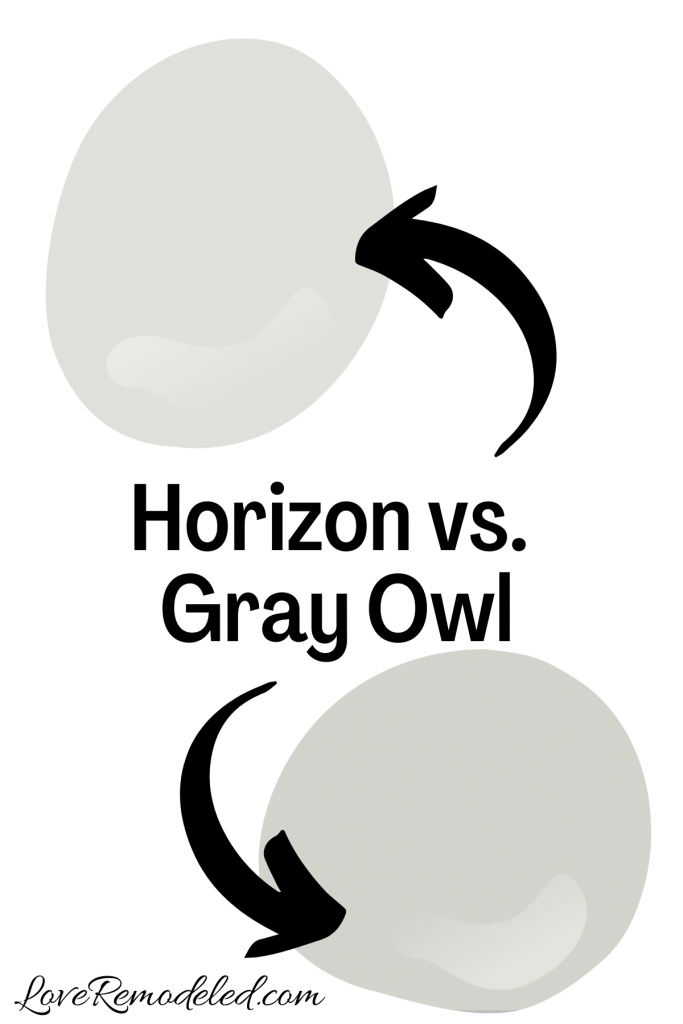 Gray Owl is one of the most popular gray paint colors by Benjamin Moore.
Gray Owl is a little bit darker than Horizon though, feeling like more of a color on your walls and less of an off-white.
While both Gray Owl and Horizon have a blue undertone to them, Gray Owl also has a good bit of green in it. So Gray Owl is also a cool color, but it feels a bit different than Horizon. While Horizon can feel a bit chilly at times, Gray Owl feels a bit more relaxed.
For some, Horizon isn't going have enough punch to it, just looking a bit washed out. If this is how it is for you, you may want to look at a shade with a tiny bit more meat on its bones like Gray Owl.
Click here for more details on Benjamin Moore Gray Owl.
Benjamin Moore Horizon vs Silver Satin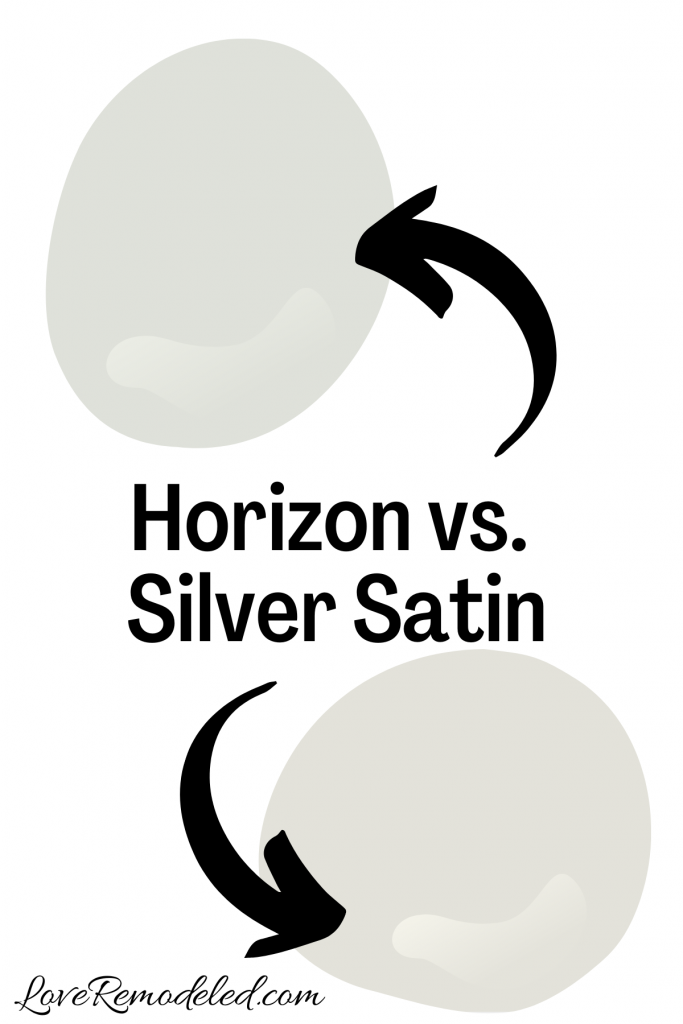 Silver Satin is another off-white paint color by Benjamin Moore.
Silver Satin has a very similar depth and LRV to Horizon. But, with a bit of beige in it, Silver Satin is a warmer paint shade than Horizon.
If you really like how Horizon looks, but don't want a shade that is quite so cool, or if you have lots of warm undertones that you need to work with in your space, Silver Satin might be a good option for you.
Click here to read more about Benjamin Moore Silver Satin.
Wondering how to pick the perfect paint color?
I have the best solution for you!
Samplize sells 9×14.75 stick-on paint sheets in almost every paint color.
These no-mess, peel and stick sheets are made from real paint, so they will show you exactly what the paint color will look like.
Simply place them on your walls next to your trim, furnishings or fixed elements, and easily see whether the paint colors work in your space and with your lighting. Then, peel the sheet right off your wall and reapply it somewhere else if you like!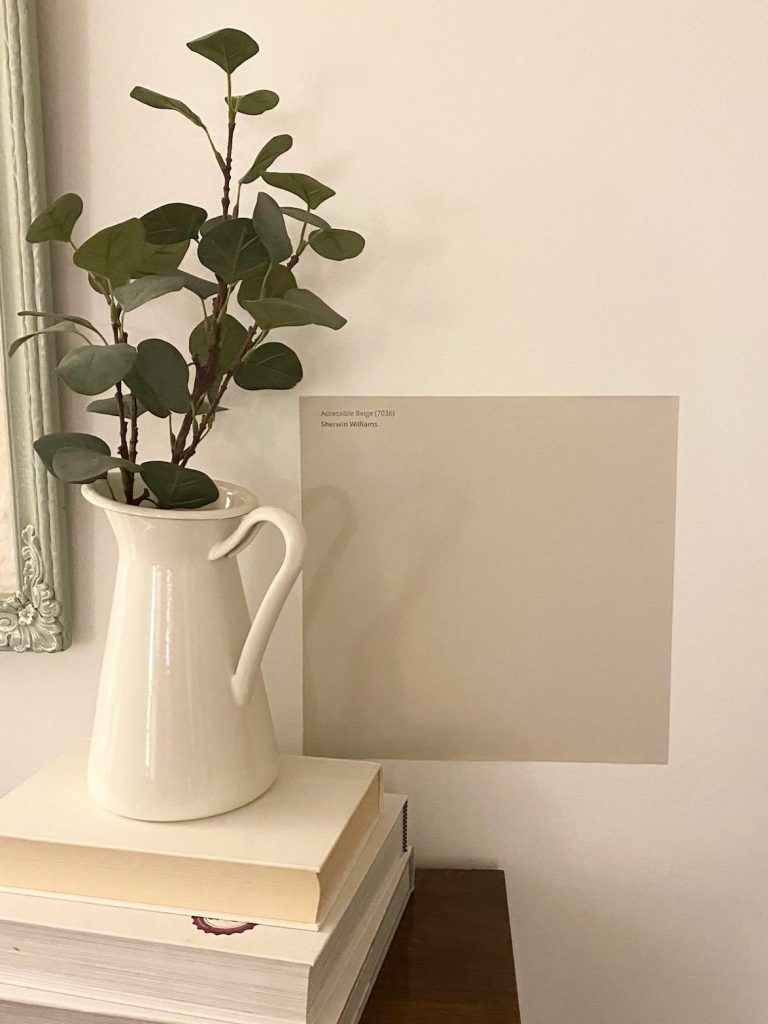 Oh, and you can have them in your home by tomorrow with OVERNIGHT shipping!
As a little tip, if you enter your email, you'll get $5 off your first order! Samplize sheets cheaper than a sample can of paint, and way less work!
Samplize sheets are truly the easiest (and fastest!) way to try a paint color in your home, with no mess.
Finals Thoughts on Benjamin Moore Horizon
If you are looking for a barely there paint color that just hints at being a color, Horizon is a good choice. It is soft and airy. Given its blue undertone, Horizon is a great choice for a kitchen or bathroom with cool marble or quartz features.
Horizon definitely leans cooler on your walls, making it a great shade to pair with other cool colors. Plus, since it is so usable, it is a good shade for an all-over-the-house paint color.
Have a question or want to show off your project? Join the discussion in Love Remodeled's Facebook group!
Want to see all your paint options in one convenient place? Click here to get everything you need to start painting, including Sherwin Williams and Benjamin Moore paint color decks!