Are you loving the coastal grandmother trend that is taking the design world by storm right now? It is a mix of the casual, coastal look that is classically in style and the grandmillenial style that is trending in recent times.
Or, maybe you've been a long time fan of the coastal look, and you're just looking for the perfect light fixture for your coastal inspired home.
Either way, this post has something for you!
This post may contain affiliate links. If you have any questions, please see my disclaimer page.
Coastal Light Fixtures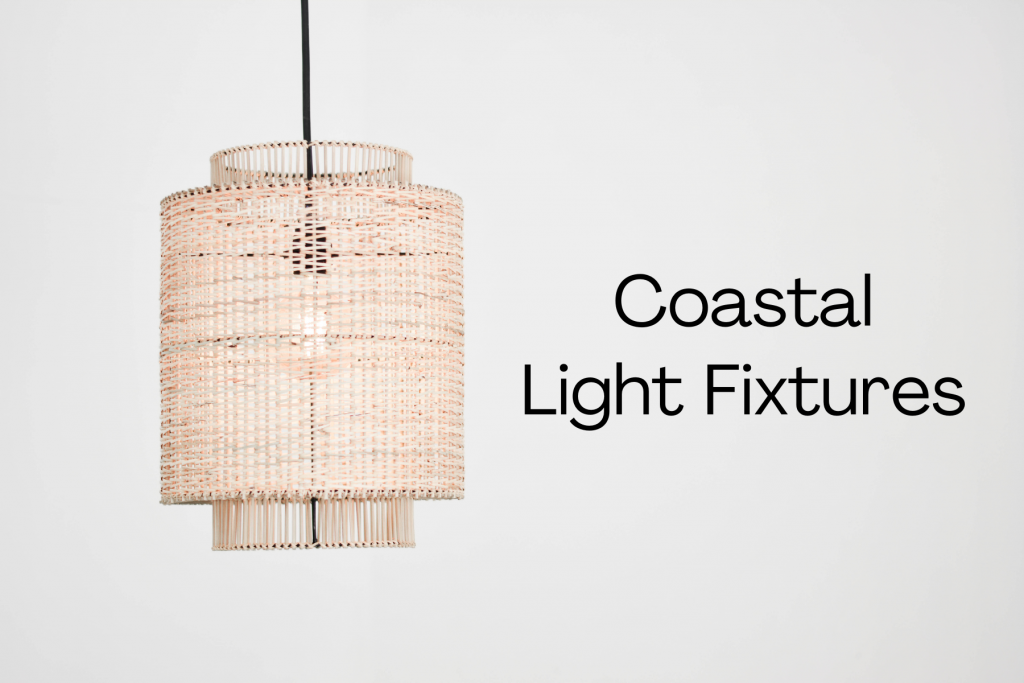 Coastal light fixtures can vary in finish from brushed nickel to rattan to weathered wood to capiz shell. Some coastal light fixtures lean more towards a glam look, while others are casual and beachy.
While many people consider nautical themed decor to also be coastal, I tend to put that in another category (though I do have one pick for a more nautical light fixture included in this post).
To me, coastal means light and airy, lots of white and cream, layered textiles, soft blues, and pops of natural elements such as rattan.

Here are my top picks for coastal light fixtures!
Top Picks for Coastal Light Fixtures
Coastal Chandeliers
This Capiz shell chandelier is perfect for a kitchen island or over a rectangular dining room table. The shimmer from the shells gives an inherently glam look, while also lending a big nod towards the beach. This chandelier is perfectly coastal.

This coastal chandelier is a weathered wood take on a traditional style chandelier. I would look amazing over a white table!

I love this metal and weathered wood chandelier. The thin metal pieces give it a subtly rustic look, without being too industrial.

This metal caged style chandelier leans farmhouse, but also works in a coastal style home. It works well over a kitchen island or rectangular table.

Love the Capiz shell look? This coastal chandelier is amazing in a dining room, bathroom or even a luxe styled bedroom.

Need some more inspiration? Here are a few other coastal chandeliers that I love:

Coastal Pendants
This weathered brass pendant combines a weathered wood look with a soft brass metal. I love its design! It shows how a coastal look can have more modern lines at times.

If you want a pendant with a more traditional look, check out this one!

This pendant could be used in a nautical style or coastal style home. The navy gives a little pop of color in what can be an otherwise muted space.

I love a rattan pendant! It brings a natural element, providing the perfect balance to an interior space.

Still on the hunt for the perfect pendant? Here are a few more coastal pendant light fixtures that are gorgeous:

Coastal Semi-Flush Mount Lights
Semi-flush mount light fixtures are lights that hang a bit from the ceiling, without being as fancy as a chandelier. They're perfect for when you have high ceilings, but still need to walk through the space.
This Capiz shell semi-mount is great for a casual, coastal space such as a study, living room, or hallway.

Beaded lights are really in style right now! This white beaded light has an antiqued look that works really well in a coastal space.

If you like the rattan look, but don't want a pendant that hangs low, check out this gorgeous rattan semi-flush mount light!

Coastal Flushmount Lights
It can be really hard to find a nice coastal flushmount light, but this one is amazing. The soft glow that comes from the Capiz shells creates the perfect lighting for a coastal styled room. I love how they paired the shells with a sea pearl metal finish for a perfect complement.

The wooden beads in this flushmount can lean a bit boho, but when done in a white or a light wood, it definitely can work in a coastal style space.

Final Thoughts on Coastal Light Fixtures
I love seeing the impact that changing out a light fixture has on a room. If you really want to give your home a coastal style, a new light fixture can make a huge difference.
Whether you're just jumping onto the coastal grandmillenial trend, you're updating your beach house, or you're just looking to bring a bit of a coastal element to your home, these light fixtures will help you get your space perfectly dialed for this gorgeous design style.
Looking to paint your home as well? Check out these coastal paint colors!