One of the questions that I frequently hear is, "How can I update my kitchen with oak cabinets?"
Homes built in the 90's or updated in the 90's (as so many 70's homes were) often have oak kitchen cabinets. Oak cabinets can give your home a dated look, due to the style of cabinet door and the color of stain that is on them.
Most commonly, oak cabinets are stained in a orangy or reddish stain color. While this color was all the rage in the 90s, it isn't as popular today.
Reasons to Update Your Oak Cabinets Without Replacing Them
Despite them being out of style though, there are a lot of reasons why you may want to keep your oak cabinets.
First, they are probably REAL wood. This means that they're a higher quality cabinet than you may end up with if you buy a new set.
Second, it is expensive to buy new cabinets. Even a set of budget kitchen cabinets from Home Depot can easily cost you $10,000.
And third, it can be hard to tear out perfectly good kitchen cabinets for no reason, other than to change the style.
So, if you're wanting to keep your oak cabinets but give them a more updated look, there are a few things you can do.
This post may contain affiliate links. If you have any questions, please see my disclaimer page.
The Cons of Painting Oak Cabinets
Most bloggers will tell you to paint your oak cabinets. It is a pretty fool proof way to make your kitchen look amazing – at least in pictures.
And it can be an inexpensive way to change the look of your kitchen, if you do it yourself.
Unfortunately, there are a couple of down-sides to painting your kitchen cabinets.
First, it doesn't always look that great. As I mentioned above, a painted kitchen cabinet can look really nice in pictures or from far away, but up close, it can look pretty bad! This is because getting a professional looking finish is almost impossible on a DIY job. Instead, you end up with really apparent paint brush lines and grain lines from the wood beneath.
Second, painted cabinets don't always hold up well. They often chip easily, especially around the handles.
Third, it is a really time-intensive DIY. You have to do A LOT of prep work. Not only do you have to clean the cabinets and sand them really well, you also have to fill the wood grain, remove the doors, remove all the hardware (including the hinges), and paint the cabinets inside and out.
If you're a perfectionist, and do ample prep work, you can get it to a pretty good finish, which might be good enough for you. But, if you want a perfect, factory like finish, I recommend hiring a professional that will paint your kitchen cabinets with high quality cabinet paint and a sprayer.
If you don't want to have the expense of hiring a professional to paint your kitchen cabinets, and aren't sure you want to undertake the job yourself, I have some ideas for you!
Updating Oak Kitchen Cabinets Without Painting
If you choose to update your wood kitchen without painting them, there are a lot of ways you can give your kitchen a refresh.
Paint the Walls
Outdated paint colors can really do a number of wood kitchens. If your kitchen has oak cabinets and your walls are yellow, pink or powder blue, it immediately makes your kitchen look like its at least 25 years old.
But, if you have an updated, in style paint color, those oak cabinets start looking a lot better. The right paint color can downplay the orange tone in the wood.
One of my favorite colors to pair with oak cabinets is Mindful Gray.
It is a griege paint color that is very current, and it plays really nicely with orange colored wood.
For more paint colors that can help to update the look of your wood kitchen, check out this post on wall colors for honey oak cabinets.
Change the Cabinet Hardware
If you've already updated your oak kitchen by painting the walls a current color, the next thing you should do is change the hardware on your cabinets.
Oak cabinets used to be paired with gold knobs, which really ended up increasing the warmth in the kitchen (and the yellowy-orange tones!). While gold knobs are back in style, they do not work with oak cabinets.
My favorite hardware color to put with oak cabinets is black. It gives the wood an updated look, and provides a focal point for your eyes. Instead of looking at the cabinets and seeing the wood front, your eye immediately goes to the black knob or pulls.
Here are some of my favorite knobs and pulls:
Be sure that you also change the hinge if it shows when the cabinet door is closed.
Replace the Backsplash
Replacing the backsplash in your kitchen is another way to update the space without ripping the cabinets out.
I find that, oftentimes, people try to work with their wood cabinets by adding a backplash in a small tile mosaic with brown tones in it.
While the colors go well, it doesn't actually update the kitchen. Here's why.
First, tiny rectangular mosaic backsplashes have trended out, so the style of backsplash isn't helping the oak kitchen cabinets in any way. Second, the brown colors add more dark, warm tones to the kitchen. These tones aren't in style either, so the net sum is an updated kitchen that still looks dated.
If you want to update the kitchen and bring new life to your oak cabinets, add a very current backsplash. Think subway tiles, herringbone tiles, and hexagons.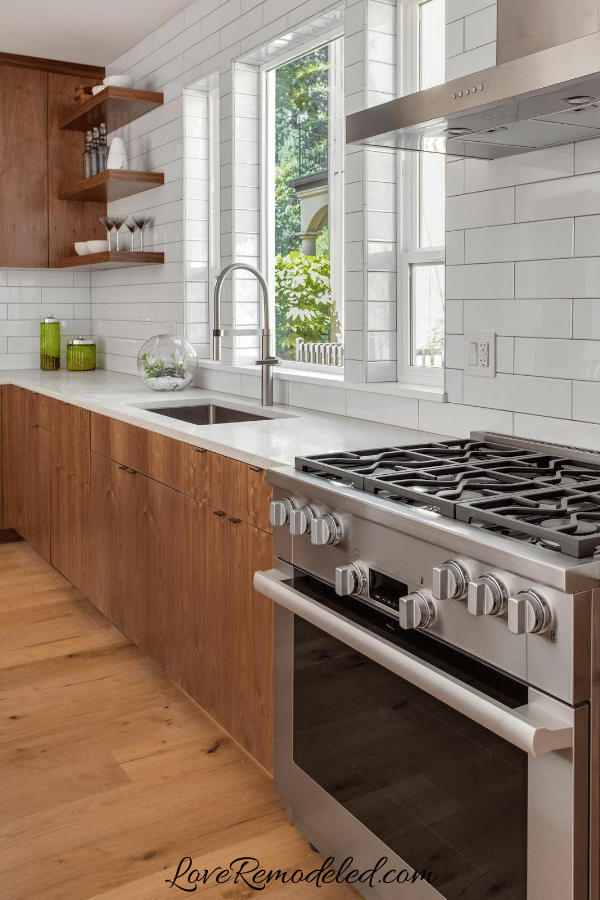 Keep reading for more on how I updated my wood kitchen with peel and stick backsplash tiles.
Re-Stain the Cabinets
Alright, so I know I said I was going to tell you ways to update your oak cabinets without painting, so maybe this looks like a technicality. But here it is.
If you like wood cabinets, but really don't like the color of your oak cabinets, you can stain them a darker color.
I am including this option because it is a pretty simple DIY, and doesn't take all that long to do. I like it because it has pretty minimal prep work, and is a great way to update the oak without painting.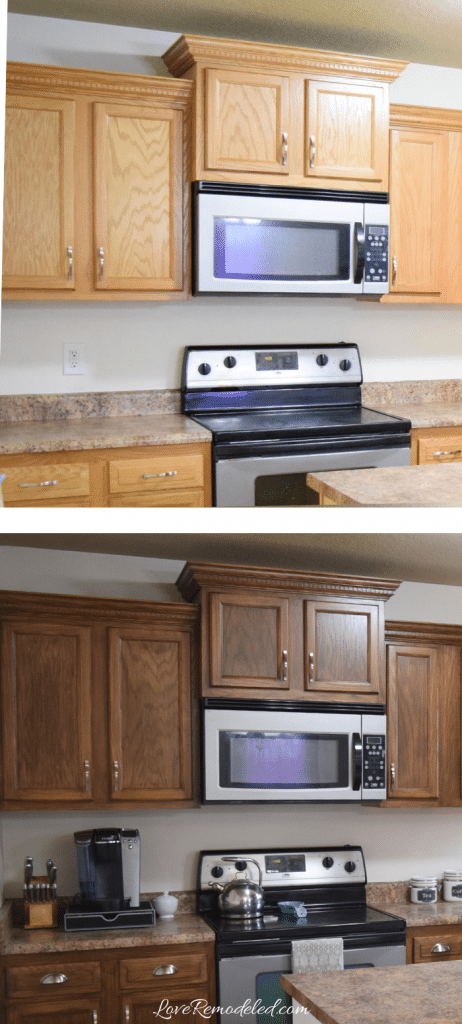 Here is how I updated the oak kitchen in my little prairie house.
Add White Cabinets
The last way you can update your wood kitchen is by adding white cabinets to the space in a way that pairs well with your oak cabinets.
White cabinets are both classic and current, and go in practically any kitchen.
A wood and white kitchen can easily have a country, rustic or farmhouse look depending on the accessories you put with it.
But a kitchen with both wood cabinets and white cabinets can even look modern if you happen to have a shaker or flat panel style door on your oak cabinets.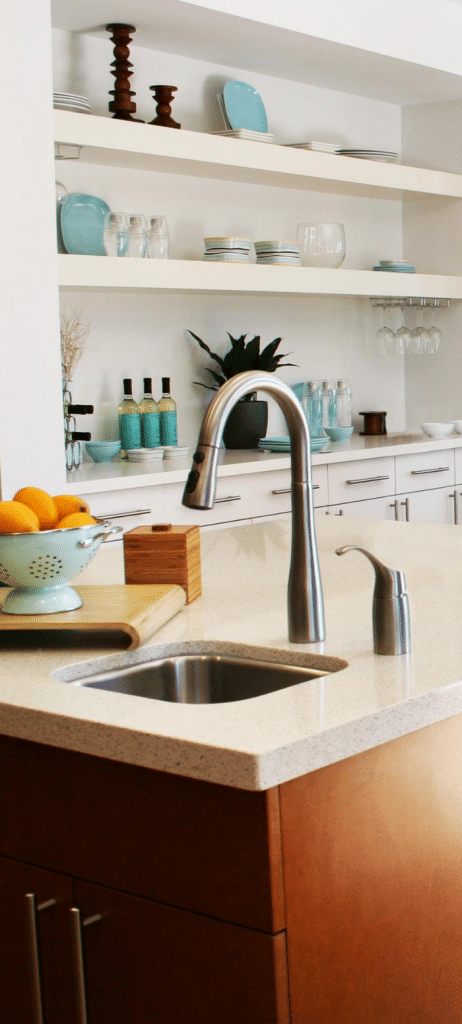 Since mixing old kitchen cabinets with new kitchen cabinets can be a little tricky, I'm going to spend a little bit of time discussing some of the ins and outs.
How to Mix Old Kitchen Cabinets with New Kitchen Cabinets
There are a few ways to mix wood and white kitchen cabinets together.
Build a "Larder"
First, if you have a space to do so, you can add white cabinets to your kitchen as a stand alone "larder" type of cabinet. While traditional larders are used to hold food, you can store anything you like in the cabinets.
Add a White Kitchen Island
Second, you can add a white island by either purchasing cabinets for one, or painting your current island. I did this in one of my homes and loved how it updated the look without costing me a lot of money. Plus, since I was only painting the island, the prep work didn't take too long and any imperfections weren't very evident because the island isn't at eye level.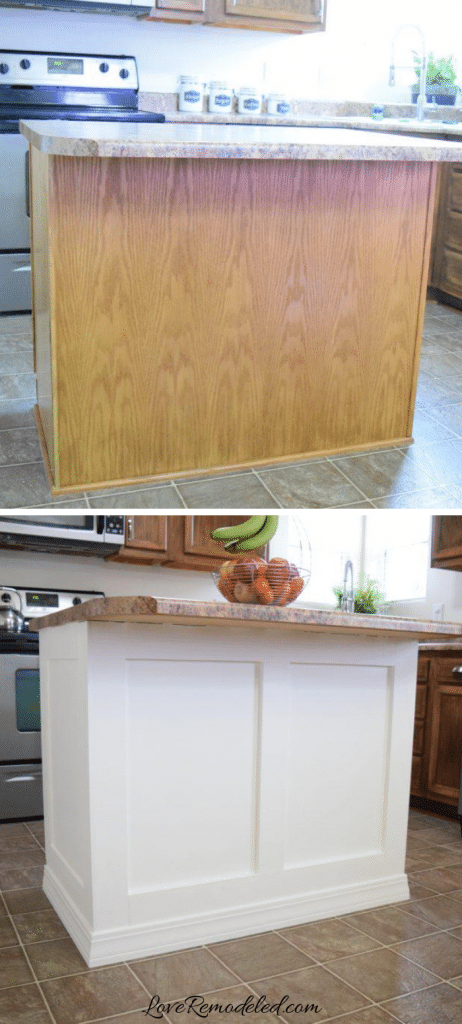 Make a "Tuxedo Kitchen"
Last, replacing the wood uppers with white cabinets creates a "tuxedo kitchen" look. Tuxedo kitchens are very in style right now. In fact, according to Zillow, kitchens with two-toned cabinets sold for over $1500 more in 2018.
While this would mean removing some cabinets, replacing only the upper cabinets allows you to keep the lowers and the countertop, which significantly reduces the cost of updating your kitchen.
If you like this option, but you're on a super tight budget, consider adding wood shelves, stained to match the oak lowers, in some places. This will also help tie the uppers and lowers together.
Of the three ways to add white cabinets to your wood kitchen, creating a tuxedo kitchen with wood and white cabinets is the best option if you have a small kitchen.
Making Two Toned Wood and White Kitchen Cabinets Work Together
If you're looking to mix painted and stained cabinets, there are a few things that you need to do to make it work.
To begin, match the style of cabinets.
If you have cathedral style cabinet doors on your oak cabinets, you probably shouldn't pair them with shaker style white cabinet doors. While both styles are nice, they don't really go together.
Matching the style of the cabinets, as closely as you can, is a great way to bring cohesiveness to a kitchen that has both wood and cabinets.
Another way to mix painted and stained cabinets is to match the hardware on the cabinets. This will make them look like they were planned to be together, instead of put in the same space as an afterthought.
Finally, you'll want to choose a white that goes well with wood tones. I prefer to pair warm wood kitchen cabinets with warm toned white cabinets. They cabinets don't have to be a cream color, but they shouldn't have a cool blue undertone, if it can be avoided.
If you have a little bit of money to spend, mixing oak and white cabinets together is a great way to update the look of your wood kitchen.
Summary of Ways to Update Wood Cabinets without Painting
To review, there are five ways you can update your oak kitchen that don't require replacing or painting your cabinets:
Paint the Walls
Change the Cabinet Hardware
Replace the Backsplash
Stain the Cabinets
Add White Cabinets
I used many of these ways to update my current kitchen (and to update all of my previous kitchens – I seem to always end up with houses with wood kitchen cabinets!).
Before and After – Updating My Oak Kitchen Without Replacing the Cabinets
Recently, I have been working on updating the kitchen in my current home. Here is what my kitchen looked like before I started updating it.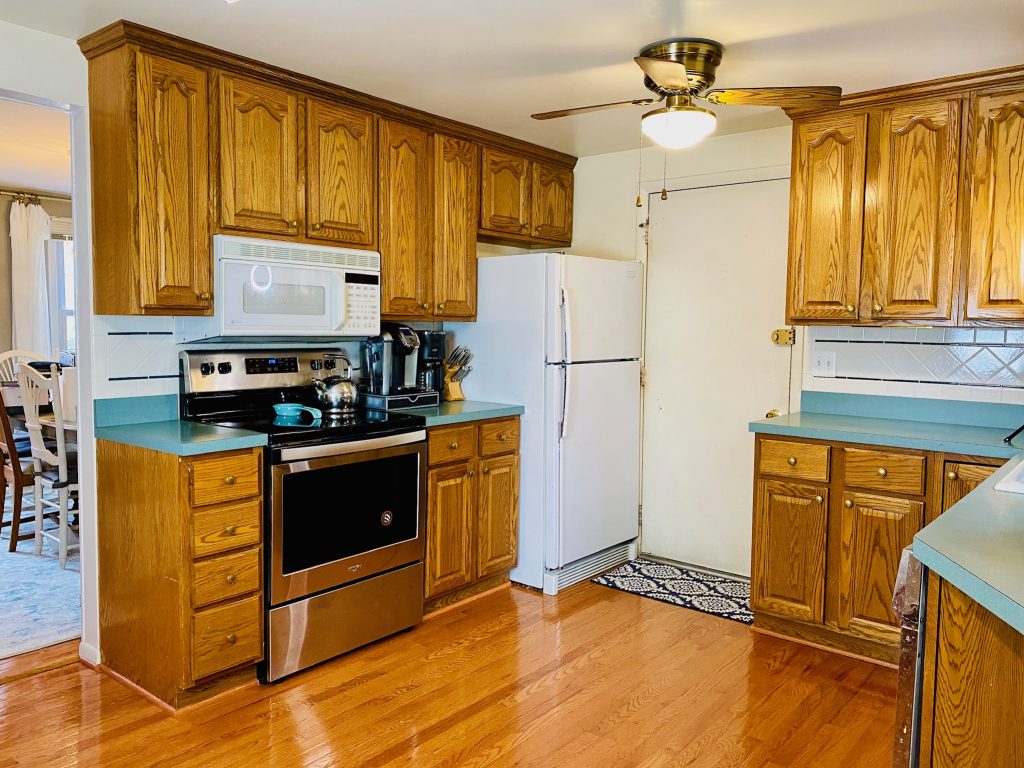 It had medium stained wood cabinets with gold knobs, turquoise colored countertops and a white and dark green backsplash. The kitchen was in great condition, but was out of date.
Shortly after moving into the home, the dishwasher broke… and then the night that we came home from looking at replacement dishwashers, the cooktop cracked. Since we needed both a dishwasher and a stove, it made sense to buy the whole kitchen appliance suite.
And then since we were purchasing a new refrigerator, I didn't want to have to purchase a super small refrigerator, which was the only size that would fit in the current space, so I decided to move the refrigerator to the other side of the kitchen.
And since I was moving the fridge, I may as well put additional cabinets around it for more storage space.
And since I was adding new cabinets, I may as well update the countertops to be the same finish on both the new and old cabinets.
It was basically a homeowners if-you-give-a-mouse-a-cookie story.
Adding White Cabinets
After purchasing new appliances (STAT, since I didn't have a working stove or dishwasher), I ordered a set of white kitchen cabinets.
I made sure that the style of cabinet matched as closely as possible with my current oak cabinets, and I replaced the hardware on all of my cupboards to be the same.
Here is where I wrote about the kitchen cabinets I ordered. I LOVE them so, so much. They are made of solid wood, have dove-tailed, soft close drawers, and look amazing.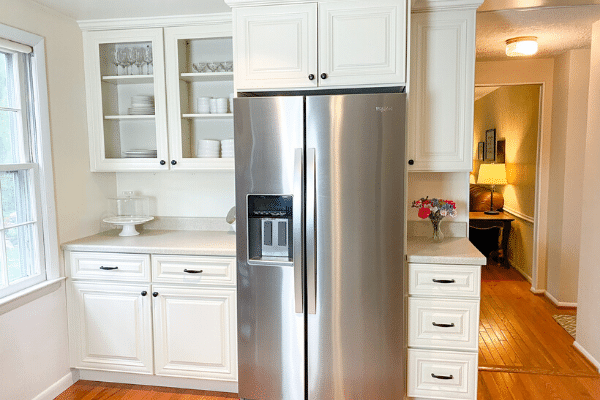 Painted the Kitchen Countertops
When that was done, I painted all of the countertops to look like marble using a DIY marble countertop kit. The kit was easy to use, inexpensive, and came with everything I needed. If you want to find out more, check out this post where I wrote about painting my countertops.
Adding a Backsplash
The next way I brought my wood and white cabinets together is by adding a peel and stick backsplash to both areas.
Since I wasn't sure how the painted marble countertops would hold up, I didn't want to spend a lot of time and money tearing out my dated backsplash and putting in a new one.
So, I decided to try out peel and stick backsplash. It was easy to do, fairly cheap, and I like how it turned out, but its not the best choice if you don't have a good reason to do it (like you might replace your countertops soon or you are renting).
I wrote about the peel and stick backsplash process here, if you want to learn more about it.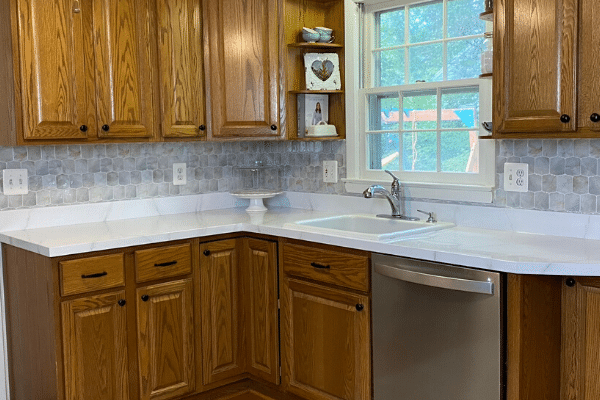 Updating the Lights
Last, I purchased new lights and replaced the Tiffany style light fixture and ceiling fan with a can light and an updated semi-flush mount light.
I love the lights from LNC because many of them have wood elements, tying in nicely to the wood cabinets.
Before and After Photos
I'm really happy with how the kitchen turned out! Mixing my old oak kitchen cabinets with white cabinets made the whole kitchen feel brighter, and like its from this decade!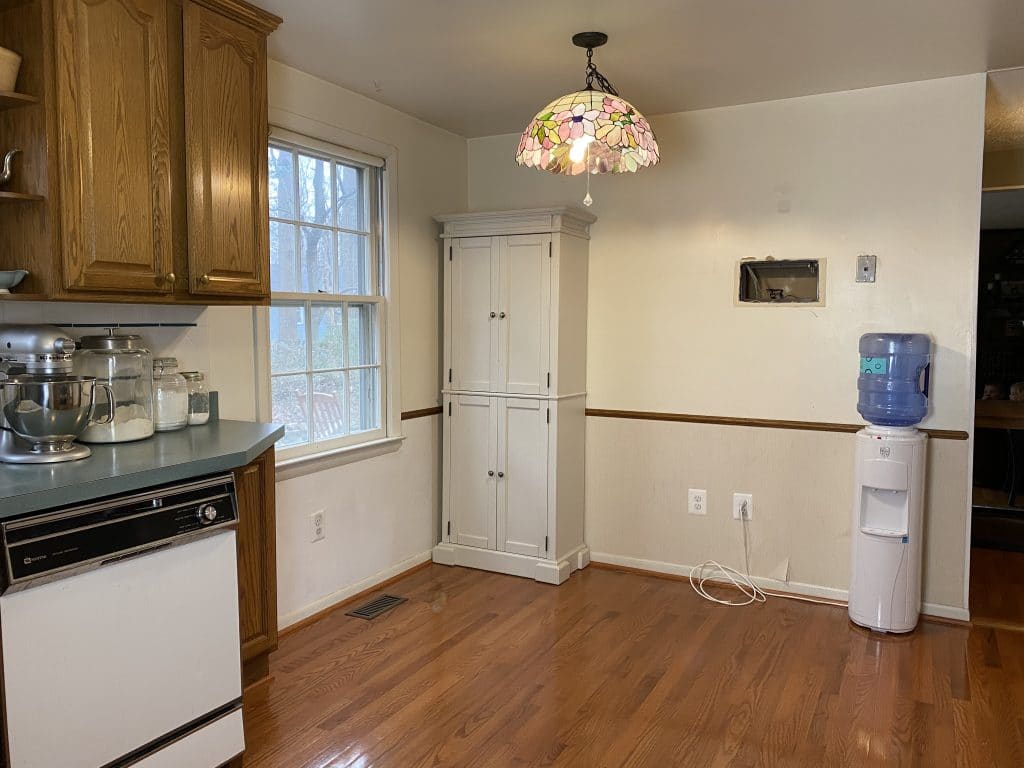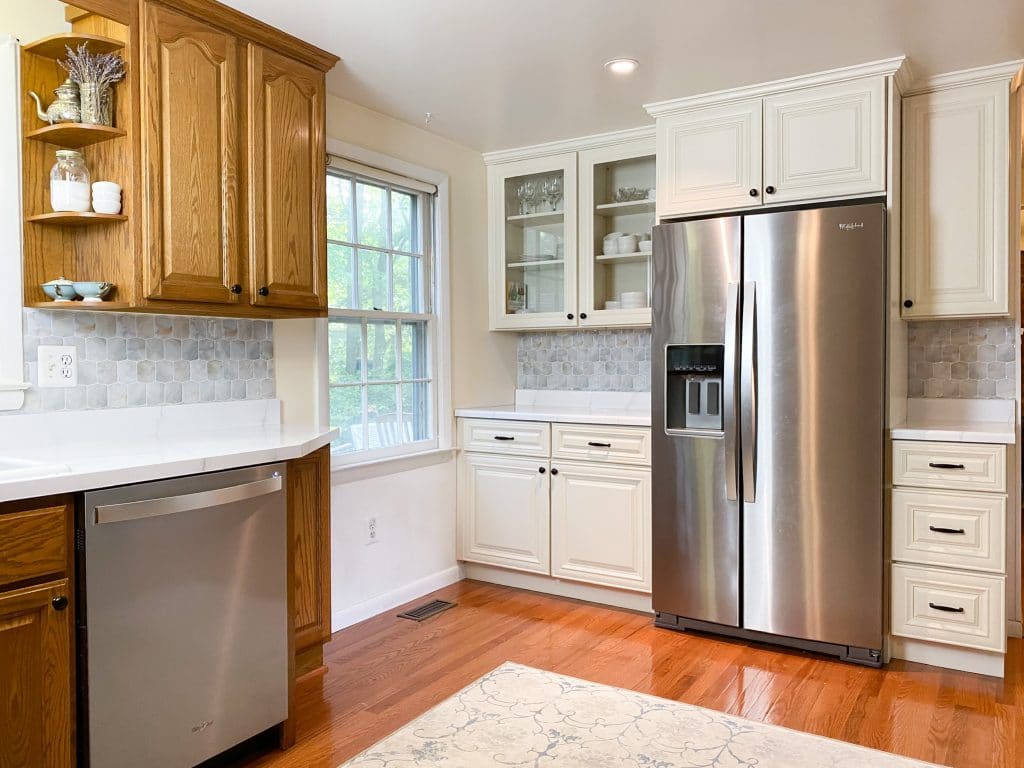 Final Thoughts on Updating Wood Kitchen Cabinets
Updating your wood kitchen doesn't have to be hard or expensive and there are many good reasons to keep your oak cabinets.
If you want to keep your stained cabinets, but still want an updated kitchen, changing the wall color, hardware and backsplash is a great place to start. If you have a little more budget to spend on the project, consider adding in some white cabinets. Or, re-stain your cabinets to have a darker finish.
All of these ideas will update the look of your kitchen in a major way!
Drop me a comment and let me know your thoughts!