Sherwin Williams Alabaster is one of the most popular paint colors by Sherwin Williams. In fact, its been one of the most popular paint colors for a long time.
This is because Sherwin Williams Alabaster is the best of all worlds. It is timeless, classic, versatile and on trend.
To be all these things at the same time is what make Alabaster so special.
I have used Alabaster on walls and on trim. It consistently looks like a soft, warm white paint color. It is my favorite warm white for this reason.
Let's learn a little more about Sherwin Williams Alabaster and see if its the right paint color for your home.
This post may contain affiliate links. If you have any questions, please see my disclaimer page.
Sherwin Williams Alabaster is Timeless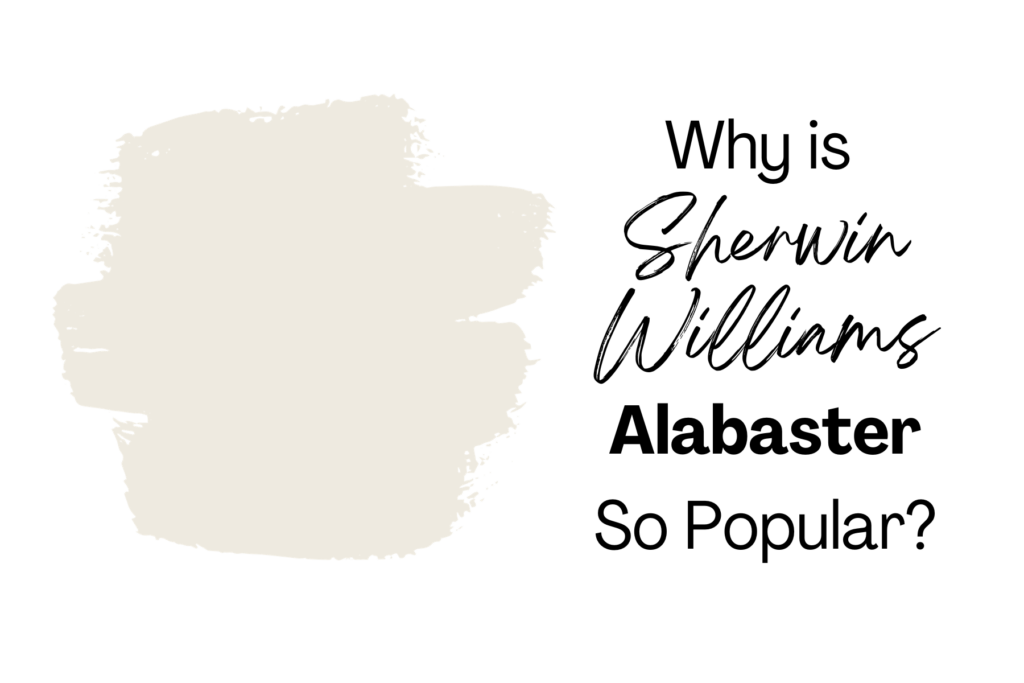 A timeless color is one of that is always in style.
Typically, when I think of timeless paint colors, I think of whites and off-whites on walls, and blacks and navys on accents.
These shades go with about anything, and never go out of style.
You could paint your home Sherwin Williams Alabaster today and it will still look amazing in 10 years.
Alabaster is a great example of a timeless paint color. It is a perfect backdrop to so many home designs and color schemes. This helps it withstand the test of time very well.
If you are someone who likes to be able to change out your decor and home style frequently, Alabaster is a great option for you.
Sherwin Williams Alabaster is Classic
In addition to being timeless, Alabaster is also very classic.
It is an off-white paint color that is nearly perfect. It doesn't have offending undertones, unless you are really sensitive to a hint of yellow.
Because Alabaster is such a classic paint color, it is perfect in classic home decor.
This includes traditional, minimalist, contemporary, transitional, rustic, french country, shabby chic, coastal, hollywood regency, scandinavian, mid-century modern and modern farmhouse.
So, even if you never change from one style to another, Alabaster is still a great choice for your home.
Sherwin Williams Alabaster is On-Trend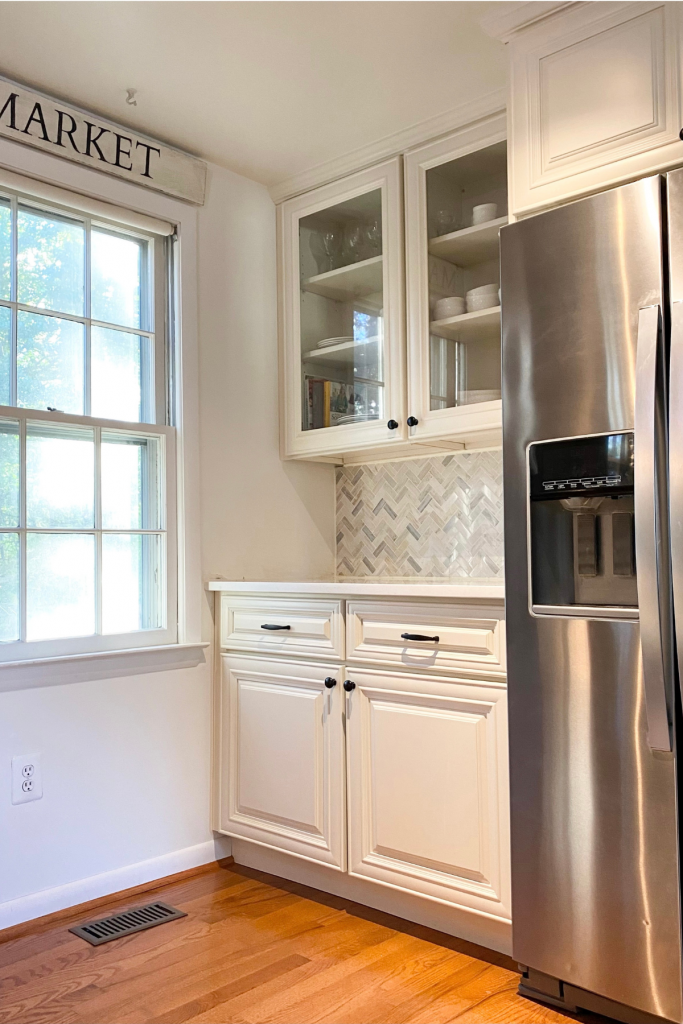 Alabaster is super in style and on-trend right now as well. I have mentioned that timeless colors never go out of style, but that doesn't necessarily mean that they're trending.
Alabaster is definitely trending right now.
This is because white paint colors, and more specifically, warm white paint colors are very in style at the moment.
They give a blank slate for homeowners to create monochromatic or brightly contrasting color schemes.
Sherwin Williams Alabaster is Versatile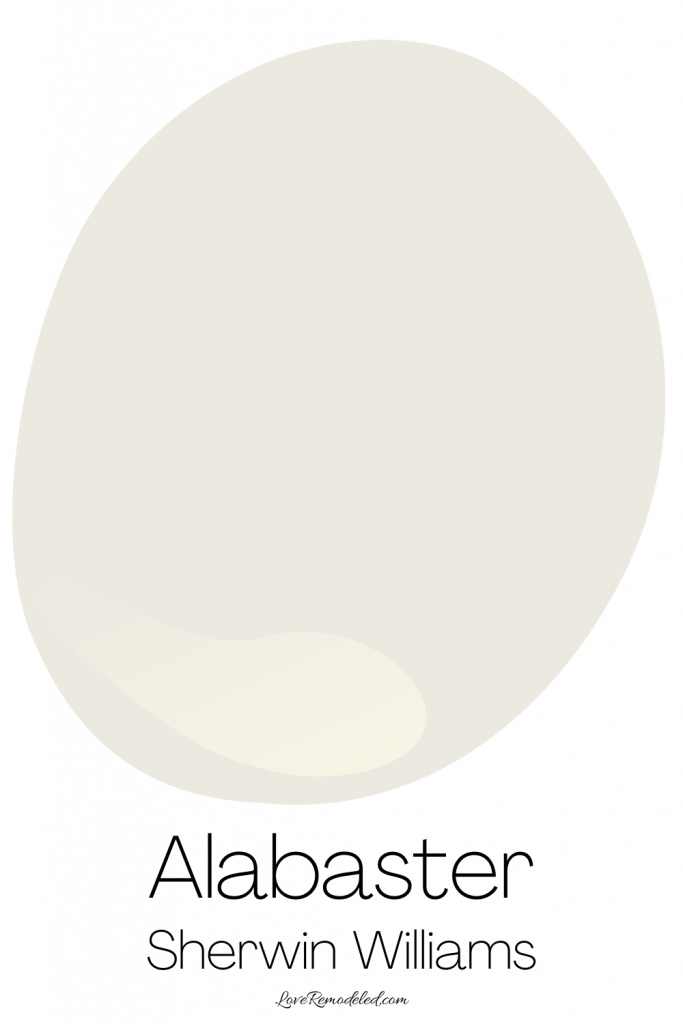 Alabaster is a versatile paint color. This means that it goes well with a variety of other paint colors.
Broadly speaking, Alabaster looks great with warm shades like pinks and reds, and with cool shades like blues and greens. It also coordinates with neutrals like browns, blacks, grays, and tans.
If you need a little help choosing coordinating colors for Alabaster, I have got you covered.
This whole house color scheme includes 8 hand-picked paint colors that coordinate perfectly with Sherwin Williams Alabaster.
Pick up your Alabaster color palette here.
Sheriwn Williams' Alabaster's Appeal
Sherwin Williams' Alabaster is a warm white paint color.
It isn't a pure white. Alabaster has faint yellow and gray undertones in it.
Neither of these undertones is enough to make you say, "Oh, that looks yellow," or "The walls look gray," but they combine in Alabaster to make the perfect off-white shade.
The yellow gives Alabaster a warm, creamy look. The effect is subtle.
The gray keeps Alabaster looking soft. It prevents Alabaster from looking too yellow, too white, or too stark.
The subtlety of the undertones in Alabaster are what make it so appealing to the masses. It is the perfect off-white for someone who likes a white wall but wants a cozy, welcoming feeling.
Why is Sherwin Williams Alabaster is So Popular?
Alabaster is popular because it is truly the perfect warm white.
It doesn't have so much color that it could be considered an off-white, but it has just enough color to take away any starkness that can be associated with a white paint color.
It looks perfect in most any home and it is incredibly versatile. If you're interested in learning more about this paint color, check out my full review of Sherwin Williams Alabaster.
Paint Colors Similar to Alabaster
If you're not convince that Alabaster is the perfect white paint color for you, check out these reviews of other soft whites:
Wondering How To Pick the Perfect Paint Color?
I have the best solution for you!
Samplize sells 9×14.75 stick-on paint sheets in almost every paint color.
These no-mess, peel and stick sheets are made from real paint, so they will show you exactly what the paint color will look like.
Simply place them on your walls next to your trim, furnishings or fixed elements, and easily see which paint color works best in your space and with your lighting.
Then, peel the sheet off your wall and reapply it somewhere else if you like. You can try several different paint colors with no mess, no fuss and no cleaning paint brushes.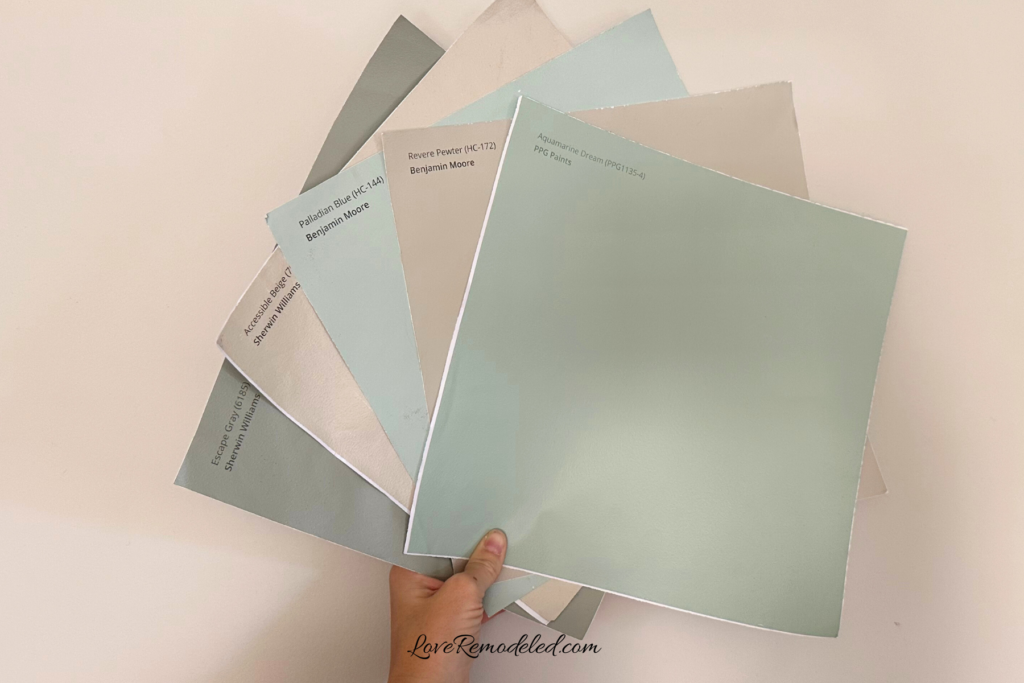 Oh, and you can have them in your home by tomorrow with OVERNIGHT shipping!
As a bonus, be sure to use the code LoveRemodeled10 at check out to get an extra 10% off! Samplize sheets are cheaper than a sample can of paint, and way less work.
They are the easiest (and fastest!) way to try a paint color in your home, with no hassle.
Have a question or want to show off your project? Join the discussion in Love Remodeled's Facebook group!
Want to see all your paint options in one convenient place? Click here to get everything you need to start painting, including Sherwin Williams and Benjamin Moore paint color decks!