Do you want to upgrade a builder grade home?
There are a lot of great things about a builder grade house. Most notably, the price. And, after you buy the home for that significantly lower price, there are tons of ways that you can make it unique and expensive looking for a fraction of the cost of buying a custom home. For most of these DIYs, all you need is a miter box, some finishing nails, and some wood or moulding (and of course, paint!), and you're ready to seriously upgrade a builder grade home.
When we moved into our current home, there was a lot we loved about it. It was solid feeling, it was large enough for our growing family, and it had great space for all of the different aspects of our daily life. But it was so… plain. There was little character and no custom feel to it. So we set to work, adding trim here and paint there to make this house feel like out own.
Here are 15 easy, inexpensive DIY ways to upgrade a builder grade home.
This post may contain affiliate links. If you have any questions, please see my disclaimer page.
1. Change out the air grates.
Old air grates can get rusty, chipped or dirty. You can either spray paint them for a really cheap update, or change them out for a more fashionable look. Here is a gorgeous one one on Amazon.

2. Paint, or re-stain your kitchen (or bathroom) cabinets.
We just re-stained our cabinets in 2 days for $20.

3. Add additional trim to the baseboards.
This is a really easy upgrade, as you likely already have some trim around the floor. Adding a thin piece above and then painting the whole area white can really make your home look custom built. Here is a little how-to from the House of Smiths.
4. Create a board and batten wall.
PIck yourself up a miter box, some boards, a tube of caulk and a box of finishing nails, and you're ready to go. Bless'er House has a great tutorial on this. My first floor powder room just may get a board and batten makeover soon!
5. Make a shiplap wall.
I made one in my basement and it completely changed the look and feel of the room. Here are some things I learned!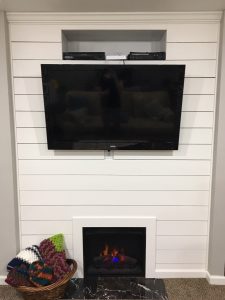 6. Add crown moulding.
7. Make shutters for the front of the house.
Here is a good tutorial by Beneath My Heart on how to do this with some wood boards from your local hardware store.
8. Replace the lights.
Lights can be pricey, so builders usually put in pretty standard looking, inexpensive options. There are lots of options for updating your lights without breaking the bank though! The Restore is a great place to get used lights. They have lots of awesome chandeliers at great prices. A little spray paint, and you can totally update the look of an old chandelier! Or, check out these finds I just put into my home from Amazon (for under $100 each!)!
9. Create built ins.
Check out these gorgeous built ins you could make yourself.
10. Add moulding to your kitchen island.
Its a really inexpensive way to make your kitchen look updated and custom. Check out how I updated my kitchen island for $60.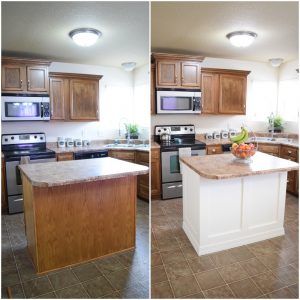 11. Change out the toilet.
If your toilet is older, it is likely short and round. A tall toilet with an elongated bowl looks so much nicer, and only costs a little over $100 (for an inexpensive one). And, installing a toilet really isn't that hard!
12. Replace your bathroom mirror, or add trim to it!
Here is how I used crown molding to customize my bathroom.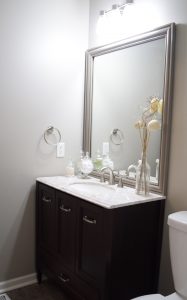 13. Add moulding to your kitchen cabinets.
Check out this how-to by Inspiration for Moms.
14. Add or replace your existing cabinet hardware (door pulls and knobs).
Amazon sells knobs super inexpensively. Here are the ones we just bought for our kitchen.
I did this to some 70's era cabinets, and it completely changed the look of the bathroom!

Everything on this list is something you can do on your own, with simple tools and a little help from some tutorials.
So now you tell me… How have you updated your builder grade home? Share your ideas below!