DIY Ideas for the Home
There are so many easy DIY projects for the home that can make a huge impact in how your house looks and feels.
When we moved into our 1970s ranch, we knew that we wanted to update it to make it look so much more modern. But spending $15,000 to upgrade the kitchen wasn't in the budget.
Since we love DIY projects, and also wanted to do things that were going to be easy on the wallet, we searched for the cheapest, easiest ways to really update our home.
Here, I have compiled a list of the cheapest and easiest DIYs home improvement ideas.
This post may contain affiliate links. If you have any questions, please see my disclaimer page.
Here are 20 DIY projects for the home.
1. Change or paint your air registers.
If your registers are in good condition, paint them.
My current registers had some sort of orange stain on them in places. A little bit of spray paint made them look new again.
Do your grates have tons of old paint on them? Replace those.
It is a little upgrade but makes the whole room look fresh and new. Here are some pretty ones from Amazon.
2. Scrape the popcorn ceiling.
A popcorn ceiling really dates the house. There are ton of great posts on how to scrape a popcorn ceiling. This post is about the easiest how to I have seen on the subject, but there are many on Pinterest.
Here is an 18 inch scraper that comes with great reviews, perfect for scraping your old popcorn ceiling!
3. Change the outlets and light switches to be white.
Does your house still have beige colored outlets and switches? There are two options.
First, you could replace the outlets completely. This option takes a little bit of electrical know-how but really brings the house up to date. Do not attempt this without doing research, acquiring the correct tools, and switching the breakers off. If this is done wrong, you could die or start a fire. If this is done right, your house will look so much more modern! This 10 pack of outlet covers is a great price value!
Second, CHECK THESE OUT!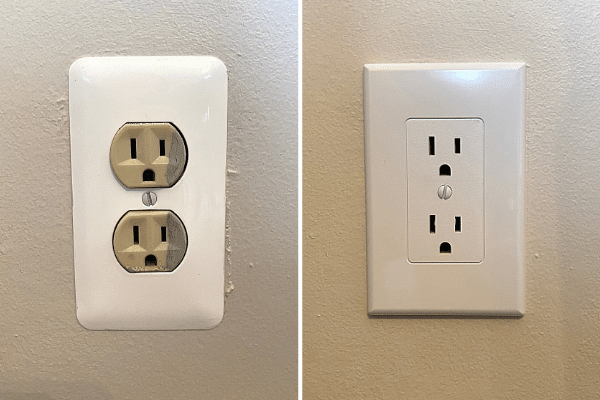 This cover just goes over your current plugs and makes them white, without having to do any electrical work. AMAZING! And the price isn't bad either!
For more details on how to do it, and how to update switches too (without any electrical work, take a look at this article on how to change the color of your outlets.
4. Paint the walls.
Painting is one of the cheapest and easiest DIY home improvement projects for a home. Learn how to paint a room here! Go for neutrals, as they are in style in any house.
Check out my whole house color scheme if you're lacking inspiration!
If you have really high walls, or a stairwell that needs painted, be sure to find out how to paint them the easy way!
5. Paint the trim.
Do you have oak trim? Yellowed white trim?
Paint it! Here are my tips on how to paint trim the easy way.
6. Replace your light fixtures.
Again, this DIY home improvement idea takes some research. It really is not hard to do though, and changes the whole feel of the room. Here is how The Family Handyman changes a light fixture.
One of my favorite ways to change a room is to switch a ceiling fan to a chandelier. So gorgeous.
Here are a few inexpensive and amazing lights!
7. Paint the exterior doors.
Doors that are dented or dirty can look brand new again with a little love and paint.
Fill in any major dents with Durham's Water Putty, and then paint the door with a high quality exterior paint.
Here are 12 gorgeous front door colors.
You're not limited to just painting the outside of an exterior door. Look at how dramatic of a difference a change of paint made in this room.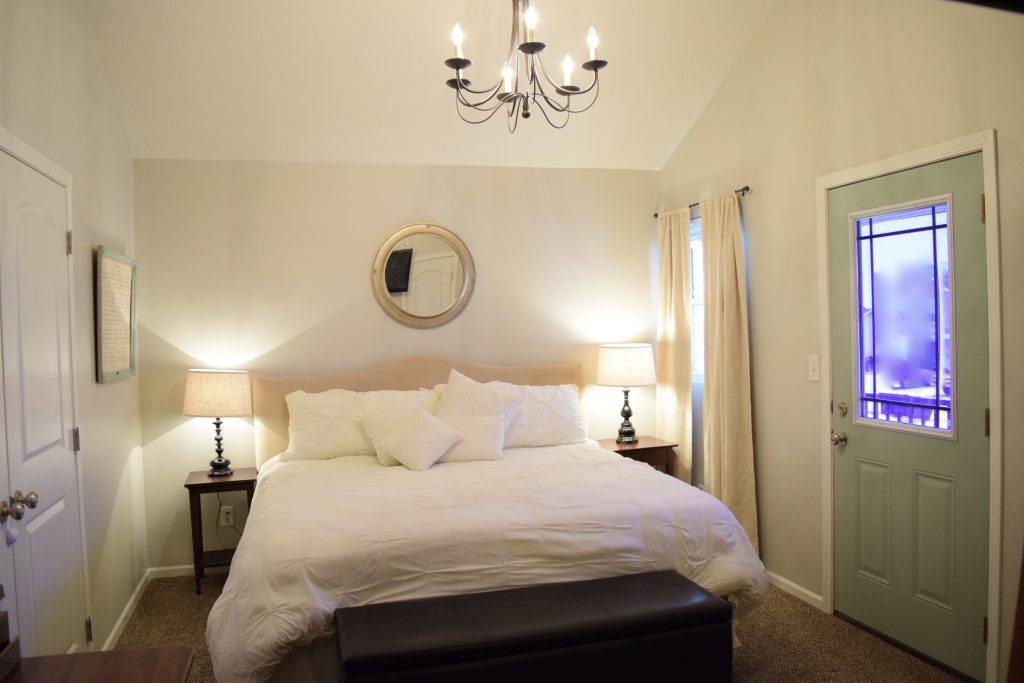 8. Spray paint brass fixtures, or replace them altogether.
Brass door knobs, faucets and handles really date a room.
It's easy to spray paint them, and they also make a special brass darkening solution that gives your brass knobs an aged look. It either of those solutions doesn't strike your fancy, replace them altogether.
9. Re-stain, or paint your cabinets.
This DIY idea for the home seems like a lot of work, but is way easier than you think. If you have a weekend free, you can restain your cabinets with this easy DIY tutorial on how to refinish your cabinets.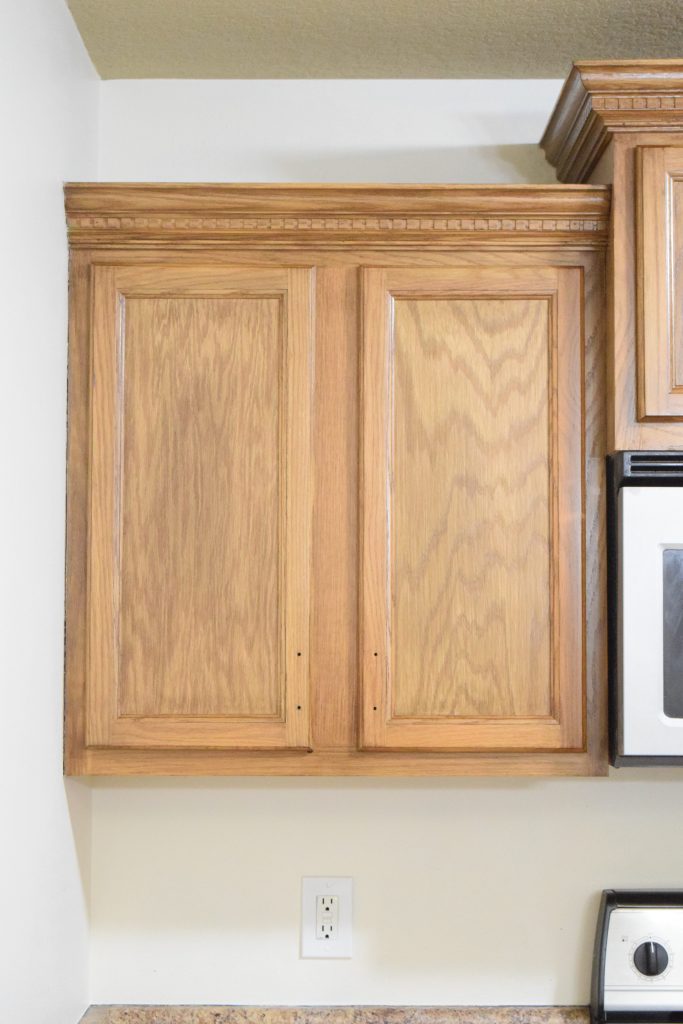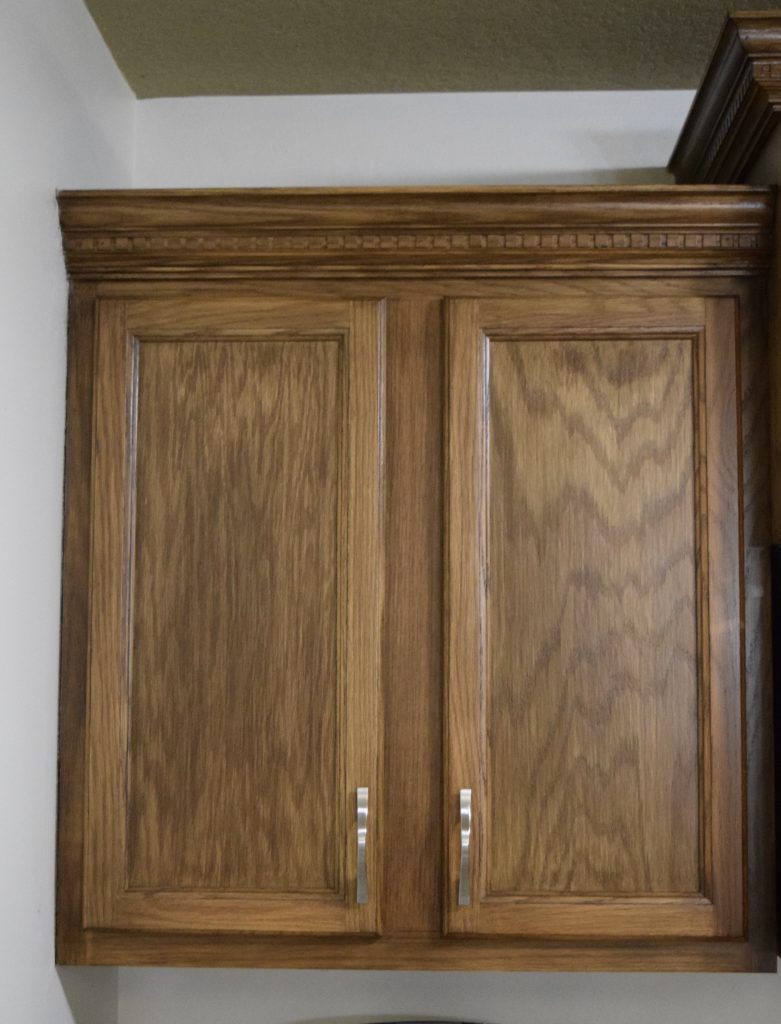 10. Change the knobs and pulls on your cabinets.
This is one of my favorite cheap DIY ideas for the home. Changing out the knobs and pulls on your cabinets takes minutes, but the upgrade is huge in both your kitchen and bathrooms.
I've searched high and low for the best prices on knobs, and Amazon has, by far, the best prices.
Cosmas brand knobs are my top picks, because I love the price and quality!
11. Add corbels or legs under your countertop bar.
Here are 20 great DIY projects to give your kitchen island a makeover.
One way to do it is to add a little under the counter accent gives your island a custom look. The whole kitchen will look upgraded. Check out this corbel for an easy and inexpensive kitchen update.
12. Redo the caulk in your bathrooms.
Nothing screams old like cruddy, yellowed (or worse, moldy!) caulk in your bathrooms. Scrape it out using a softening agent and a scraper, and put new caulk in. Stay tuned for a how to on making perfect edges with your caulk.
13. Paint the grout.
Is your grout dirty and discolored? An incredibly easy DIY home improvement project that you can finish today is to paint the grout! Polyblend comes in a ton of updated colors, or in perfect whites, and really makes an old bathroom shine!
14. Add a shiny kickplate to your front door.
After you have painted your front door, put a new kickplate on the bottom. The really snazz up the door, and balance out a fantastic farmhouse wreath or some other decoration at the top of the door.
15. Add trim to your doors and windows.
Wider trim really gives your house a custom feel. Trim can be added to your additional trim to give your doors and windows a grander look.
You don't even have to replace the old trim. You can add an extra piece on the top of your baseboards, called a "cap."
16. Remove that brass fireplace cover.
If you like it and want to keep it, spray paint it to a matte black or oil rubbed bronze finish. There are awesome tutorials for how to do this all over Pinterest.
17. Add crown moulding to your cabinets.
Putting crown moulding on the top of your cabinets gives your kitchen a custom feel. It is easy, fast and does not require too many special tools.
18. Whitewash your fireplace or other interior brick.
A whitewashed fireplace is so gorgeous. Check out how we whitewashed our fireplace. It made a huge difference in brightening up the room, and gave the room a farmhouse feel.
19. Shine the wood floors.
Are your wood floors needing a little love? Quick Shine Floor Finish is my favorite way to give new life to old wood floors. You wipe it on with a mop or some old rags, and it leaves a lasting shine. It's almost like a little bottle of magic!
20. Change the toilets.
This simple DIY home improvement idea is make your bathroom feel new again. Older toilets are shorter than new toilets, and have a rounder seat. A chair height, elongated bowl on a toilet makes a big difference. As an added plus, your bathroom will feel (and will actually be!) cleaner! You can pick up a new toilet for a little over $100, making it a cheap DIY project for the home that you can finish today!
A bonus tip: Declutter.
This one may not seem like much of an home improvement project, but think about it. A cluttered house, counter, shelf, table, etc. makes the house look old. A new house is shiny, sparkling and sparse! Remove any knicknacks or clutter that you don't need. Do you have some things that you would like to continue to display? Space them around your home in little vignettes.
There you have it.
20 DIY ideas for the home that will make your home look new again.
They take a little bit of work, but they are so worth it. Each quick, cheap DIY home improvement project makes the house feel up-to-date and gives it your own modern style!
20 DIY Home Improvement Ideas