Best Frugal Living Recipe Roundup
Over the past few years, I have scoured the internet for the best recipes to make all of the things I usually buy at the store. I love (and need) to make easy recipes with ingredients that you already have in the pantry, because it saves money and because, with three children four and under, I don't have a lot of time to shop or cook.
To save you some time and effort finding the best recipes, here is a list of my favorites!
This post may contain affiliate links. If you have any questions, please see my disclaimer page.
For this recipe, you will need a sourdough starter, but luckily, The Kitchn details all of that on their site. The recipe has great descriptions and pictures, and most importantly, makes an extremely impressive and tasty sourdough bread!
These muffins are soft and sweet and of-so-delightful! They are great for breakfast, snack time and any time in between. I love that they only have 1/3 cup of sugar. I've even made them with all cashew milk instead of dairy products and they have come out perfectly!
I love thick, chewy noodles in a pot of chicken soup. These noodles are delicious, and taste just like Amish noodles you would buy in a little shop in Pennsylvania Dutch county.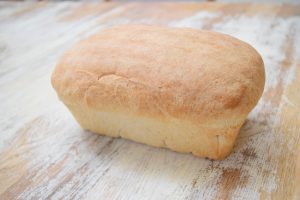 I love this whole wheat bread recipe. It is rather foolproof, once you figure out how much flour to add. If you haven't made bread before, check out these tips on how to make perfect bread every time.
This is one of my favorite dinner dishes. It is so tasty, and only takes about 3 minutes of my time for prep. After we eat this for dinner, I use the leftovers to make a chicken pot pie the next day, and then throw the carcass in a pot of water to make soup on the third day. Now that is frugal living at its finest!
While you're making that soup, whip up some of these homemade crackers as a side. They are delicious, and easy to make. You'll never want to buy store bought crackers again!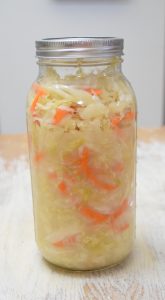 My husband loves sauerkraut, and I love the health benefits it provides. Here is how he makes it!
Homemade yogurt is actually super easy to make. All you need is milk and a fourth cup of yogurt to act as a starter. Once you've made this once, you can keep using the yogurt you already made as a starter. Also, you can turn it into Greek yogurt if thats your thing. And for a fraction of the cost of what you are buying it for in the store!
Homemade pizza is really good, and so much cheaper to make instead of buy. I like this pizza dough recipe because you don't have to let the dough rise. After the dough is made, throw some pizza or spaghetti sauce on and cover it with your favorite toppings (or whatever you're trying to use up out of your fridge!). Dinner is done!
Have you ever made homemade pancakes? It's actually really easy! I've tried a bunch of recipes, but this one makes, hands down, the best pancakes you'll ever eat. They are fluffy and soft and practically melt in your mouth. You'll never go back to Bisquick after you try them.
And one bonus recipe, in case you need a little decadence in your life.
And last, if you want something truly indulgent for dessert, try this vegan chocolate blackberry cupcake recipe. With a little luck, it will look as good as a cake from your local bakery, and I guarantee that it'll taste better. This cake recipe is easy to make, and doesn't require any special ingredients, other than blackberries. Seriously, make this. It'll change your life!
So there you have it.
My top ten frugal living recipes. These are my go-tos for quick and easy dishes that are sure to both please and impress.
I'm always looking to add to my repertoire. What are your favorite recipes?