How To Make A Moss Covered Topiary
I have been crushing on a moss covered topiary for a while now. See, I have these perfect pedestals that are just made for a moss ball.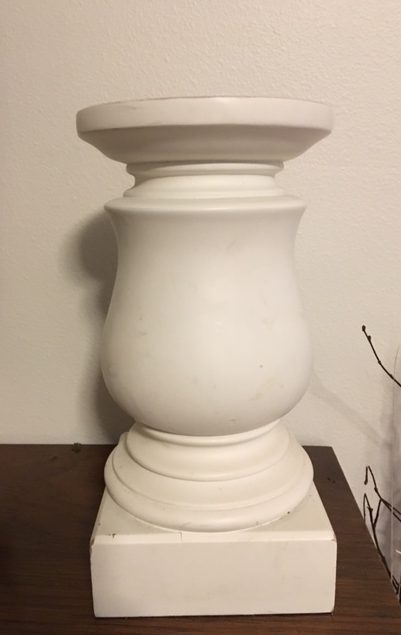 A moss ball is a great way to add a touch of greenery in a room, without having something that looks fake, or that needs watering. Am I the only one who just can't keep a plant alive!? Plus, something about a moss ball looks a little bit elegant.
I've searched for a moss ball in stores and online, but a nice store-bought one is at least $30! I can't spend $30 on one moss ball… but I can DIY it for a lot less! Its really easy to make a moss covered topiary!
This post may contain affiliate links. If you have any questions, please see my disclaimer page.
I started by finding moss.
Did you know you can buy moss? Real, live moss? Crazy what you can get on Amazon.
This is the brand that I purchased, though the packaging was different. When I bought it, I didn't even realize that it was real moss. I thought it was just some pretty real looking fake plasticy moss. I was definitely surprised after I read on the package that it was gathered from Maine (or somewhere…). When I opened it, it was definitely earthy smelling (not bad, just clearly not fake).
So, with moss in hand, I set to work.
Here is how you can make a moss covered topiary.
Supplies:
Styrofoam ball – I used a 5.5 inch green one, in case any of the ball showed through the moss.
Glue gun
Glue sticks
Moss
You see where this is going… but just in case…
Directions:
To make a moss covered topiary, I heated up my glue gun and put glue in a small section.
I placed a piece of moss on top, being careful not to touch the glue. Then I continued on from that place, applying glue and then moss. Once the whole ball was covered in moss, I was done! Its that easy to make a moss covered topiary!
So there you have it – a super easy way to make a moss covered topiary!
This project took me about 10 minutes to make. I ran out of glue sticks, at one point, and tried to apply it with regular glue and Modge Podge, but it didn't work. The next time I was at Home Depot, I picked up another bag and finished the project.
A few notes about the moss though.
You can pull and stretch the moss to cover the styrofoam ball, and fit the moss pieces how you like them. Its really easy to work with. Once you open the package though, you should use it within the day. Some of it can become brittle and easily crumbles if you try to stretch it after the first day (other pieces are still perfectly stretchy – I'm not sure what the difference is!). The moss maintains it's earthy smell if you stick your nose right up to it, but it doesn't smell unless you're really close to it.
Shop the Project – Make a Moss Covered Topiary
If you're wanting to make a moss covered topiary, pick up these supplies and get to it! Its an easy and cheap way to add a little farmhouse touch or greenery to your home.
Looking for other DIY decor ideas? Check out these ideas
Easy Distressed Furniture Finish