Getting paint samples is the first step to making sure you choose the right paint color for your project.
Seeing a paint color in your home is critical to ensuring that the paint color works with your lighting, your furnishings and your fixed elements like woodwork and cabinets.
In this article, we'll discuss the easiest and fastest ways to get paint samples. I'll also tell you all about my favorite kinds of paint samples. But first, let's talk about why it is important to get paint samples before painting.
This post may contain affiliate links. If you have any questions, please see my disclaimer page.
Why Do I Need Paint Samples?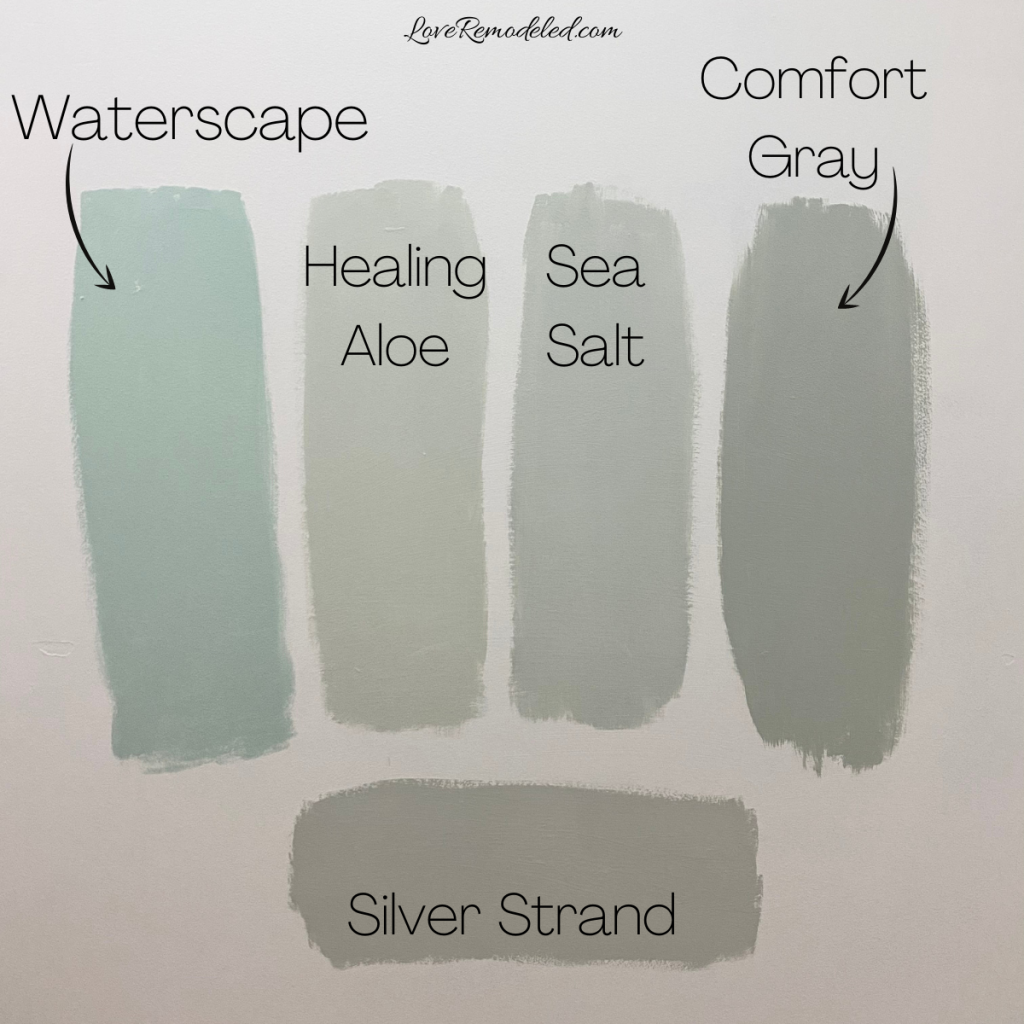 Paint samples are super important when you are thinking of painting your home. This is because paint colors can look different in various lighting.
Have you ever picked out a paint swatch in a paint store (which is typically SUPER bright), and then take it home and it looks so much darker? This is due to the lighting.
There are some basic principles at play here, such as colors tend to become more muted in cooler, north-facing light, and warmer in south-facing light.
But, you can also find that different shades in the room can throw shades onto a wall making a paint color look completely different. For example, warm honey colored floors can make a white paint look more yellow.
Or, sometimes you find that the colors that are against the wall can bring out undertones that you didn't expect in a paint color. For example, a blue couch against a light blue wall can make the blue wall look more like a gray wall.
So, paint colors can also appear different depending on what is around them.
Getting paint samples of the color allows you to test that color in your space, against your furnishings and fixed elements, and at various times of the day (because light shifts throughout the day).
How Do I Get a Paint Sample?
There are a variety of ways to get paint samples these days. Paint samples come in the form of paint swatches, paint cans, and peel and stick paint squares.
You can pick them up at the store, or order them from your computer and have them delivered to your house. We'll talk more about that in a minute.
How Accurate are Paint Samples?
Actual paint samples can be very accurate examples of how real paint will look in your home. This is because most paint samples are real paint, or are made from real paint.
Sample cans of paint and peel-and-stick paint squares are your best bets. They both will show you an accurate example of the paint color.
Paint swatches can be a little deceiving though. They typically just aren't big enough to see the color well.
Lets talk a little more about the types of paint samples.
Types of Paint Samples
Free Paint Swatches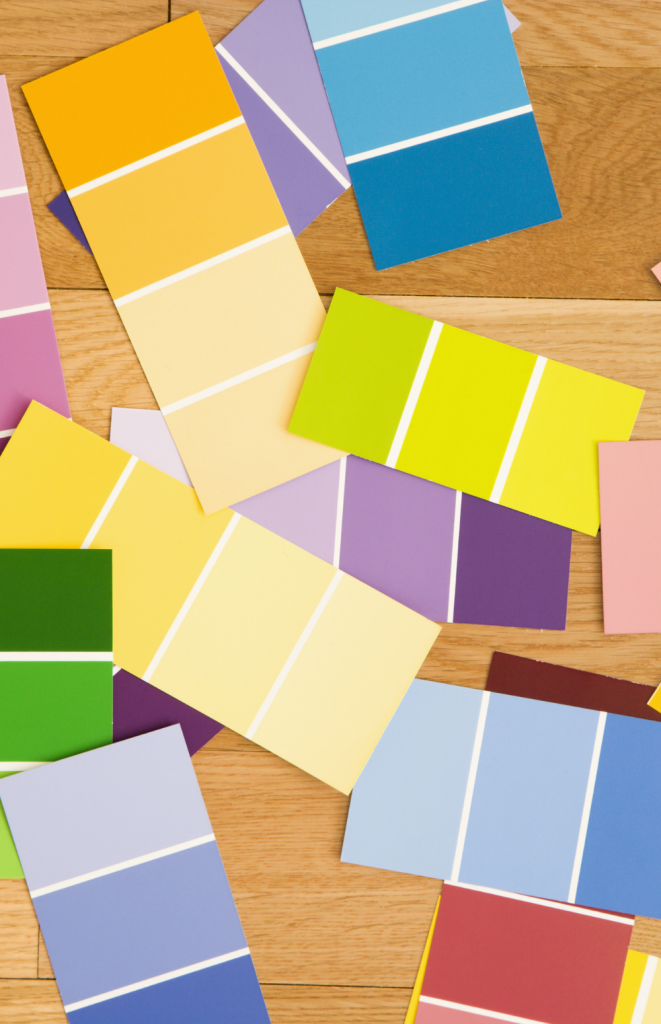 First, you can pick up free paint swatches from your local hardware store or paint store. These little chips of paper show the paint color and you can use them to compare the shade to things in your home.
You can also use these little swatches to compare paint colors to each other. Sometimes, this is the best way to see what undertones a paint color has.
For example, a gray paint color can look completely gray when just viewed on the little paint swatch. But, when you compare it to another gray paint color, all of the sudden you see that original gray paint swatch take on a fairly prominent purple hue.
That gray has purple undertones, and in your space, it may look purple.
So, paint store or home improvement paint swatches are a great way to get some basic information about a paint color.
If you don't want to leave your house to get paint swatches, Sherwin Williams will even send you up to 10 for free in the mail! Benjamin Moore has this option as well, but you have to pay $1.99 per sheet.
Sample Paint Cans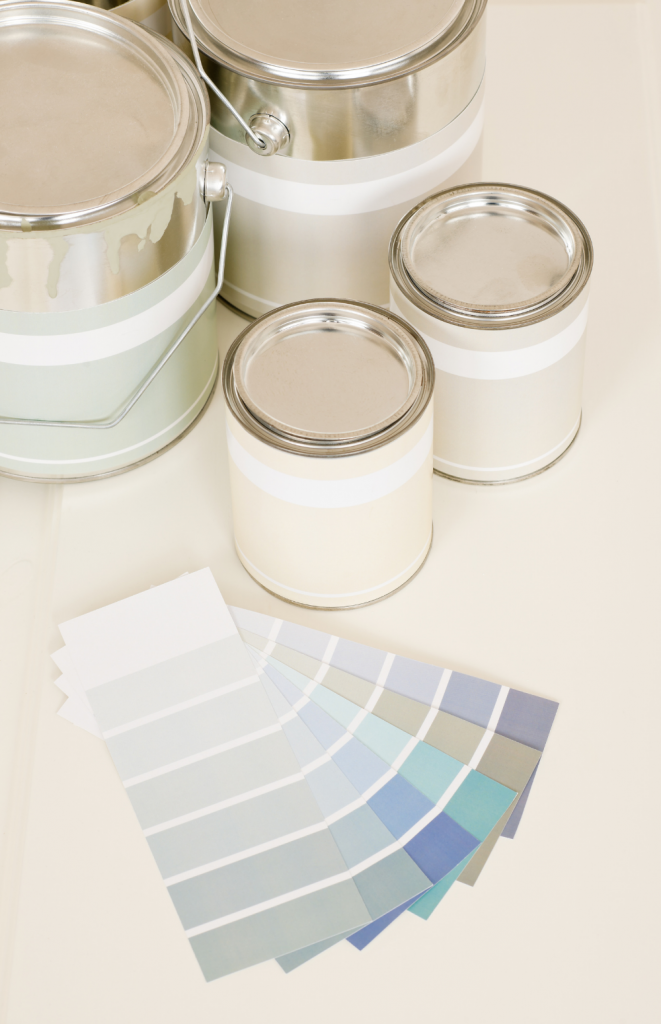 Sample paint cans are little jars of paint. They don't have enough paint in them to paint a whole wall, but they'll give you a good idea of how the paint will look in your house by painting it in small sections of the room.
You have to buy sample jars of paint though. They're not free like the paint swatches.
But, they're a good next step once you've identified a few colors you think might be the one.
Peel and Stick Sample Paint Squares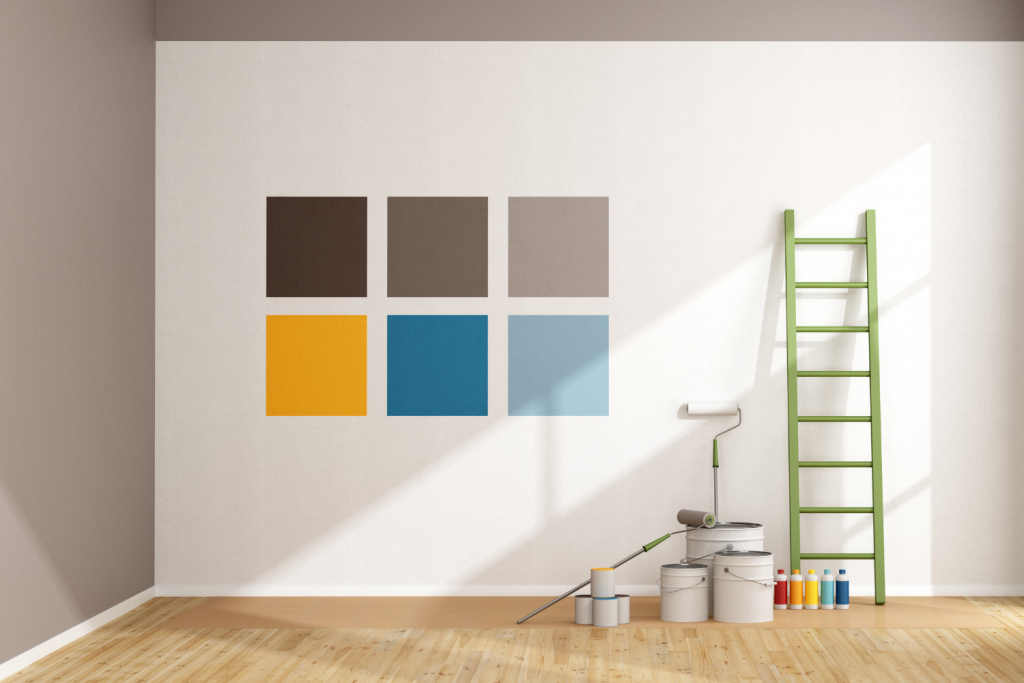 Last, there are peel and stick paint squares that are made from real paint. The paint samples can be put on your wall, and removed whenever you like. They are no mess, no fuss options for seeing how a paint color will look in your space.
And, since peel and stick paint samples are made from real paint, they are an accurate example of the real paint color.
Where Can I Get Paint Samples in my Area?
If you want to get actual paint that you can put on your wall to test a color, you have a few options. Here are the ins and outs of paint samples from Sherwin Williams, Benjamin Moore and your local home improvement stores.
Sherwin Williams
While Sherwin Williams will give out free paint swatches, if you want actual paint samples, you need to buy them. They cost just under $10, but you can frequently get them on sale.
Sherwin Williams' paint samples are sold in 1 quart jugs that are called Color to Go.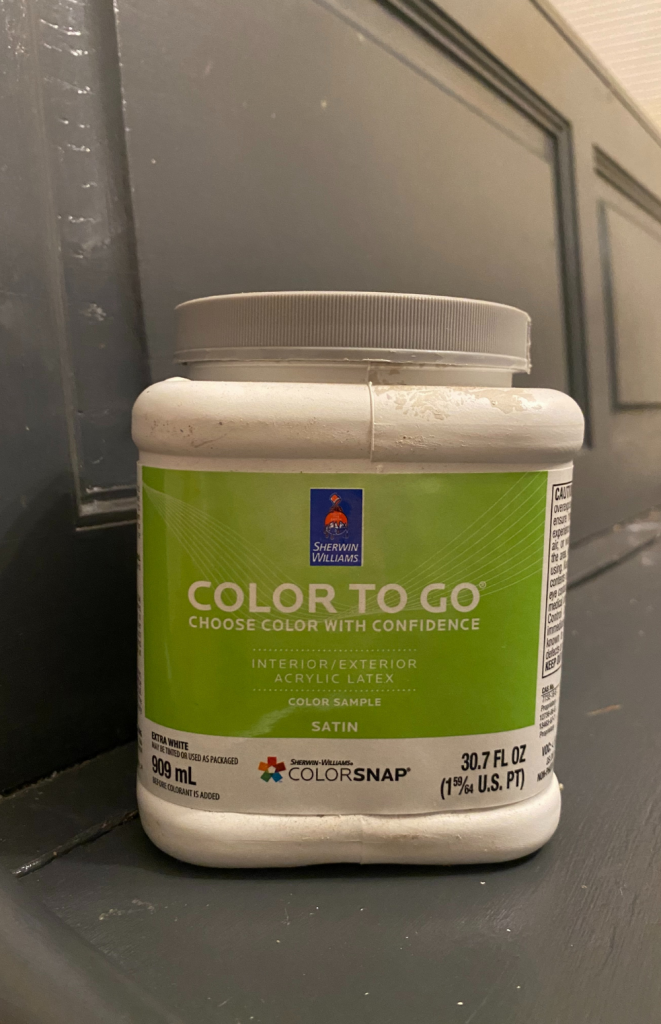 Truth be told, these Color to Go paint cans aren't my favorite. They aren't made from real paint, so you're really not supposed to put them on your wall without covering over them with actual paint. If you do (and I have, to test it out), the Color to Go sample cans don't hold up like real paint on a wall.
Plus, they're fairly expensive for something that isn't real paint, and then you have to figure out what to do with the leftover. Sure, you can mix it with cat litter and let it dry out, but it is just sort of just one more hassle that you probably don't need.
Benjamin Moore
Benjamin Moore also sells sample cans. These cans of paint are much smaller than Sherwin Williams' Color to Go ones, with just 1 pint of paint.
And, Benjamin Moore's paint cans are actual real paint that you can use on surfaces.
You can pick them up at your store, or order them online for $5.99 each.
I like the size and quality of Benjamin Moore's paint samples better, but I still think that there are better ways to sample colors in your home. Keep reading for my favorite way to test paint colors.
Lowes/Home Depot
You can also get paint samples from your local Lowes or Home Depot. These stores tend to have the most options. You can get different sheens, different types of paint, and more.
Lowes and Home Depot sell paint color samples in 1/2 pint cans for around $5. And, they are made from real paint, so you can actually use them on a project if you want.
Again though, you have to pay for paint samples from Lowes and Home Depot if you want actual paint that you can put on your wall. You can pick up the paint swatchesfe for free, but the sample cans of paint cost you a few dollars.
Can I Order Paint Samples Online?
In the age of the internet, there is basically nothing that you can't order online. Benjamin Moore and Sherwin Williams both have peel and stick options you can order. You can even order sample cans of paint from Benjamin Moore to be delivered to your home.
But the best way to try paint colors out in your home, are…
Samplize Squares
My favorite way to sample paint colors in my home is to order Samplize squares.
Samplize squares are 12×12 peel and stick swatches that are made from real paint. Because they are made from real paint, they show you exactly how a paint color will look in your space.
Plus, because they are peel and stick, you can move them around your space to see how the paint color will look on different walls, or against different fixed elements.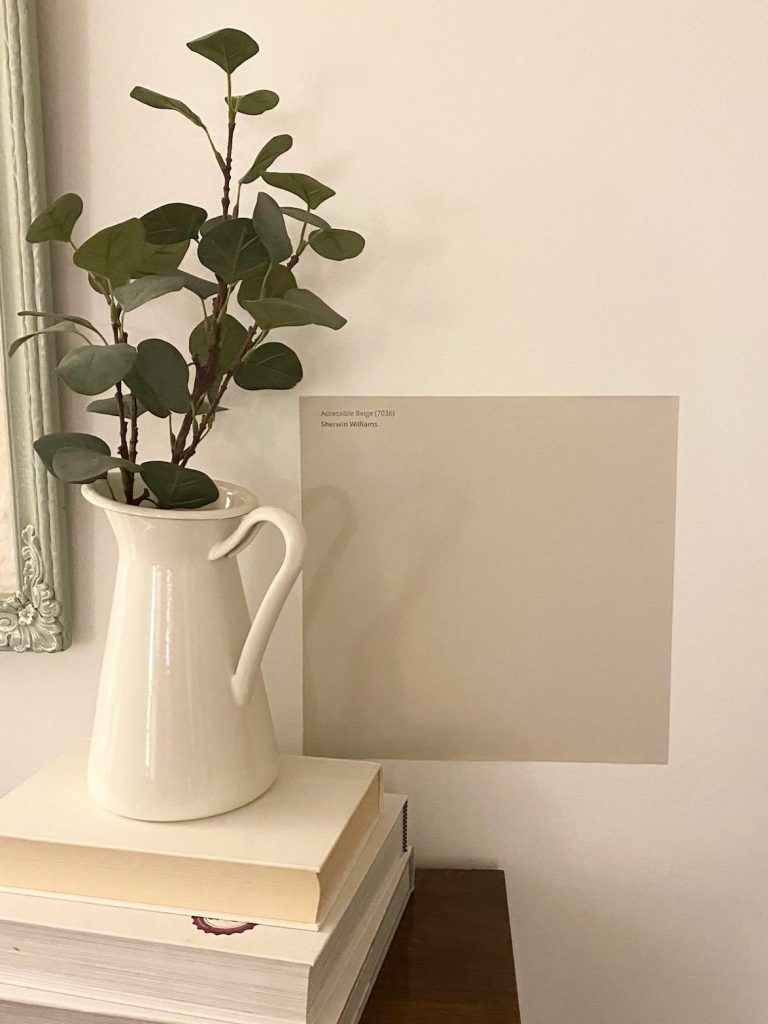 This is important for a few reasons. First, have you ever looked at a paint swatch and thought, "Oh, what a nice blue!"? Then you paint your room that nice blue only to find out that it looks green on one wall, blue on another and gray on a third. Sometimes this is lovely – in fact, these transitional blue/greens are some of my favorite shades.
But, sometimes that's exactly what you don't want. If you had a Samplize square before painting, you could have moved it around to the different walls in your room and seen how it would look prior to painting.
My FAVORITE part of Samplize squares though that you will never end up with different colors of paint painted on your wall while you try to figure out what color to actually paint.
I can't tell you how many times I've had little sections of paint on my walls while thinking about a color. It makes the whole room look bad. With a Samplize square, once you peel it off, the mess is gone!
And speaking of mess, there is none. No washing brushes or disposing of sample cans. No painting over the color. And the peel and stick squares don't leave any residue. Samplize squares truly are the easiest and cleanest way to test a paint color in your home.
While you can order peel and stick squares from both Sherwin Williams and Benjamin Moore, I tend to prefer going through Samplize better. Here is why.
First, Samplize squares are larger than both Sherwin Williams peel and stick squares and Benjamin Moore peel and stick squares. Seeing the color on a larger scale is helpful.
Second, they are delivered OVERNIGHT. When I decide that I want to try a paint color, I like to do it right away!
And last, frequently I want to try this color from Sherwin Williams and compare it to that color from Benjamin Moore. Since Samplize carries all the major paint brand colors, you can order everything in one place!
Order your Samplize squares here!
Final Thoughts on Paint Samples
If you are thinking of painting your house, you need to pick up some paint samples to make sure that the color works in your space.
Again, my favorite option for this is Samplize, but, if you prefer to visit a local place, you can also pick up paint samples at Sherwin Williams, Benjamin Moore or your local Home Depot, Lowes, Ace, and more.
Want to see all your paint options in one convenient place? Click here to get everything you need to start painting, including Sherwin Williams and Benjamin Moore paint color decks!
Have a question or want to show off your project? Join the discussion in Love Remodeled's Facebook group here!