Quartz countertops are a super popular, gorgeous option for a kitchen or bathroom countertop. They are easy to clean, stain and chip resistant, and are extremely durable.
Keep reading for everything you need to know about quartz countertops.
What is Quartz?
Quartz is a naturally occurring mineral that is very strong, and very plentiful. It is found all over the world.
In addition to being used in various types of manufacturing, quartz is also used to create durable, resilient countertops.
How are Quartz Countertops Made?
Quartz countertops aren't actually made of solid quartz.
Instead, Quartz countertops are made by mixing pulverized quartz with a resin.
The resin combines with the quartz dust and is treated with high heat and pressure. This manufacturing process eliminates any air in the mixture and produces a slab of hardened, man-made stone. This slab is then cut to a kitchen's specific dimensions, creating the extremely hard, durable surface that we know as quartz countertops.
Because quartz countertops are made with a resin, they are scratch resistant. Additionally, this resin makes the quartz countertops non-porous, so they don't stain.
The amount of actual quartz in the slab depends on the manufacturer, and the pattern.
High quality quartz countertops, such as Ceasarstone, tend to be comprised of about 90% quartz and 10% resin or other polymers.
Other quartz slabs can include metallic pieces, bits of glass, and other stones such as crushed up marble or granite.
To summarize, quartz countertops are not a natural stone, like granite or marble is. Instead, quartz countertops are actually an engineered stone surface.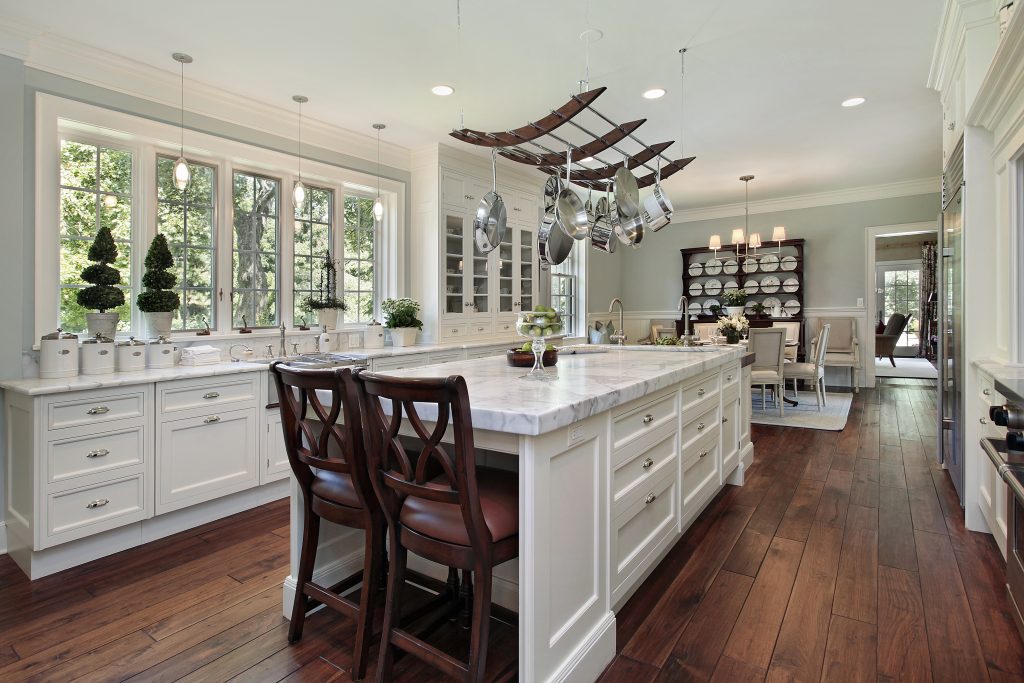 Pros and Cons of Quartz Countertops
Let's look at the pros and cons of quartz countertops.
Pros of Quartz Countertops
Quartz countertop are very durable. They are manufactured in a way that makes them resistant to scratching and chipping.
Quartz countertops are very low maintenance. They do not have to be sealed yearly like granite and marble countertops.
Quartz countertops are easy to clean. You only need to use soap and water.
Quartz countertops come in a wide variety of colors and designs.
Quartz countertops have consistent colors and patterns, due to being an engineered stone.
Quartz countertops are non-porous, protecting against germs and bacteria.
Cons of Quartz Countertops
Quartz countertops cannot handle high heat like granite countertops can. You cannot take a pan from the oven and put it on the quartz countertop without using a trivet. The high heat can damage a quartz countertop due to the sudden change in temperature, causing a crack in the quartz.
Quartz countertops are expensive. While lower price quartz countertops can be priced consistent with granite countertops, most mid-level quartz options are more expensive than granite (and certainly more expensive than laminate).
Quartz countertops can require visible seams.
Quartz vs. Granite
When deciding on a kitchen countertop, the most common debate is between granite and quartz. This is because both are relatively affordable. You can get a low priced quartz for the same price as a high priced granite.
Granite had been the go-to high end surface for countertops for a number of years. With the introduction of quartz though, granite has been giving up some of its popularity to this engineered stone.
People tend to like that quartz is no to low maintenance, and is stain resistant. Alternatively, granite can get stained when food or wine is left to sit on top.
Appearance wise, there are differences between quartz and granite as well.
Granite is a natural stone, so it can have a lot of variation and randomness. Quartz tends to have more consistent pattterning and coloring. Whereas granites typically have a lot of dark tones in them, quartz countertops can be pure white, because they comprised of selected stones and pigments.
There is no right or wrong answer to the debate between quartz and granite, because both have their advantages.
How Much Do Quartz Countertops Cost?
Quartz countertops tend to be priced between $60 and $120 per square foot. This price typically includes installation, a rough sink cutout for an over mount sink and a basic squared off or rounded edge.
If you want a more decorative edge, or would like an undercount sink cutout (which would need to be polished), the price goes up a bit.
As always, the cost of quartz depends on where you live as well. An area with a higher cost will likely demand a higher price for quartz.
One more note about pricing on quartz. While you can frequently get "remnant" pricing on granite or marble, quartz tends to always be priced per square foot. Because the slabs are engineered, they don't have as much variation as you find in natural stone. Instead, most quartz countertops are pretty consistent across various slabs of the same quartz color. Because of this, quartz dealers aren't are pressured to sell off remnant pieces at lower prices.
Quartz countertops are expensive, but they don't have to break the bank. You can find a nice quartz countertop for about $50 per square foot.
According to Home Depot, the average cost for installing quartz countertops is $68 per square foot.
Are Quartz Countertops Worth the Money?
In my opinion, quartz countertops are well worth the price. Not only are they highly serviceable, but they are also gorgeous.
Quartz countertops are not the most expensive option for countertops, and they aren't the cheapest, but they are certainly the most worry-free.
Plus, most quartz countertops come with anywhere from a 15 year to a lifetime warranty.
Quartz Countertop Design
Quartz countertops come in a wide range of colors and patterns.
They can be very monochromatic with an almost solid color, or can be highly patterned with significant movement. The patterns in quartz countertops can look like veins, circles or waves.
Quartz countertops can also have many different colors, including white, red, green, gold, silver, brown, cream and black. Some quartz countertops also include sparkles and glass for a really glamorous look.
The most popular color and pattern for quartz countertops tend to be a white marble looking style, with a mostly monochromatic color palette and subtle veining.
Quartz countertops also come in a variety of finishes. They can be polished to have a smooth, shiny finish like traditional granite or marble.
Or, they can come in a textured finish, sometimes called "leathered" or "raw." Leathered or raw finishes don't have the shiny, polished look of natural stone countertops, but instead look more unrefined.
Final Thoughts on Quartz Countertops
Quartz countertops are as beautiful as they are durable. They come in a large variety of colors, patterns and styles. In addition, they are easy to maintain, are naturally germ resistant, and are not as expensive as some natural stones like marble or quartzite.
If you are interested in kitchen or bathroom countertops that will last for a long time and don't require a lot of fuss, quartz countertops are a great option for you!