If you are thinking about buying countertops, one of the questions you will need to answer is what type of edge do you want to have on your kitchen countertops.
Quartz, granite, marble and laminate countertops come in a variety of edge styles, and each one gives a kitchen or bathroom a different sort of look.
In this article, we will discuss the different types of edges for quartz countertops to help you decide which will be best in your home.
Types of Edges for Countertops
There are many different types of edges for countertops. While most fabricators agree on the main ones, there are some fabricators who do different and more fancy style edges.
The most common edges are listed below, but be sure to check with your fabricator on any other edges that you might be interested in.
Eased Edge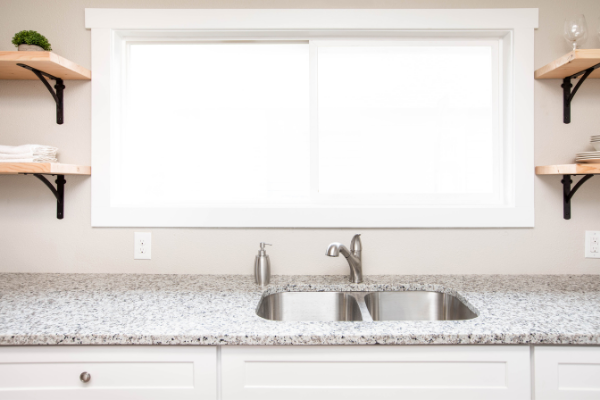 An eased edge is a squared off countertop edge that is just slightly rounded. Sometimes referred to as a softened square, this rounding on the edges keeps it from being too sharp.
If you love how a square edge looks on countertops, but have little children running around, an eased edge might be just the thing to reduce injuries and chips in the quartz.
Eased edges are frequently included in the cost of the installation of your countertops without incurring an additional charge for a specialty edge.
Eased edges work in a lot of different style homes including modern and traditional.
Square Edge
A square edge on a countertop is very similar to an eased edge. Both have a 90 degree edge, but a square edge has little to no rounding.
This lack of rounding to the edges of a squared edge countertop does mean that it is more prone to chipping. If you have small children or are not particularly careful in a kitchen, you may want to select an eased edge over a square edge to reduce any obvious damage to the countertops over the years.
A square edge gives a countertop a very contemporary look, though it can work in most styles of homes.
Bevel Edge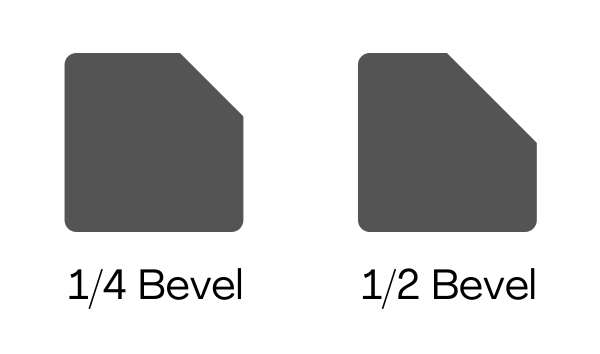 A bevel edge is a countertop that has a 45 degree angle on the edge. It would be like if you had a square edge that you took a triangle cut out of.
There are 1/4 bevel edges, which have just a small triangle removed from the squared edge, and 1/2 bevels, which have a slightly larger triangle removed from the square edge that gives a little more of a dramatic look.
A bevel edge is a popular choice for a decorative countertop edge because it looks a little fancier, but doesn't come with too high of a price tag.
Bullnose Edge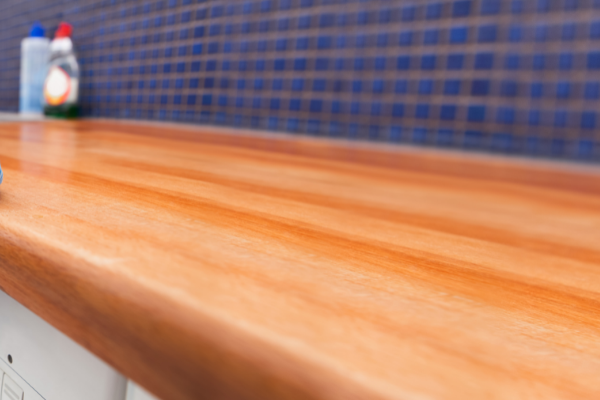 Bullnose edges on countertops have soft looking, rounded tops. A bullnose edge is very common on laminate countertops, as seen in this picture.
A bullnose edge typically has a squared off edge on the bottom, so it is almost like a half rounded countertop edge. A bullnose edge can work in traditional, modern or contemporary style homes.
One caveat of a bullnose edge is that liquid can easily run off the edge of the countertop, so be extra careful with spills.
Ogee Edge
An ogee edge is a countertop edge with two rounded edges on it. The first rounding goes inward, as a concave edge. This flows into the second edge that goes outward, as a convex edge. The result is a fancier style countertop edge that makes countertops look sophisticated.
An ogee edge is very common in traditional style kitchens, as the decorative nature of it pairs nicely with more traditional style cabinets.
Waterfall Edge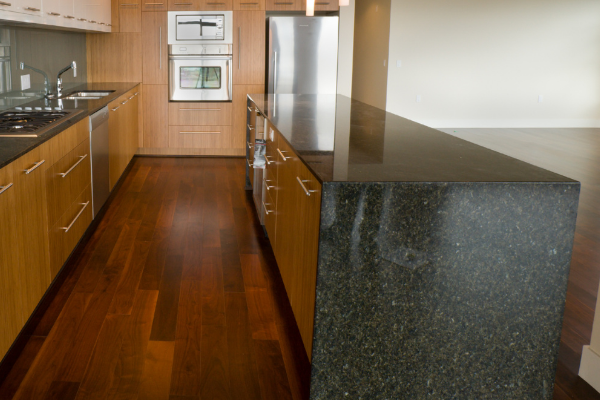 A waterfall edge on a countertop is one where the countertop extends the whole way to the ground on a 90 degree angle.
Waterfall edges are frequently used in large luxury kitchens or in contemporary style homes to give the space a distinctive look. They come with a higher price tag, due to both the increase in the amount of stone required for the kitchen and the extra labor involved in fabricating the countertops.
A waterfall edge is most commonly used in conjunction with a squared or eased edge on the other edges of the countertop.
Decorative Edges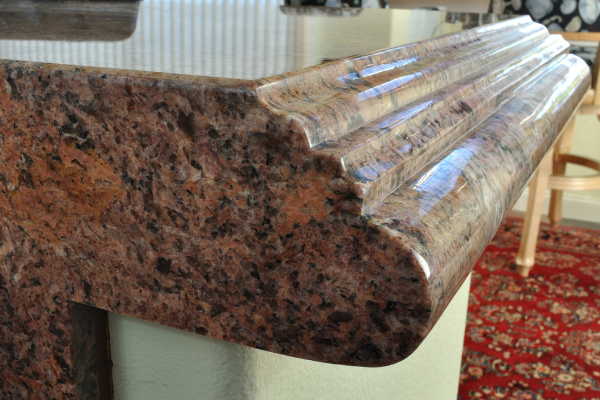 There are many other types of edges that are given to countertops. Depending on where you order your countertop from, you may be presented with different types of edges that are more decorative in nature.
These can include miter edges, which are slightly rounder bevel edges that are used in conjunction with waterfall edges, double ogees, and others.
What edge is best for quartz countertops?
One of the great things about quartz countertops is how durable they are. As they are made of quartz and resin, they are more resistant to chipping than a lot of other countertop materials.
Because quartz countertops are so strong, you can use any style edge you like. There is no "best" edge for quartz countertops, but you should remember that squared edges are the most likely to chip.
If you are concerned about getting nicks or chips in the edges of your quartz countertops, stick to one of the other options, such as eased, ogee, bullnose or bevel.
What is the most popular countertop edge?
The most popular style of countertop edge for countertops is an eased edge. An eased edge gives a countertop a very clean, classic look and works in almost any style home.
As I mentioned above, these edges are also typically included in the price of installation, which may contribute to their popularity.
Final Thoughts on Edges for Countertops
When choosing the right edge for your countertop, it is important to consider two things.
Primarily, you need to consider the style of your kitchen and what will look nice in your space.
If you have a very traditional styled kitchen, you may want to go with a more decorative edge. But, if you have a more modern or contemporary style kitchen, a square or eased edge might be just the thing.
Secondarily, consider how your kitchen is used. If you have lots of people bumping around in the kitchen, it may be wise to consider an edge that isn't a square edge. This will reduce injuries and chipping.
There is no right or wrong choice when it comes to choosing a countertop edge for your kitchen. Select the edge that you like best in your space!